92 Prosent av Artiklene i Norsk Media om Trump har vært Negative.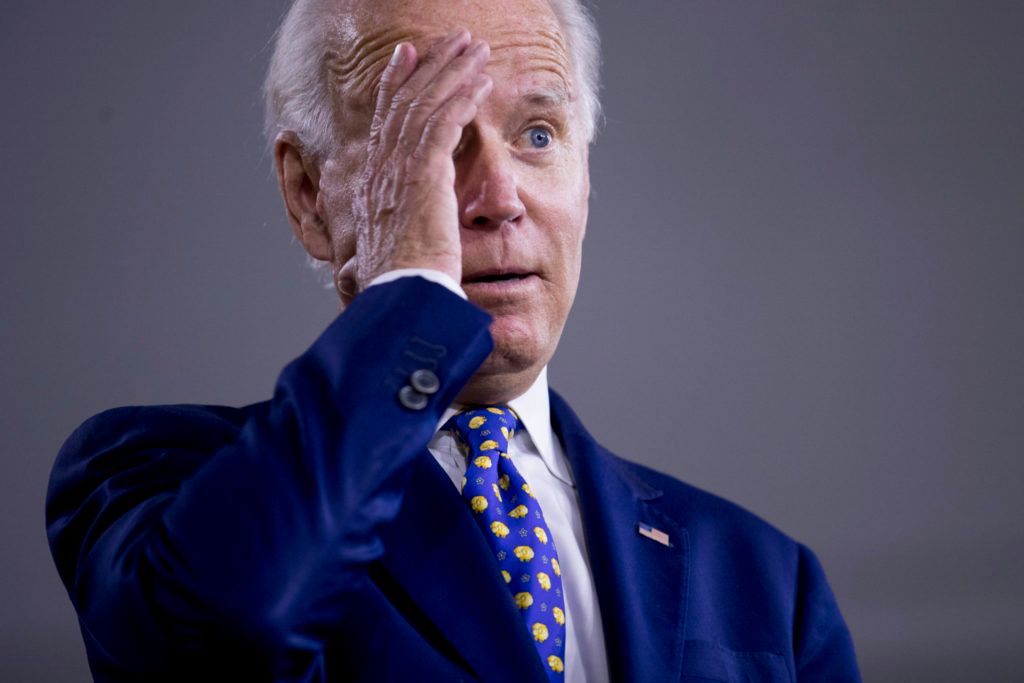 Document.no - Av: Hans Rustad   8. november 2020, 17:51
Den dype staten har også kommet til Norge
Nå renner mediene over av hyllest til Biden. De tror ikke vi ser at han er 77 og helt avhengig av teleprompter. De tror de skal klare å holde publikum i sjakk. Deres forakt for folket kjenner ingen grenser. Foto: Andrew Harnik/AP/NTB
I fire år har dyktige journalister og redaksjoner i USA, i samarbeid med Republikanere, gravd frem sannheten om Obama-administrasjonens undergraving av Trump. Det de har avdekket, er et misbruk av makt som savner sidestykke.
Men Demokratene og deres venner i mediene har aldri innrømmet noe som helst. De har bare fortsatt med sitt power play: å rette beskyldninger den andre veien.
Det koster ikke en politiker som Adam Schiff (etterretningskomiteen i Representantenes hus) ett gram å si noe han vet er en løgn.
I det hele tatt er løgn et nøkkelord for å forstå hvordan USA kunne synke så dypt.
En politisk kultur der løgn blir hovedinstrument, forfaller raskt.
USAs politiske klasse er i full moralsk og politisk oppløsning. Den eufori som NRK legger for dagen, er nærmest komisk.
NRK har ikke påtatt seg å fortelle nordmenn ett eneste sant ord om Trump og kreftene som har motarbeidet ham.
Dette er ikke vanlig løgn. Det er mer et forbund.
Norge er blitt et haleheng til en politisk-økonomisk klasse som behandler demokratiet som et rituale man kjører gjennom, og ellers et verktøy til makt.
Vi kjenner teknifiseringen av makten fra EU. Dagens norske elite vil gjerne henge oss på både EU og Washington.
Penger lukter ikke, og løgnene ser ved første øyekast naturlige ut, inntil de har forgiftet hele samfunnslegemet.
Erna er på vakt. Norge er et lite samfunn, og vi gjennomskuer hverandre lett. Erna må legge mange lag mellom seg og folket.
Den norske eliten har valgt å omgå problemene ved ikke å snakke om dem. De fremstiller det som deres fortjeneste.
I virkeligheten har de gjort seg selv og befolkningen dumme.
Ikke å beskjeftige seg med den viktigste politiske skandalen i USAs historie, reduserer «Norge» til en gjeng tomsinger, overbevist om sin egen fortreffelighet fordi vi er «med» på den riktige siden.
Det står nok adskillig dårligere til med denne siden enn hva norske borgere får inntrykk av.
Obama var en elendig og korrupt president. Vi står bare ved begynnelsen av oppgjøret med ham.
Biden hadde sin hånd på rattet og i lommer som ga familien store urettmessige inntekter. Nok viten er allerede kommet ut om denne korrupsjonen til at den ikke lar seg avlære.
Sannhetens kraft er Obama og Bidens farligste motstander. Når man først har fått høre de første historier om hvordan de virkelig var, skjer det noe med vår innstilling til dem. Vi begynner å lese dem på en annen måte. Vi ser deres dobbeltnatur.
Bak Bidens ulveglis skjuler det seg en politiker som fremfor alt mangler karakter og vilje. Biden er et tomt skall. Andre kommer til å fylle det, og de står til venstre for ham.
Demokratene har forfulgt Trump med statens midler. Dermed har de kompromittert staten og institusjonene. De risikerer utstøtelse hvis de avsløres.
Obama og Biden har fått allierte til å kjøpe deres løgner. Slik har de forgiftet politiske miljøer i andre land.
I tillegg har de innført en ny politisk sensur sammen med Big Tech, som sier at noe er sant og usant i politikken. Det er selvsagt tøv. Det finnes ingen sannhet i politikken i den vitenskapelige forstand av ordet. En slik tolkning er det bare marxismen som opererer med.
Det er en god dose marxisme blant dagens Demokrater: De mener historien har gitt dem mandat til å utpeke vinnere og tapere.
Trumps tilhengere er selvsagt tapere. Utenriksredaktør Sigurd Falkenberg Mikkelsen ville ikke glemme Trumps velgere, men anbefalte noe som minnet om terapi. Han hadde ingen politisk forklaring på hvorfor 70 millioner amerikanere stemte på Trump.
Den norske eliten har samme forhold til Document og våre lesere. Politiske motsetninger reduseres til «karakter», «anstendighet», form og moralisme. Den andre siden faller hele tiden igjennom.
Eliten tror at de har vunnet og reetablert den gamle orden med Biden. Det er helt feil. En stor folkelig bevegelse er på sporet av deres korrupsjon og maktmisbruk, og dét kommer en dag til å felle dem.
---
COPYRIGHTS
Copy & Paste lenken øverst for Yandex oversettelse til Norsk.
WHO and WHAT is behind it all ? : >
The bottom line is for the people to regain their original, moral principles, which have intentionally been watered out over the past generations by our press, TV, and other media owned by the Illuminati/Bilderberger Group, corrupting our morals by making misbehaviour acceptable to our society. Only in this way shall we conquer this oncoming wave of evil.
Commentary:
Administrator
HUMAN SYNTHESIS
All articles contained in Human-Synthesis are freely available and collected from the Internet. The interpretation of the contents is left to the readers and do not necessarily represent the views of the Administrator. Disclaimer: The contents of this article are of sole responsibility of the author(s). Human-Synthesis will not be responsible for any inaccurate or incorrect statement in this article. Human-Synthesis grants permission to cross-post original Human-Synthesis articles on community internet sites as long as the text & title are not modified.
The source and the author's copyright must be displayed. For publication of Human-Synthesis articles in print or other forms including commercial internet sites. Human-Synthesis contains copyrighted material the use of which has not always been specifically authorized by the copyright owner. We are making such material available to our readers under the provisions of "fair use" in an effort to advance a better understanding of political, economic and social issues. The material on this site is distributed without profit to those who have expressed a prior interest in receiving it for research and educational purposes. If you wish to use copyrighted material for purposes other than "fair use" you must request permission from the copyright owner.