HUMAN SYNTHESIS

Regjeringen får klarsignal til å slutte seg til ACER
Thomas Vermes
28. feb. 2018 12:09 – Oppdatert 28. feb. 2018 14:07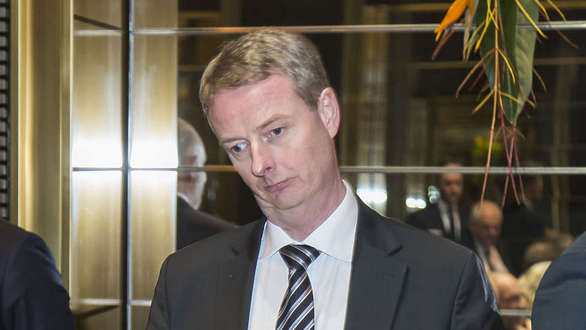 ACER-KLARSIGNAL: Olje- og energiminister Terje Søviknes (Frp) fikk tirsdag den juss-utredningen han hadde bestilt. Foto: Heiko Junge / NTB scanpix
Justisdepartementet mener det er greit å overføre myndighet fra Norge ved norsk tilslutning til EUs energilovverk og deres energibyrå ACER.
I et brev datert 27. februar fra olje- og energiminister Terje Søviknes (Frp) til Stortinget, slås det fast at det er forsvarlig i forhold til Grunnlovens bestemmelser mot overføring av makt til organer Norge ikke er med i, å slutte Norge til EUs såkalte tredje energipakke, inkludert deres byrå for samordning av energiregulatorer, ACER.
De mange Europeiske energiregulatorer:
Han bygger på en utredning fra Justis- og beredskapsdepartementets lovavdeling av samme dato.
Der vedgår Lovavdelingen at det innebærer «et element av ytterligere myndighetsoverføring» at det skal opprettes en uavhengig reguleringsmyndighet, RME, i Norge, som norske myndigheter ikke får noen innflytelse på.
Arbeiderpartiets Espen Barth Eide reagerer på at regjeringen gir RME mer myndighet enn EU krever.
Lavine av nye EU-lover vil rase over Norge fra EUs energiunion og ACER
Ser det som uproblematisk
Men «den beskjæringen av Kongens instruksjonsmyndighet det her er tale om, blir meget beskjeden.», ifølge Lovavdelingen.
Dermed gis klarsignal for norsk tilslutning, uten at regjeringen mener det trengs tre fjerdedels flertall i Stortinget for å overføre ytterligere myndighet til EU gjennom EØS-avtalen.
Spørsmålet om overføring av myndighet til reguleringsorganet RME, som skal gjennomføre EUs lovverk, utløste nylig usikkerhet i regjeringen.
Statsministeren varsler ny tvil om EUs energiunion og ACER
Ap: Regjeringen går unødig langt
Arbeiderpartiets saksordfører i spørsmålet om norsk tilslutning, Espen Barth Eide, varsler overfor ABC Nyheter at partiet snart vil avklare om det vil støtte norsk tilslutning til EUs energilovverk og ACER, og om det trengs tre fjerdedels flertall for å gjøre det eller ikke.
Barth Eide framholder for oss at myndigheten regjeringen går inn for å gi RME, går overraskende langt, lenger enn det EU krever.
– Blant annet mener regjeringen at RME skal kunne utforme forskrifter. Det er ikke noe krav fra EU, sier han.
Splittet LO legger ikke hindringer i veien for EUs energibyrå
– Det overrasker meg
– Det overrasket meg da jeg fikk se hva som egentlig kreves av direktivet, og hva regjeringen har gått inn for. De har valgt en maksimalistisk tilnærming til hva som legges til RME. Det er et handlingsrom vi kan utnytte slik at vi kan være med uten å legge så mye inn, sa Barth Eide på et debattmøte om ACER arrangert av Klassekampen i Oslo tirsdag kveld.
– Men jeg ser at noen industripolitiske hensyn må avklares. Det er et argument hvis vi plutselig må importere britisk høyere kraftpris, sa Barth Eide - som samtidig gikk langt i å ytre seg positivt til norsk tilslutning.
Jan Balstad fly forbannet på norsk tilslutning til EUs energiunion og ACER
Sp: Bryter norsk kompromiss
– Jeg stiller meg spørsmål om hvorfor det er så tvingende nødvendig for Norge å slutte seg til dette neste skrittet i EUs energiunion, sa Senterpartiets Marit Arnstad på debattmøtet.
– Mange saker er uproblematisk. Men ACER, elmarkedsdirektivet og gassmarkedsdirektivet er problematiske. Vi har i Norge valgt å forvalte våre ressurser klokt og modig som nasjon selv, sa hun og fortsatte:
– Vi vil ofte ha motsatte interesser. Vi har et nasjonalt kompromiss i Norge med fordeling til kraftkrevende industri, energiprodusentene og forbrukerne. Det er det kompromisset EUs energiunion ikke vil ivareta.
– Vi kobler oss til noe som vil være svært dynamisk. Er du først koblet, på, er du underlagt EUs regime uansett hvor de går.
Debatten om tilslutning til ACER raser, og splitter partier og fagorganisasjoner. Organisasjonen Nei til EU har laget en oversikt over flesteparten av uttalelsene fra kommuner, fylker, organisasjoner og partier.
– Aksept for ytre makt
Nei til EU mener Lovavdelingen ikke legger frem nye tungtveiende argumenter for at saken kan behandles på den måten regjeringen ønsker.
– Når regjeringen opprettholder behandling med alminnelig flertall, kan det stilles spørsmål ved legitimiteten av et fremtidig stortingsvedtak der det er sterkt delte syn på graden av suverenitetsavståelse, sier leder Kathrine Kleveland i en pressemelding.
– Flere av landets fremste jurister på feltet har tatt til orde for at behandling etter Grunnlovens §115, som krever tre fjerdedels flertall i Stortinget, er nødvendig, sier Kathrine Kleveland.
Overvåkingsorganet ESA skal formelt gjøre vedtak på vegne av EUs energibyrå ACER, men det er en uttrykt forutsetning at vedtakene skal være likelydende. ESAs vedtak går deretter via Reguleringsmyndighet for energi i Norge, RME. Det er også her en uttrykt forutsetning at RME skal følge og gjennomføre vedtakene fra ESA, skriver Nei til EU. Regjeringen har med andre ord akseptert at ESAs vedtak får virkning i norsk rett.
Artikkelen er oppdatert med kommentar fra Nei til EU.
Les Lovavdelingens grunnlovsutredning om ACER og RME
---
Videoarkiv fra Stortinget - Stortinget onsdag 28. februar 2018 kl. 10.00
---
Aftenbladet - Norge trenger et bedre grep om arvesoelvet
---
WHO and WHAT is behind it all ? : >
The bottom line is for the people to regain their original, moral principles, which have intentionally been watered out over the past generations by our press, TV, and other media owned by the Illuminati/Bilderberger Group, corrupting our morals by making misbehaviour acceptable to our society. Only in this way shall we conquer this oncoming wave of evil.
---
Commentary:
Vet ikke om jeg kan si meg enig i en forhaandsbestillt juss-utredning fra Olje- og energiminister Terje Søviknes (Frp)
Burde vel heller ha vaert en forespoersel om en domsavgjoerelse i sakens anledning.
*Grunnet de uttallige europeiske ´energiregulatorene´ som har oppstaatt og nedlagt i aarenes loep, skaper det PLANLAGT forvirring innenfor lovverket som tilslutt skaper en ugjennomskuelig felle ved tilslutning av Acer. Faa advokater og INGEN av vaare regjeringsmedlemmer har forstand og kapasitet til aa gjennomskue fellen. Solberg og regjeringen kan love folket saa mye de vil, men INGENTING har lovrett over Acer etter at den er akseptert og signert. Om kort tid kan EU nok en gang stifte nye selskaper som overtar og sletter Acer, med sine egne lover og regler.
"Djevelen vil stadig forsoeke aa lure deg med nye triks"
Administrator
HUMAN SYNTHESIS
All articles contained in HUMAN-SYNTHESIS are freely available and collected from the Internet. The interpretation of the contents is left to the readers and do not necessarily represent the views of the Administrator.