Lecture by the pro-EU-NWO Norwegian Prime Minister Erna Solberg 1968/amp
HUMAN SYNTHESIS
Lecture by the Norwegian Prime Minister Erna Solberg at Christian Michelsens Institute in Bergen in 1968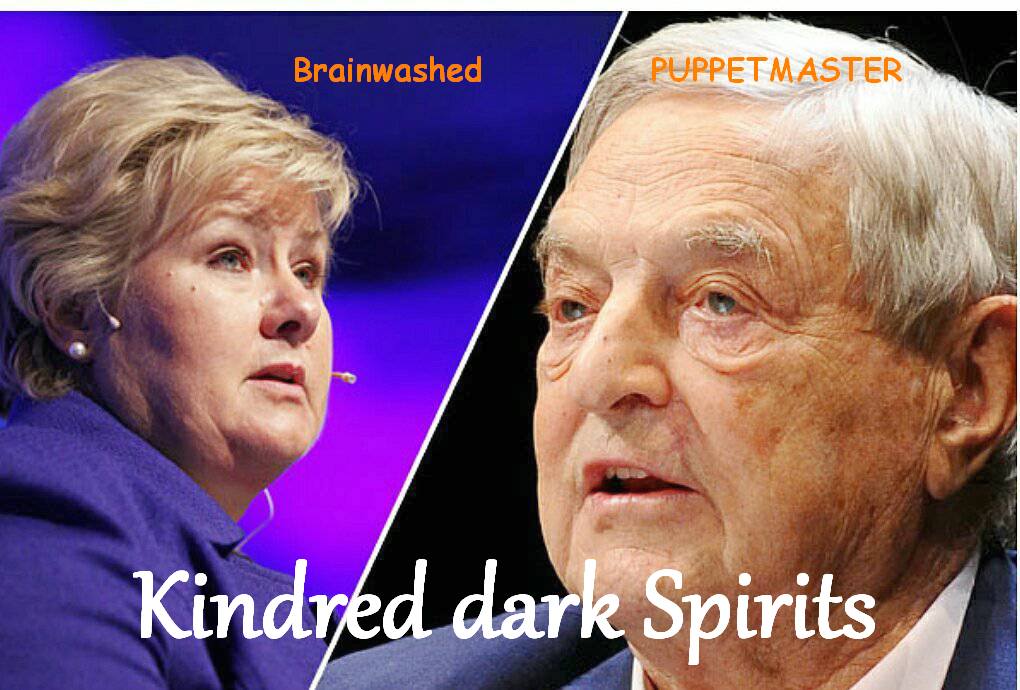 In this lecture, I will argue why globalization will continue. And we must work for inclusive globalization. As I read, we need to distinguish between big and small: Globalization is the big trend and will be. The big wheel. Human development. Everything: technology leads to greater globalization, demographics, communication and resource situation tells us that this will be the case in the future too. We need to find common solutions and common answers. If not, we will face challenges and globalized insecurity. Either way, we humans draw closer together.
The national states, the regions and even the international institutions are, whether one likes it or not, the smaller ones. They are instruments and ways of organizing themselves. They must deliver on basic welfare. They must deliver on hope, work opportunities, safety, co-determination and welfare. We must create hope for everybody in the world.
We have come to a point where we must make the big and small wheels click better together, and the goal must be to create inclusive globalization. This dynamic force will continue.
I will come back directly and indirectly to that idea when I talk about development and safety.
Each generation has liked a different worldview. This I reflected for the first time when I spoke to a course where I realized that they were born after the fall of the wall. Each generation has its worldview.
The world may feel particularly difficult right now because in a quarter of a century we have become accustomed to the world being just better and safer.
When the Millennium Development Goals were adopted in the UN in 2000, many believed that they were unrealistic. When the UN resigned 15 years later, many of them were reached. It was a good move. We could find that extreme poverty was halved since 1990. One billion individuals were lifted out of poverty.
In our lifetime, we have found that more and more people have learned to read and write that more girls get schooling than ever before in history. Over many parts of the world, people live longer. Child mortality is falling. People get better education and have better health.
Growth is no longer a Western phenomenon. Today we find growth economies in all continents and in all regions. The technological development has been enormous. And last but not least, in most regions it is fighting less than before. Most markedly, the decline has been in Europe.
It is easy to take these conditions for granted. But we are not going back in history to find a completely different Europe. A Europe in which the most extreme ideologies of the 20th century were designed and implemented. Where the bloodiest wars were fought. A Europe where the superpowers measured forces and where regimes built walls to prevent their own citizens from escaping.
But after the war, the start of something new. In the ruins of ancient Europe we built a security architecture that we have benefited from since. The development of the UN, NATO, the EU, the OSCE and the Council of Europe laid the foundations for a new world order, and after 1989, a whole new Europe.
A safe, stable and prosperous Europe. A Europe where markets replaced battlefields. A Europe where we can trade, travel, study, work and marry across borders today.
The rivalries that were made just after World War II gave us today's Europe: a continent in which most countries no longer create conflicts, but help solve them in common.
A value society that defends and further develops international law. Which promotes democracy, human rights, equality between women and men and the rule of law far beyond their own limits.
An economic community that is increasingly trading with each other. Which further develops global trade and takes responsibility for solving global challenges such as climate change and environmental problems.
While we have seen a significant positive development, we meet new global security challenges. We are seeing more and more how unconventional threats have consequences for stability, security and development, and threaten the existence of states. ISIL's brutal advancement in Syria. Libya and Iraq and the recruitment of European citizens by the terrorist group is one example that shows the complexity of security and development in context. Boko Haram's raid in Nigeria is another.
South of Europe, we have seen the emergence of a belt of instability. From Sahel to the west, via Syria and Iraq, to ​Afghanistan to the east. Decades of oppressive and conflicting policies in many countries in the Middle East and North Africa have formed the basis for dramatic upheavals in the region since 2011.
Weak governance and porous limits have provided many areas of scope for terrorist groups and organized criminal networks. These are not just threatening Europe. Among the 20 countries most affected by terrorism in 2015, you were African.
Norway is not a passive spectator in Europe's neighborhood. The fight against ISIL is part of a global fight against violent extremism. We have, as the UN has also established, a duty to anda moral responsibility for combating ISIL's attempt to establish a permanent terrorist field in the region.
Our efforts are aimed primarily at the people affected by the conflict: Norwegian-funded mining in Iraq has contributed to the return of thousands, and we are committed to helping victims of gender-based violence - an area of ​​pressure under pressure - unfortunately.
In Syria, Norway has taken a global leadership role in humanitarian efforts. We have led the donors group and supported the conference last year, mobilizing $ 12 billion to Syria and neighboring countries. Norway will receive NOK 10 billion over four years. I have been particularly keen on education. Children living in the war also have the right to school, right for a future. It is unmistakably important in a post-conflict society that children have also been educated in a conflict situation.
But, as I said, the conditions are complex, and with real security threats from the region, no assistance has been enough.
Norway's military efforts have and shall be based on international law. At the invitation of the Iraqi authorities, we train security forces to defend Iraq's territorial integrity against ISIL's attempt to establish a terrorist field in the region. The mission based in Jordan is similar to the purpose of training Syrian groups that fight against ISIL. We do this as part of the operation 'Strong Resolve'.
And after all, we have a lot of experience. Afghanistan is where we have learned the most about complex conflicts.
BILDERBERG MEETING IN 2011
Norway
Myklebust, Egil, Former Chairman of the Board of Directors SAS, sk Hydro ASA
H.R.H. Crown Prince Haakon of Norway
Ottersen, Ole Petter, Rector, University of Oslo
Solberg, Erna, Leader of the Conservative Party

Most importantly, international law. We participated in an operation after the assault at the World Trade Center, where the United States agreed with its allies to activate Article 5 of the NATO Treaty, and with the UN's self-defense under Article 51 of the UN Charter.

Since then, our efforts in Afghanistan have changed the format and character. But one is stuck. It has always been about universal values: peace, basic human rights, the development of democratic institutions, women's rights of freedom of expression. Afghanistan still has many problems, be it corruption, terror or humanitarian conditions. I discussed many of them with President Ghani in February - openly and constructively because Afghanistan in 2017 is not a terrorist field as in 2001, but a young democracy with functioning institutions and rights for the population. But a long way to go before it approaches what we think of as a functioning democracy. We will still be there as one of the heaviest contributors and assist in many sectors, but let me again emphasize education, local business development and good governance.

We protected our values ​​by calling for the constitution. We must also do that. But today it's not enough. And here's an important lesson, not just about Afghanistan, Syria or Iraq: Military efforts and subsequent stabilization are the same to create lasting peace. I therefore believe that we must see military efforts and assistance in context when discussing resource use and burden sharing in international operations in the future. It is not the case that we manage to create development without security or security without development.

The rule of law and well-functioning national institutions are important contributions to security and stability. Norwegian politics is based on the conviction that democracy and respect for human rights are prerequisites for peace and stability.

Therefore, we can not handle dealing with security challenges. We must also seek to solve and prevent. And here's an important lesson, not just about Afghanistan, Syria or Iraq: Military efforts and subsequent stabilization are the same to create lasting peace. I therefore believe that we must see military efforts and assistance in context when discussing resource use and burden sharing in international operations in the future. It is not the case that we manage to create development without security or security without development.

We have grown up in a time when the basic values ​​are primarily challenged outside the euro-Atlantic area. Today, we see signs that the values ​​are also under pressure in countries closer to us.

The call for protests increases. Many such parties have a deep distrust of the political system itself, international cooperation and international commitments. If they are given the opportunity to implement their policies, it can have negative consequences for cooperation in NATO and the EU, the UN and the World Bank and weaken our collective action. Then, the international institutions and the states will deliver worse in a time when globalization is moving forward. It can create a negative impact.

We have also seen the emergence of a more self-supporting Russia. In 2014, for the first time since the Second World War, we experienced that a European country annexed parts of another. It was dramatic. Violation of international law shatters at the very core of what we have built since 1945. It breaks down trust, creates fear and is completely unacceptable.

Russia's ambassadors have become clearer. They are supported by increased military capabilities, as we have seen demonstrated in Ukraine and Syria, and in our own neighborhoods. We also see that the room for democracy and human diversity is reduced at home. These are development features we must take seriously.

And then we see a world community that strives to find solutions. As more than ever, feel responsible for protecting human life, but not being able to reach agreement in the UN Security Council. Who has spent great resources on operations in unstable areas, but without finding the recipe for lasting peace.

Through this stormy waters, we are set to navigate. And on my journey, I think it's more important than ever to hold on to the principles we've built. I think it is also the best way we take care of Norway's interests in the years to come. Let me put forward four principles that I believe must be the basis of our policy:

One: Our security and welfare depend entirely on protecting international law and international justice. Initially, I drew up Christie and Michelsen. The

It requires our efforts to point beyond Europe's borders. It requires that we succeed in combating poverty, providing more good health and education opportunities, taking care of the environment.

**TV interview with Norway´s Prime Minister Erna Solberg in 2016**

Therefore, efforts to achieve sustainability goals are a major road. In a challenging time, we have managed to agree on a new approach to development. For the first time, we have a universal agenda. We have a common vision for the world in 2030. Sustainability goals are an acknowledgment that all rich and poor countries must join forces to create a peaceful and fair world. A world where we take into account climate and environment and where extreme poverty can be history. National authorities, international organizations, business and civil society must all go in the same direction if the goals are to be met. We have the tools we need. Now it is up to us to follow up and reach the ambitious goals we have set.

Four: Protectionism and isolation is not the way to go. We have tried that before. For Norway's open economy, developments in international trade and fiscal policy are crucial. We have been a globalization winner. Our economy is and remains entirely dependent on open, regulated markets. Without this we will not be able to create the growth we need to secure Norwegian jobs and welfare systems.

So how do we turn the principles into practice? Let me split this into three stages. First, I want to talk a little about politics at home, a little about the choices in foreign policy and finally about our development cooperation.

My main task as prime minister is to safeguard Norwegian core interests: the sovereignty and political freedom of our country; the lives, health and welfare of our citizens; and the values ​​our society and political system are based on. That work starts here at home.

I am concerned that we as a nation are best equipped to perceive, understand and deal with threats, risks and vulnerabilities. Therefore, security in everyday life and strengthened preparedness is one of the government's most important areas of focus.

A more demanding and unpredictable security policy situation places greater demands on national crisis management and coordination. Future crises may occur quickly and without warning. They may look different than we have imagined.

Although there is currently no military threat directed directly to Norway, we must be prepared to deal with crisis and conflict in our neighborhoods as well.

It underlines the importance of NATO for Norway's security. NATO's collective security guarantee, however, assumes that we ourselves have a good defense. That we are able to assert our own sovereignty, oversee our borders, our territory, our airspace and our marine areas. Both for our own part, but also on behalf of the alliance. We are actively working to raise awareness about the Northern Region in the Alliance. In addition, we must have the ability to set up for other member countries, just as they should be able to stand up for us.

Therefore, the government has chosen to bet on the Armed Forces. A defense adapted to a security policy uncertain and unpredictable time. And international law. Initially, I drew up Christie and Michelsen. They protected our values ​​by calling the constitution. We must also do that. But today it's not alone enough.

International law, including the UN Covenant, the Law of the Sea, the human rights conventions and environmental and climate agreements are of fundamental importance to Norway and Norway's interests. We must defend the values ​​that have formed the world after World War II. The world order that has made progress for so many. Security and prosperity depend on respect for international law and for the fundamental principles of international cooperation. Therefore, the defense of international law is also the defense of Norway, the Norwegian society and the individual. Yes, more than that: It is a protection for all countries. Against arbitrariness. Against lawlessness. Against unpredictability in the relationship between states.

Two: Norwegian interests are best secured through international cooperation. As I said in New Year's Eve; "The history of Norway shows that our wealth and our security are best made with others." History has taught us what it's like to be a little piece of the great powers game. And that we stand safest when we stand together with other countries that share our democratic values.

Therefore, we must constantly ensure that the international organizations remain relevant and able to solve the challenges that arise. That the UN remains the most important international meeting place. No other organizations have such legitimacy as the overall framework for international law, global norms and community solutions. At the same time, the UN must reflect changes in global power relations. The EU must respond to migration challenges. NATO must ensure security in a changed security policy landscape. International institutions and organizations are just as strong as we do them. National politicians must take responsibility and strengthen them through words and actions, do not hide or criticize as appropriate.

Three: No security without development - no development without security. Our security is affected more directly by developments in other countries and continents than before. Lack of development, weak governance, conflict and turmoil in other countries

After many years of reduced defense capability, the long-term plan will provide systematic strengthening every year to come. This is done by allowing vessels, aircraft and land departments to sail more, fly more, practice more. Preparedness is increased.

But the measures at home mean little if we do not have any legs to stand outside. This brings me to foreign and security policy. In light of all the changes, the government has been working on a roadmap message in the security policy that we will present in just two weeks.

A words like "choice of direction" gives high expectations. I am keen to emphasize that road selection does not necessarily mean new direction. Road selection can also be to stick to and customize a course that we already know works.

For Norway, consistency, stability and recognisability have been important principles in foreign policy. Under changing governments, the long lines have been stuck. I think that's a strength. But then there will also be some areas where development requires us to adjust differently.

Let me first highlight three areas where people will find that there is a high degree of continuity in foreign policy. This applies to NATO, relations with Russia, and the policy in the High North.

NATO is and remains the cornerstone of Norwegian security and defense policy. The Alliance is the only organization that has both mutual defense commitments and credible collective defense capabilities.

is one thing that the Alliance has shown for almost 70 years, so it is adaptable, even in demanding times.

Should the alliance remain strong and united, we must take care of this adaptability.

So what will the government do to contribute to this?

First of all, we must maintain the strong transatlantic ties. The United States is our most important ally. We rely on a good relationship.

That does not mean that we always agree on all questions. But also in more demanding times, we must remind ourselves of the importance of cooperation with the United States for our safety.

The new administration is committed to NATO. At the same time, they are unequivocal in the demand that Europe must take a larger part of the bill in NATO.

It is not unreasonable for European countries to increase their defense budgets. European Allies must approach the goal of spending 2% of GDP on defense. It is not primarily important for relations with the United States. It is also important to meet the major security challenges we face around Europe.

Secondly, we will strengthen cooperation between NATO and the EU. A better division of labor will make us get more out of our resources.

The third thing we must do is to strengthen NATO's political unity. NATO is and should remain the foremost transatlantic forum for security policy dialogue.

Fourth, we must ensure that the alliance remains relevant. NATO has mastered it well. But with the rapid changes in the security situation, we must constantly ensure that the alliance develops in all three core areas: collective defense, crisis management and security through cooperation.

Last but not least, the Alliance must have the resources to be able to solve its tasks. NATO will most certainly be left for the money when the countries join forces to finance the business.

Two other key areas are the North Area Policy and our relationship with Russia. The government is working for stability, international cooperation, respect for the law of the sea and good neighborhood.

Although the relationship with Russia after 2014 has changed, it has been important for us to continue the two-way cooperation wherever possible and in common Norwegian-Russian interest. This applies to both institutional cooperation and the informal people-to-people cooperation that continues to apply in the north.

Our neighborhood to Russia is constant and important. It does not mean that the relationship is without problems. These we must continue to handle in a factual, consistent and predictable manner.

Most of the military cooperation has been suspended. At the same time, the government has maintained cooperation on fields such as coast and border guards, search and rescue and the mechanisms of the Incidents at Sea Agreement. It contributes to security, stability and predictability.

At the same time, there is no doubt that NATO is important also for Norway's relationship with Russia. NATO gives back cover. In the heavy security policy issues we stand stronger and safer as part of the alliance, and also as part of the European value and interest community.

Norway is in many ways NATO in the north. It follows a responsibility. We have kept solid knowledge of developments in the region through changing times. The government will ensure that Norway follows developments in the region and keeps the Allies informed and up to date.

In the three fields I mentioned here, there is a high degree of continuity. At the same time, security policy is becoming increasingly widespread. Therefore, we must constantly think about how we further develop the tools we have, and whether we will bet heavier in some fields.

The government proposes several such initiatives, but I would like to mention two in particular: We want to strengthen the European and Nordic dimension in security policy and we will increase the focus on stabilization in the neighboring areas.

To take it first first. Over a number of years, both NATO and the EU have made it possible for deeper cooperation in smaller groups. In smaller countries, it has been possible to progress faster and cover fields that are not fully covered by established structures. These include collaboration on research and development, procurement, training, exercises and operations.

In fields not covered by NATO or where it will take time to establish good solutions in the alliance, we think it is appropriate to nurture such deeper cooperation with some selected Allies. The government will give priority to allies that can strengthen Norway in crisis and armed conflict. We want to cooperate more closely with selected allies and with our Nordic neighbors. We will also make the venture more strategic than before by strengthening not only practical cooperation but also foreign and security policy dialogue with the target countries.

One example is our relationship with Germany. In many cases we find that we have shared interests with Germany. That feeling I think is mutual. We cooperate go dt many fields and Germany has invited Norway as a guest country during its G20 chairmanship this year. We will also strengthen the European dimension in security policy by contributing to increased European civilian and military crisis management capabilities; effective external border control; close police and intelligence cooperation; and anti-radicalization and integration measures.

Security is a global common good - something is becoming more and more for everyone through cooperation. Our own security and stability are directly linked to the living conditions and the safety of people on other continents. We also know that prevention of global security threats is better and cheaper than fire extinguishing and post-conflict reconstruction. I initially came across some underlying causes of increased global unpredictability and uncertainty. The keywords are poverty, starvation, hopelessness and desperation. The communication revolution has made the whole world's population able to access information, whether it's "fake news" or facts. Real and experienced differences amplify desperation and hopelessness for millions and millions of millions. Look for you that you're not sure about the next meal or you do not know when the next armed attack, such as barrels of bangs, hits your family. This is the everyday of unbelievable many people.

There is such a reality that makes the road short for escape and dangerous migration. The feeling of not being included and that hope for work and a better future is out of reach can also lead to radicalization and extremism, Norwegian foreign and development policy, and yes - I want to add Norwegian security policy - build on the UN's sustainability goals. Therefore, Norway is a international leader in global education. Therefore, we are heavily in global health issues, to give a few examples. This is a long-term effort to strengthen inclusion and job opportunities, rights and community development. At the same time, we must address acute challenges. How important it is for ourselves and others we saw in 2014 when more countries were affected by ebola. Here at home we took a number of precautions. But the real struggle was in countries such as Liberia, Sierra Leone and Guinea. Often it will be that the first-line defense of cross-border challenges lies locally. In this case, in local health care. Norway has also taken the lead in strengthening the global community's capacity for rapid epidemic prevention.

The Norwegian Public Health Institute will host the new global coalition for the prevention of epidemics and pandemics - CEPI. For the current picture, the UN Secretary-General has announced that 20 million people may be affected by famine in Yemen, southern Sudan, Somalia, Nigeria and the region around the Chad lake. Norway prioritises early support for these crises, from a humanitarian budget historically high above NOK 5 billion. In February, Norway, together with Germany, Nigeria and the United Nations, organized a donation conference for the humanitarian crisis in northeastern Nigeria and the region around the Chad. More than ten million people have an urgent need for humanitarian aid in this area. We mobilized $ 672 million and helped lift this crisis on the international agenda. Norway will contribute 1.6 billion kroner over three years in long-term and humanitarian aid to Nigeria and the region around the Chad.

As a good example, the world's country, despite very different starting points, now emerges as a neighborhood with challenges that must be solved in fellowship. Norway is prepared to take part of this responsibility. Therefore, the government is working on its own strategy for Norwegian efforts in vulnerable states and regions that will be presented during the spring. We believe it is important that this favors wider than just assistance. We need to see the effort in many areas in context: long-term assistance, business development, institutional and capacity building, military contributions and support for civil society. Additionally, it comes with humanitarian aid. Now the uniqueness of our time is that we are so dependent on each other.

Developing countries are also dependent on fulfilling sustainability goals, not least in the climate field. It will be difficult for many countries to get out of vulnerability if climate change destroys life base, reinforces conflicts and drives people away. Therefore, we need to help each other achieve the goals. We must address the causes of poverty. We must fight climate challenges. We must create economic growth and make sure that it benefits everyone. Should we do this, we must constantly adapt the way we conduct development cooperation. In the years to come, we expect a large majority of the extremely poor to live in vulnerable areas. At the same time, we see that fewer countries will be dependent on assistance. It allows us to concentrate on fewer countries and strengthen the effort where it is most needed.

Nevertheless, assistance alone will not be enough. We see that other sources of funding are becoming more important. It must have consequences for the way we use the funds. That we make sure that the aid supports and triggers other sources of funding. Business is the largest global engine for employment and development. Good governance and security are important prerequisites for attracting investments and ensuring further development. And so we must constantly work on the methods and the testing of results. What's the most effect, how do we fight corruption and ensure good governance? What areas should we concentrate on? Here we have a lot to build on. Not least in the government's heavy commitment to health, education, business development and climate.

These are important questions in the Storting's report on development policy, which the government presents in almost two weeks. Should we, together with our partners, reach the ambitious sustainability goals, we must constantly ensure that the policy is up to date. I started this by dragging out two major figures in the history of Norway and Berg, Christie and Michelsen. I think we have something to learn from the way Christie and Michelsen combined political work with a strong commitment to research and dissemination.

In recent years, information and impact campaigns from foreign actors have become a challenge for more countries. At worst, such campaigns can undermine the unity, values, and ability of action in our society. We take this as the most serious authorities. At the same time, we also have a responsibility as an individual. One of the most important challenges for such challenges lies in the fact that each of us is well-informed, source-critical and conscious. Here the school, universities, colleges, research institutes and the press have a special community assignment.

I think Christie and Michelsen would be well shipped for a time like ours. Where to cope with key values and interests requires more of us one before. Today's situation is, of course, very different from what it was in 1814 and 1905. Now we must stand up for our central values and interests. Now, we must succeed both at home and abroad in a way Christie and Michelsen would be familiar with.

Today we are to ensure our values and interests. We must speak for free and open societies based on democracy, the rule of law, human rights and an open market economy. We can not take our community model for granted. I say "we". I am as prime minister, you are researchers and students, it is our children, our parents and our friends who must work for Norway and the world we want.
---
Read the FACTS in The Money Mafia written by Paul T. Hellyer former Canadian Minister of Defence :
Read direct from Cloud or download .pdf version.
---
WHO and WHAT is behind it all ? : >
---
Commentary:
Administrator
HUMAN SYNTHESIS