Når kulturer misforstår hverandre/amp
HUMAN SYNTHESIS
##Når kulturer misforstår hverandre
Av Onar Åm - October 13, 2017 418 (English translation at the bottom)
Jeg har hatt gleden av å tilbringe en god del tid i muslimske land og snakket med mange muslimer. Der får man truffet veldig mange interessante mennesker. Muslimer i Vesten er ofte litt annerledes fordi de er omgitt av frihet på alle kanter, mens i forholdsvis bakstreverske, fattige, ufrie land har mange muslimer et langt mer sårt forhold til frihet enn i Vesten. Jeg har hatt gleden av å hatt relativt dype samtaler med mange av dem og fått innsikt i måten de selv tenker og deres syn på hvordan kulturen fungerer.
En av disse var en ekstremt intelligent kar som jeg kom godt overens med, og han hadde et reflektert forhold både til islam og til Vesten. En av samtalene gikk noenlunde som følger:
– Jeg lurer på om Vesten er så svak på grunn av kristendommen.
– Hva mener du?
– Vel, Vesten er så fredelig, og ser ut til å vegre seg mot å bruke makt. Islam derimot er en krigersk religion. Vel, det er fred i Islam også, men den er først og fremst en krigsreligion. Du vet, i krig med andre religioner. Vesten er totalt militær overlegen men likevel forsvarer de seg ikke. Hvorfor er Vesten så svak? Jeg tror det er på grunn av kristendommen som gjør at de vender det andre kinnet til. Islam derimot er sterkt. Viser ingen nåde for fienden.
Først humret jeg litt over hvor fantastisk politisk ukorrekt denne uttalelsen var, for hvis det var blitt sagt av en hvit ikke-muslim i Vesten ville et politisk korrekt venstreorientert hylekor med forvrengte ansikter skreket "konspirasjonsteori!" og "rasisme!" så høyt at stemmebåndene hadde bristet. Og her var det altså en muslim som sa det til meg på en selvfølgelig måte, som om det var en helt innlysende ting som alle visste. Og så slo det meg: dette er allmennkunnskap blant muslimer. Da humret jeg ikke lenger.
Samtidig er det også åpenbart at det ikke er noen konspirasjon blant alle muslimer om å invadere andre land. Det ligger bare som et kulturelt minne om at det er slik Islam er, noe alle er trent opp til. Og med god grunn. Muhammed var jo en hærfører og de aller fleste som er muslimer i dag ble opprinnelig smidd i Islams lenker gjennom blodig erobring, hvor de fikk tre valg: underkast dere (Islam betyr "underkastelse), bli slaver (dhimmi) eller dø. De fleste valgte motvillig underkastelse, altså Islam.
Så etter litt nærmere betenkning og flere dype samtaler om disse temaene med reflekterte muslimer kom jeg frem til at de fleste i Vesten rett og slett er kulturelt inkompetente til å forstå kulturen i Midtøsten, og muslimer er tilsvarende inkompetente til å forstå vestlig kultur fordi verdiene og kulturene er så veldig forskjellige. Derfor tenkte jeg å skrive en blogg hvor jeg både forklarer europeisk kultur og muslimsk kultur slik at folk selv kan forstå hvordan folk fra disse kulturene misforstår hverandre. Dette er ment å kunne gi innsikt både til muslimer og til europeere, så jeg beskriver begge kulturene.
Kulturen i midtøsten
Kulturen i midtøsten er sentrert rundt begrepene styrke og svakhet. Styrke betyr evnen til å utøve makt på en hjerterå og voldelig måte uten medfølelse. Svakhet er å gi etter for sin empati og barmhjertighet. Tilgivelse, barmhjertighet og sympati er tegn på svakhet. I hverdagslige situasjoner er sinne den vanligste måten å vise styrke på. Sinne er et uttrykk for at man er villig til å bruke vold for å få gjennomført ting og blir tolket som et tegn på styrke. Vi har til og med et kulturelt minne om dette i Norge, nemlig uttrykket "sint som en tyrk." Dette stammer fra den tiden da de muslimske tyrkerne invaderte Europa og stod ved Wiens porter.
Paradoksalt nok er svakhet svært utbredt i midtøsten. Folk er jevnt over veldig kuet og feige, og folk er klar over at det finnes mange papirtigre — folk som er i stand til å uttrykke sinne, men som faller pladask sammen i møte med motstand. Et glimrende eksempel på dette er den arabiske invasjonen av Israel i 1948 der hvor en rekke arabiske land gikk sammen om knuse Israel. Moralen var på topp på forhånd og mange sinte arabere inntok Israel. Der møtte de en gjeng med jødiske amatører stort sett utstyrt med binders og sprettert, men den lille motstanden de var i stand til å gi var mer enn nok til å få sinnet til å bli til frykt. De stakk av med halen mellom beina.
Nettopp på grunn av denne feigheten er det utviklet seg en test for styrke. Hvis noen viser tegn til styrke (for eksempel ved å fornærme profeten Muhammed) må denne styrken testes for å se om det var ekte styrke eller om det var en papirtiger. Tegn på styrke møtes med sinne og påtatt sensitivitet. Hvis det var en papirtiger vil da de som forsøkte seg med et styrketegn bli redde og stikke med halen mellom beina. Da var det falsk alarm. Hvis derimot de som viste styrke følger opp ved å vise mer styrke, for eksempel ved å slakte ned alle de som protesterte, da er det et tegn på ekte styrke. Det var ikke kødd.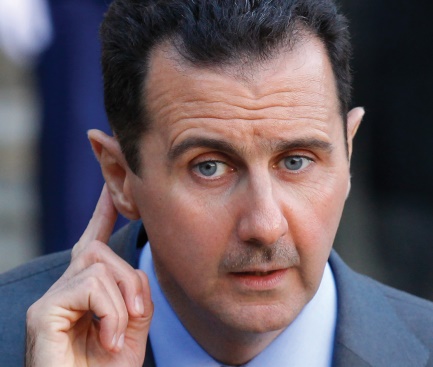 Foto: Bashar al-Assad.
Dette er forklaringen på hvorfor det er så mange brutale diktaturer i Midtøsten. Den eneste måten å få respekt på er å være mest brutal. Assad, Gadaffi, Saddam Hussein og Mubarak hadde alle det til felles at de ble oppfattet som sterke, altså at de er villig til å bruke alle virkemidler for å slå ned et opprør, og dett ga dem stor respekt i Midtøsten.
Nord-Europeisk kultur
Nordmenn beskrives ofte som emosjonelt "kjølige" av utenforstående. Dette gjenspeiler på mange måter nord-europeisk syn på styrke og svakhet. Å vise følelser er et tegn på svakhet. Dersom noen eksploderer i sinne mister han ansikt og blir av andre sett på som en sutrende liten baby.
Nord-europeere og særlig skandinaver lar det gå sport i å demonstrere sin styrke ved å vise hvor tolerante de er. Kristendommens bud om å vende det andre kinnet slår godt an i Nord-Europa fordi det spiller på forestillingen om å vise styrke gjennom hvor mye man tåler. Finlendere viser hvor sterke de er ved å holde ut lengst i saunaer og bade lengst mulig isvann. Nordmenn viser styrke gjennom å klore seg fast "der ingen kunne tru at nokon kunne bu." Nordmenn blir imponert av sånt, av selvpinere som velger å bo i huttiheiti avskåret fra sivilisasjonen, bare fordi de er sta. Det er vår måte å vise styrke på.
Møtet mellom Midt-Østen og Nord-Europa
Dette bringer oss tilbake til samtalen jeg hadde med min intelligente muslimske venn. Han feiltolker europeisk toleranse som et tegn på svakhet. Han skjønner ikke at dette er europeernes måte å vise at de er sterkest på. Samtidig skjønner de ikke at muslimsk uttrykk for sinne ikke oppfattes som et tegn på styrke i Europa, men som tegn på at muslimer er en gjeng med sutrende babyer. De oppfattes — og behandles — som små barn. Så hvordan behandler man en liten baby skriker? Jo, man gir dem en smokk for å få dem til å holde kjeft.
I Midtøsten derimot tolkes denne toleransen som ettergivenhet og svakhet og dermed som et signal på at man kan bruke mer makt. De tror at europeere er redde dem, mens sannheten er det stikk motsatte: toleransen er et tegn på at europeere ser på dem som svake. Europeere derimot blir helt sjokkerte over at toleransen bare fører til at muslimer bare hyler og skriker mer og blir mer og mer voldelige. De skjønner ikke at toleranse sees på som svakhet og dermed et tegn på at man kan gruppevoldta den svake uten at det får noen konsekvenser.
I sin villfarelse prøver europeere å roe ned den skrikende babyen ved å være enda mer tolerant, og blir bare perpleks over at skrikingen da bare tiltar.
Muslimer flest skjønner ikke at europeere egentlig er veldig sterke og at de bare er tolerante så lenge tålmodigheten ikke er borte. Men historien viser med all mulig tydelighet hva som skjer når begeret er fullt, slik vi så i Tyskland på 1930-tallet. Når europeere har fått nok, brytes den tolerante fasaden med et eksplosivt sinneutbrudd som resulterer i at de som utbruddet går ut over umiddelbart mister alle illusjoner om at europeere er svake og ettergivende.
En mulighet for dialog
Jeg tror det er mulig å få til et mer konstruktivt forhold mellom europeere og muslimer gjennom gjensidig kulturell forståelse. Dersom europeere lærer seg at toleranse oppfattes som svakhet blant muslimer kan dette bidra til at europeere blir mer vare i snakke et språk som muslimer forstår. Samtidig, hvis muslimer lærer at europeisk toleranse er et tegn på at de ser ned på muslimer som små barn som ikke er voksne nok til å bli behandlet med samme respekt som europeere, vil det kanskje motivere muslimer til å skjerpe seg og ikke feiltolke toleransen som svakhet.
Mange Europeere er i dag feilaktig bekymret for at muslimer skal ta over Europa og lage det om til Eurabia. De europeerne som har dette synet har totalt misforstått styrkeforholdet mellom europeere og arabere. Vi må ikke glemme at arabiske land er svært kulturelt tilbakestående. De klarer ikke produserer en eneste ting uten vestlig hjelp, ikke en gang blyantspissere. En del muslimske intellektuelle har forstått dette, men denne forståelsen er ikke utbredt i Vesten. Det snakkes faktisk mer om dette i Midtøsten enn i Europa.
Så selv altså om europeere skulle komme i mindretall i Europa, hva så? Det er jo europeerne som sitter på all kunnskapen og produksjonsevnen. Hvordan skal muslimene klare å ta over? Skal de true med å NAVe oss i hjel, liksom? Husk at selv om Israel var i sterkt mindretall i 1948 og var utstyrt med sprettert og binders klarte de likevel å slå ned en invasjon fra alle arabiske naboland. Det finnes altså bare en måte for Europa å bli slavelagt og eurabifisert og det er hvis europeere faktisk aksepterer det selv. All historisk erfaring viser at når europeere får kniven på strupen henter de frem kampviljen, og det er i grunnen det som skal til for å vinne.
Forhåpentligvis går det ikke så langt. Det som derimot gjør at sjansen for at europeisk sinne og blodige motstandsvilje vekkes til live øker dramatisk er at vi har en gjeng med parasitter som har pervertert europeisk toleransekultur og gjort den om til et redskap for ren selvmordspolitikk: marxistene. Skal vi unngå et potensielt blodig utfall i en fremtidig konflikt er det viktig å få stoppet sosialistenes galskap. De driver nå aktivt hetse- og mobbekampanjer mot alle sammen som ikke aksepterer deres politikk, og deres kulturrelativisme. Ved å gjøre dette driver de rovdrift på europeisk toleranse, og bygger opp trykkokeren, og det vil før eller siden ende med forferdelse, hvis det ikke stoppes.
Jeg tror det ikke er for sent å forhindre sosialistene i bringe frem Mr Hyde i den europeiske Dr Jekyll, men det er en stor jobb å gjøre. Første steg er å ikke være redd for deres mobbing og hetsing. Sosialismens mobbekultur er noe som egentlig ikke hører hjemme, særlig i Europa, og anstendige nord-Europeere blir perplekse over at voksne og tilsynelatende oppegående Europeere kan oppføre seg så uanstendig og frekt. Vår ryggmargsrefleks er å være tolerante og konfliktsky. Dessverre vil dette ikke fungere på sosialistene fordi i henhold til det marxist-leninistiske menneskesynet er individet plastisk og kan formes til å bli hva som helst ved tilstrekkelig bruk av vold og mobbing. Sosialistene vil altså fortsette å mobbe så lenge de føler at det er en strategi som fungerer.
Min spådom er at så straks man slutter å la seg skremme av deres mobbing og i stedet viser styrke og motstand vil også hersketeknikkene deres slutte å fungere i befolkningen forøvrig. Det er ennå en lang vei dit, men vi kan rekke det før sosialistene rekker å vekke Mr Hyde i den europeiske folkesjelen.
Denne saken ble orginalt postet på onarki.no
---
Lily Bandehy rømte fra den islamske overtakelsen av Iran til Norge i 1988. Nå føler hun at hun blir innhentet på nytt. I dette intervjuet med Helge Lurås kritiserer hun Europa for å ha ventet for lenge.
---
WHO and WHAT is behind it all ? : >
---
Commentary:
En bra artikkel men dette er jo gammelt nytt for folk som har reist litt rund i verden, som for eksempel Norske sjoefolk, som i flere mannsaldre har gjort samme erfaring. En Kinesisk eller Japansk forretnings-mann paa besoek i Europa, kledd i vestlige klaer, som snakker godt Engelsk oppfatter de fleste som ´en av oss´ som baade tenker og oppfoerer seg som oss. Dette er et synsbedrag. Hadde de vaert kledd i sine nasjonale klaer og snakket sitt eget spraak, hadde vaart syn og tanker om dem vaert HELT anderledes.
Baade Kinesere og Japanere er meget foelsomme og er helt uforvaerende,lette aa fornaerme. De lar seg ikke bemerke i oyeblikket, men du finner ut senere naar avtalen du trodde dere var enige om, slett ikke var saa lett, eller du hoerer aldri mere fra dem.
MEN, dette er ikke hovedproblemet med kulturkollisjonen mellom Muslimer og Europeere. En haandfull besoekende eller immigranter presenterer ingen problemer, derimot blir det en katastrofe med masse-innvandring av flere millioner Muslimer som forlater sine land og forpliktelser som lykkejegere. De faar en helt annen, truende holdning i stoerre grupper som ikke lar seg integrere i vaare samfunn. De betrakter seg som erobrere som en dag vil herske i landet under Sharia lover. Kvinner uten burka betraktes som tilgjengelige horer og NAV som en rettighet. Med anledning til aa ha 3 hustruer og den gjennomsnittelige Muslim har opp til 8 barn, som oppdras i Koranen, begaar Norge samt Europa GENESIS...
Det er ogsaa interessant aa hoere i en av videoene at Muslimene IKKE er produsenter av noe som helst, de er forbrukere og importerer alt fra andre land. Skulle de en gang i fremtiden overta Europa, ville de forvandle det til oerken naar alt er spist opp og maskinene stanser grunnet mangel paa utdanning or arbeidslyst.
Artikkelen er meget bra skrevet og forklart, ogsaa i de tre videoene over, og vil bidra til selv-hjelp i den forestaaende usikre fremtid.
Administrator
HUMAN SYNTHESIS


---
ENGLISH TRANSLATION:
When cultures misunderstand each other
By Onar Åm - October 13, 2017, 418
I have had the pleasure of spending a lot of time in Muslim countries and talking to many Muslims. There you get a lot of interesting people. Muslims in the West are often a bit different because they are surrounded by freedom on all sides, while in relatively backward, poor, non-free countries, many Muslims have a much more bad relationship with freedom than in the West. I have had the pleasure of having relatively deep conversations with many of them and gained insight into the way they themselves think and their views on how the culture works.
One of these was an extremely intelligent vessel that I agreed to, and he had a reflective relationship both with Islam and to the West. One of the conversations went out as follows:
"I wonder if the West is so weak because of Christianity. - What do you mean? "Well, the West is so peaceful and seems to bother to use power. Islam, on the other hand, is a warlike religion. Well, it is peace in Islam too, but it is primarily a war religion. You know, in a war with other religions. The West is in total military superior, yet they do not defend themselves. Why is the West so weak? I think it's because of Christianity that makes them turn the other cheek on. Islam, on the other hand, is strong. Showing no mercy to the enemy.
At first, I was amazed at how amazingly politically incorrect this statement was, for if it was said by a white non-Muslim in the West, a politically correct left-winged hypocrite with distorted faces would scream "conspiracy theory!" And "racism!" So loudly that the vocal ties had broken. And here it was a Muslim who told me in a natural way as if it was a very obvious thing that everyone knew. And then it struck me: this is general knowledge among Muslims. Then I no longer cried.
At the same time, it is also clear that there is no conspiracy among all Muslims to invade other countries. It is only as a cultural memory that Islam is something that everyone is trained to. And for good reason. Muhammad was a ruler and most of the Muslims today were originally forged in Islamic links through bloody conquest, where they received three choices: submit to you (Islam means "submission") become slaves (dhimmi) or die. Most chose reluctant submission, ie Islam.
Then, after a little closer consideration and more deep conversations about these topics with reflected Muslims, I realized that most of the West is simply culturally incompetent to understand the culture of the Middle East, and Muslims are equally incompetent to understand Western culture because the values and The cultures are so very different. Therefore, I thought to write a blog explaining both European culture and Muslim culture so that people can understand how people from these cultures misunderstand each other. This is meant to provide insight to both Muslims and Europeans, so I describe both cultures.
The culture of the Middle East
The culture in the Middle East is centred around the concepts of strength and weakness. Strength means the ability to exercise power in a heartbeat and violent manner without compassion. Weakness is to give in to their empathy and mercy. Forgiveness, mercy and sympathy are signs of weakness. In everyday situations, anger is the most common way of showing strength. The mind is an expression of being willing to use violence to get things done and interpreted as a sign of strength. We even have a cultural memory about this in Norway, the phrase "mad as a Turkish." This originates from the time when the Muslim Turks invaded Europe and stood at the gates of Vienna.
Paradoxically, weakness is very common in the Middle East. People are alike very cowardly and cowardly, and people realize that there are many papergirls - people who are able to express anger, but who fall in love with resistance. An excellent example of this is the Arab invasion of Israel in 1948 where a number of Arab countries joined forces on crushing Israel. Morality was on top in advance and many angry Arabs took Israel. There they encountered a bunch of Jewish amateurs mostly equipped with binders and bouncers, but the little resistance they were able to give was more than enough to make the mind come to fear. They stabbed their tail between the legs.
Just because of this cowardice, a test of strength has developed. If someone shows signs of strength (for example, offending the Prophet Muhammad) this strength must be tested to see if it was a real strength or if it was a paper pointer. Signs of strength meet with anger and sensitivity. If it were a paper maker, then those who tried to use a strength would be scared and stabbed with their tail between the legs. Then there was a false alarm. If, on the other hand, those who showed strength follow up by showing more strength, for example by slaughtering all those who protested, then it is a sign of true strength. It was not meat.
This is the explanation for why there are so many brutal dictatorships in the Middle East. The only way to get respect is to be the most brutal. Assad, Gadaffi, Saddam Hussein and Mubarak all agreed that they were perceived as strong, that is, they are willing to use all means of killing a rebellion, giving them great respect in the Middle East.
Northern European culture
Norwegians are often described as emotionally "cool" by outsiders. This in many ways reflects the northern European view of strength and weakness. Showing feelings is a sign of weakness. If someone explodes in anger, he loses his face and is seen by others as a sobbing little baby.
Northern Europeans and special Scandinavians let it go sport in demonstrating their strength by showing how tolerant they are. Christianity's command to turn the other cheek is good in Northern Europe because it plays the idea of showing strength through how much you can tolerate. Finlanders show how strong they are by keeping out the furthest in saunas and bathing as long as possible ice water. Norwegians show strength by getting stuck "where no one could believe that anyone could go." Norwegians are impressed by such self-pegs who choose to live in huttenames cut off civilization just because they are stubborn. It is our way of showing strength.
Meeting between the Middle East and Northern Europe
This brings us back to the conversation I had with my intelligent Muslim friend. He mistakes European tolerance as a sign of weakness. He does not realize that this is Europe's way of showing that they are the strongest. At the same time, they do not understand that Muslim expression of anger is not perceived as a sign of strength in Europe, but as a sign that Muslims are a bunch of sobbing babies. They are perceived - and treated - as small children. So how do you treat a little baby scream? Yes, you give them a condom to make them shut up.
In the Middle East, however, this tolerance is interpreted as repulsion and weakness and thus as a signal that one can use more power. They believe that Europeans are saving them, while the truth is contrary: tolerance is a sign that Europeans look at those who are weak. Europeans, on the other hand, become totally shocked that tolerance only causes Muslims to simply shout and scream more and become more and more violent. They do not understand that tolerance is viewed as weakness and thus a sign that you can group the weak without any consequences.
In his error, Europeans try to calm down the screaming baby by being even more tolerant and just puzzled by the fact that screaming only increases.
Muslims most do not realize that Europeans are really strong and tolerant only as long as patience is not gone. But history shows with all possible clarity what happens when the cup is full, as we saw in Germany in the 1930s. When Europeans have had enough, the tolerant facade is broken with an explosive outbreak that results in those outbreaks that immediately lose all illusions that Europeans are weak and resilient.
An opportunity for dialogue
I think it is possible to get a more constructive relationship between Europeans and Muslims through mutual cultural understanding. If Europeans learn that tolerance is perceived as weakness among Muslims, this can help Europeans get more care of speaking a language that Muslims understand. At the same time, if Muslims learn that European tolerance is a sign that they look down on Muslims as young children who are not grown enough to be treated with the same respect as Europeans, it might motivate Muslims to sharpen and not misinterpret the tolerance as weakness.
Many Europeans today are mistakenly concerned that Muslims should take over Europe and convert it to Eurabia. The Europeans who have this view have totally misunderstood the strengths of Europeans and Arabs. We must not forget that Arab countries are very culturally backward. They can not produce one thing without western help, not even pencil sharpeners. Some Muslim intellectuals have understood this, but this understanding is not common in the West. There is actually more talk about this in the Middle East than in Europe.
So even if Europeans were to be in minority in Europe, what? It is Europeans who are familiar with all the knowledge and production capacity. How are Muslims ready to take over? Should they be threatened with killing us, as well? Remember, even though Israel was in a severe minority in 1948 and was equipped with bouncers and binders, they managed to crash an invasion from all Arab neighbouring countries. There is thus only one way for Europe to be slavery and euro-certified and that is if Europeans actually accept it. All historical experience shows that when Europeans get the knife in the throat, they bring out the fight, and that's basically what's going to win.
Hopefully, it will not go so far. What, on the other hand, makes the chance that European anger and bloody resilience will be brought to life dramatically increasing is that we have a bunch of parasites that have perverted European tolerance culture and turned it into a tool for pure suicide policy: the Marxists. Should we avoid a potentially bloody outcome in a future conflict, it is important to stop the madness of the socialists. They are actively fighting and fighting campaigns against all who do not accept their policies and their cultural relativism. By doing this, they are driving predators on European tolerance, building up the pressure cooker, and sooner or later it will end up with dismay if it is not stopped.
I think it's not too late to prevent the socialists from bringing Mr Hyde to the European Dr Jekyll, but it's a big job to do. The first step is to not be afraid of their bullying and hotspots. The mob culture of socialism is something that does not really belong, especially in Europe, and decent northern Europeans are perplexed that adults and apparently upstanding Europeans can behave so indecent and rude. Our spinal cord reflex is to be tolerant and conflicting. Unfortunately, this will not work on socialists because, according to the Marxist-Leninist human perception, the individual is plastic and can be shaped to become anything through the adequate use of violence and bullying. So the socialists will continue to bully as long as they feel it's a strategy that works.
My prediction is that as soon as you stop scared of their bullying and instead show strength and resistance, their ruling techniques will stop working in the population as well. There is yet a long way to go, but we can reach it before the socialists are raising Mr Hyde in the European people's soul.
This case was originally posted on onarki.no
NOTE: Two videos in the Norwegian section above are in English.