Hemmelig kontrakt for kjøp av 5 US P8 Poseidon-overvåkingsfly/amp
HUMAN SYNTHESIS
###Regjeringen har signert kontrakt for kjøp av fem amerikanske P8 Poseidon-overvåkingsfly
Klassekampen.noVenstresidas dagsavis
Torsdag 30. mars 2017 INNENRIKSSKJULT:
Regjeringen, her ved forsvarsminister Ine Eriksen Søreide (til venstre) og statsminister Erna Solberg, holder kortene tett til brystet ved kjøpet av nye overvåkingsfly. Handler til skjult pris.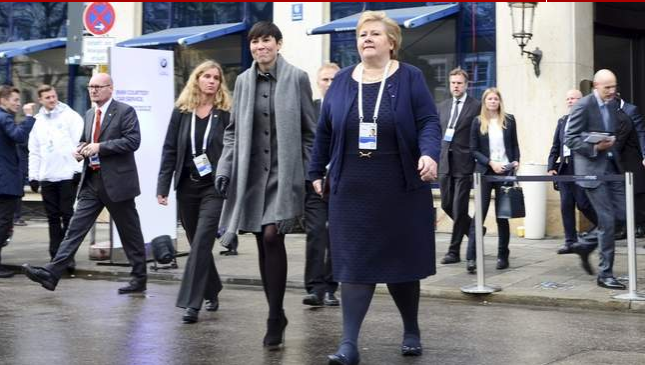 Foto: Johan Falnes, NTB Scanpix
Av Simen Tallaksen
Stortinget er ikke blitt informert om hele prisen til Norges nye milliardanskaffelse: Handler til skjult pris
Nye overvåkingsfly:
• Forsvaret skal erstatte dagens P3 Orion-overvåkingsfly med fem P8 Poseidon-fly.
• Det første nye flyet lander på norsk jord i 2022, opplyser Forsvarsdepartementet. Alle flyene skal være på plass innen 2023.
• Flyene har som oppdrag å overvåke havområdene utenfor Norge. En særlig viktig del av denne jobben handler om å følge med på aktiviteten til russiske ubåter.
HEMMELIG:
Regjeringen har signert kontrakt for kjøp av fem amerikanske P8 Poseidon-overvåkingsfly. Den totale prisen for både kjøpet og framtidig drift er hemmelig.
FORSVAR
Hemmeligholdet rundt kjøpet av Norges nye overvåkingsfly er så strengt at verken offentligheten eller Stortinget får vite den endelige prisen for anskaffelsen.
I går undertegnet Forsvarsmateriell kontrakt med selskapet Boeing om kjøp av fem P8A Poseidon-overvåkingsfly. I en pressemelding opplyser forsvarsminister Ine Eriksen Søreide (H) at prosjektets kostnadsramme «utgjør om lag 10 milliarder 2017-kroner». På toppen av dette kommer en skjult andel som er lagt under Etterretningstjenestens budsjett.
«Anskaffelsens totale kostnader ligger innenfor kostnadsrammen i langtidsplanen for Forsvaret», heter det i pressemeldingen.
UKJENT FOR STORTINGET
Det er en kostnadsramme forsvarsministeren så langt har holdt hemmelig. Til tross for at regjeringen har opplyst at forsvarsbudsjettene skal økes med 180 milliarder kroner de neste 20 årene, er de enkelte delene av dette regnestykket gradert informasjon.
Regjeringen har heller ikke opplyst Stortinget om hvor stor andelen som skal hentes fra E-tjenestens budsjett er. Denne delen skal være for flyenes sensorer og utstyr, og regnes som svært sensitiv informasjon.
Dermed er den totale summen for kjøpet av overvåkingsfly skjult – både for Stortinget og offentligheten. Sps representant i Stortingets utenriks- og forsvarskomité, Liv Signe Navarsete, er oppgitt over prosessen.
– Har dere fått informasjon om hvor mye kjøpet av overvåkingsfly vil koste totalt?
– Nei.
– Har dere fått vite noe om hvor mye det vil koste å drifte flyene?
– Nei.
– Forsvarsministeren viser til at anskaffelsen «ligger innenfor kostnadsrammen» i langtidsplanen som er vedtatt for Forsvaret. Vet dere hvor mye penger det er satt av til overvåkingsfly her?
– Nei, og det er det som har vært det store problemet med prosessen rundt langtidsplanen. Som medlem i komiteen kan vi få ut gradert informasjon. Likevel har det vært veldig­ vanskelig å få ut tall eller noen form for oversikt over tallgrunnlaget i planen. Vi vet ikke hvor mye penger som er satt av til hva, sier Navarsete.
Venstre-leder og komitémedlem Trine Skei Grande viser til at langt mindre investeringer går gjennom grundigere behandling i Stortinget.
– Vi har stortingsmeldinger som omhandler noen få titalls millioner som er på størrelse med en bibel. Her har vi en milliardinvestering som kun er beskrevet med noen få setninger for Stortinget.
Hun viser til at Norge tidligere har brent seg på å gjøre store forsvarsinvesteringer med dårlig grunnlag i Stortinget.
– Jeg hadde håpet at vi kunne hatt mer åpenhet rundt alle disse spørsmålene. Det hadde også økt tilliten til vedtaket.
UVANLIG INNKJØP
I andre store anskaffelser, som ved Forsvarets kjøp av nye kampfly, er både kostnadene for selve anskaffelsen og de såkalte levetidskostnadene for drift, oppdateringer og vedlikehold over 30 år, offentlige. Tilsvarende tall for Poseidon-kjøpet er ikke offentlige, men Forsvarsdepartementet viser likevel til at dette er tatt høyde for i langtidsplanen for Forsvaret.
Men det er ikke bare her kjøpet av overvåkingsfly bryter med normale rutiner for anskaffelser. Finansdepartementets rutiner innebærer normalt at alle offentlige anskaffelser over 750 millioner kroner skal gjennomgå en ekstern kvalitetssikring. I kjøpet av nye overvåkingsfly droppet regjeringen en slik gjennomgang.
SKAPTE POLITISK SPLITTELSE
Klassekampen har tidligere skrevet hvordan flykjøpet har kommet etter et sterkt amerikansk press. Flere kilder har pekt på at amerikanerne skal ha presset Norge med at de selv ville overta overvåkingen i nord, blant annet for å følge aktiviteten til russiske ubåter.
Investeringen ble også et stridsspørsmål i høstens politiske kamp om den nye langtidsplanen for Forsvaret, der sentrumspartiene ønsket å droppe eller utsette flykjøpet for å sikre mer penger til Hæren og Heimevernet.
Konflikten endte med at Ap sikret flertall i Stortinget for langtidsplanen, mens ­regjeringens støttepartier Venstre og KrF sto på utsida.
---
WHO and WHAT is behind it all ? : >
The bottom line is for the people to regain their original, moral principles, which have intentionally been watered out over the past generations by our press, TV, and other media owned by the Illuminati/Bilderberger Group, corrupting our morals by making misbehaviour acceptable to our society. Only in this way shall we conquer this oncoming wave of evil.
---
Commentary:
Administrator
HUMAN SYNTHESIS
All articles contained in HUMAN-SYNTHESIS are freely available and collected from the Internet.
The interpretation of the contents is left to the readers and do not necessarily represent the views of the Administrator.