Wara: - Jeg frykter svenske tilstander hvis vi ikke lykkes/amp
HUMAN SYNTHESIS
#Wara: - Jeg frykter svenske tilstander hvis vi ikke lykkes
Publisert: 09 april 2018 - for 5 timer siden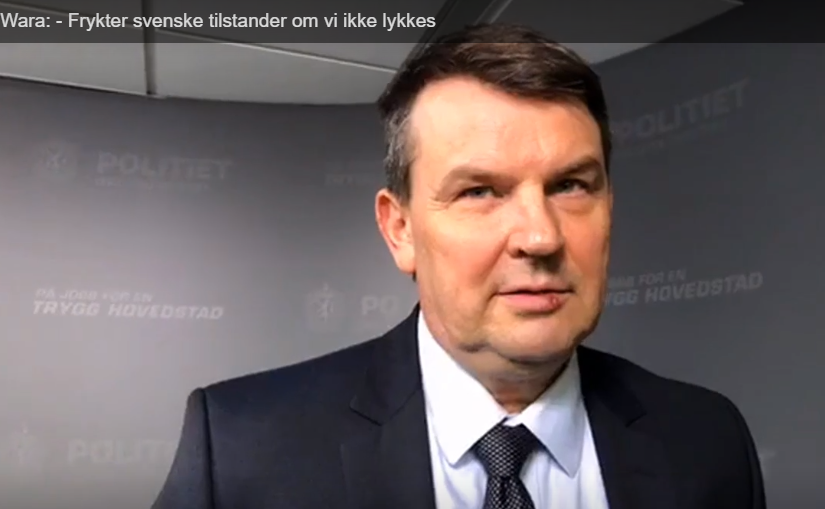 Profilbilde Heidi Schei Lilleås
Men vi skal lykkes, vi skal bli best i Europa, sier justisministeren offensivt.
POLITIHUSET (Nettavisen): De siste 2-3 ukene har ungdomsgjenger med barn i ned i 14-års-alderen gyvet løs på politiet flere steder på Oslo Øst.
Les også: Tor Mikkel Wara: - Tiden var inne, nå er barna blitt voksne
Justisminster Tor Mikkel Wara, hva vil du gjøre for å løse det vi ser av ungdomskriminelle som går løs på politiet, skaper frykt i nærmiljøet og som uroer mange av oss?
Det er tre ting. Vi må la Oslo-politiet få ressurser. Det har de fått. De har fått styrket bevilgningene. Så må vi la dem organisere seg i tråd med det som er endringene i kriminalitetsbildet, så vi ikke blir for konservative. I tillegg er det viktig at vi jobber forebyggende, sier Wara til Nettavisen.
Politiet: - Situasjonen på Romsås er svært alvorlig
Svenske tilstander i dag: (video)
Barn i 14 års alderen
Wara ble mandag ettermiddag orientert av Oslo-politiet om kriminalitetsbildet i hovedstaden.
Hvor alvorlig synes du det er at barn i 14 års alderen er med i noen av de gjengene som har herjet den siste tiden?

Veldig alvorlig! Dette er noe av det nye kriminalitetsbildet, de blir yngre, er mer mobile og på sosiale medier. Vi må være tidlig ute så ikke dette blir neste generasjons kriminelle. De må fanges opp før det er for sent.
Barn tvinges til å selge hasj på skolen
Jeg synes det var betryggende å høre Oslo-politiet. Men det fins ingen fasit, ingen har lyktes helt ennå.
Etter fem dager som justisminister, fikk Tor Mikkel Wara (Frp) en orientering om situasjonen i hovedstaden.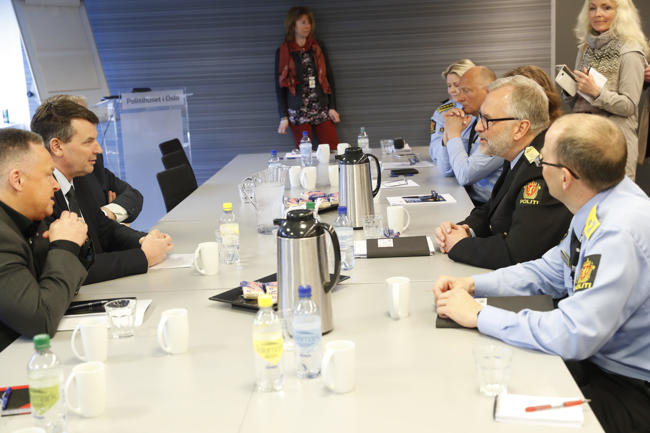 Terje Bendiksby NTB scanpix
Frykter svenske tilstander - men skal lykkes
Oppfatter du Oslo som en trygg by etter ditt møte med politiet?

Oslo er en tryggere by enn andre byer på samme størrelse. Min opplevelse er at politiet har kontroll på byen. Men det er fremtiden som gir utfordringer. Det er alvorlig. Vi skal være best i Oslo og lykkes der andre storbyer ikke har lyktes. Det er opp til Oslo-politiet å tenke nytt og være innovative på alle områder.

Frykter du ghettofisering og svensketilstander i Oslo?

Altså, jeg frykter det kan bli en fremtid hvis vi ikke lykkes, men det er derfor vi skal lykkes. Vi skal bli best i Europa på dette. Vi skal lykkes der andre ikke har lyktes.
Svenske tilstander betyr belastede områder preget av vold og kriminalitet, sammenbrudd i offentlige tjenester, og økonomisk og etnisk segregasjon, ifølge Minervanett.
Gjør ikke som Listhaug
Kommer du, som Sylvi Listhaug, til å reise til Sverige for å se og lære?

Nei, jeg er opptatt av å lære der man har lyktes, ikke der man har mislyktes. Men jeg synes Listhaugs innhenting av informasjon, var viktig, så jeg har ikke noe imot det, men nå skal jeg prioritere mine arbeidsoppgaver i forhold til de store oppgavene vi står foran.

Hva mener du med å se «der de har lyktes»?

Jeg skal først snakke med Oslo-politiet, her har man lyktes med en del ting, og også ta runden rundt i landet.
Bøhler er konstruktiv
Tirsdag skal du møte Jan Bøhler (Ap) til debatt i Stortinget. Han sier at politiet gjør for lite for å ta bakmennene. Hva vil du si til det?

Det gjøres mye for å ta bakmennene, men det er mer kompleks enn som så. Vi kan ikke bare ta dem, vi må det dømt også. Vi må ikke tillegg jobbe slik at de ikke klarer å rekruttere flere. Interpellasjon fra Jan Bøhler

Hva kan vi forvente oss av debatten i morgen?

Jeg tror det blir en interessant og viktig debatt, og jeg opplever Bøhler som konstruktiv og interessert i å finne løsninger. Det er jeg også.
---
WHO and WHAT is behind it all ? : >
The bottom line is for the people to regain their original, moral principles, which have intentionally been watered out over the past generations by our press, TV, and other media owned by the Illuminati/Bilderberger Group, corrupting our morals by making misbehaviour acceptable to our society. Only in this way shall we conquer this oncoming wave of evil.
---
Commentary:
Administrator
HUMAN SYNTHESIS
All articles contained in Human-Synthesis are freely available and collected from the Internet. The interpretation of the contents is left to the readers and do not necessarily represent the views of the Administrator.
Disclaimer: The contents of this article are of sole responsibility of the author(s). Human-Synthesis will not be responsible for any inaccurate or incorrect statement in this article. Human-Synthesis grants permission to cross-post original Human-Synthesis articles on community internet sites as long as the text & title are not modified. The source and the author's copyright must be displayed. For publication of Human-Synthesis articles in print or other forms including commercial internet sites, contact: humansynthesis0@gmail.com
Human-Synthesis contains copyrighted material the use of which has not always been specifically authorized by the copyright owner. We are making such material available to our readers under the provisions of "fair use" in an effort to advance a better understanding of political, economic and social issues. The material on this site is distributed without profit to those who have expressed a prior interest in receiving it for research and educational purposes. If you wish to use copyrighted material for purposes other than "fair use" you must request permission from the copyright owner. Contact: humansynthesis0@gmail.com