NEI TIL EU - Det hviler et stort ansvar på Stortinget/amp
HUMAN SYNTHESIS
Det hviler et stort ansvar på Stortinget
_**For å følge Grunnloven må Stortinget behandle regjeringens forslag etter § 115 om suverenitetsavståelse. Det var det klare rådet fra Nei til EU i Stortingets høring om EUs energibyrå**_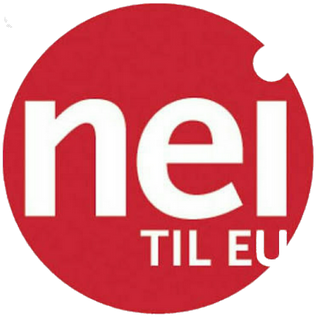 02. feb. 2018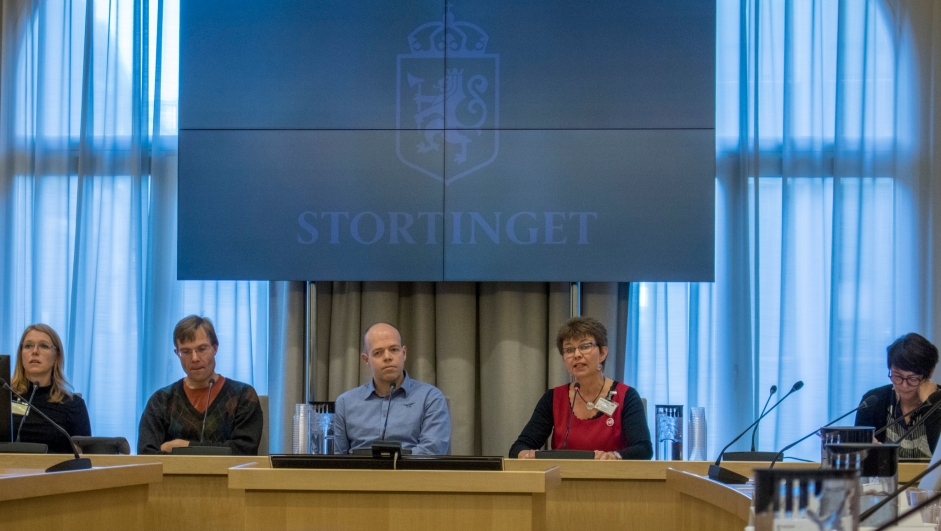 Leder Kathrine Kleveland deltok på høringen sammen med utredningsleder Morten Harper
ACER er ikke bare rådgivende. EUs energibyrå har håndhevings- og vedtaksmyndighet som griper inn i nasjonal styring og kontroll, fastslo Kleveland i sitt innlegg.
Hun påpekte at professorer ved alle de tre ledende fagmiljøene for jus i Norge – Oslo, Bergen og Tromsø – nylig har kritisert regjeringens saksfremlegg. De mener en tilknytning til EUs energibyrå må behandles etter Grunnlovens § 115, som betyr krav om tre fjerdedels flertall.
Flere organisasjoner ved siden av Nei til EU var kritisk til regjeringens forslag om å underlegge Norge EUs energibyrå. Særlig fagforeningene Industri Energi og EL og IT Forbundet, som representerer ansatte i ulike deler av kraftbransjen, advarte mot konsekvensene av å gi fra seg nasjonal kontroll og styring.
Her er hele Nei til EUs innlegg i høringen:
Et sentralt element i EUs tredje energimarkedspakke er forordningen om energibyrået ACER. Forslagene fra regjeringen innebærer at Norge underlegges EUs energibyrå via overvåkningsorganet ESA.
ACER er ikke bare rådgivende. EUs energibyrå har håndhevings- og vedtaksmyndighet som griper inn i nasjonal styring og kontroll. ACER skal bestemme reglene for når strømmen skal flyte den ene eller andre veien gjennom overføringskablene til utlandet, og hvor stor andelen av balansekraft skal være. EU-byrået vil også avgjøre tvister mellom nasjonale myndigheter. Det er tvilsomt om Norge kan stanse eksportkabler ut fra nasjonale hensyn.
Regjeringen hevder likevel at energipakken ikke medfører myndighetsoverføring som krever vedtak etter Grunnlovens § 115. Påstanden er at ESAs vedtak skal være rettet mot nasjonale myndigheter, og ikke private.
Regjeringen vil etablere en ny Reguleringsmyndighet for energi (RME), som skilles ut fra NVE. RME skal være helt uavhengig av nasjonale myndigheter. ACER fatter sine vedtak og oversender dem til overvåkningsorganet ESA. ESA fatter samme vedtak og sender dette til RME, som også fatter samme vedtak. Kan man da si at RME er et norsk, statlig organ?
EØS-regelverket som skal tas inn i norsk rett betyr at nasjonale politiske myndigheter – som Stortinget – ikke vil kunne gripe inn mot gjennomføringen av et uønsket kopivedtak fra ESA uten å bryte norsk lov.
Professorer ved alle de tre ledende fagmiljøene for jus i Norge – Oslo, Bergen og Tromsø – har nylig kritisert regjeringens påstander. De mener en tilknytning til ACER må behandles etter grl. § 115.
Bergensprofessorene Eirik Holmøyvik og Halvard Haukeland Fredriksen karakteriserer opprettelsen av RME som «noe nytt i norsk rett»: «Flere norske forvaltningsorgan er i dag unndratt politisk styring, men RME vil samtidig være bundet av vedtak fra et internasjonalt organ, i realiteten EU-organet Acer.»
Eivind Smith ved Universitet i Oslo sier det slik: – Den nye Reguleringsmyndigheten for energi skal være uavhengig av politisk styring på et vis som ikke gjelder for noe annet uavhengig organ i forvaltningen.
Nei til EU mener at for å følge Grunnloven må Stortinget behandle regjeringens forslag etter § 115 om suverenitetsavståelse.
Om Stortinget er i tvil, er det viktig at grunnlovspørsmålet blir grundigere belyst enn i proposisjonene fra regjeringen. Det kan Stortinget gjøre ved å hente inn en uavhengig juridisk vurdering, eller man kan be om en uttalelse fra Høyesterett jf Grunnlovens § 83.
Det hviler et stort ansvar på Stortinget i denne saken. Nei til EU forventer at komiteen vil sørge for at disse problemstillingene blir nærmere vurdert og utredet.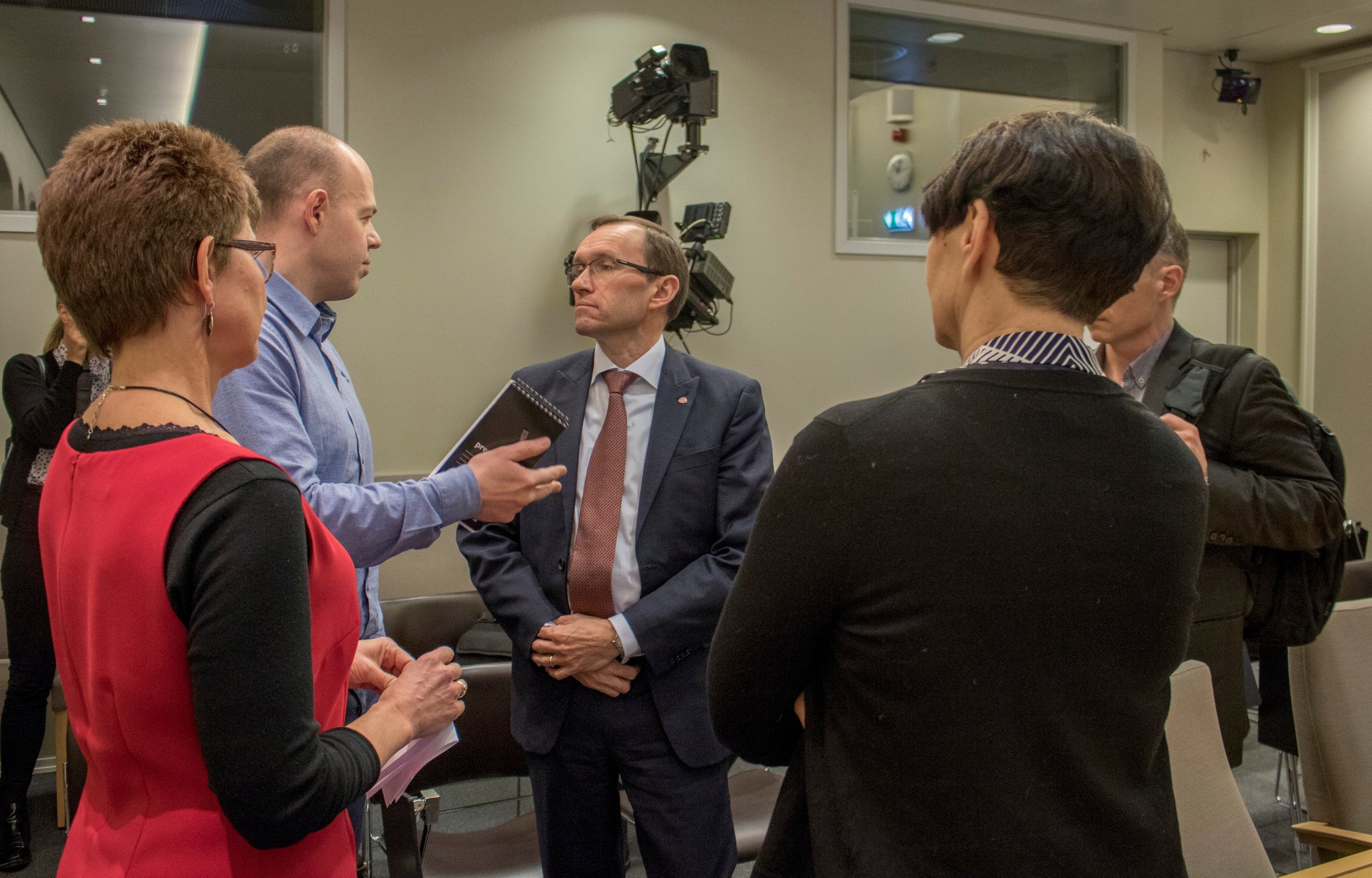 Nei til EUs Kathrine Kleveland og Morten Harper i samtale med Espen Barth Eide, saksordfører i Stortingets energikomité.
Se høringen i opptak på Stortingets Nett-tv. Nei til EUs innlegg starter 25:12, med påfølgende spørsmål-svarrunde.
Video fra Stortinget - Første høring 09:00
Video fra Stortinget - Andre høring 10:30
---
WHO and WHAT is behind it all ? : >
The bottom line is for the people to regain their original, moral principles, which have intentionally been watered out over the past generations by our press, TV, and other media owned by the Illuminati/Bilderberger Group, corrupting our morals by making misbehaviour acceptable to our society. Only in this way shall we conquer this oncoming wave of evil.
---
Commentary:
Dette er en MEGET viktig hoering hvor de settes tvil om hvorvidt vaar grunnlov opprettholdes av Stortingets representanter som har et STORT overvaakingsansvar.
Stortinget har blitt paafoert munnkurv og forlanges aa vare POLITISK KORREKT i henhold til regjeringens avtaler med EOS - EU - ECFR m.m.
Erna Solberg har ufortroedent foert vaart land inn i ett nettverk av EU - EOS- ECFR og andre skjulte lover som naa forsoekes paafoert oss og vil overkjoere vaar norske Grunnlov.
Dette maa IKKE skje !! Dette er en viktig proevestein. Gir vi etter her, er vi tapt!!
Administrator
HUMAN SYNTHESIS
All articles contained in HUMAN-SYNTHESIS are freely available and collected from the Internet.
The interpretation of the contents is left to the readers and do not necessarily represent the views of the Administrator.