SOROS: EU ON VERGE OF BREAKDOWN Collapse of superstate practically inevitable/amp
HUMAN SYNTHESIS

##SOROS: EU ON VERGE OF BREAKDOWN
Collapse of superstate practically inevitable
Dan Lyman | Infowars.com - JANUARY 18, 2018 244 Comments
SOROS: EU On Verge of Breakdown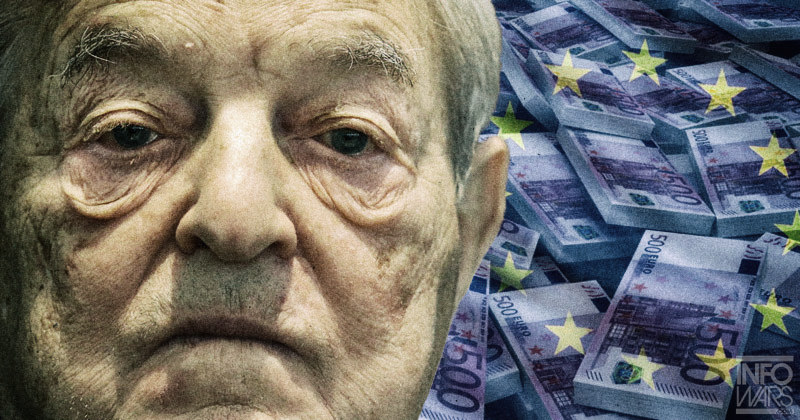 The European Union is heading towards collapse as nationalist-populism ignites the hearts and minds of Westerners, globalist kingpin George Soros has warned.
In an interview with the Financial Times – which painted Soros as a freedom-fighting philanthropist, unjustly vilified by right-wing extremists and anti-Semitic authoritarian strongmen – Soros lamented that nationalism is the ascending ideology du jour, and that Vladimir Putin's Russia is sailing to supremacy on its cresting wave.
"It's déjà vu all over again with one big change — the dominant ideology in the world now is nationalism," Soros said. "It's the EU that's the institution that's on the verge of a breakdown. And Russia is now the resurgent power, based on nationalism."
"Putin doesn't like me," he added, asserting that Russia engineers many of the attacks on Soros and his Open Societies Foundation (OSF).
While Soros may have his own objectives for forewarning of the EU's impending implosion, ever-widening cracks in the superstate's structure are manifesting at a stunning rate.
Infowars reported yesterday on both a new initiative in Switzerland aiming to sever key ties with the bloc – which would serve as a devastating blow to Brussels, with a non-member state distancing itself further from the toxic 'experiment' – and also a clash between the godmother of mass migration, Angela Merkel, and boy-wonder Sebastian Kurz, Austria's 31-year-old nationalist-populist chancellor.
The core issue in both scenarios is the primary weapon and achilles heel of globalism: immigration.
"I am convinced that the solution to the migration issue lies in proper external border management and greater local assistance," Kurz told Merkel on Wednesday. "We need a European Union that focuses more on the big issues and withdraws when it comes to small issues on which nations or regions can better decide for themselves."
Kurz's statements echo those of his contemporaries in neighboring countries such as the Czech Republic and Hungary, where Soros was born and now finds staunch resistance from the government of Viktor Orban, who has accused Soros of 'declaring war' on Hungary.
In return, Hungary has engaged Soros and the agenda he proudly fuels with billions of his own dollars.
Earlier this week, Hungary passed a package of laws called "Stop Soros," which aim to impose hefty levies on foreign funding of groups promoting illegal immigration, and may even pursue stiffer penalties against such organizations, which PM Orban has called proxies of the 'Soros mafia network.'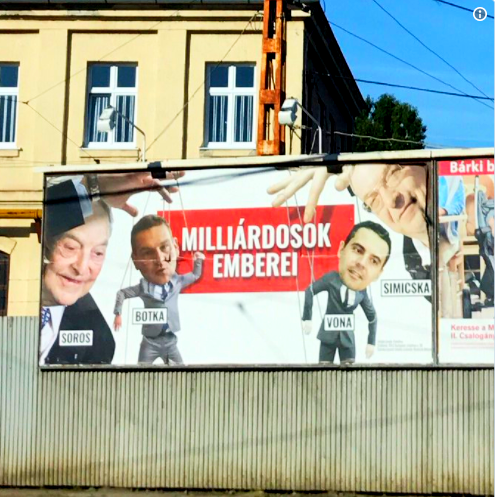 View image on Twitter
Dan Lyman
@CitizenAnalyst
Spotted in Budapest: billboards depicting Socialist party figurehead/2018 Orban opponent László Botka as puppet of George #Soros #SlavRight
The Financial Times claims that Soros "originally planned to wind down OSF before his death. Instead, he is doubling down on his project to foster the growth of democracies where governments encourage pluralism and accountability."
Soros recently dumped a whopping $18 billion of his own wealth into OSF, which reportedly comprises the lion's share of his personal fortune.
CNN characterized the massive transfer as a benevolent contribution to his "pro-democracy foundation." The Wall Street Journal called it a "tax shelter." Breitbart News declared that Soros was loading a mother of all monetary bombs into his "Death Star."
Recent estimates from prominent financial publications such as Bloomberg and Forbes estimate that Soros has been skirting multi-billion dollar tax obligations for years.
Dan Lyman: Facebook | Twitter
---
WHO and WHAT is behind it all ? : >
The bottom line is for the people to regain their original, moral principles, which have intentionally been watered out over the past generations by our press, TV, and other media owned by the Illuminati/Bilderberger Group, corrupting our morals by making misbehaviour acceptable to our society. Only in this way shall we conquer this oncoming wave of evil.
---
Commentary:
Administrator
HUMAN SYNTHESIS
All articles contained in HUMAN-SYNTHESIS are freely available and collected from the Internet.
The interpretation of the contents is left to the readers and do not necessarily represent the views of the Administrator.