The new European Superstate will be relegated as "youthful, feminine, modern and progressive"/amp
HUMAN SYNTHESIS
We already know that the European superstate will be relegated as "youthful, feminine, modern and progressive". (From WEF's material)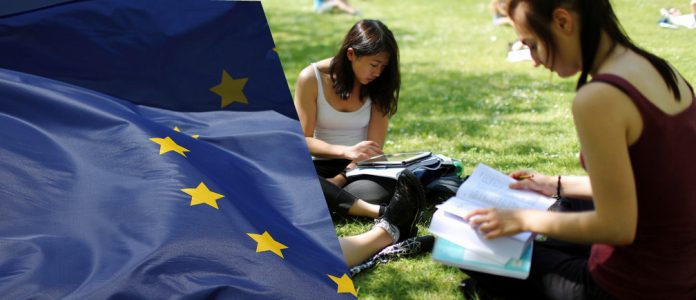 "World Congress of the Milliards" - World Economic Forum in Davos - understand that dissatisfaction bubbles beneath the surface of the EU and plans to relaunch the Union as "progressive", modern, youthful and feminine. The project is called "New Project for Europe" and is one of the main topics on the agenda for the WEF 2018 meeting. The 1,000 richest companies in the world, who are members of the WEF, dream of a centralized EU state, but realize that this is currently a small popular appeal. They intend to do something about it.
Realizes that there is dissatisfaction
World Economic Forum has received the international agency McKinsey Global Institute (MGI) to analyze the situation and MGI concludes in a report that EU citizens are dissatisfied with the way the EU is putting the economy on, dissatisfied with the results of globalization and dissatisfied with EU migration policy. MGI mentions, among other things, a poll conducted by Pew International, as mentioned earlier, showing that EU citizens want migration to be decided by each country.
MGI also refers to a report from the OECD that shows that people turn their backs to globalization. As stated in the OECD report: "Many people feel that the system is for the benefit of the rich and powerful." (P.5) The report states:
"Beyond the outcomes of globalization, there is a perceived lack of legitimacy in the way it has been advanced. Many citizens feel that there is too little transparency, too many conflicts between policymakers and multinational companies, and sometimes even outright malfeasance. "
Thus, residents feel that there is a lack of legitimacy in the way globalization is promoted, lack of transparency, too much synergy between politicians and multinational corporations, and at times also a direct abuse of power. McKinsey is aware of this dissatisfaction and also shows that migration policy has not worked since 50% of refugees to Germany are unemployed while Germany needs labour.
So one of the absolute highlights of McKinsey's report is that the EU must restore citizens' trust by demonstrating to the citizens that they have control over who may get in and that those who come in are being distributed in a fair way.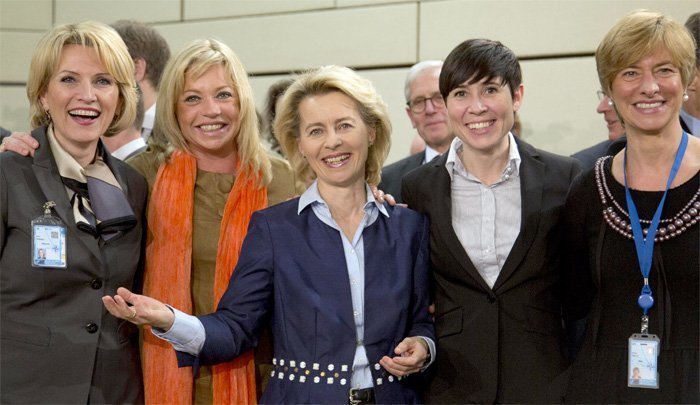 Here NATO defence ministers
A plan for Europe's United States 2.0
The World Economic Forum has in no way given up either globalization or mass migration, but they realize they must do something to regain some kind of popular enthusiasm for the project. As it's called on your web pages:
«In order to ensure that this positive development gains momentum and meets the expectations society needs, stakeholders need to collectively address the underlying concerns, review current prerequisites and develop a concept for a modern, future-oriented Europe in the context of the fourth industrial revolution.»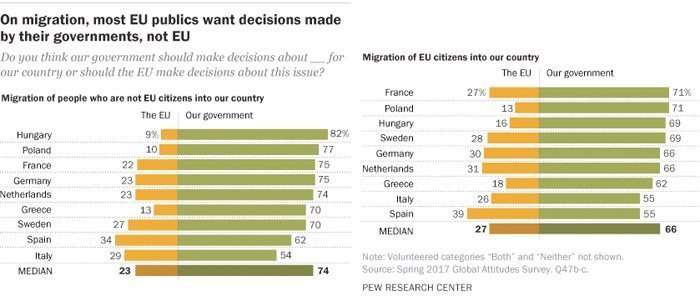 This is also central to the report "Renew Europe", signed by WEF founder Klaus Schwab and WEF President Børge Brende.
Citizens' distrust of the system is also a concern they share, and they write:
«Trust has already fallen in pan-European and national institutions, and citizens consistently find that their governments are not sufficiently addressing their needs or meeting their demands. Democratic values may be further strained as the world becomes even more digitalized, connected and complex. Europe will need to develop much more effective, responsible and responsive democracy and governance. »
WEF's plan for an EU 2.0 aims to cope with this. You do not give up the idea of a Europe's United States, but you realize that one has to sell the project in a better way and to create enthusiasm where there is no enthusiasm today. Those you trust are, of course, the youth. WEF has already created various forums for European youth to mobilize them for their sake. It is the Global Shaper community with 6000 members. It is the European Youth Forum with 104 member organizations, including many NGOs. And it is the European Youth Parliament that mobilizes close to 35,000 young people each year. These will be used as a mass mobilization tool for the project.
And we can already imagine how marketing will be. It will be "young", "feminine", "modern", "inclusive". And, of course, one of Europe's United States will come with one central government, one central bank and one army.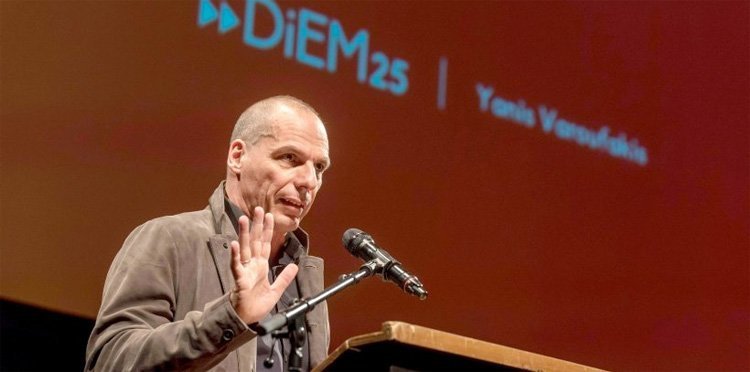 Yannis Varoufakis at Volksbühne in Berlin with DiEM25
Yanis Varoufakis as rescuer?
The former finance minister in Greece, Yanis Varoufakis, has been specifically invited to WEF to give his view on this future Europe. In the article, he describes how he and his organization DiEM25 are looking for this to be done.
On the one hand, Varoufaki's dissent from the version of the EU, like Emmanuel Macron and Wolfgang Schäuble, takes stands as he calls a "cutback union": "But now, under the weight of massive banking losses and legacy debts caused by the euro's faulty architecture, federation-lite (as proposed by French presidential hopeful Emmanuel Macron) is too little too late. It would become the permanent Austerity Union that German Finance Minister Wolfgang Schäuble has sought for years. There could be no better gift to today's "Nationalist International." "Varoufakis will also save the EU project, but he launches an alternative way to do it. He calls it The European New Deal, and it consists of five points: Large-scale "green" investment. An employment guarantee. A fund against poverty. A universal basic income. Protection against eviction. (To protect poor people from being thrown out of their homes. And that's it. It's the big new vision of a new Europe led in the PC of left-wing pop guru Varoufakis.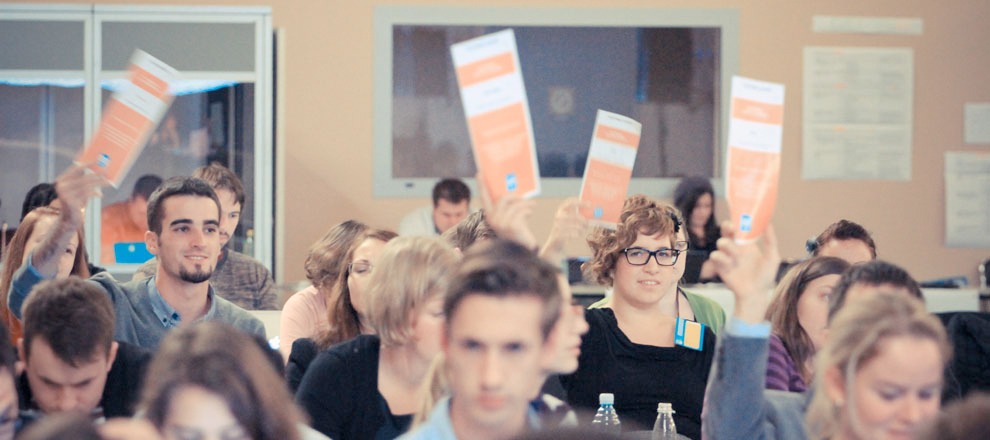 There's no reason why the multinational companies cannot swallow this if their return is Europe's United States and the abolition of the annoying national states.the European Youth ForumNew Campaigns for # NewGreenEUMILIONARIES aim to win this match, they have the money. They have a lot of knowledge about how they create and manipulate a people's opposition and they know where the shoe is pushing. We can already imagine the contours of how this campaign becomes. It becomes social media, it becomes NGOs, there will be female voices "from grassroots", it becomes "green and inclusive" very modern and forward-looking. And the core of it will be to lead people to quit a project that is primarily in the interests of multinational companies. For this, the new parties. "It is clear that the Social Democratic parties have played the role of the most important instruments for raising capital as a mass base.
Probably we will see a further dismantling of social democracy and that these parties will be replaced by "progressive movements", which are usually ad hoc and mood-based, such as Macron's Marche, but preferred by greater apparent legitimacy. Syriza played such a role to force through the dictatorship of financial capital across Greece. Podemos could possibly play such a role in Spain since they have already accepted both NATO and the EU, but there may also be others. And the young urban middle class will be seduced every time, as we already have a lot of experience for. But if this will go home in the working class, it's doubtful either. The billionaires have a huge problem and they are aware of it.
---
_PM Theresa May - World Economic Forum 2018 speach_ _President Donald Trump World Economic Forum 2018 speech_
---
WHO and WHAT is behind it all ? : >
The bottom line is for the people to regain their original, moral principles, which have intentionally been watered out over the past generations by our press, TV, and other media owned by the Illuminati/Bilderberger Group, corrupting our morals by making misbehaviour acceptable to our society. Only in this way shall we conquer this oncoming wave of evil.
---
Commentary:
LIES LIES LIES
The global elite is masters at sorcery and lies, turning one against the other. At once supporting the enemy, the next betraying them. They are NOT to be trusted. They have now realized that populism is awakening the people to the reality of their treachery, and in desperation are trying to set YOUTH against AGE in a `European Superstate´ which will be re-launched as "youthful, feminine, modern and progressive"
Administrator
HUMAN SYNTHESIS
All articles contained in HUMAN-SYNTHESIS are freely available and collected from the Internet. The interpretation of the contents is left to the readers and do not necessarily represent the views of the Administrator.