CFR - Council on Foreign Relations – Det virkelige partiet for overklassen i USA/amp
HUMAN SYNTHESIS
##Council on Foreign Relations – Det virkelige partiet for overklassen i USA
![alt](https://human-synthesis.ghost.io/content/images/2018/02/capture-20180201-161049.png)
Av Pål Steigan - 1. februar 20184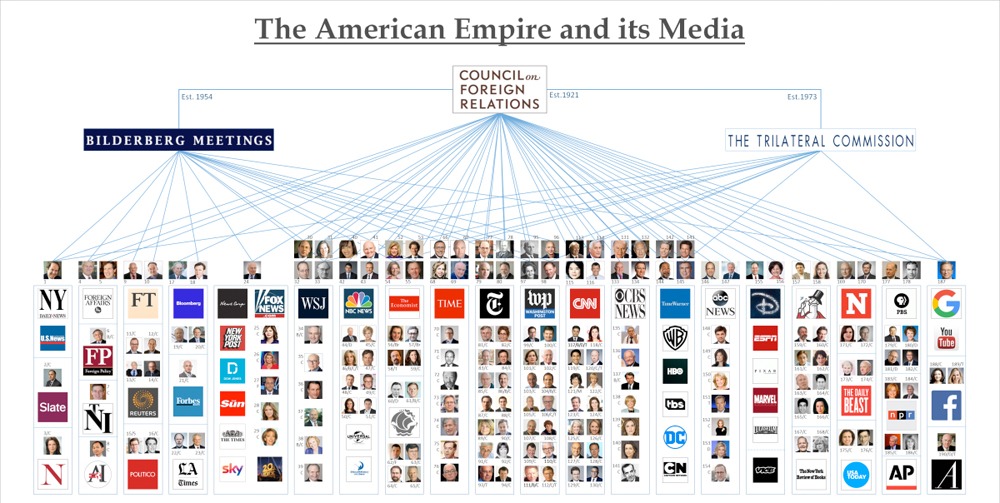 De to partiene som dominerer valgene i USA er som kjent valgmaskiner med stort sett overlappende programmer der deres senatorer sponses av de rikeste selskapene i landet. De er bare en front for det virkelige maktapparatet. Vi har tidligere pekt på hvor viktig og hvor mektig Council on Foreign Relations (CFR) er i USAs makstruktur.
Den herskende klassens parti
I en artikkel i Washington Post i 1993 med tittelen Den herskende klassens journalister skrev tidligere seniorredaktør Richard Harwood at CFR er "the nearest thing we have to a ruling establishment in the United States". Og han skrev om de journalistene og redaktørene som er medlemmer der:
"The membership of these journalists in the Council, however they may think of themselves, is an acknowledgment of their active and important role in public affairs and of their ascension into the American ruling class. They do not merely analyze and interpret foreign policy for the United States; they help make it. () They are part of that establishment whether they like it or not, sharing most of its values and world views."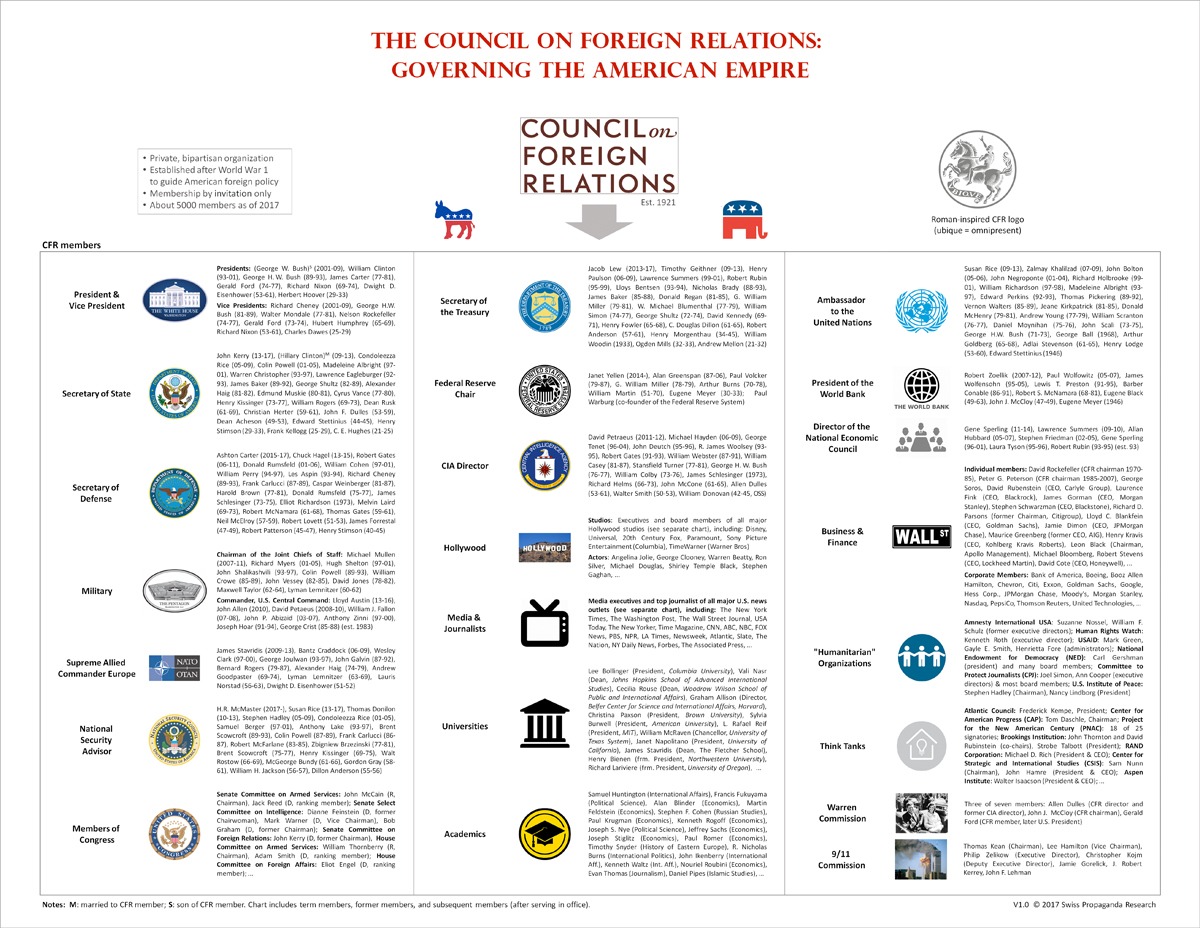 Blant medlemmene i CFR finner vi
De fleste av USAs presidenter og visepresidenter fra begge partier
Nesten alle utenriksministre, forsvarsministre og finansministre i USA.
Mange høytstående militære kommandanter i USA og NATO
Nesten alle sikkerhetsrådgivere, CIA-direktørerFN-ambassadører, sjefer for The Federal Reserve, presidenter i Verdensbanken og direktører for National Economic Council
De fleste innflytelsesrike medlemmer av kongresse, fra begge partier.
Toppsjefer i mediaindustrien, toneangivende journalister og framtredende Hollywood-skuespillere.
Framtredende akademikere, særlig innen økonomi, utenrikspolitikk, samfunnsvitenskap, historie og journalistikk.
Toppsjefer for Wall Street-korporasjoner, politiske tenketanker, universiteter og NGOer.
Sentrale medlemmer av 9/11-kommisjonen og Warren-kommisjonen.
En oversikt over de viktigste medlemmene av Council on Foreign Relations
Last ned en stor versjon her.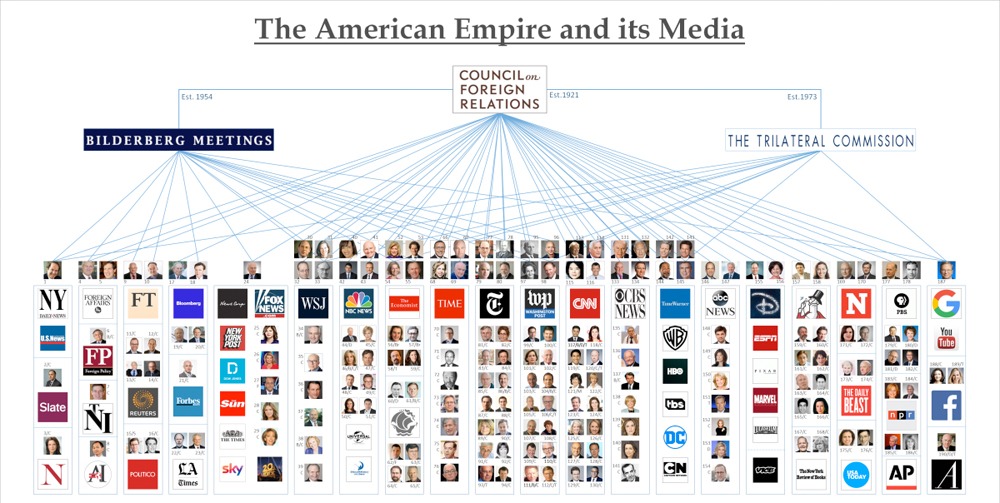 Den økonomiske og politiske overklassen
Fra Wall Street finner vi:
David Rockefeller, George Soros, David Rubinstein (Carlyle Group), Larry Fink (BlackRock), Jmes Gorman (Morgan Stanley), Lloyd C. Blankfein (Goldman Sachs), Jamie Dimon (JP Morgan Chase), Michael Bloomberg, Robert Stevens (Lockheed Martin) David Cote (Honeywell. Noen korporasjoner er medlemmer i kraft av seg sjøl, slik som: Bank of America, Boeing, Chevron, Citi, Exxon, Goldman Sachs, Google, Facebook, JP Morgan Chase, Moody's, Morgan Stanley, Nasdaq, PepsiCo, Thomson Reuters, United Technologies.
Blant NGOene finner vi ledere fra:
Amnesty International (blant annet tidligere sjef Suzanne Nossel), Human Rights Watch (Kenneth Roth), USAID, National Endowment for Democracy (politisk front for CIA).
Blant tenketankene finner vi:
Atlantic Council, Center for American Progress, Project for the New American Century, Brookings Institution, RAND Corporation (tenketank for US Army), Center for Strategic and International Studies, Aspen Institute.
Fra Hollywood finner vi:
Toppledere og styremedlemmer fra samtlige Hollywood-studioer inkludert Disney, Universal, 20th Century Fox, Paramount, Sony Picture Entertainment, TimeWarner og skuespillerne Angelina Jolie, George Clooney, Warren Beatty, Michael Douglas, Shirley Temple Black.
Toppsjefer og journalister fra samtlige ledende mediehus i USA:
New York Times, The Washington Post, The Wall Street Journal, USA Today, The New Yorker, Time Magazine, CNN, ABC, NBC, Fox News, PBS, NPR, LA Times, Newsweek, Atlantic, Slate, The Nation, Forbes, The Associated Press.
Absolutt alle de store mediehusene er medlemmer av CFR.
Forgreininger til alle deler av samfunnet i USA
Gjennom sine medlemmer og deres nettverk har CFR forgreininger til alle deler av samfunnet i USA. Og legg merke til: Det er ikke noen hemmelighet hvem CFR er og hvem som er medlemmer eller hva CFR står for politisk. CFR har egen informativ nettside. Der publiserer de lister over individuelle medlemmer og selskaper som er medlemmer.
Og de publiserer rapporter og artikler som gjennomgående får stort gjennomslag i amerikanske og vestlige medier, ofte via formidlere i redaksjoner eller regjeringer. Nå har de for eksempel viet et helt segment til det kurdiske spørsmålet.
Lista over direksjonen i CFR finner du her. Det er ikke spesielt overraskende å finne en mann som Larry Fink der, toppsjefen i verdens største investeringsfond BlackRock.
Politisk/økonomisk organisering
(Utdrag fra artikkelen Vi er noen fordømte amatører)
Monopolborgerskapet er ikke bare organisert via den kapitalen de kontrollerer. Det er et nødvendig, men ikke tilstrekkelig ledd. I tillegg finnes det stiftelser, tenketanker, nettverk og politiske møteplasser. (Hadde jeg vært universitetslærer med ei gruppe studenter å rettleie, ville jeg lagd graveoppgaver om dette. Ta de ti største tenketankene og de 50 største selskapene og plukk ut personalallianene mellom dem, for eksempel.)
Men jeg skal gi noen eksempler, som ikke krever mye datakraft eller mange arbeidsuker. Ta Council of Foreign Relations. Det er en av verdens mektigste tenketanker. Wikipedia skriver:
Its membership has included senior politicians, more than a dozen secretaries of state, CIA directors, bankers, lawyers, professors, and senior media figures. The CFR promotes globalization, free trade, reducing financial regulations on transnational corporations, and economic consolidation into regional blocs such as NAFTA or the European Union, and develops policy recommendations that reflect these goals. …
The CFR meetings convene government officials, global business leaders and prominent members of the intelligence/foreign-policy community to discuss international issues. CFR publishes the bi-monthly journal Foreign Affairs, and runs the David Rockefeller Studies Program, which influences foreign policy by making recommendations to the presidential administration and diplomatic community, testifying before Congress, interacting with the media, and publishing on foreign policy issues.
CFR er langt på vei en stat i staten, og det er ikke mange store utenrikspolitiske saker som ikke har vært gjennom der. Når de for eksempel utgir en rapport om Enhancing U.S. Support for Peace Operations in Africa, så er det intet mindre enn et autoritativt forslag til ny Afrika-strategi for å sikre USAs hegemoni.
Eller ta en rapport under tittelen The TPP Is the Last, Best Opportunity for New Global Trade Rules. Dette er noe nær marsjordren til politikerne med hilsen oligarkene.
Ved hjelp av noen enkle verktøy har jeg lagd en rudimentær skisse av CFRs nettverk. (Jeg må utelate mesteparten, ellers ville det blitt for mye informasjon på liten plass.)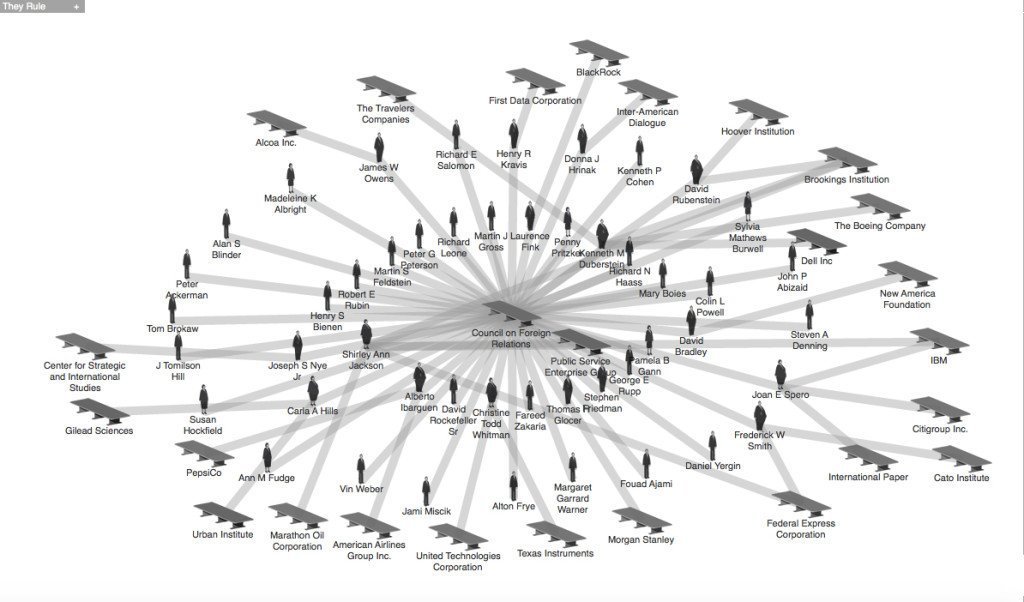 Council of foreign relations
Dette er bare nettverket rundt styret i CFR, og som du vil se omfatter det noen av USAs største selskaper, slik som ALCOA, Pepsico, IBM, Boeing osv. Det omfatter noen av de største bankene og finansinstitusjonene, slik som Citigroup, Morgan Stanley og BlackRock. Og CFR er også knyttet til noen av de andre viktige tenketankene og stiftelsene, slik som Cato Institute, Hoover Institution, Brookings Institution («den mektigste tenketanken i verden» se plansje nedenfor), Center for Strategic and International Studies, Urban Institute og New America Foundation. Dette er crème de la crème av amerikansk storkapital og makt.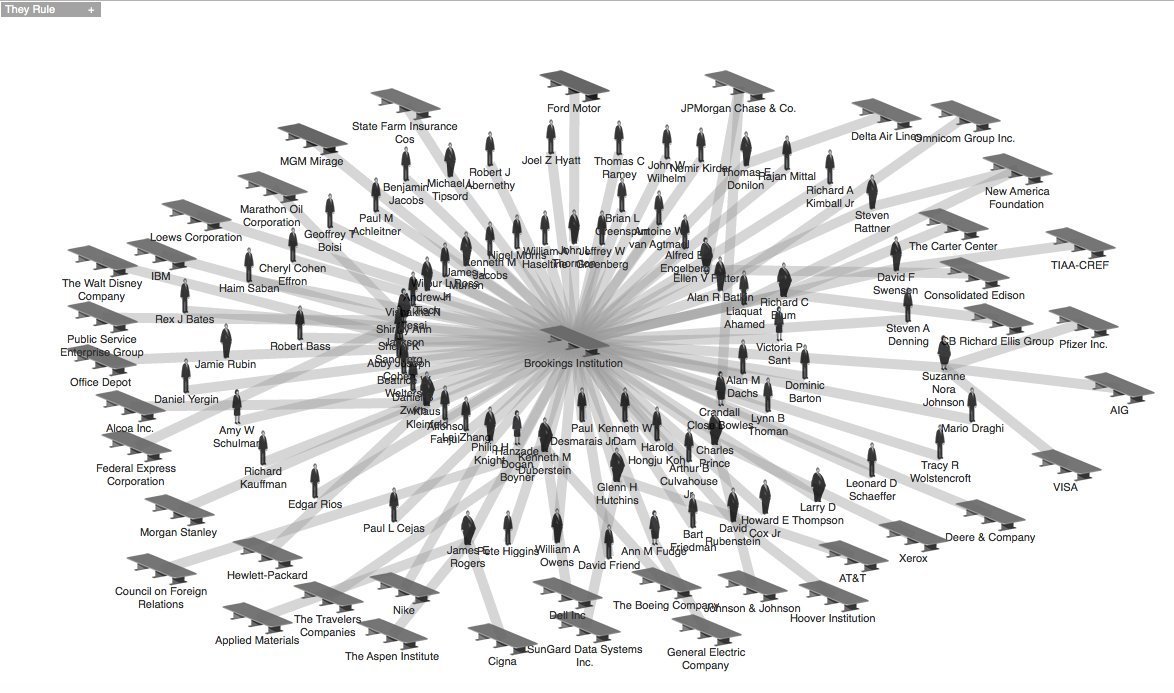 Brookings Institution
Monopolborgerskapets organisering som klasse
Man leser dette feil hvis man ser på disse maktsentrene som «verdensregjeringer». Det er nyttigere å se på dem som representantskap eller partier. De folkene som sitter her er ikke enige seg i mellom om alt mulig. Til tider er de rasende uenige. Men dette er fora der de møtes for å utrede politikk og linjer, bli enige om kompromisser og samordne sine klasseinteresser, i den grad de klarer det.
Kapitalismen er inne i flere djupe kriser, og monopolborgerskapet kaver etter å utvikle planer for å løse disse krisene til sin fordel. Generelt er de enige om globalisering, overnasjonalitet, monopolisering, nedbygging eller helst avskaffelse av velferdsstaten og fjerning av enhver hindring for kapitalens kontroll over arbeidskraft og naturressurser. Nasjonale regjeringer ser de stort sett som plunder og heft. Og det er mange her som hver for seg rår over mer kapital enn bruttonasjonalproduktet til et mellomstort land. Men det betyr ikke at de er samkjørte i alt, eller at de er organisert under en felles ledelse. Styrken i dette systemet er at det er tvert om! Det vil si, de er organisert og til en stor grad samkjørte, men nettverket er løst nok til at det gir rom for motsetninger og indre kamp. Og sterkt nok til at det kan sendes ut signaler som får regjeringer til å falle.
Les også: Laurence H. Shoup (2015): Wall Street's Think Tank: The Council on Foreign Relations and the Empire of Neoliberal Geopolitics, 1976-2014, Monthly Review Press
Council on Foreign Relations:
Membership rosters, 1922 to 2013 and 2016
CFR members in U.S. Administrations, 1900 to 2014
**CFR - Council of Foreign Relations - USA :**

**ECFR - European Council of Foreign Relations :**
---
WHO and WHAT is behind it all ? : >
The bottom line is for the people to regain their original, moral principles, which have intentionally been watered out over the past generations by our press, TV, and other media owned by the Illuminati/Bilderberger Group, corrupting our morals by making misbehaviour acceptable to our society. Only in this way shall we conquer this oncoming wave of evil.
---
Commentary:
Administrator
HUMAN SYNTHESIS
All articles contained in HUMAN-SYNTHESIS are freely available and collected from the Internet.
The interpretation of the contents is left to the readers and do not necessarily represent the views of the Administrator.