Bilderberg: the world's most secretive conference is as out of touch as ever/amp
HUMAN SYNTHESIS
#Bilderberg: the world's most secretive conference is as out of touch as ever.

02 June 2017
####The secretive group will discuss the 'war on information' and ponder whether globalisation can be slowed – but they may want to take a look in the mirror.
![alt](https://human-synthesis.ghost.io/content/images/2017/07/1624.jpg)
Spanish economy minister Luis de Guindos (left) and a man the World Bank claims is not its executive director Fernando Jiménez Latorre (right)
Say what you like about Bilderberg, but they've got a sense of humour. The agenda for this year's secretive summit of the global elite is full of in-jokes. They get big laughs straight off the bat by describing themselves as "a diverse group of political leaders and experts".
They're trumpeting the diversity of a conference where less than 25% of the participants are female. Which would be a huge step forward, if it were currently 1963.
And as for racial diversity, there are more senior executives of Goldman Sachs at this year's Bilderberg than there are people of colour.
Bilderberg 2017: secret meeting of global leaders could prove a problem for Trump
Perhaps by "diverse" they mean that some of the participants own hedge funds, whereas others own vast industrial conglomerates. Some are on the board of HSBC, others are on the board of BP. Some are lobbyists, others are being lobbied. That sort of thing.
Dafter still is the agenda item: "Can globalisation be slowed down?" You think that the assembled heads of Google, AT&T, Bayer, Airbus, Deutsche Bank, Ryanair, Fiat Chrysler, and the Frankfurt Stock Exchange want to see a brake on globalisation? It's the air that they breathe.
Bilderberg insider Eric Schmidt, who runs Google, once began a speech at Davos with the words: "I assume that everybody here agrees that globalisation is wonderful." Sitting in the audience at Bilderberg are the heads of four of the world's 10 largest financial services companies: AXA, Allianz, ING and Banco Santander. You've got to assume that "Can globalisation be slowed down?" is going to be met by roars of laughter and a hail of bread rolls.
But my favourite joke by far from this year's agenda is this item: "The war on information". Bilderberg is concerned about fake news? The world's most secretive conference, which is spending hundreds of thousands of dollars keeping the press away from its sacred discussions, which has spent decades lying and obfuscating about itself, wants to ensure the spread of truth?
Already this year we know that the list of participants sent out by the conference may not be totally accurate. Above is a photograph of Spain's minister of economy, industry and competitiveness, Luis de Guindos, in the sunglasses on the left. Sitting next to him is a man the World Bank insists is not Fernando Jiménez Latorre, one of its executive directors. Latorre was appointed to the position by Guindos last year – and is missing from the
2017 - Bilderberg participant list.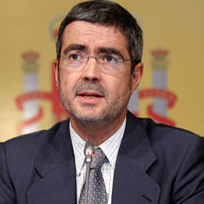 Fernando Jiménez Latorre (You can compare the photo above with this one)
So when Bilderberg talks about the "The war on information" , you have to wonder what side they're fighting on. Not here in Chantilly, but many times before I've been detained by armed police for trying to report on this conference. I've been bundled into police cars and yelled at to hand over my camera. I've been escorted out of my bedroom at 1am and made to stand under a police spotlight on an Austrian mountainside. I've actually wrestled with a policeman in an Athens metro station. And they want to talk about a war on information?
If Bilderberg wants an answer to "Why is populism growing?" – another question on the agenda – they might take a look in the mirror. It's almost as if people aren't all that comfortable with unaccountable technocratic elites and billionaire globalists lobbying their ministers and party leaders behind closed doors.
The optics are awful. To see Spain's minister of the economy being locked away for three days with Ana Botín, the head of Banco Santander, Spain's largest bank, while around them swirl Goldman Sachs executives, hedge fund owners and the secretary general of Nato, and then not see a press conference at the end of it ... this might be part of the problem.
When Donald Trump refuses to take questions on a given subject, it's an outrage. And rightly. Bilderberg gave its last press conference in the mid-1970s. They've been fighting the war on information for far too long. It's time for them to lay down their arms, enter the 21st century, and start talking.
[**Why is the director of CERN at the 2017 Bilderberg conference?**](https://newearth.media/director-cern-bilderberg-conference/)
---
WHO and WHAT is behind it all ? : >
---
Commentary:
Administrator
HUMAN SYNTHESIS