HUMAN SYNTHESIS
![alt](https://human-synthesis.ghost.io/content/images/2018/02/capture-20180207-121712.png)
_Europa: Jakten på en ny totalitarisme av Judith Bergman 7. februar 2018_
Europa: Jakten på en ny totalitarisme
![alt](https://human-synthesis.ghost.io/content/images/2018/02/3112.jpg)
EU har implementert programmer som har til formål å påvirke generelle nyhetsmedier og journalister med sin egen agenda - for eksempel massemigrasjonen til Europa fra Afrika og Midtøsten. Til dette formål har Europa-kommisjonen nylig finansiert publisering av en håndbok for journalister om hvordan man skriver om innvandrere og migrering.
Det ser ut til å være i disse medierepresentantene å sette etiketten "falske nyheter" på konkurrenter fra alternative eller nye medier.
En foreslått fransk lov ville tillate myndigheter å blokkere nettsteder under valgsesongene - og strenge tiltak for å bekjempe politiske motstandere som ville plassere Frankrike i samme kategori som land som Kina og Iran for å blokkere nettsteder som ikke passer deres regimer agendaer.
EU intensiverer sine forsøk på å censurere og marginalisere stemmer som er uenige med deres politikk, under eufemismen som de bekjemper "falske nyheter".
"Kommisjonen må gjennomgå utfordringer plattformer på nettoresultatet av våre demokratier, gitt spredning av falsk informasjon, og sette i gang en refleksjon over hva som ville være nødvendig på EU-nivå for å beskytte våre borgere," skrev Jean-Claude Juncker, president i Europa Kommisjonen i mai 2017. Hvilken omtenksom at Juncker, på totalitære måter, ønsker å beskytte EU-innbyggere fra nyheter som ikke passer til kommisjonens agenda.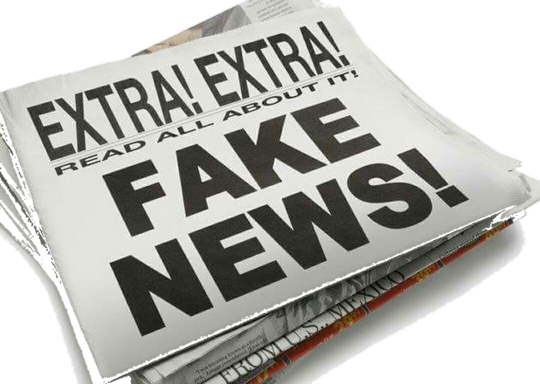 I oktober 2017 informerte Europa-kommisjonen om sin "falske nyheter" -politikk og hvordan den skulle "utforme løsninger for å takle spredning av falske nyheter". Ifølge kommisjonen består "Fake News" av bevisst feilinformasjon spredt over sosiale plattformer på nettet, og sender nyhetsmedier eller tradisjonelle medier. " Videre styres EUs politikk om falske nyheter ifølge Kommisjonen blant annet av ytringsfrihet, mediepluralisme og borgernes rett til mangfoldig og pålitelig informasjon.
Denne påstanden om ytringsfrihet og pluralisme føles ganske latterlig, gitt at EU allerede gjør det som kreves for å utelukke «mediepluralisme og ... allsidig og pålitelig informasjon». For eksempel har EU iverksatt programmer som programmet for rettigheter, likestilling og statsborgerskap (REC), som har som mål å påvirke den generelle nyhetsmedier og journalister med sin egen agenda - slik som den rettet mot massemigrasjon til Europa fra Afrika og Midtøsten.
Til dette formål har Europa-kommisjonen nylig finansiert publisering av en håndbok for journalister om hvordan man skriver om innvandrere og migrering. Håndboken ble lansert 12. oktober av International Press Institute (IPI) - en organisasjon av medieprofessorer som representerer ledende nyhetskilder digitalt, på trykk og på fjernsyn og radio i mer enn 120 land.
Retningslinjene anbefaler spesielt følgende for muslimer: "... Vær forsiktig med å stigmatisere ord som 'muslim' og 'islam' ytterligere ved å knytte dem til bestemte dokumenter ... Ikke la ekstremistene uttalelser om at de handlet" i islams navn 'gå ubemerket hen. Legg vekt .. Mangfoldet blant muslimske samfunn ... "
EU har også gitt økonomisk støtte til en kampanje, Media Against Hate, som drives av European Journalist Federation (EAF), Europas største journalistorganisasjon, som representerer over 320 000 journalister fra 43 land.
Kampanjen tar sikte på å: " ... bedre mediedekning knyttet til migrasjon, flyktninger, religiøse og marginaliserte grupper ... gi motstand til hat, intoleranse, rasisme og diskriminering ... å forbedre gjennomføringen av det juridiske rammeverket som regulerer hatmeldinger og uttrykk ... "
For å fremme sine fremtidige "falske nyheter" -regler, utnevnte Europakommisjonen nylig 39 "eksperter" for å bli en "High Level Group (HLEG) på falske nyheter og online disinformation":
"Det består av representanter fra det sivile samfunn, sosiale medier plattformer, nyhetsmedier organisasjoner, journalister og akademikere"
"Gruppen vil samarbeide med Kommisjonen om å undersøke fenomenet falske nyheter og definere roller og ansvar for relevante aktører, få forståelse for den internasjonale dimensjonen, oppfinne standpunkter og formulere anbefalinger."
Medie representanter har blitt valgt nesten utelukkende fra den generelle media - giganter som ARD, RTL, svensk TV, Sky News, AFP og Nyheter Media Europa, noe som betyr at balansen av disse "ekspertene" skal bety umulig. Disse medier ser selv nye eller alternative medier som en trussel, og det er derfor i deres interesse at disse medierepresentantene legger etiketten "falske nyheter" på konkurrenter fra alternative eller nye medier. Gruppen holdt sitt innledende møte 15. januar 2018.
EuropEiska Commission vil gjennomføre en meningsmåling blant EU-borgere, samt en Eurobarometer-undersøkelse som skal gjennomføres tidlig i 2018 "for å måle og analysere EU-borgernes oppfatninger og bekymringer angående falske nyheter". Kommisjonen vil også arrangere en konferanse om falske nyheter "flere interessenter" som vil "definerer grensene for problemet, evaluere effekten av de løsningene som allerede er gjennomført sosiale medieplattformer og ... enige om viktige prinsipper for videre handling," .
EU ikke alene i truet med avskaffelsen av ytringsfriheten under forsiden av "bekjempelse av falske nyheter". I Frankrike, kunngjorde president Emmanuel Macron at han ville innføre en ny lov som tar sikte på å regulere "fake news" under valsäsonger, blant annet "juridisk krise" som ville gi den franske regjeringen tillatelse til å fjerne "falske nyheter" fra et nettsted eller blokkere hele nettsteder.
Macron sa: "Hvis vi ønsker å beskytte våre liberale demokratier, må vi være sterke og ha klare regler når den falske nyheten spredte seg, vil det være mulig å gå til en dommer ... og hvis det anses hensiktsmessig, noen inneholder slettet, slettet brukerkontoer, og i. slutt nettsteder blokkert "en lov som dette ville bety at den franske regjeringen - og som nå befinner seg i en posisjon der han kan fungere tanke politiet, på vegne av staten - vil bli en slags voldgiftsdommer kan bestemme hva som er den". sannhet " noe som minner om den nye tyske sensur lov som krever at sosiale medier nettverk til å fungere som et privatisert tanke politiet på tysk staten.
Den foreslått fransk lov ville gå enda lenger enn den tyske sensur, ved at den ville tillate franske myndigheter å blokkere hele nettsteder i rullende sesonger, et drakonisk mål for å bekjempe politiske motstandere, som ville plassere Frankrike i samme kategori som land som Ki na og Iran blokkerer nettsteder som ikke samsvarer med regimets agenda. En slik fransk lov vil også krenke retten til ytringsfrihet og informasjonsfrihet garantert i artikkel 10 i Den europeiske menneskerettighetserklæring.
Artikkel 10 slår fast at ikke bare har rett til ytringsfrihet, men også for å "motta og meddele opplysninger og ideer uten inngrep av offentlige myndigheter og uten hensyn til grenser ..." Regjeringer bør ikke blande seg inn i denne retten - med noen få unntak som er beskrevet i Artikkel 10 - fordi et slikt inngrep er en sensur av regjeringen. Overordnet synes Europa å forsøke å fremme totalitarisme igjen.
Judith Bergman er en kroniker, advokat og politisk analytiker.
---
WHO and WHAT is behind it all ? : >
The bottom line is for the people to regain their original, moral principles, which have intentionally been watered out over the past generations by our press, TV, and other media owned by the Illuminati/Bilderberger Group, corrupting our morals by making misbehaviour acceptable to our society. Only in this way shall we conquer this oncoming wave of evil.
---
Commentary:
Administrator
HUMAN SYNTHESIS
All articles contained in HUMAN-SYNTHESIS are freely available and collected from the Internet. The interpretation of the contents is left to the readers and do not necessarily represent the views of the Administrator.