The global elite is twisting and turning in throes of death/amp
HUMAN SYNTHESIS
#The global elite is twisting and turning in throes of death
Milliardærene vil lansere EU-staten som «progressiv»
Av Pål Steigan - 24. januar 2018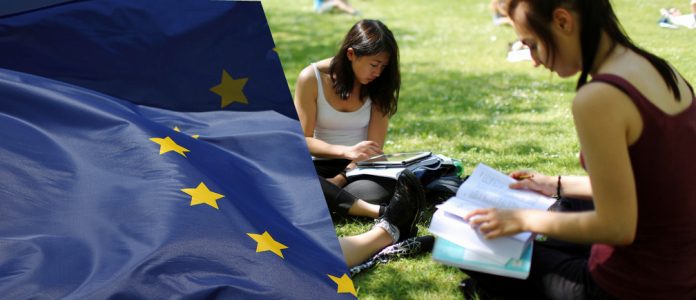 Vi vet allerede at den europeiske superstaten vil bli relansert som "ungdommelig, feminin, moderne og progressiv". Fra WEFs materiell.
«Milliardærenes verdenskongress» – World Economic Forum i Davos – skjønner at misnøyen bobler under overflaten i EU og planlegger å relansere unionen som «progressiv», moderne, ungdommelig og feminin. Prosjektet går under navnet «New Project for Europe» og er en av hovedsakene på agendaen for WEFs 2018-møte. De 1000 rikeste selskapene i verden, som er medlemmene i WEF, drømmer om en sentralisert EU-stat, men innser at dette foreløpig har liten folkelig appell. Det akter de å gjøre noe med.
Innser at det er misnøye
World Economic Forum har fått det internasjonale byrået McKinsey Global Institute (MGI) til å analysere situasjonen for seg, og MGI slår fast i en rapport at EU-innbyggerne er misfornøyde med den måte EU skjøtter økonomien på, misfornøyde med resultatene av globaliseringa og misfornøyde med EUs migrasjonspolitikk. MGI nevner blant annet en meningsmåling utført av Pew International som vi har omtalt her tidligere, og som viser at EU-innbyggerne ønsker at migrasjon skal avgjøres av hvert enkelt land.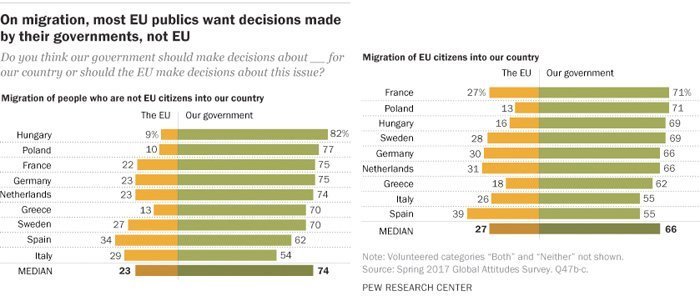 MGI viser også til en rapport fra OECD som viser at folk vender ryggen til globaliseringa. Som det står i rapporten fra OECD: «Mange folk føler at systemet er til fordel for de rike og mektige.» (s.5) Rapporten sier videre:
"Beyond the outcomes of globalisation,there is a perceived lack of legitimacy in the way in which it has been advanced. Many citizens feel that there is too little transparency, too many conflicts of interests between policymakers and multinational firms, and sometimes even outright malfeasance."
Innbyggerne føler altså at det er en mangel på legitimitet i den måten globaliseringa er fremmet på, mangel på gjennomsiktighet, for mye samrøre mellom politikere og multinasjonale selskaper og til tider også direkte maktmisbruk. McKinsey er klar over denne misnøyen og viser også til at migrasjonspolitikken ikke har fungert, siden 50% av flyktningene til Tyskland er uten arbeid samtidig som Tyskland trenger arbeidskraft.
Så et av de absolutte hovedpunktene i McKinseys rapport er at EU må gjenerobre innbyggernes tillit gjennom å demonstrere overfor innbyggerne at man har kontroll over hvem som får slippe inn og at de som kommer inn blir fordelt på en rettferdig måte.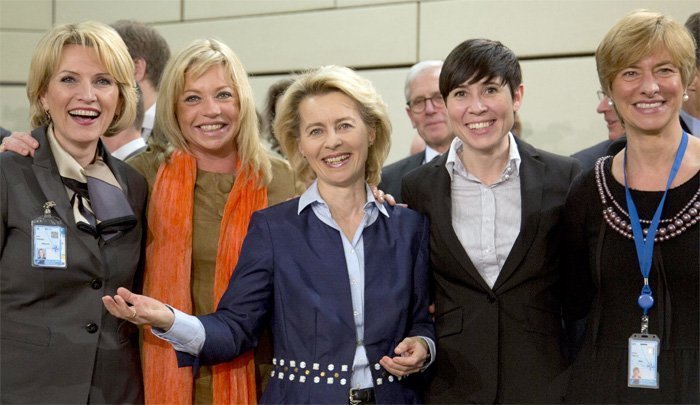 Kvinner for krig, her NATOs forsvarsministre
En plan for Europas forente stater 2.0
World Economic Forum har på ingen måte gitt opp verken globaliseringa eller massemigrasjonen, men de innser at de må gjøre noe for å gjenvinne en slags folkelig entusiasme for prosjektet. Som det heter på nettsidene deres:
«To ensure that this positive development gains momentum and delivers on the expectations of society, stakeholders need to collectively address the underlying concerns, review current assumptions and develop a concept for a modern, future-oriented Europe in the context of the Fourth Industrial Revolution.»
Dette står også sentralt i rapporten «Renew Europe» som er undertegnet av WEF-grunnlegger Klaus Schwab og WEF-president Børge Brende.
Innbyggernes mistillit til systemet er også en bekymring de deler, og de skriver:
«Trust has already fallen in pan-European and national institutions, and citizens consistently find that their governments are not sufficiently addressing their needs or meeting their demands. Democratic values may be further strained as the world becomes even more digitalized, connected and complex. Europe will need to develop much more effective, responsible and responsive democracy and governance.»
WEFs plan for et EU 2.0 tar sikte på å takle dette. Man gir ikke opp tanken om et Europas forente stater, men man innser at man må selge prosjektet på en bedre måte og at må skape entusiasme der det ikke er entusiasme i dag. Dem man setter sin lit til da er naturligvis ungdommen. WEF har allerede skapt diverse fora for europeisk ungdom for å mobilisere dem for sin sak. Det er Global Shapers community med 6000 medlemmer. Det er The European Youth Forum med 104 medlemsorganisasjoner, deriblant mange NGOer. Og det er The European Youth Parliament som mobiliserer nær 35.000 unge hvert år. Disse skal brukes som verktøy for massemobilisering for prosjektet.
Og vi kan allerede ane hvordan markedsføringa vil bli. Det vil bli «ungt», «feminint», «moderne», «inkluderende». Og ut av det hele vil det komme et Europas forente stater med én sentralregjering, én sentralbank og én hær.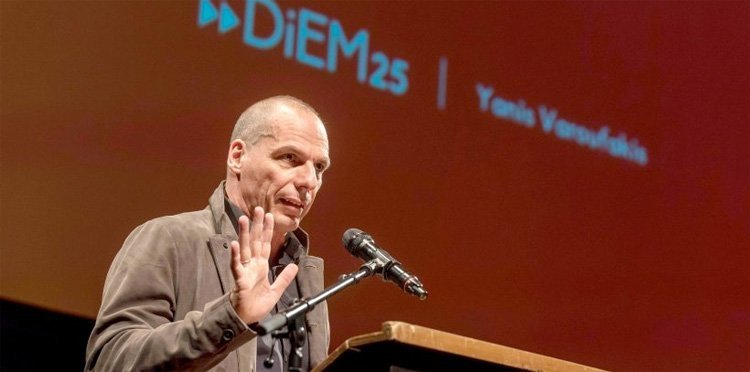 Yannis Varoufakis på Volksbühne i Berlin med DiEM25
Yanis Varoufakis som redningsmann?
Den tidligere finansministeren i Hellas, Yanis Varoufakis, er spesielt invitert til WEF for å gi sitt syn på dette framtidige Europa. I artikkelen The death of the European idea, and a new deal trying to save it streker han opp hvordan han og hans organisasjon DiEM25 ser for seg at dette kan gjøres.
På den ene sida tar Varoufakis avtand fra den versjonen av EU som Emmanuel Macron og Wolfgang Schäuble har lansert og som han kaller en «nedskjæringsunion»:
«But now, under the weight of massive banking losses and legacy debts caused by the euro's faulty architecture, federation-lite (as proposed by French presidential hopeful Emmanuel Macron) is too little too late. It would become the permanent Austerity Union that German Finance Minister Wolfgang Schäuble has sought for years. There could be no better gift to today's "Nationalist International."»
Varoufakis vil også redde EU-prosjektet, men han lanserer en alternativ måte å gjøre det på. Han kaller det The European New Deal, og den består av fem punkter:
Storstilt «grønn» investering.

En sysselsettingsgaranti.

Et fond mot fattigdom.

En universell basisinntekt.

Beskyttelse mot utkastelse. (For å beskytte fattige folk mot å bli kastet ut fra sine hjem.
Og det er det. Det er den store nye visjonen om et nytt Europa ført i PCen av venstresidas popguru Varoufakis. Det er ingen grunn til at ikke de multinasjonale selskapene skal kunne svelge dette, hvis det de får til gjengjeld er Europas forente stater og opphevelse av de brysomme nasjonalstatene.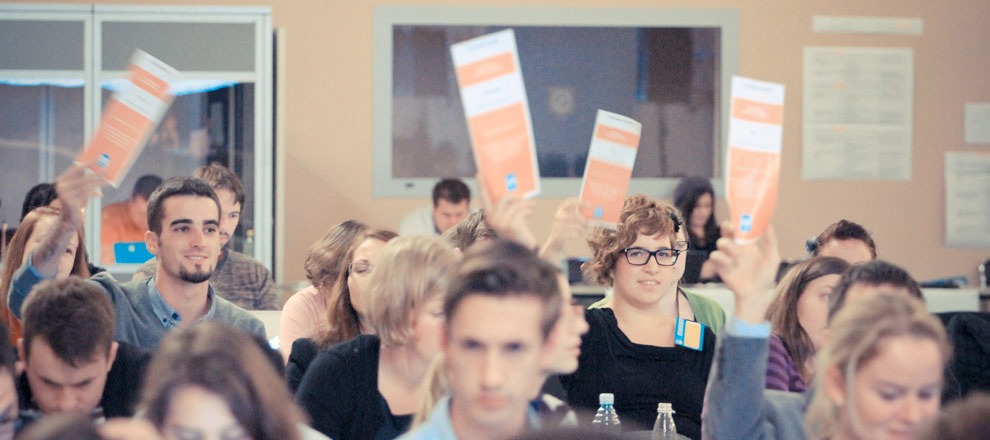 The European Youth Forum
Nye kampanjer for #NyeGrønneEU
Milliardærene tar sikte på å vinne denne kampen. De har pengene til det. De har veldig mye kunnskap om hvordan de skaper og manipulerer en folkeopinion, og de vet hvor skoen trykker. Vi kan allerede ane konturene av hvordan denne kampanjen blir. Det blir sosiale medier, det blir NGOer, det blir kvinnelige stemmer «fra grasrota», det blir «grønt og inkluderende» og veldig moderne og framtidsrettet. Og kjerne i det vil være å forlede folk til å slutte opp om et prosjekt som først og fremst er i de multinasjonale selskapenes interesse.
Til dette kreves det nye «partier». Det er tydelig at de sosialdemokratiske partiene har utspilt rollen som de viktigste instrumentene for å skaffe kapitalen en massebasis. Antakelig vil vi få se en fortsatt demontering av sosialdemokratiet og at disse partiene blir erstattet av «progressive bevegelser», som gjerne er ad hoc og stemningsbaserte, slik som Macrons En Marche, men fortrinns med større tilsynelatende legitimitet. Syriza spilte en slik rolle for å tvinge gjennom finanskapitalens diktatur over Hellas. Podemos kunne eventuelt spille en slik rolle i Spania, siden de allerede har akseptert både NATO og EU, men det kan også komme andre. Og den unge, urbane middelklassen vil la seg forføre hver gang, slik vi allerede har svært mye erfaring for.
Men om dette vil gå hjem i arbeiderklassen, er heller tvilsomt. Der har milliardærene et kjempeproblem, og det er de klar over.
---
WHO and WHAT is behind it all ? : >
The bottom line is for the people to regain their original, moral principles, which have intentionally been watered out over the past generations by our press, TV, and other media owned by the Illuminati-Bilderberger Group, corrupting our morals by making misbehaviour acceptable to our society. Only in this way shall we conquer this oncoming wave of evil.
---
_PM Theresa May - World Economic Forum 2018 speach_ _President Donald Trump World Economic Forum 2018 speech_
---
Commentary:
LIES LIES LIES
The global elite is masters at sourcery and lies, turning one against the other. At once supporting the enemy, the next betraying them. They are NOT to be trusted. They have now realized that populism is awakening the people to the reality of their treachery, and in desperation are trying to set YOUTH against AGE in a `European Superstate´ which will be re-launched as "youthful, feminine, modern and progressive"
Administrator
HUMAN SYNTHESIS
All articles contained in HUMAN-SYNTHESIS are freely available and collected from the Internet.
The interpretation of the contents is left to the readers and do not necessarily represent the views of the Administrator.