VINDKRAFT: Vår minst Bærekraftige Strømressurs?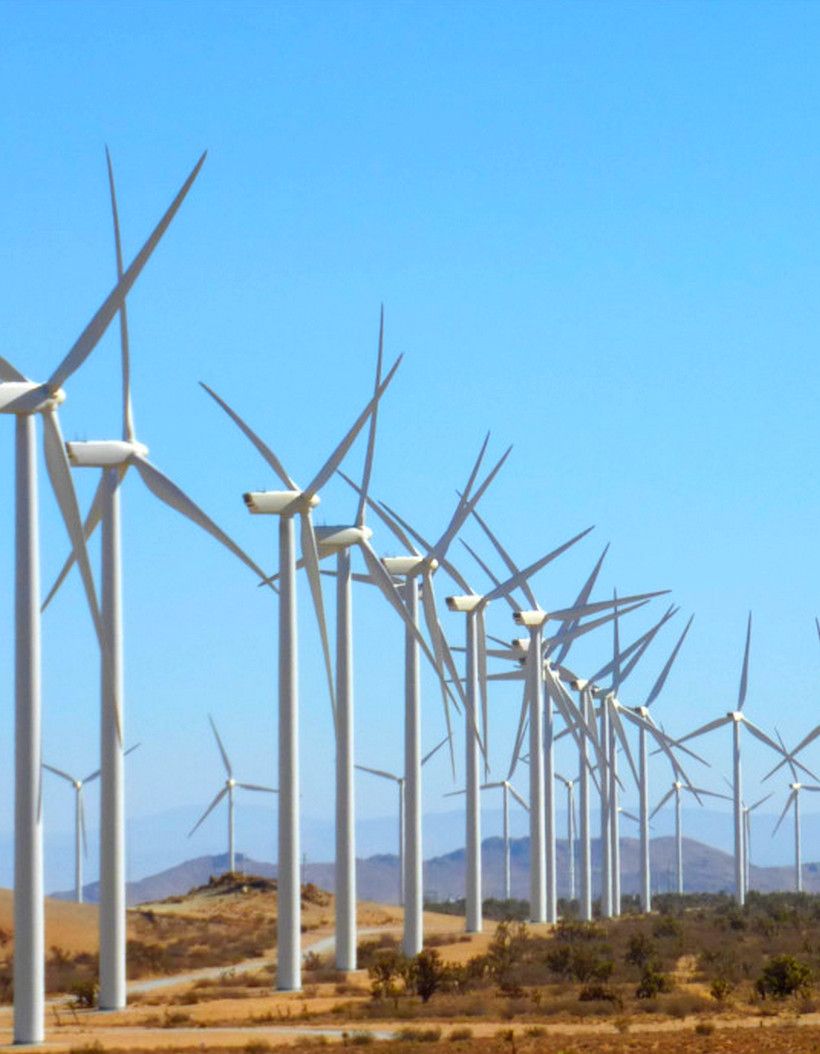 Av Craig Rucker - 25. oktober 2016

"En enkelt 1,7 MW vindturbin, som 315 Fowler Ridge-enhetene, involverer rundt 365 tonn materialer til turbinmontering og tårn, pluss nesten 1100 tonn betong og armeringsjern til fundamentet. Total totalt for hele Fowler vindinstallasjon: 515 000 tonn; for Roscoe, 752.000 tonn; for Shepherds Flat, 575.000 tonn. Offshore installasjoner av den typen som er foreslått for Lake Erie vil trolig kreve dobbelt så mye materiale som er nødvendig for deres kolleger på land. "
Alter egoet for klimaendringene i disse fornybare energidebattene er bærekraft: argumentet om at vind og andre "fornybare" energier er bærekraftige, mens olje, gass og kull ikke er det.
Denne påstanden kan ha hatt en viss fortjeneste for noen år siden, da det sannsynligvis kunne hevdes at verden var tom for fossile brensler. Imidlertid er det nå klart at flere århundrer med økonomisk utvinnbart kull gjenstår å tappes - og den horisontale boringen og hydrauliske fraktureringsprosessen (fracking) sikrer at minst ett eller to århundrer med olje og naturgass kan utvinnes fra skiferavsetninger rundt om i verden. "Overhengende ressursutmattelse" er ikke lenger et sannsynlig eller gyldig argument.
Faktisk gir fracking rikelig med naturgass som kan gi kraftverk drivstoff, redusere utslipp av karbondioksid og holde strømprisene lave. Tung avhengighet av vindenergi (offshore og på land) ville heve strømprisene, uten å gjøre noe for å redusere CO2-utslipp, siden reservegeneratorer som er i beredskap, øker mange ganger hele dagens ineffektivitet og avgir mer karbondioksid.
Imidlertid er det et annet aspekt ved bærekraftskrav, og når vanlige miljøretningslinjer, policyer og forskrifter brukes, er det klart at vindenergi er vår minst bærekraftige energikilde.
Landområder.
Vindturbin installasjoner påvirker store mengder habitat og avling, og vindturbiner til havs påvirker store innsjøer eller hav - langt mer enn tradisjonelle kraftverk.
Arizona's kjernefysiske anlegg i Palo Verde genererer 3.750 megawatt strøm fra et 4000 mål stort område. Det 600 MW John Turk ultra-superkritiske kullkraftverket i Arkansas dekker en liten del av 2900 dekar; gassfyrte enheter som Calpines 560 MW Fox Energy Center i Wisconsin krever flere hundre dekar. Alle genererer pålitelig effekt 90-95% av året.
I motsetning til dette spenner Fowler Ridge vindinstallasjon på 600 MW (355 turbiner) 50 000 dekar gårdsland langs Indianas I-65-korridor. 782-MW Roscoe-prosjektet i Texas (627 turbiner) spres over 100.000 mål. Oregon's Shepherds Flat-prosjekt (338 gigantiske 2,5 MW turbiner) dekker nesten 80 000 dyreliv og naturskjønne hektar langs Columbia River Gorge, for en "nominell kapasitet" på 845 MW.
De 625 til 1600 turbinene som er planlagt for Erie-sjøen, vil påvirke hundretusenvis av dekar, plante, fugl og flaggermus over mil etter mile av innsjøens habitat - mens fremtidige kanadiske vindparker på Ontario-siden av innsjøen vil påvirke hundretusenvis mer dekar og millioner flere fugler og flaggermus.
Råvarer.
Vindinstallasjoner krever enorme mengder stål, kobber, sjeldne jordmetaller, glassfiber, betong og andre materialer til turbinene, tårnene og basene.
En enkelt 1,7 MW vindturbin, som 315 Fowler Ridge-enhetene, involverer 365 tonn materialer for turbinmontering og tårn, pluss nesten 1100 tonn betong og armeringsjern for fundamentet. Total totalt for hele Fowler vindinstallasjon: 515 000 tonn; for Roscoe, 752.000 tonn; for Shepherds Flat, 575.000 tonn. Offshoreanlegg av den typen som er foreslått for Lake Erie, vil trolig kreve dobbelt så mye materiale som er nødvendig for deres kolleger på land.
I tillegg må tilsettes millioner av tonnevis av materialer i tusenvis av miles med nye overføringslinjer - og enda mer for det meste gassfyrte generatorer for å sikkerhetskopiere hvert megawatt vindkraft og generere elektrisitet de 17 til 20 timene av hver gjennomsnittlige dag vinden ikke blåser.
Penger.
Skattebetalere og forbrukere må gi evigvarende subsidier for å støtte vindprosjekter, som ikke kan overleve uten jevne infusjoner av kontanter via innmatingstariffer, skattelettelser og direktebetalinger.
Overføringslinjer koster $ 1,0 millioner til 2,5 millioner dollar per kilometer. Direkte føderale vindkraftsubsidier for å dekke dette utgjorde 5 milliarder dollar i 2010, ifølge data fra energidepartementet; statsstøtte tilførte milliarder mer, og enda flere milliarder ble lagt til forbrukernes elektriske regninger. The Other People's Money-brønnen tørker ut, og velgere og forbrukere blir lei av vind-ordninger for penger.
Energi.
Det er ekstremt energi intensivt å gruve, bryte, bore, frese, foredle, smelte og produsere metaller, betong, glassfiber, harpiks, turbiner og tungt utstyr for å gjøre alt det ovennevnte. Transport, installasjon og reparasjon av turbiner, tårn, sikkerhetskopier og overføringslinjer krever enda mer energi - ekte energi
Vindturbiner blir i økende grad installert i sensitive typer naturområder som Lake Erie og landområder som Shepherds Flat, da de ofte er de beste gjenværende områder for relativt rikelig, jevn vind.
Arbeidsplasser.
Myten om "grønne jobber med fornybar energi" treffer virkelighetens mur. Mens turbiner installert og vedlikeholdt i USA og EU skaper noen arbeidsplasser, er det mange avdem på kort sikt, de langt flere gruve- og produksjonsjobber er i Kina, der de knapt er "grønne" eller "sunne." Dessuten som spanske og skotske analytikere har dokumentert, dreper den dyre periodiske strømmen som genereres av vindturbiner 2,2 til 3,7 tradisjonelle jobber for hver "miljøvennlig" vindjobb som opprettes.
Strømkostnader og pålitelighet.
Selv enorme subsidier kan ikke kurere det den største vindkraften mangler: elektrisiteten koster langt mer enn kull, gass eller kjernefysiske alternativer - og dens intermitterende natur ødelegger strømnettet og forbrukerne. Problemet er verst på varme sommerettermiddager, når etterspørselen er høyest og brisen er minimal. Ute av stand til å konkurrere mot billig kinesisk og indisk elektrisitet og arbeidskraft, energikrevende næringer står i økende grad overfor utsiktene til å sende virksomhet og jobber utenlands.
Alt dette er rett og slett uholdbart.
Craig Rucker er administrerende direktør i Committee for a Constructive Tomorrow. Dette innlegget er hentet fra CFACTs kommentarer angående den foreslåtte Lake Erie Wind Energy Prosjekt til USAs energidepartement, Ohio og guvernør John Kasich.
---
COPYRIGHTS
WHO and WHAT is behind it all ? : >
The bottom line is for the people to regain their original, moral principles, which have intentionally been watered out over the past generations by our press, TV, and other media owned by the Illuminati/Bilderberger Group, corrupting our morals by making misbehaviour acceptable to our society. Only in this way shall we conquer this oncoming wave of evil.
Commentary:
Administrator
HUMAN SYNTHESIS
All articles contained in Human-Synthesis are freely available and collected from the Internet. The interpretation of the contents is left to the readers and do not necessarily represent the views of the Administrator. Disclaimer: The contents of this article are of sole responsibility of the author(s). Human-Synthesis will not be responsible for any inaccurate or incorrect statement in this article. Human-Synthesis grants permission to cross-post original Human-Synthesis articles on community internet sites as long as the text & title are not modified.
The source and the author's copyright must be displayed. For publication of Human-Synthesis articles in print or other forms including commercial internet sites. Human-Synthesis contains copyrighted material the use of which has not always been specifically authorized by the copyright owner. We are making such material available to our readers under the provisions of "fair use" in an effort to advance a better understanding of political, economic and social issues. The material on this site is distributed without profit to those who have expressed a prior interest in receiving it for research and educational purposes. If you wish to use copyrighted material for purposes other than "fair use" you must request permission from the copyright owner.