'Why would one person have $92B?'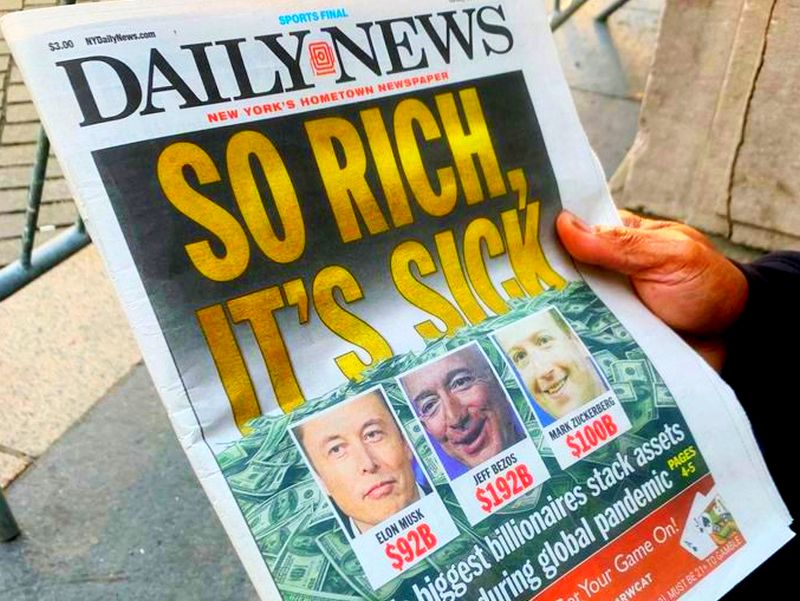 By BRITTANY KRIEGSTEIN and CLAYTON GUSE - NEW YORK DAILY NEWS |OCT 18, 2020 AT 12:40 PM
Working New Yorkers outraged by billionaire boom during pandemic.
As a gang of billionaires continue to squeeze a waterfall of money from the pandemic, New Yorkers across the five boroughs are busting their butts to make a living.
Carmen Bautista, 62, an immigrant from the Dominican Republic who lives in Harlem, struggled to wrap her head around the figures detailed in the Daily News front page story, which showed how the country's top 20 billionaires watched their fortunes boom since COVID-19 put millions of people out of work.
"I'm poor and I'm not working," said Bautista. "I'm on disability, and from the small amount they give me on social security, I give back — but not them."
"What this man makes, he could support an entire country, a poor Central American country," Baustista added, pointing to Facebook CEO Mark Zuckerberg, who is now worth more than $100 billion, roughly double what he had in mid-March.
Norman Koonce, 62, a security guard at a Manhattan residential building, also bemoaned the sky-high wealth of the nation's elite that has only grown since the pandemic hit.
"Why would one person have $92 billion?" said Koonce, referencing the wealth of Tesla and SpaceX CEO Elon Musk, whose personal fortune has nearly quintupled since mid-March. "I have a friend I work with. He's struggling to pay $1,100 a month for an apartment."
Koonce — who toils from 7 p.m. to 7 a.m. on weekends — said he's used to being on the wrong side of tales of two cities. After all, former Mayor Bloomberg was worth billions when he held office from 2002 to 2013.
"You could have gave the city $1 billion — and I would have said, 'Whoa, we got a great mayor,' said Koonce. "I think I would always be broke if I had this kind of money. I would give it away."
But instead of giving away their spoils from the pandemic, big wigs like Amazon boss Jeff Bezos have consolidated their empires into a new wave of monopolies as brick-and-mortar businesses have been unable to stay afloat.
Small business have no way to compete with Bezos, said Pratap Dey, 46, who works Sundays at a newsstand outside the Columbus Circle subway station.
Bezos' net worth skyrocketed from $113 billion in mid-March to $192 billion last week as a surge of people turned to online shopping.
Dey said sales at his stand are down by 80% from before the pandemic — and pointed out that some of Amazon's prices have risen by up to 50%.
"It's not fair," Dey said. "They have a business, they make a lot of money — but people are suffering."
Ehi Okhiulu, 36, a film producer from Williamsburg, Brooklyn, said Bezos was "evil" for allowing sellers to gouge prices early in the pandemic while also slow-walking protections for warehouse workers.
"We're seeing a lot of businesses really struggle right now, a lot of businesses that would have been in a better position if they didn't have to compete with Amazon's super aggressive pricing," Okhiulu said.
A Manhattan fast food worker who declined to provide her name said American billionaires were sick in the head for profiteering off a disease that's sickened more than 8 million people in the U.S. and killed more than 219,000.
"They just think about themselves, about their own benefits," she said. "There are people sleeping on the streets and that's not fair, because some of them work every day."
Get updates on the coronavirus pandemic and other news as it happens with our free breaking news email alerts.
"These kinds of people should put their hands on their hearts more, to think more about others, not just what they see with dollar signs," she added.
Some New Yorkers like Andrew Sangkala, 59, think tech giants like Bezos, Zuckerberg and Musk aren't to blame for their own wealth.
"There are fortunes made through every crisis," said Sangkala, who brokers deals for personal protective equipment, a hot commodity during the pandemic. "Look at the past fortunes that were made. Prohibition drugs."
"This guy's making cars," Sangkala said pointing at the Daily News. "He's getting stuff delivered to people in their houses, and Facebook is Facebook... Everybody could give a little more, I guess. But some people don't have to give."
But Italo Garabe, 64, an Ecuadorian immigrant who sells leather wallets and wares on the sidewalk at W. 144th St. and Broadway, said he's found no way to profit from the pandemic like the billionaires.
"I used to actually make something... Now it's just enough to eat and pay rent," said Garabe. "It's bad because they don't share anything with the people who need it."
Brittany Kriegstein - New York Daily News
Brittany Kriegstein has been a reporter at the Daily News since December 2019, and covers all things breaking news-related in the five boroughs. Originally from Long Island, she holds a Master's degree in Journalism from Columbia University, and a Bachelor's from the University of St. Andrews in Scotland.
---
COPYRIGHTS
WHO and WHAT is behind it all ? : >
The bottom line is for the people to regain their original, moral principles, which have intentionally been watered out over the past generations by our press, TV, and other media owned by the Illuminati/Bilderberger Group, corrupting our morals by making misbehaviour acceptable to our society. Only in this way shall we conquer this oncoming wave of evil.
Commentary:
Administrator
HUMAN SYNTHESIS
All articles contained in Human-Synthesis are freely available and collected from the Internet. The interpretation of the contents is left to the readers and do not necessarily represent the views of the Administrator. Disclaimer: The contents of this article are of sole responsibility of the author(s). Human-Synthesis will not be responsible for any inaccurate or incorrect statement in this article. Human-Synthesis grants permission to cross-post original Human-Synthesis articles on community internet sites as long as the text & title are not modified.
The source and the author's copyright must be displayed. For publication of Human-Synthesis articles in print or other forms including commercial internet sites. Human-Synthesis contains copyrighted material the use of which has not always been specifically authorized by the copyright owner. We are making such material available to our readers under the provisions of "fair use" in an effort to advance a better understanding of political, economic and social issues. The material on this site is distributed without profit to those who have expressed a prior interest in receiving it for research and educational purposes. If you wish to use copyrighted material for purposes other than "fair use" you must request permission from the copyright owner.