Regeneron- REGN-COV2 which cured President Trump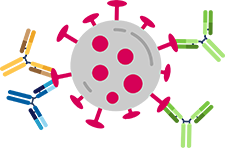 10th Oct. 2020
A Novel Anti-Viral Antibody Cocktail
We are using our end-to-end antibody technologies to develop REGN-COV2*, our novel anti-viral antibody cocktail that is being studied for its potential both to treat people with COVID-19 and to prevent SARS-CoV-2 infection. Our COVID-19-related discovery efforts started in early 2020, when we began producing hundreds of virus-neutralizing antibodies in our genetically-engineered mice and identifying similarly-performing antibodies from human COVID-19 survivors. By June, we had moved the two potent antibodies (REGN10933 and REGN10987) that form REGN-COV2 antibody therapy into cell production lines for large-scale manufacturing purposes and begun clinical trials. In September, we announced early data showing the effect of our antibody cocktail on viral load and symptoms in 275 non-hospitalized COVID-19 patients. In early October, we submitted a request to the U.S. Food and Drug Administration for an Emergency Use Authorization (EUA) for REGN-COV2 antibody combination therapy (REGN10933 and REGN10987).
*REGN-COV2 antibody combination therapy is an investigational medicine, and its safety and efficacy have not been fully evaluated by any regulatory authority.
REGN-COV2 Clinical Program
REGN-COV2 is being studied in four ongoing late-stage clinical trials: two Phase 2/3 trials for the treatment of hospitalized and non-hospitalized ("ambulatory") COVID-19 patients, the open-label, Phase 3 RECOVERY trial of hospitalized COVID-19 patients in the UK, and a Phase 3 trial for the prevention of COVID-19 in uninfected people who are at high-risk of exposure to a COVID-19 patient (such as the patient's housemate). The Phase 3 prevention trial is being jointly conducted with the National Institute of Allergy and Infectious Diseases (NIAID), part of the National Institutes of Health (NIH). The safety of REGN-COV2 is also being evaluated in a Phase 1 healthy volunteer study.
Clinical investigators, hospitals or clinical sites interested in joining the REGN-COV2 clinical trials can email us at COVID19SiteInterest@regeneron.com.
If you are interested in participating in one of our COVID-19 clinical trials, please complete a brief online screener at ClinLife.com/COVID to see if you qualify.
Read more about the clinical program here
Anticipated Supply of REGN-COV2
We are actively working to maximize production capacity of REGN-COV2 and ensure it reaches as many people as possible in the United States and around the world, should ongoing clinical trials be successful and regulatory approvals are granted. We are manufacturing and providing REGN-COV2 antibody combination therapy to the Biomedical Advanced Research and Development Authority (BARDA) and the U.S. Department of Defense. Under our agreement with the U.S. government for the initial doses of REGN-COV2 antibody combination therapy, if an EUA is granted the government has committed to making these doses available to the American people at no cost and would be responsible for their distribution. At this time, there are doses available for approximately 50,000 patients, and we expect to have doses available for 300,000 patients in total within the next few months.
We are also collaborating with Roche to significantly increase the global supply of REGN-COV2, with both companies dedicating a certain manufacturing capacity to REGN-COV2 each year. This is expected to increase existing capacity by at least three and a half times, with the potential for even further expansion. If approved, Regeneron will distribute REGN-COV2 in the U.S. (beyond the initial U.S. Government supply) and Roche will be responsible for distribution outside the U.S.

Published Research on REGN-COV2
Two manuscripts published in Science detail the discovery of REGN-COV2 and highlight its potential to protect against 'viral escape' of SARS-CoV-2. Viral escape was seen to occur in the setting of a single therapeutic antibody that blocks the ability of a virus to infect healthy cells, and spontaneously arising mutant forms of the virus might 'escape' or evade the antibody's blocking action. These mutants are 'selected' (i.e., are able to survive and proliferate despite the single antibody treatment) and may ultimately become the dominant strain of the virus. The findings show our antibody combination therapy may be able to diminish risk of viral escape by binding to the virus's spike protein in separate, non-overlapping locations, which would require the virus to mutate simultaneously in multiple genetic locations in order to escape – a highly unlikely scenario.
Read about our Science publications here
Recent preclinical data demonstrates the efficacy of REGN-COV2 in non-human primates and hamsters, showing its ability to reduce virus load in lower and upper airways and decrease virus-induced pathological impact when administered prophylactically or therapeutically.
Results from investigating one of our existing medicines for COVID-19
Based on early clinical data from China with another IL-6 inhibitor, Regeneron and Sanofi began to evaluate if there was a potential role for Kevzara® (sarilumab) in the treatment of hospitalized patients with COVID-19 by conducting controlled clinical trials.  The use of Kevzara to treat people with COVID-19 is investigational and has not been fully evaluated by any regulatory authority.
Regeneron and Sanofi have announced that the U.S. Phase 2/3 and global Phase 3 clinical trials of Kevzara did not meet their primary or secondary endpoints in COVID-19 patients. Based on the results, the trials were stopped, and at this time, the companies do not anticipate conducting further clinical studies for Kevzara in COVID-19.
Click here for more information
Achieving Immunity to SARS-COV-2:Get an overview of how anti-viral antibody medicines and vaccines are similar and different.
Our technologies
From discovery to large-scale manufacturing, our VelociSuite® technologies provide unmatched precision and speed in developing targeted antibody medicines.
COVID-19 Business Updates
Operations:
Given the ongoing nature of this pandemic, we are regularly assessing any potential impact to our business, including aspects of product supply, clinical development and commercial operations. We will share material updates as warranted.
Our team:
Our first priority is to protect the health and safety of our colleagues and ensure the continuity of our business. We are monitoring the pandemic situation closely and have established a senior response committee to assess our guidance continually. Currently, many of our colleagues are working from home if their job allows it. We have taken additional health and safety precautions to protect our critical laboratory and manufacturing colleagues whose jobs require they be on site. These include alternating shift schedules to reduce density on site, a mask requirement on campus, provision of masks and other personal protective equipment, health monitoring for on site colleagues, and physical modifications to office and lab spaces. We are also providing regular on site testing for all colleagues working at our Tarrytown campus.
Clinical trials:
Regeneron conducts clinical trials in multiple countries across the world. We continue to evaluate the impact of the COVID-19 pandemic on an individual clinical trial basis and expect fully-recruited clinical studies to remain generally on track. After briefly pausing new enrollment in certain studies due to the pandemic, enrollment in both new and ongoing clinical studies started to resume as regions relaxed their restrictions and healthcare resources started to become more available for non-COVID-19 activities. However, there has been a resurgence of COVID-19 cases in many regions across the world, and any resurgence in the regions where we or our collaborators conduct clinical trials may require timeline adjustments for potentially impacted studies. We continue to work closely with regulators to follow recent Health Authority and Regulatory Agency issued guidance as they pertain to clinical trial operations.
Supply chain & market supply:
As a matter of practice, we are always working to ensure the stability of our supply chain and maintain adequate market supply for all commercialized products. We maintain adequate market supply for all our commercialized products, and our raw material supplies and contract manufacturing support have remained stable despite the current pandemic situation. In order to enable the U.S. manufacturing site to maximize production of REGN-COV2, we worked with regulatory authorities to accelerate licensing of our Irish facility to manufacture our full portfolio of commercial products.
Supporting our communities:
Regeneron's community response focuses on raising critical funds, mobilizing resources and supporting the most vulnerable nonprofits, people and communities around the world. Through Regeneron's COVID-19 Double Matching Gift Campaign, we are supporting our employees' giving and select charities with the goal of raising $750,000.
Locally, we are supporting Afya Foundation's efforts to deliver critically needed medical supplies to qualified, New York-based health centers. In Rensselaer, we are supporting the Capital Region Community Foundation's COVID-19 Response Fund, which provides flexible resources for nonprofits working with those who are disproportionately impacted. We are planning additional and expanded efforts to support people in need during this critical time and will share more details in this space.
Regeneron's Industrial Operations and Product Supply (IOPS) team is assisting New York State by making and donating viral transport media (VTM), a critical component of COVID-19 testing kits that has been in short supply. VTM is a liquid used to preserve patient test samples (a swab from the nose or throat) until they can be tested. Regeneron worked to obtain the necessary components, determined formulas and proportions to meet NYS-specifications, and leveraged the specialized skill set of our employees to make sterile VTM and place it into test tubes. We are delivering over 500,000 total VTM kits to New York State and are donating 100 percent of our supplies and labor for this effort, an approximately $1 million in-kind contribution. Learn more.
QUESTIONS?
Contact our Medical Information team with questions on our products or clinical trials
---
COPYRIGHTS
WHO and WHAT is behind it all ? : >
The bottom line is for the people to regain their original, moral principles, which have intentionally been watered out over the past generations by our press, TV, and other media owned by the Illuminati/Bilderberger Group, corrupting our morals by making misbehaviour acceptable to our society. Only in this way shall we conquer this oncoming wave of evil.
Commentary:
Administrator
HUMAN SYNTHESIS
All articles contained in Human-Synthesis are freely available and collected from the Internet. The interpretation of the contents is left to the readers and do not necessarily represent the views of the Administrator. Disclaimer: The contents of this article are of sole responsibility of the author(s). Human-Synthesis will not be responsible for any inaccurate or incorrect statement in this article. Human-Synthesis grants permission to cross-post original Human-Synthesis articles on community internet sites as long as the text & title are not modified.
The source and the author's copyright must be displayed. For publication of Human-Synthesis articles in print or other forms including commercial internet sites. Human-Synthesis contains copyrighted material the use of which has not always been specifically authorized by the copyright owner. We are making such material available to our readers under the provisions of "fair use" in an effort to advance a better understanding of political, economic and social issues. The material on this site is distributed without profit to those who have expressed a prior interest in receiving it for research and educational purposes. If you wish to use copyrighted material for purposes other than "fair use" you must request permission from the copyright owner.