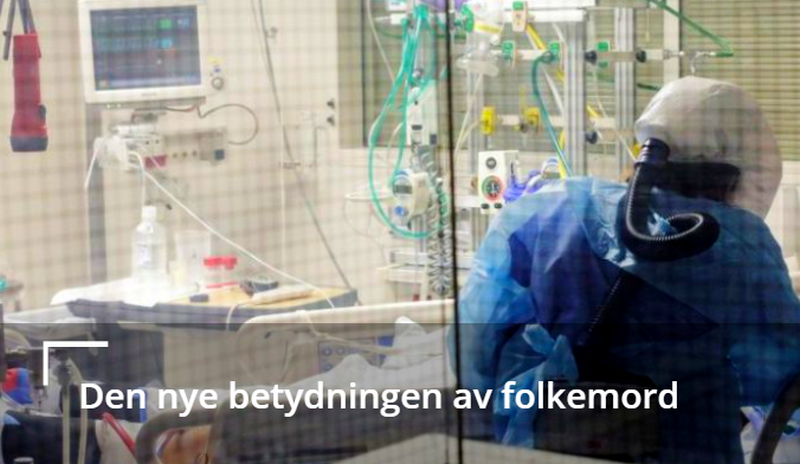 Stephen Karganovic - 26. april 2020© Foto: REUTERS / David Ryder
Det er en parafrasering , selvfølgelig, av den uforlignelige Dame Rebecca West, fremskaffet med urokkelig tillit til at hun hjertelig ville ha godkjent hvis hun var i live i dag.
Putona-jobben for Corona-viruset er nå blitt eksponert for den modige sosialtekniske ordningen , potensiell rip-off-vaksinasjon (og her ), og ideologisk drevet massepopulasjonsreduksjonsprosjekt som det alltid hadde vært, fra starten av.
Vi har nå alle de grunnleggende fakta som vi trenger for å dekonstruere den uhyggelige, hysteri-fremkallende fortellingen som ble sammenføyd for å bløte den fengslede verden til underdanig frigjøring til dens selvødeleggelse.
Det viktigste faktum at Covid-19-viruset er et laboratorieprodukt og derfor menneskeskapt ble autoritativt etablert av den franske prof. Luc Montagnier som nylig avslørte resultatene av sin laboratorieanalyse av virusgenomet . Han fant at den ble snøret med spleisede HIV-sekvenser, noe som effektivt utelukker muligheten for at det er et produkt av en naturlig prosess. (Prof. Montaigner uttrykte det ekstremt delikat: " faktisk er en del av viruset, ikke helheten, blitt manipulert".) Ble det manipulert av flaggermus i noen kinesiske huler? Prof. Montaigner er for øvrig fremtredende kvalifisert til å snakke om emnet da han i 2008 var mottaker av Nobelprisen i medisin for å identifisere HIV-viruset. Det faktum at så snart han slapp katten ut av sekken, ble han utsatt for hard oppsigelse ( her og her ) av alle de rette kretsene, gir sterk støtte til troverdigheten til funnene hans.
I hovedsak ble de samme konklusjonene oppnådd enda tidligere, i februar, av en gruppe indiske forskere og publisert i en artikkel med tittelen " Uncanny likhet av unike innlegg i 2019-nCoV piggprotein til HI, V-1 gp120 og Gag ". Betryggende, under voldsomt press og latterliggjøring av falske nyhetskommissærer (og her ), ble forskerne tvunget til å trekke tilbake sitt dristige papir, fordi det så ut til å ha krysset linjen med tillatt Corona-virusdiskurs selv før prof. Montaigner kom ut med påstandene sine. Så desto mer grunn til å ta alvorlig oppmerksomhet til de tydelig åpenbare og unektelig betydningsfulle implikasjonene av disse fullstendig kongruente funnene.
Under å understreke det faktum at vi er blitt kastet, uten samtykke og for det meste uten bevissthet, inn i en verden etter sannhet, har fakta i stor grad blitt erstattet av fortellinger . Og fortellinger er i hovedsak politisk praktiske eventyr som ingen oppriktig tror, ​​men praktisk talt alle må offentlig holde seg til for å holde på det lite omdømme og de svindlende fordelene de har igjen. Lagspillerens overholdelse av offentlige løgner (beklager, eventyr) er en test på godt globalt statsborgerskap. Det er en test at den franske professoren og de indiske forskerne tilsynelatende og kanskje til deres varige profesjonelle skade - til mislykkethet.
Heldigvis har rekkene til ikke-lagspillere i kontroversen Corona-viruset, med alle de lurer personlige farene som utgjør, faktisk vokst, snarere enn å krympe.
Vi er gjeld til Dr. Shiva Ayadurai , en modig indisk-amerikansk vitenskapsmann, for å ha gjort oss oppmerksom på at immunologisk mangel er den viktigste tilstanden som foreslår spredning av Corona-viruset og at masseavslutninger forårsaker sol og vitaminmangel, så vel som depresjon og andre svekkende psykologiske forhold, har effekten av å øke i stedet for å redusere den immunologiske sårbarheten til den menneskelige organismen.
En annen forsker med upåklagelig legitimasjon, Dr Rashid Buttar , har hevdet overbevisende at den utbredte fortellingen om Corona-virus ikke legger opp. Forutsigbart har denne ikke-lagspilleren også blitt utsatt for brutale overgrep i media og hans offentlige uttalelser har provosert raseri fra det politiske korrekthetskommissariatet. Etter Dr Buttars syn er alle som støtter bruk av vaksinasjon for å bekjempe COVID-19 enten uvitende eller har en skjult agenda eller er økonomisk motivert. De grunnleggende grunnleggende forholdene for hvordan menneskekroppen fungerer er, argumenterer han, ignorert og i prosessen, og mens han tilsynelatende behandler pasienter som er smittet av viruset, brytes grunnleggende nevrologiske, fysiske, virologiske og medisinske prinsipper eller bare legges til side. Ikke uten grunn påpeker dr Buttar at personer med fagkunnskap er tause enten på grunn av sosialt press eller frykt for å miste lisensen.
Den samordnede anstrengelsen for å utslette enhver mening, uansett hvor kvalifisert, som ikke samsvarer med fortellingen, med den beskjedne påskuddet om at den " bryter YouTubes tjenestevilkår " eller den mystisk udefinerte "samfunnsretningslinjene", er utvilsomt den mest overbevisende indikasjonen. av fortellingens ekstreme skjørhet. Mens noen kompetente kritikere fremdeles klarer å knipe gjennom "livvokteren for løgner" ( her , her og her ), har alle algoritmene blitt aktivert for å holde uoverensstemmende, spørsmål og tvilprovoserende meninger utenfor bordet og utenfor rammen av de umodne og uansvarlige massene.
Så hva er det som skjer for å gå tilbake til parafrasen til Dame Rebecca West? Hva er metaskriptet (som Israel Shamir coyly har sagt det) bak denne imponerende globale produksjonen? De mørke antydningene om at det i "elitekretser" kan være en intens interesse for å redusere det store antallet unyttige spiser til et mindre og mer føyelig årskull av helotlignende tjenere, er ikke uten empirisk grunnlag. Hvorfor den fanatiske insistering på massevaksinasjon i global målestokk, for vår egen beste selvfølgelig, selv om konseptet ikke en gang vil bestå granskningen av en våken biologisk student i videregående skole, som er klar over at vaksinasjon ikke fungerer for potensielle eller muterte nye virus? Eller forventes vi alle nå å bli bytte nettopp for Covid-19 og bli vaksinert med vilje mot dens herjinger?
På hvis autoritet er velståendeprivatpersoner uten medisinsk opplæring, men nære økonomiske bånd til den farmakologiske industrien som kunngjør folkehelsepolitiske tiltak og bestemmer opplysninger og varighet av søknaden? Hvilken arken forkunnskap gjorde dem i stand til å forutsi den aktuelle pandemien for flere år siden og deretter mistenksomt igjen, i fjor flere måneder før utseendet? Måtte milliarder av menneskers helse og velferd bli trygt overlatt til selvutnevnte "filantroper" hvis handlinger er helt drevet av overskuddsmotivet, i sine ulike økonomiske, ideologiske og kanskje til og med okkulte former?
Vil milliarder av mennesker bukke under for et bedriftsmedium som induserte massehysteri og lar ukjente stoffer som fører til overskudd, injiseres i kroppene deres, uten fullstendig ignorering av det faktum at ved tidligere anledninger hadde lignende former for "lettelse" utført ødeleggelser og ødeleggelser i hele Asia og Afrika , og hvor ellers de hadde blitt administrert?
Menneskeheten har god grunn til å frykte og skjelve, ikke så mye for den fryktede sykdommen som ved den potensielt fryktinngytende kuren, som vi blir fortalt er i ferd med å lage (kanskje i de samme laboratoriene der sykdommen ble concocted) og utvilsomt snart vil bli avduket.
---
WHO and WHAT is behind it all ? : >
---
The bottom line is for the people to regain their original, moral principles, which have intentionally been watered out over the past generations by our press, TV, and other media owned by the Illuminati/Bilderberger Group, corrupting our morals by making misbehavior acceptable to our society. Only in this way shall we conquer this oncoming wave of evil.
Commentary:
Administrator
HUMAN SYNTHESIS
All articles contained in Human-Synthesis are freely available and collected from the Internet. The interpretation of the contents is left to the readers and do not necessarily represent the views of the Administrator. Disclaimer: The contents of this article are of sole responsibility of the author(s). Human-Synthesis will not be responsible for any inaccurate or incorrect statement in this article. Human-Synthesis grants permission to cross-post original Human-Synthesis articles on community internet sites as long as the text & title are not modified.
The source and the author's copyright must be displayed. For publication of Human-Synthesis articles in print or other forms including commercial internet sites. Human-Synthesis contains copyrighted material the use of which has not always been specifically authorized by the copyright owner. We are making such material available to our readers under the provisions of "fair use" in an effort to advance a better understanding of political, economic and social issues. The material on this site is distributed without profit to those who have expressed a prior interest in receiving it for research and educational purposes. If you wish to use copyrighted material for purposes other than "fair use" you must request permission from the copyright owner.