(Perfekt storm mot Bolsonaro)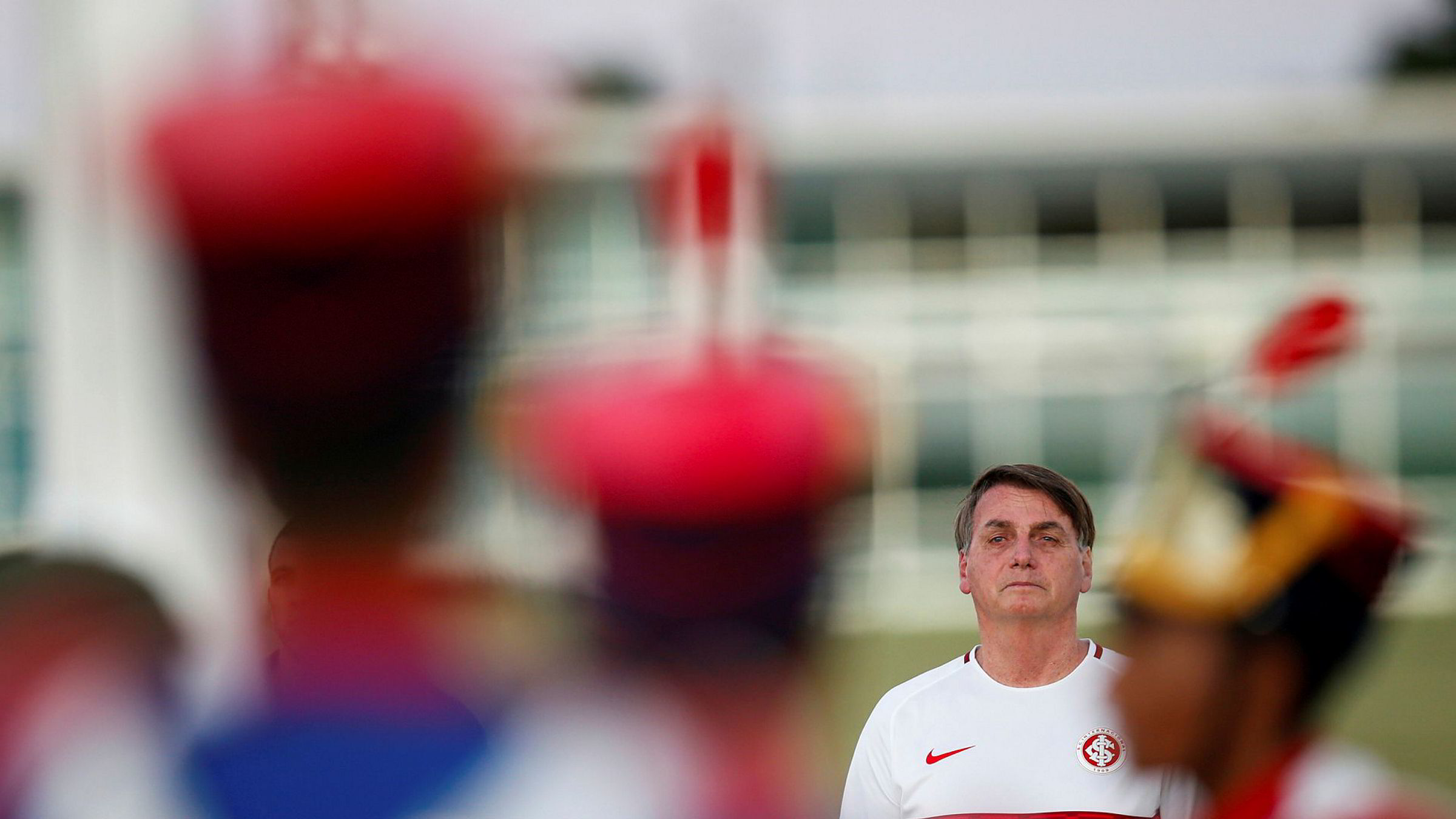 Dagens Næringsliv  -  Kenneth Lund - 1 minPublisert: 28.04.20  
Brasils Jair Bolsonaro skal granskes for en mulig riksrettssak. Den omstridte presidenten får hard kritikk for oppblomstringen av koronasmitte i landet, og han mister nå politisk støtte.
Brasil har nå vel 4600 bekreftede koronadødsfall, og er i ferd med å gå forbi Kina. Det er store problemer med testing og sykehuskapasitet, og CNBC samt flere andre medier har utpekt Brasil som et «hotspot» for koronasmitte i Sør-Amerika.
Benedicte Bull, Latin-Amerika-ekspert og professor i statsvitenskap ved Universitetet i Oslo, sier de forholdsmessige dødstallene i seg selv ikke er spesielt høye i Brasil, men at det hefter stor usikkerhet ved statistikkene, også i Brasil.
– Det som har skapt raseri i Brasil er at president Bolsonaro ikke tar koronasmitten alvorlig. Folk følger med på hva som skjer, særlig i Sør-Europa, og dette gjør at folk blir redde, sier Bull.
Bosonaro omtaler selv koronasmitten som en «lett influensa», og han bryter demonstrativt oppfordringene om sosial distansering. Presidenten, som ofte omtales som «tropenes Trump», har også offentlig støttet demonstranter som krever lettelser i de strenge smitteverntiltakene og gjenåpning av økonomien.
Politisk og økonomisk trøbbel
Midt under koronakrisen fikk også den populære og omstridte justisministeren Sergio Moro nok, og rett før helgen trakk han seg. Moro ble kjent for å være hard i klypen som føderal dommer i det som ofte omtales som verdens største korrupsjonssak, «Operasjon Bilvask», som avslørte omfattende underslag og maktmisbruk i Brasil, både blant politikere, embetsmenn og næringslivsledere.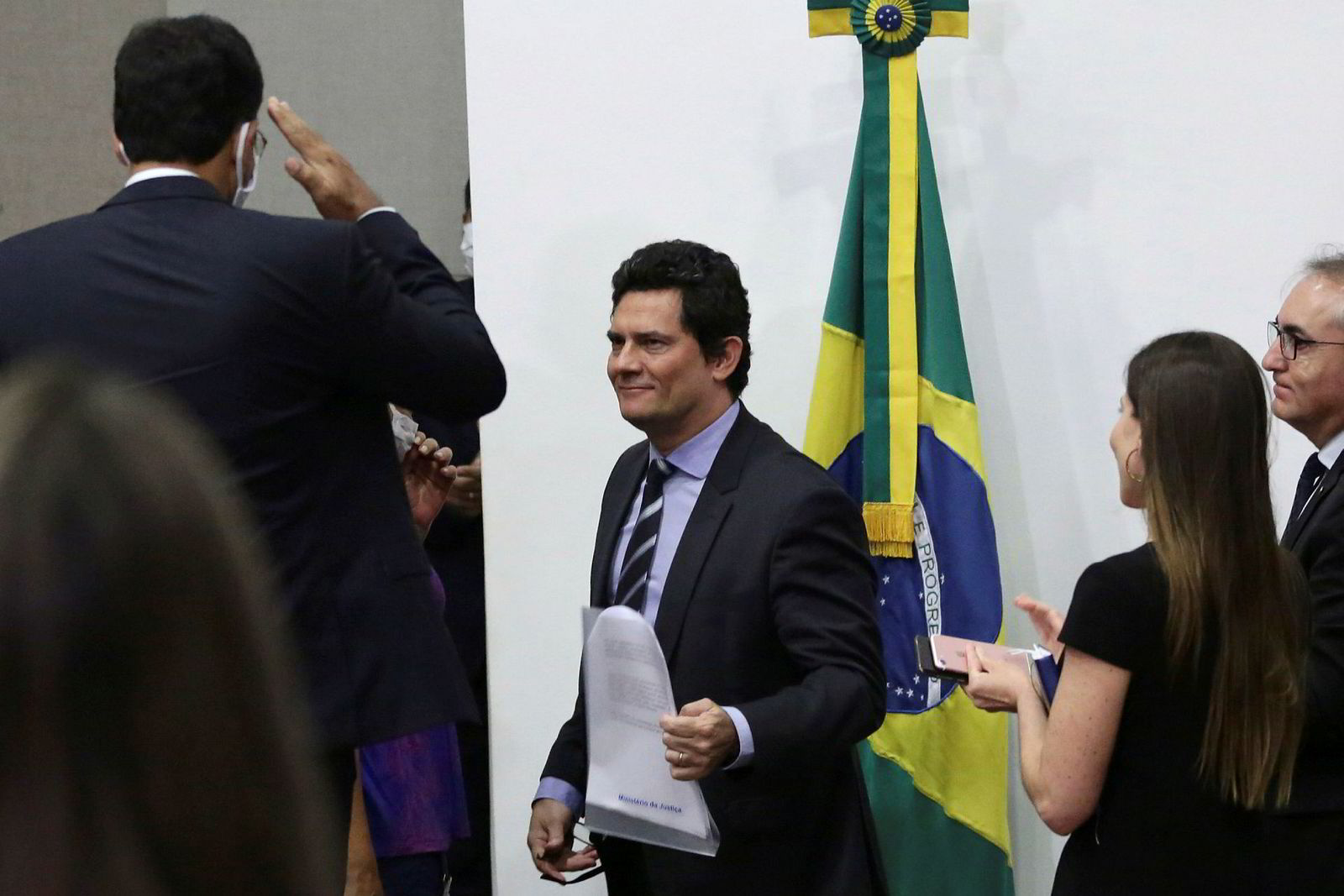 Bolsonaro klarte å overtale Moro til å bli justisminister da han overtok som president ved årsskiftet i fjor. Men etter vel et år fikk Moro nok og gikk av med beskyldninger om maktmisbruk og ulovlig innblanding i politiets arbeid fra Bolsonaro for å oppnå egen politisk vinning.
Bull forklarer at Bosonaro alt har mistet mye av støtten fra de militære, og at håndteringen av koronakrisen har ført til stadige konfrontasjoner mellom presidenten og mektige delstatsguvernører og ordførere.
Koronakrisen gjør at det røyner på også for næringslivet, og den lave oljeprisen rammer de brasilianske statsfinansene knallhardt. Brasil er Sør-Amerikas største oljeprodusent.
Høyesterett har i forbindelse med Moros avgang åpnet for etterforskning av Bolsonaro, og det kan fort gå mot en riksrettssak for å fjerne presidenten.
– Det er ikke helt uventet at det går mot riksrett. Koalisjonen av de militære og den økonomiske eliten som støtter Bolsonaro var alt svekket før koronaen, og det hjelper heller ikke at Moro nå har trukket seg, sier Bull.
Hun sier riksrettssaker er nokså vanlige i Brasil, og som i motsetning til i USA fører til at presidenter blir kastet.
Folket mener Bolsonaro lyver
Målinger utført av byrået Datafolha, gjengitt av Reuters, viser at folket er splittet med hensyn til riksrett, 48 prosent imot og 45 prosent for.
Men samme undersøkelse viser at bare 20 prosent av de spurte mener Bolsonaro snakker sant, mens 52 prosent tror på Moros versjon av hva som har skjedd.
Bolsonaros tre politisk aktive sønner er også omstridte i Brasil, noe som smitter over på presidenten. Den ene sønnen, Eduardo, skal nå være under etterforskning for spredning av falske nyheter og såkalt «trolling» på nettet og sosiale medier.
– Kanskje dette er en perfekt storm mot Bolsonaro, sier Benedicte Bull.
---
WHO and WHAT is behind it all ? : >
---
The bottom line is for the people to regain their original, moral principles, which have intentionally been watered out over the past generations by our press, TV, and other media owned by the Illuminati/Bilderberger Group, corrupting our morals by making misbehavior acceptable to our society. Only in this way shall we conquer this oncoming wave of evil.
Commentary:
Administrator
HUMAN SYNTHESIS
All articles contained in Human-Synthesis are freely available and collected from the Internet. The interpretation of the contents is left to the readers and do not necessarily represent the views of the Administrator. Disclaimer: The contents of this article are of sole responsibility of the author(s). Human-Synthesis will not be responsible for any inaccurate or incorrect statement in this article. Human-Synthesis grants permission to cross-post original Human-Synthesis articles on community internet sites as long as the text & title are not modified.
The source and the author's copyright must be displayed. For publication of Human-Synthesis articles in print or other forms including commercial internet sites. Human-Synthesis contains copyrighted material the use of which has not always been specifically authorized by the copyright owner. We are making such material available to our readers under the provisions of "fair use" in an effort to advance a better understanding of political, economic and social issues. The material on this site is distributed without profit to those who have expressed a prior interest in receiving it for research and educational purposes. If you wish to use copyrighted material for purposes other th