Is Trying to Predict a Coming Recession a Bad Bet?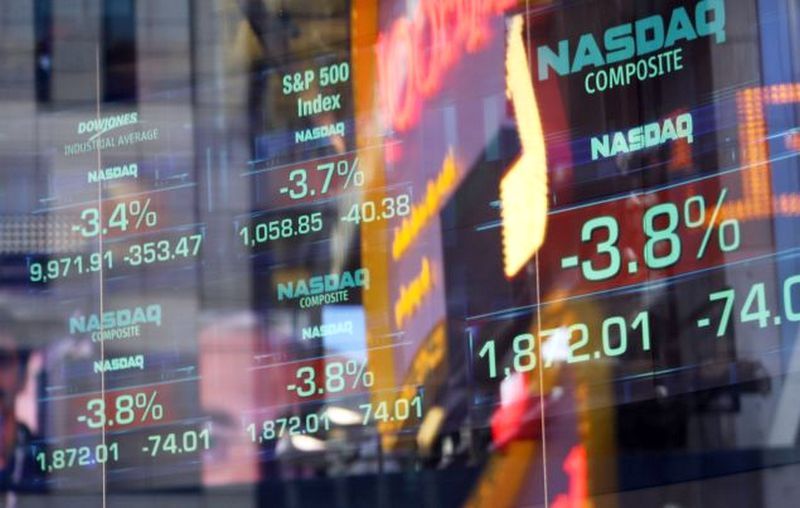 Ask Gamblers!
By John A. Tures • 11/14/19 10:56am
"Wall Street indexes predicted nine of the last five recessions," economist Paul Samuelson once quipped. He may have a point, as forecasts of economic recessions can be notoriously inaccurate. Could we get a better estimate by those with "some skin in the game," like gamblers who are currently betting on our economic activity?
Economists Indicated a Recession Was Likely in 2019
Earlier this year, it wasn't a matter of if, but when, when it came to assessing whether the United States was heading for an economic recession. We had just stumbled out of a dysfunctional government shutdown. A trade war between the United States and China was underway. The budget deficit was increasing, and consumer confidence was decreasing. Little good economic news was out there.
SEE ALSO: When Will the Next Recession Hit and How Bad Will It Get?
Bloomberg Economics' own tool indicating a recession was likely was blinking red at the end of 2018 and the beginning of 2019, with some assessments assuming we had a three-month window before the bears would head to Wall Street.
"While our central forecast is that the current business cycle will end in 2019, an external shock could bring it to a halt sooner," wrote The Economist's Intelligence Unit. "Unprecedented Fed policies have inflated asset prices, and a turn in investor sentiment could quickly spread to the real economy. Moreover, if the eurozone lurches back into a severe crisis, it could drag the U.S. economy down with it… We expect a mild recession in mid-2019 to reduce real GDP growth to 1.4% on average for that year, pushing up unemployment and ending the Fed's tightening cycle."
Writing for Forbes, an economist noted the inverted yield curve and its penchant for predicting recessions. He even ventured that we might already be seeing the beginning of an inversion but may not realize it for some time. The Guggenheim "Recession Probability Model" foresees a greater than 50% chance of a recession in the coming months, the result of a tightening labor market inverted yield curve and declines in leading indicators. Fortune magazine thinks we'll survive 2019 without a recession, but that's not the case for 2020.
Economists are legendary for inaccurate forecasts. "What if economists are so bad at predicting recessions that they're actually good?" jokes University of Georgia economist Stephen Mihm. Writing for Bloomberg, he implied that you might do better betting against economists than with them.
But are they about to hit the "jackpot" with their picks, or go bust for their belief in an economic downturn? And what if these those economist predictors had some "skin in the game?" What if they could put their money where their mouth is?
Don't Bet on a Recession Just Yet, According to Gamblers
"The subject of gambling is all encompassing," observed the late Yale professor Franz Rosenthal in his 1975 book Gambling in Islam. "It combines man's natural play instinct with his desire to know about his fate and future."
It shouldn't surprise you that in this country, you can bet on just about anything. And the answers might be a little more accurate than certain economic forecasts, because these bettors have something riding on the outcome of whether or not the economy will go south.
Observer reached out to Alex Kostin, founder of American Gambler, for an answer. What are bettors putting their money on?
Kostin claims that the fears of a recession were much higher earlier this year, at 55%. But it has fallen and is now down to a 28% probability for the rest of President Donald Trump's first term. "So the fear is still there, but much less," he explained. "People bet/expect some negative economical shakes." American Gambler is seeing fewer bets on a recession, but we're not out of the woods completely.
But Are Bets Better Than Surveys?
Nadja Benes, who has her M.A. in economics from the University of San Francisco and is currently a content strategist dashdash, confidently touted the benefits of betting markets in a 2017 Medium post written for blockchain startup Gnosis. "By forcing market participants to bear the financial consequences of their prediction, individuals who continually lose money by making bad predictions will stop participating in the market," she explained.
Brandi Travis, a spokesperson for online prediction market PredictIt, said the betting website's markets were accurate most of the time. She described prediction markets more generally as an important data point for people to consider. "It usually doesn't get a lot of press when we're right," Travis told CNBC.
In that same CNBC story, a University of Michigan professor noted the difference between the two methods of forecasting. "It is the difference between, first of all, mass opinion and elite opinion," Michael Traugott, former president of the American Association for Public Opinion Research, said.
But what about all of those bad sports bets you hear about? It turns out that we might actually be better at forecasting economic events. "It has been established that both real‐money and play‐money prediction markets are reasonably accurate, wrote E. S. Rosenbloom and William Notz in an article published by peer-reviewed journal Electronic Markets. "An SPRT (sequential probability ratio test)‐like test is used to determine whether there are statistically significant differences in accuracy between the two markets. The results establish that real‐money markets are significantly more accurate for non‐sports events."
If you think about it, it's easier to track those leading indicators than Baltimore Ravens' QB Lamar Jackson and his spin moves.
Believe it or not, such betting markets for politics were pretty prevalent once, but replaced by scientific polls and alternate gambling competition, according to P. W. Rhode and K. S. Strumpf, writing about historical presidential betting markets for the Journal of Economic Perspectives. The authors found that before the prevalence of those polls, bettors did a pretty good job in the mid-1800s through the 1940s. But it's not campaign factors that enable precise gambles. It's the state of the economy and other such factors external to the election itself, which enable the best bets, as determined by Justin Wolfers and Eric Zitzewitz, who convinced TradeSports to run "experimental contingent betting markets," on President George W. Bush's reelection.
Before You Up the Ante…
Remember a few things before you place any bets. Make sure you're using a reputable site, read their reviews, see what customer feedback says. Don't place big money on a game that's meant more for fun than income. In other words, "don't eat your betting money and don't bet your eating money," as the old saying goes.
John A. Tures is a professor of political science at LaGrange College in LaGrange, Georgia—read his full bio here.
Filed Under: Business, Economy, Donald Trump, George W. Bush, Federal Reserve, Blockchain, Gambling, Recession, US China Trade War
---
Sammendrag på Norsk:
Økonomer indikerte at en resesjon var sannsynlig i 2019
Tidligere i år var det ikke et spørsmål om, men når, når det gjaldt å vurdere om USA var på vei mot en økonomisk lavkonjunktur. Vi hadde nettopp snublet ut av en funksjonsstans av regjeringen. En handelskrig mellom USA og Kina var i gang. Budsjettunderskuddet økte, og forbrukertilliten minket. Lite gode økonomiske nyheter var der ute.

SE OGSÅ: Når kommer den neste lavkonjunkturen og hvor dårlig vil det bli?
Bloomberg Economics 'eget verktøy som indikerte en lavkonjunktur, var sannsynligvis blinkende rødt i slutten av 2018 og begynnelsen av 2019, med noen vurderinger som antok at vi hadde et tre-måneders vindu før bjørnene skulle dra til Wall Street.

"Mens den sentrale prognosen vår er at den nåværende konjunktursyklusen skal avsluttes i 2019, kan et eksternt sjokk stoppe det tidligere," skrev The Economist's Intelligence Unit. "Enestående Fed-politikk har oppblåst i formuespriser, og en sving i investorentimentet kunne raskt spredt seg til realøkonomien. Dessuten, hvis eurosonen bølger tilbake i en alvorlig krise, kan den trekke den amerikanske økonomien med det ... Vi forventer en mild nedgang i midten av 2019 for å redusere real BNP-vekst til 1,4% i gjennomsnitt for det året, presse opp arbeidsledigheten og avslutte Feds innstrammingssyklus. "

En økonom skrev for Forbes, og bemerket den omvendte avkastningskurven og dens forkjærlighet for å forutsi resesjoner. Han våget seg til og med at vi kanskje allerede ser begynnelsen på en inversjon, men kanskje ikke er klar over det på noen tid. Guggenheim-modellen for lavkonjunktur forutsetter større enn 50% sjanse for en lavkonjunktur de kommende månedene, resultatet av en skjerpet arbeidsmarked omvendt avkastningskurve og nedgang i ledende indikatorer. Fortune Magazine tror vi overlever 2019 uten en lavkonjunktur, men det er ikke tilfelle for 2020.

Økonomer er legendariske for unøyaktige prognoser. "Hva hvis økonomer er så dårlige til å forutsi resesjoner at de faktisk er gode?" Spøker University of Georgia-økonomen Stephen Mihm. Han skrev for Bloomberg, og antydet at du kunne gjort bedre spill mot økonomer enn med dem.
Men er de i ferd med å treffe "jackpotten" med valgene sine, eller gå til tross for at de tror på en økonomisk nedtur? Og hva om disse økonomispådommene hadde "hud i spillet?" Hva om de kunne plassere pengene sine der munnen er?
---
Les også :
Hvorfor verdens klokeste hjerner er enige om at en lavkonjunktur kommer

Av Sissi Cao • 01/22/19 13:07
Det er bare 22 dager inn i 2019, og de alvorlige utsiktene til en økonomisk lavkonjunktur blir allerede virkelige.
På tirsdag av World Economic Forum i Davos, Sveits på mandag, ble næringsliv og politiske ledere som var til stede skranglet av et brev som advarte om en forestående økonomisk nedgang forfatter av den legendariske hedgefondsjefen Seth Klarman, som liker kallenavnet "Warren Buffett of Boston."
I andre Davos-nyheter sa like ærbødig Wall Street-figur Ray Dalio at det var en "betydelig risiko" for en lavkonjunktur i 2019, eller 2020, senest.
Til og med administrerende direktører, som sunget ros for president Donald Trumps økonomiske politikk for bare syv måneder siden, har nå gjort pessimister. Mandag avslørte den årlige PwC-undersøkelsen av globale administrerende direktører ferske funn om at mer enn 30 prosent av verdens bedriftsledere anslår en økonomisk nedgang i 2019, opp fra lave fem prosent i fjorårets undersøkelse.
Det kan ikke være ren tilfeldighet at verdens skarpeste investorer og bedriftsledere plutselig satser på verdensøkonomien. Hvis du ser nærmere på argumentene deres, er det noen få vanlige advarseltegn som plager dem:
Global spenning og politisk splittelse
Gitt den nåværende statusen i verdenspolitikken, er det ikke overraskende at investorer og administrerende direktører er opptatt av at det til slutt vil ta en toll på økonomien. Spørsmålet er hvor mye. Ifølge Klarman, hvis investeringsselskap Baupost Group forvalter over 27 milliarder dollar i eiendeler, har de globale finansmarkedene ennå ikke gjenspeilet den virkelige skaden av det politiske kaoset i Washington, inkludert et regjeringsstans som nå drar inn i sin 32. dag og en stadig mer forstyrret verdensorden .
"Det kan ikke være forretning som vanlig midt i stadige protester, opptøyer, nedleggelser og eskalerende sosiale spenninger," skrev Klarman i sitt varmt omtalte brev. "Etter hvert som den internasjonale ordenen etter andre verdenskrig fortsatte å erodere, ignorerte markedene de langsiktige implikasjonene av et mer isolert Amerika, en verden som er stadig mer sparsom og global ledelse oppe å ta tak," skrev han.
Lignende bekymringer ble også uttrykt av Dalio, grunnleggeren av Bridgewater Associates, verdens største hedgefondfirma. Under et Davos-panel tidlig tirsdag sa Dalio at han var bekymret for at "større politisk og sosial antagonisme" kunne fremskynde ankomsten av "neste nedtur."
Registrer statsgjeld
I sitt alarmerende brev advarte Klarman også om den økende mengden statsgjeld som er i verdens største utviklede land. I USA, siterte han, har statsgjeld oversteget det årlige bruttonasjonalproduktet (BNP), et varselstegn for finanskrise ved konvensjonell økonomisk visdom. Gjeld-til-BNP-forholdet i andre utviklede økonomier, inkludert Canada, Frankrike, Storbritannia og Spania, fanger også raskt opp til USAs nivå.
"Frøene til den neste store finanskrisen (eller den etter det) kan godt finnes i dagens suverene gjeldsnivå," skrev han.
Å montere statsgjeld er også et rødt flagg berømt hevet av Dalio, som utforsket denne saken til stor dybde i sin bok fra 2018, The Big Debt Crises. I tillegg til Klarmans syn, advarer Dalio om at det ikke er mye regjeringen kan gjøre for å forhindre et stygt nedfall.
"Hvor vi er i den senere [økonomiske] syklusen og sentralbankenes manglende evne til å lette like mye, det er kittelen som vil definere 2019 og 2020," sa han i et intervju med CNBC fra Davos tirsdag.
Usikkerhetspolitikk
I PwC-undersøkelsen, som polled 1,378 bedriftsledere i mer enn 90 land, sa administrerende direktører de to øverste årsakene til deres bearish utsyn i 2019 var overregulering og usikkerhet i politikken, inkludert de pågående handelstvistene mellom USA og Kina.
Dette forklarer delvis hvorfor konsernsjefer som ble kartlagt i Midt-Østen og Europa, to av de mest politisk turbulente regionene i 2018, uttrykte de høyeste nivåene av pessimisme på økonomisk vekst (38 prosent i Midt-Østen og 33 prosent i Europa.)
---
WHO and WHAT is behind it all ? : >
---
The bottom line is for the people to regain their original, moral principles, which have intentionally been watered out over the past generations by our press, TV, and other media owned by the Illuminati/Bilderberger Group, corrupting our morals by making misbehavior acceptable to our society. Only in this way shall we conquer this oncoming wave of evil.
Commentary:
Administrator
All articles contained in Human-Synthesis are freely available and collected from the Internet. The interpretation of the contents is left to the readers and do not necessarily represent the views of the Administrator. Disclaimer: The contents of this article are of sole responsibility of the author(s). Human-Synthesis will not be responsible for any inaccurate or incorrect statement in this article. Human-Synthesis grants permission to cross-post original Human-Synthesis articles on community internet sites as long as the text & title are not modified.
The source and the author's copyright must be displayed. For publication of Human-Synthesis articles in print or other forms including commercial internet sites. Human-Synthesis contains copyrighted material the use of which has not always been specifically authorized by the copyright owner. We are making such material available to our readers under the provisions of "fair use" in an effort to advance a better understanding of political, economic and social issues. The material on this site is distributed without profit to those who have expressed a prior interest in receiving it for research and educational purposes. If you wish to use copyrighted material for purposes other than "fair use" you must request permission from the copyright owner.