EU planlegger å organisere mer innvandring til Europa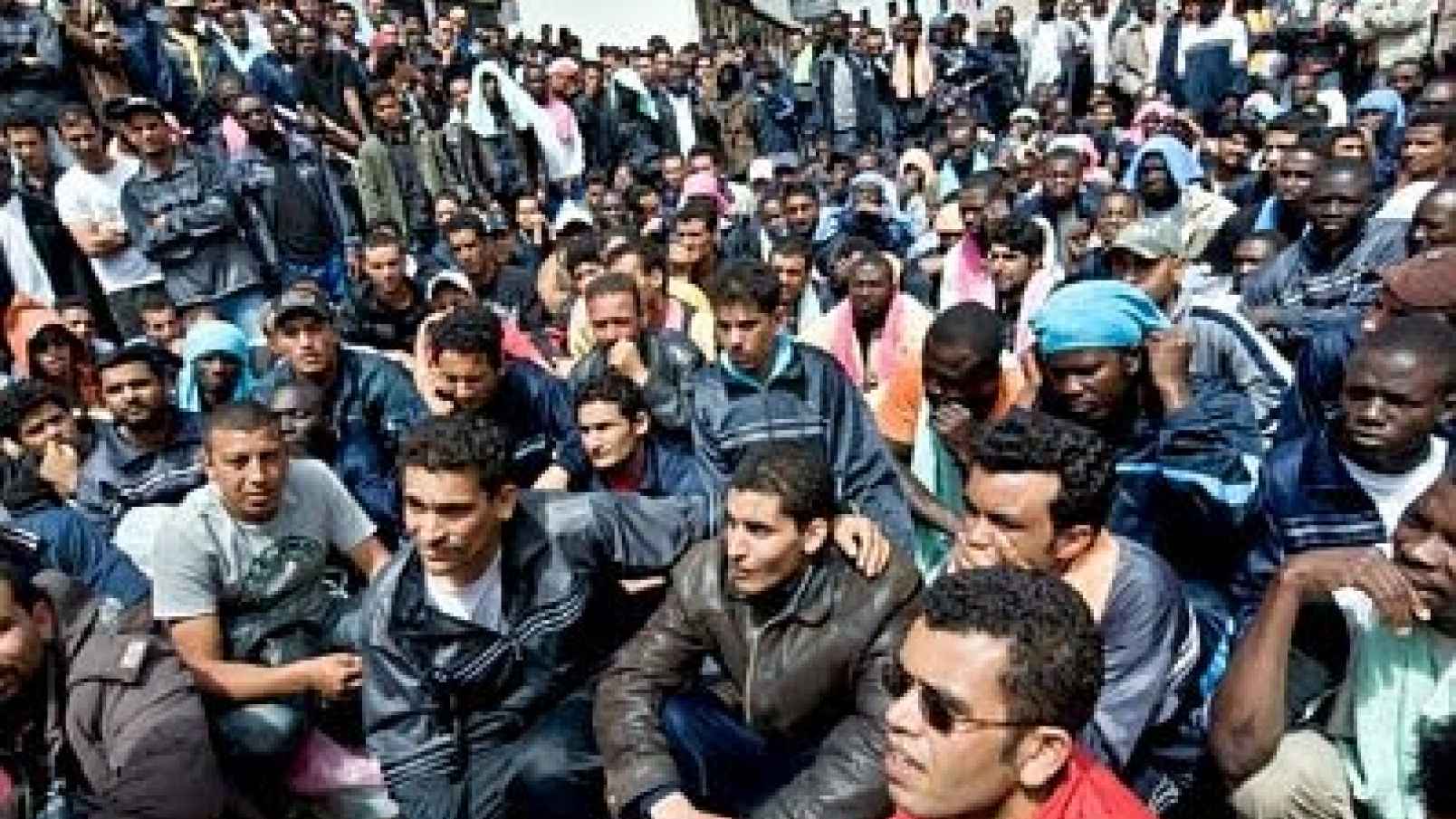 FRIHETSKAMP - Av Redaksjonen - 25. juli 2019 5
INVASJONEN Utenriks- og innenriksministre fra EU-land samlet seg i Paris for å diskutere hva som skal skje med strandede migranter i Middelhavet. Ifølge Macron skal EU, på ulike måter, hjelpe migranter som forsøker å ta seg til Europa.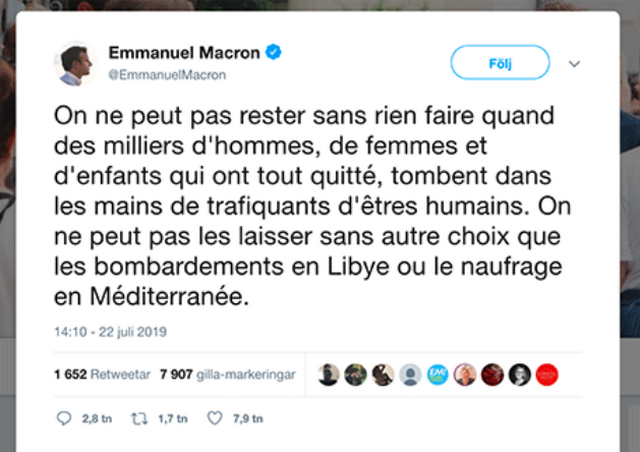 På mandag kunngjorde Frankrikes president Emmanuel Macron at fjorten EU-land har kommet overens om at innvandringen til Europa fra den tredje verden skal fortsette, men at innvandrerne skal fordeles «solidarisk» mellom de ulike nasjonene. Noen stopp av innvandringen til Europa var det altså ikke snakk om.
Utenriks- og innenriksministre fra EU-land samlet seg i Paris for å diskutere hva som skal skje med strandede migranter i Middelhavet.
EUs migrasjonskommissær Dimitris Avramopoulos, som i fjor appellerte til alle land om å undertegne FNs migrasjonspakt, sier EU har til hensikt å «hjelpe migranter i Libya, organisere humanitære overføringer, samt frivillig tilbakevandring».
Den franske presidenten har twittret at EU må «se til at kvinner og barn som har rett til asyl får beskyttelse uten å behøve å ta risikoen med å krysse Middelhavet».
Macron skriver også følgende på sin twitterside:
«Vi kan ikke se på uten å gjøre noe, mens tusentalls menn, kvinner og barn som har etterlatt alt, faller i menneskesmugleres hender. Vi kan ikke etterlate dem uten annet valg enn å bli bombet i Syria, eller bli forlist i Middelhavet».
EU skal, ifølge Macron, fortsette med et «frivillig tilbakevandringsprogram», mens personer med asylrett fortsatt vil bli tatt imot i Europa. Det ser ut til at formålet også blir å skape nye veier inn i Europa for masseinnvandring.
«Vi kommer til å gjenoppta programmet som ble lansert i 2017: å la kvinner og menn som har rett til asyl få beskyttelse uten å måtte ta risikoen over Middelhavet», uttalte Macron.
Macron mener at når en båt redder migranter på Middelhavet så skal en rask ankomst til nærmeste havn i Europa arrangeres, og det skal også ses til at migrantene fordeles mellom de europeiske nasjoner.
Macrons tweet har resultert i en mengde kritiske kommentarer, som eksempelvis følgende:
«Afrika må utvikles slik at afrikanerne kan bo der.
Europa må returneres til europeerne.
Å dumpe migranter på strendene våre når arbeidsløsheten er høy, så vel som gjelden, og at du hele tiden dumper kjøpekraften vår, er ingen løsning!»
Og et annet eksempel:
«Om du var oppriktig, skulle du:
1: Starte store opplysningskampanjer i Afrika for å forhindre denne fare
2: Be om at de som ble utsatt for forlis blir eskortert tilbake til nærmeste havn, dvs. Tunisia. Om 3 måneder skulle trafikken over Middelhavet stoppet!»
Les også:
FILM: Kalergi-planen – Hvitt folkemord?
Jødisk akademiker innrømmer at folkeutbyttet i Europa er et eksperiment
Jødinnen Barbara Spectre fikk medalje av Sveriges konge
Krig for Israel fører masseinnvandring til Europa
Motstandsbevegelsen har lansert EU-kampanjeside: Frittnorden.nu
---
NEWS OF MUSLEM VIOLENCE IN GERMANY
According to the German police, foreigners committed in 2018:

430 kills and attempted
6.046 sexual assault
73.177 violent assaults

It's an increase since 2014 at 252 %, 537 % and 295 %.

Or differently said: Merkel velkomstkultur has caused 60.070 more cases of very serious crime alone in 2018. altogether since 2014 there are 188.489 more cases.

In Sweden, the authorities have just published a new report that shows that people with foreign backgrounds (mainly from the middle east and Africa) are behind:

71 % of all kills and attempted
61 % of all assaults
58 % of all rapes (75 % of overfaldsvoldtægterne).

Foreigners are gathered together behind more than half of all crime in Sweden.

PS: I have checked the bka report and discovered that there is a smaller miscalculation in the graphics below, as regards the number of sexual assault in Germany in 2014.

Sources in the comments.

(correction included: of course, there are 430 kills and attempted. The right rates in the same statistics are also included. ).
---
WHO and WHAT is behind it all ? : >
---
The bottom line is for the people to regain their original, moral principles, which have intentionally been watered out over the past generations by our press, TV, and other media owned by the Illuminati/Bilderberger Group, corrupting our morals by making misbehavior acceptable to our society. Only in this way shall we conquer this oncoming wave of evil.
Commentary:
Administrator
All articles contained in Human-Synthesis are freely available and collected from the Internet. The interpretation of the contents is left to the readers and do not necessarily represent the views of the Administrator. Disclaimer: The contents of this article are of sole responsibility of the author(s). Human-Synthesis will not be responsible for any inaccurate or incorrect statement in this article. Human-Synthesis grants permission to cross-post original Human-Synthesis articles on community internet sites as long as the text & title are not modified.
The source and the author's copyright must be displayed. For publication of Human-Synthesis articles in print or other forms including commercial internet sites. Human-Synthesis contains copyrighted material the use of which has not always been specifically authorized by the copyright owner. We are making such material available to our readers under the provisions of "fair use" in an effort to advance a better understanding of political, economic and social issues. The material on this site is distributed without profit to those who have expressed a prior interest in receiving it for research and educational purposes. If you wish to use copyrighted material for purposes other than "fair use" you must request permission from the copyright owner.