EU leaders pick Germany's von der Leyen to lead Commission
By JACOPO BARIGAZZI, DAVID M. HERSZENHORN AND LILI BAYER
7/2/19, 7:07 PM CET - Updated 7/2/19, 7:24 PM CET
EU leaders agreed on Tuesday to nominate German Defense Minister Ursula von der Leyen as the next European Commission president and to pick Belgian Prime Minister Charles Michel to lead the European Council.
Belgian PM Charles Michel to lead Council, France's Lagarde to run European Central Bank.
Under the deal announced by Council President Donald Tusk, Spanish Foreign Minister Josep Borrell would become high representative for foreign policy and Christine Lagarde would lead the European Central Bank.
If confirmed by the European Parliament, von der Leyen, who was born in Brussels, would make history as the first female Commission president.
The surprise selection after three days of marathon negotiations among EU leaders marks the death — at least temporarily — of the Spitzenkandidat or "lead candidate" process, according to which the European Council was expected to make its choice from among nominees put forward by the EU's major political families.
Two of those nominees — conservative German MEP Manfred Weber and socialist Commission First Vice President Frans Timmermans — were rejected during the Council's deliberations.
The Council's choice of von der Leyen may face stiff resistance in the European Parliament. To take effect, the nomination requires approval by an absolute majority of the Parliament's 751 members.
Von der Leyen is under a cloud of allegations of misspending and mismanagement of contracts back home, tied to the hiring of two consulting firms, McKinsey and Accenture.
She may also face questions about her overall job performance at the defense ministry, given widespread criticism of the German military as being in relatively poor shape compared to other NATO allies.
---
Read more about  Ursula von der Leyen: 2017
Ursula von der Leyen, Germany's unflappable defence minister
Under fire from Donald Trump over military spending, the CDU stalwart holds firm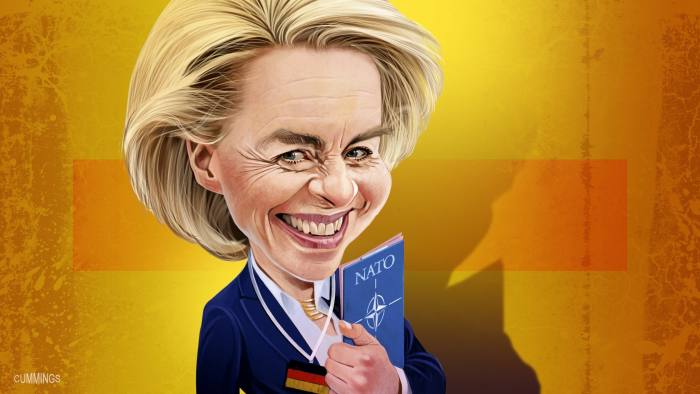 Ursula von der Leyen, Germany's unflappable defence minister Under fire from Donald Trump over military spending, the CDU stalwart holds firm. Ursula von der Leyen, Germany's defence minister, says she's getting used to Donald Trump's tantrums.  "We know now how this president operates," she said on German television after this week's Nato summit. His tweets are designed to cause "agitation and uncertainty" so "we should just calmly follow the path we've set ourselves".  
It was a typical sound bite from a woman widely admired for her sang-froid, poise and professionalism. As Germany's first ever female defence minister, Ms von der Leyen has occupied the upper echelons of German politics for 13 years now — and shows no sign of flagging. This mother of seven, who oversees 250,000 soldiers and civilians, is the ultimate powerfrau.  However, keeping calm and carrying on is becoming increasingly difficult when Germany is under attack from Mr Trump over its defence budget. And as commander-in-chief of the armed forces and a close ally of chancellor Angela Merkel, Ms von der Leyen is in the direct line of fire.
She has pushed back hard against the US president's criticisms. Germany's military budget will, she says, be 80 per cent higher in 2024 than it was in 2014. But it will still be only 1.5 per cent of the country's GDP — way below the 2 per cent goal Germany committed itself to four years ago.  Ms von der Leyen is under attack on other fronts. While the White House faults her for spending too little, the Social Democrats (SPD), junior partners in Ms Merkel's coalition government, criticise her for spending too much. The troops under her command mistrust her, and military experts say her reforms of the Bundeswehr have failed to fix the armed forces' underlying problems.
Thomas Oppermann, a senior SPD leader, has called her the "worst defence minister since German reunification".  But Ms von der Leyen is a survivor — the only minister who has served continuously since Ms Merkel became chancellor in 2005. With her coiffed hair, elegant attire and calm demeanour, even when visiting troops in Afghanistan, she is the embodiment of grace under pressure.  In some ways, it helps that she has been weakened by controversy in recent years. "Merkel likes to have people in key positions who are slightly kneecapped, so they don't become a threat to her," said Constanze Stelzenmüller of the Brookings Institution.  Ms von der Leyen's major mis-step came last year, after it was revealed that an army lieutenant with radical rightwing views had been planning attacks on high-ranking politicians.
When a swastika was found at his base, the defence minister ordered all barracks in Germany searched for Wehrmacht memorabilia. She also said that the Bundeswehr had "an attitude problem" and a "weakness of leadership". The troops reacted with fury.  "That is something that a commander-in-chief just can't say about his or her own army," said Fritz Felgentreu, an SPD MP who is a defence expert. "It really damaged the bond of trust."  Despite the furore, Ms Merkel retained Ms von der Leyen in the new government formed in February. But the likelihood of her one day reaching the top job in German politics has receded.
She has recently been eclipsed by rising stars including Annegret Kramp-Karrenbauer, general secretary of Ms Merkel's Christian Democratic Union. Speculation is mounting that Ms von der Leyen could move to Brussels to become a European commissioner or secretary general of Nato. But in light of Mr Trump's animosity to Germany, the latter job could elude her grasp, too.  Born in Brussels in 1958, she is the daughter of Ernst Albrecht, a senior EU official who later became prime minister of the northern German region of Lower Saxony. She studied economics before switching to medicine in 1980, and later worked as a gynaecologist. In 1986, she married Heiko von der Leyen, scion of an aristocratic family which had made its fortune in silk.  
Ms von der Leyen joined Ms Merkel's first cabinet in 2005 as family minister, and helped the chancellor move the CDU to the political centre. She increased the number of nursery places and introduced allowances for fathers who go on paternity leave — prompting accusations from conservatives that she was chipping away at traditional families. As labour minister, she then campaigned unsuccessfully for a statutory quota for women on company boards.  She moved to defence in 2013, where she earned a reputation as a moderniser with a mission to reverse 25 years of spending cuts. "She has fought tooth and nail for a decent defence budget," says Jürgen Hardt, a CDU foreign affairs spokesman. "And it's thanks to her that military expenditure is going up next year by 11 per cent, or €4bn".  
She sought to make the army more attractive to young families by offering crèches for soldiers' children and sent troops on more international missions, including to northern Iraq. But the army continues to be in poor shape with grounded aircraft, staff shortages and a lack of spare parts. "After four years, you still don't feel she has got a grip on things," said Mr Felgentreu.  Supporters compare the Bundeswehr to a supertanker, saying it will take time for her reforms to kick in. "In a few years' time", Mr Hardt predicts, the armed forces will be "better equipped, better armed and better trained."  A question many in Berlin are asking is whether that will be soon enough for Mr Trump.  
The writer is the FT's Berlin bureau chief
---
Ursula von der Leyen: A conversation with the woman defending Germany (Video 2017)
---
More on Ursula´s agenda for The Uited States of Europe. Ursula von der Leyen: In her own words
'My aim is the United States of Europe,' the nominee for Commission president once said.
POLITICO By ZIA WEISE - 7/4/19, 4:01 AM CET - Updated 7/4/19, 9:49 AM
Ursula von der Leyen at the European Parliament, in Strasbourg | Patrick Seeger/EFE via EPA
Germany's Ursula von der Leyen has been largely silent since being nominated for the European Commission presidency on Tuesday, besides a quick "hallo, hello, salut" on Wednesday afternoon.
Yet the longest-serving member of Chancellor Angela Merkel's Cabinet — she led the family ministry and the social affairs ministry before becoming defense minister in 2013 — has given plenty of interviews over the years.
Here's the European Council nominee for Commission president in her own words on subjects ranging from foreign policy to gender equality.
European integration
One quote in particular has been making the rounds since von der Leyen's name started floating as an option at the Council summit this week: "My aim is the United States of Europe — modelled on federal states like Switzerland, Germany or the U.S.," she told Der Spiegel in 2011. She repeated her call for a federal EU in an interview with Die Zeit in 2016, adding: "I imagine the Europe of my children or grandchildren not as a loose union of states trapped by national interests."
As defense minister, she pushed for greater security cooperation in the EU, urging a "defense union" and calling for the establishment of an "army of Europeans."
"Europe must be able to act independently precisely in the areas where Europe must act independently" — Ursula von der Leyen, European Commission presidential nominee
Defense and foreign policy
Von der Leyen has also worked with France on closer military cooperation. Her idea for a European joint armed forces is somewhat different from that of French President Emmanuel Macron — an "army of Europeans" rather than an "EU army." Last November, she said that the responsibility for European troops should "not be centralized" but remain with their respective governments. She has stressed that European military cooperation does not stand in competition with NATO, sayingthat in defense matters, "we want to remain transatlantic, but we also want to become more European."
She has also called for an end to the EU's unanimity requirement in foreign policy matters and said the bloc must be capable of unified military intervention when needed. "Europe must be able to act independently precisely in the areas where Europe must act independently," she said.
Russia, China and the U.S.
While von der Leyen has warned about military escalation against Russia — rejecting in 2014 supplying Ukraine with weapons, which she said could accelerate the conflict — she has advocated a tough stance on Moscow. "President Putin does not appreciate weakness. Currying favor or indulgence does not make him friendlier," she said last year, adding that while she wished for a better relationship with Russia and is open to dialogue, she "sees the facts: Russia has annexed Crimea, it is strangulating eastern Ukraine. Aleppo has been buried under a carpet of bombs by Russian planes."
In January, she warned that Europe is not paying enough attention to China, saying: "Where Russia attacks militarily in the cyber area, China attacks with economic means ... China woos us with a friendly face. And that's why we often overlook how single-mindedly it pursues its goals. And how cleverly." She also criticized Chinese authoritarianism and control over its citizens, adding: "I am convinced that the pursuit of freedom defines humanity."
Von der Leyen has said that Russian President Vladimir Putin "does not appreciate weakness" | Evgenia Novozhenina/AFP via Getty Images
As defense minister, she has also been vocal in hitting back at U.S. President Donald Trump and his accusation that Germany was not living up to its NATO promises. Last year, von der Leyen — who has lived in the U.S. — told Die Zeit: "A part of U.S. society has forgotten what once made America great ... optimism, pioneer spirit, a self-image as melting pot," adding: "America is more than its presidents."
Brexit
Von der Leyen views — as do many European politicians — the U.K.'s decision to leave the EU as a tragedy. In an interview with newspaper Berliner Morgenpost last year, she said: "It is a fact that with Brexit, we all lose." She also criticized the "hollow promises ... inflated by populists ahead of the referendum."
Yet von der Leyen, who studied in London for a year, is no Donald Tusk, who has supported a second referendum in the hope that the U.K. would then choose to remain. "As much as I would like to see the Brits stay in the EU, they voted to leave," she said in the Morgenpost interview.
As defense minister, she stressed that the U.K. and the EU would still cooperate on security matters in the future. But she won't allow special treatment for the U.K. post Brexit. In an interview with tabloid Bild the day after the referendum, she said: "We want a good partnership with Great Britain in the future. But if we define a special path for Great Britain, other partners like Norway will demand the same. Rules must be the same for everyone."
Rule of law, democracy and migration
At the height of the 2015 migration crisis, von der Leyen criticized Hungary when it used tear gas against asylum seekers, saying: "This is not acceptable and this is against the European rules that we have. Therefore it is very important that we stick to the respect [where] human dignity and human rights are concerned ... The refugees have a right to be treated decently." And in 2017, she angered Poland by saying "the healthy democratic resistance of the young generation in Poland needs to be supported."
In a long interview on the rise of populism with Der Spiegel in 2016, she mused: "Perhaps we as democrats have believed for too long that democracy is so powerful, so convincing, so brilliant that its victory march cannot be stopped ... Now we realize that democracy can go to the dogs if we don't care for it. If the most precious thing about it, the respect for others and the ability to compromise, gets lost."
A woman takes part in a march in Budapest on June 2, 2019 to protest Hungarian government policies | Attila Kisbenedek/AFP via Getty Images
She added: "Not democracy has to change, but democrats. We have to stand up again and fight for our cause ... perhaps populism is our chance ... because its dull simplicity forces ourselves to also convince with clear and comprehensible language on what we stand for: A tolerant, open-minded, democratic society inside Europe."
In 2014, von der Leyen temporarily hosted a young Syrian refugee in her home and helped him find an apprenticeship. "He enriched our lives," she said. "So many refugees want to find their feet in Germany and do something in Germany. We should take up and support this drive, then integration will be successful." In 2016, she announced plans to train refugees in the Bundeswehr in areas such as medicine and technology. "The idea is that one day they will return to Syria and help with rebuilding," she said at the time.
Gender equality, family policy and LGBT rights
For a long time the highest-profile female German politician besides Merkel, von der Leyen has experienced her fair share of sexism — the press once liked to refer to her as "super-mama" (she has seven children), and a Bavarian politician mockedher for implementing parental leave for fathers, saying men did not need a "diaper-changing traineeship."
She has long been vocal about the need for gender parity and equal pay, writing in Handelsblatt this year: "As long as men and women do not earn the same money for the same work, it's too early to be self-satisfied" about achievements in gender equality. While in Cabinet, she has backed implementing quotas for women on company boards and in the armed forces in the face of fierce opposition from her conservative party, including from Merkel. She has also pushed for a more equitable family policy, once saying: "To me, equality is achieved when men are no longer insulted as wimps if they take care of their baby or their infirm father."
Participants wave rainbow-colored flags during the Christopher Street Day gay pride march on July 28, 2018 in Berlin | Carsten Koall/Getty Images
She campaigned for equal marriage for LGBT couples (which Germany legalised in 2017) and drew the ire of her conservative party colleagues after calling for LGBT couples to be permitted to adopt, saying: "I know of no study that says that children who grow up with [same-sex parents] fare differently than children who grow up in heterosexual marriages."
Climate change
Nichts. Nada. Niente. Von der Leyen doesn't seem to have spoken — or been asked — about climate change (yet).
Related stories on these topics:
---
Mrs von der Leyen is also on the board of WEF :
World Economic Forum: 'Mind Control' Could Turn Humans into Slaves
via Baxter Dmitry of NewsPunch - 2018


Despite mainstream media claims that remote mind control technology does not exist, global elites at The World Economic Forum – the mainstream media's overlords – recently discussed the emergence of remote mind control technology. And they admit that it could be used to turn humans into "mind-controlled slaves."
The World Economic Forum (WEF) is one of the most influential elite organizations, alongside the Council on Foreign Relations, the Bilderberg group, and the Trilateral Commision. Every year, the forum brings together some 2500 top business leaders, international political leaders, economists, celebrities and journalists to discuss world issues.
The Board of Trustees of the WEF is composed of some of the powerful people in the world. Here are some of them:
Mark Carney, Governor, Bank of England
Al Gore, Vice-President of the United States (1993-2001); Chairman and Co-Founder, Generation Investment Management LLP
Jim Yong Kim, President, World Bank
Christine Lagarde, Managing Director, International Monetary Fund (IMF)
Peter Maurer, President, International Committee of the Red Cross (ICRC
Indra Nooyi, Chairman, PepsiCo
L. Rafael Reif, President, Massachusetts Institute of Technology (MIT)
Ursula von der Leyen, Federal Minister of Defence, Federal Ministry of Defence of Germany
David M. Rubenstein, Co-Founder and Co-Executive Chairman, Carlyle Group
Vigilent Citizen report: In many ways, the WEF is similar to the Bilderberg Group. Interesting fact: Klaus Schwab, the Founder and Executive Chairman of the WEF is a former member of the steering committee of the Bilderberg Group.
Not unlike other powerful organizations that claim to "help the world", the WEF is accused of actually promoting the interests of the world elite.
The Transnational Institute describes the World Economic Forum's main purpose as:
"To function as a socializing institution for the emerging global elite, globalization's "Mafiocracy" of bankers, industrialists, oligarchs, technocrats and politicians. They promote common ideas, and serve common interests: their own."
Far from actually solving world problems, the WEF is accused of simply shifting the blame from governments and major conglomerates to regular citizens.
"A study, published in the Journal of Consumer Research, investigated the sociological impact of the WEF. It concluded that the WEF do not solve issues such as poverty, global warming, chronic illness, or debt. They have simply shifted the burden for the solution of these problems from governments and business to "responsible consumers subjects: the green consumer, the health-conscious consumer, and the financially literate consumer." They merely reframe the issues, and by so doing perpetuate them.
Gore is singled out as a prime example. Gore's speeches deliberately shift focus away from the problems of unregulated markets and corporate activities to one of moral pathologies, individual greed, etc. In doing so he is actually promoting the creation of new markets, and hence perpetuating the same old problems in a new guise. New markets will follow the same patterns as the old ones because the core problem of corporate governance is never addressed."
– Markus Giesler Ela Veresiu, Creating the Responsible Consumer: Moralistic Governance Regimes and Consumer Subjectivity
Remote Mind Control
The WEF's Annual Meeting of the Global Future Councils took place on November 11-12 in the United Arab Emirates. One of the topics discussed was "mind control using sound waves". The WEF's official website published an article entitled Mind control using sound waves? We ask a scientist how it works where University of Oxford Professor Antoine Jérusalem describes the technology and the issues related to it.
Controlling the brain with sound waves: how does it work?
Well, to get straight to the science, the principle of non-invasive neuromodulation is to focus ultrasound waves into a region in the brain so that they all gather in a small spot. Then hopefully, given the right set of parameters, this can change the activity of the neurons.
If you want to get rid of neurons that have gone wild, for example in epilepsy, then you might want to crank up the energy to essentially kill them. But if you want to selectively promote or block the neuronal activity, you need to fine-tune your ultrasound waves carefully.
In other words, there's a difference between ultrasound stimulation used for removing tissue, and ultrasound neuromodulation, which is aimed at controlling neuronal activity without damaging the tissue.
Ultrasound neuromodulation is something that definitely works, but that we still don't understand.
What social good can come of it?
The current buzzwords are Alzheimer's and Parkinson's disease, as well as traumatic brain injuries. But scientists are also looking at the spinal cord and peripheral nervous systems. As far as I am concerned, since the brain is the de facto centre of decision for so many processes, any of them could be targeted.
Is it safe?
When attempting to 'control' neuronal activity by providing minute mechanical vibrations to a region of the brain, it's important that the focus of the ultrasound, frequency and amplitude are properly tuned, or the brain can potentially be damaged. The point is that we still don't know how to tune all of this; and if I were to exaggerate a bit, I could say that our current approach is not that far off from fiddling around with the settings on a radio until we hear the right station.
One of the many difficulties is to know for sure that we are indeed controllingneurons with these sound waves, as opposed to damaging them. The truth is that we still don't know how the process works. And if you don't know how it works, you don't know how much is "too much".
What are the biggest ethical challenges?
The potential of this technique is huge – by that I mean the sheer number of applications, as well as the ethical use.
From a biological perspective, it's similar to drugs. It can cure you, it can get you addicted, and it can kill you. It's all about staying within a given set of rules. From an ethical perspective, the world is changing so fast that it's difficult to assess what will be acceptable tomorrow that is not today.
I am also convinced that human nature is such that if something can be done, it will be done. The question is by whom. I would rather have a fair society leading the dance than some rogue state without any respect for human or animal life. If we want to lead that dance 10 years from now, we need to start researching today.
How dystopian could it get?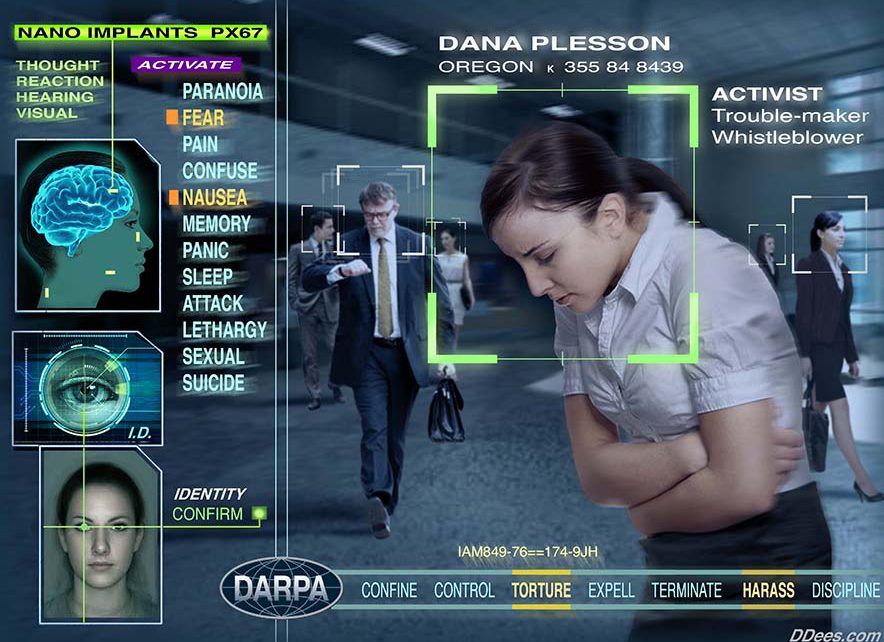 I can see the day coming where a scientist will be able to control what a person sees in their mind's eye, by sending the right waves to the right place in their brain. My guess is that most objections will be similar to those we hear today about subliminal messages in advertisements, only much more vehement.
This technology is not without its risks of misuse. It could be a revolutionary healthcare technology for the sick, or a perfect controlling tool with which the ruthless control the weak. This time though, the control would be literal.
What can we do to safeguard its potential?
I am not going to argue that scientists are all wise and knowledgeable when it comes to what should and should not be done. Some of us will go as far as we can get away with. But that's human nature, and not unique to scientists.
Either way, our job is to find something that is beneficial to humanity. And if you find a way to make somebody better, then you most likely also know how to do the contrary. The goal is to make sure that regulation prevents the latter, without impeding the former. I believe that this is the role of regulators. And I think that the European Union, where I work, is quite good at this.
Another role of politicians should be to provide a communication platform to explain the long vision of any given area of research. And it can be too early, or not a good idea, and the final decision might very well be to stop it. But in the long term, the public should have the potential benefits of a new technology explained to them in plain words, which is something that scientists are not necessarily good at.
Politicians should remember that if we don't do it, then somebody somewhere will do it anyway…potentially unregulated.
In short, Antoine Jérusalem says that remote mind control is an incredibly powerful technology that has the power to possibly cure illnesses. However, in the wrong hands, the technology can completely take control of one's brain. In his words, it can be the "perfect controlling tool with which the ruthless control the weak".
That being said, remote mind control is nothing new and the elite had access to this kind of technology for years. A few months ago, I published an article about a leaked 1996 document describing remote mind control.
Despite the technology's admitted dystopian potential, Antoine Jérusalem believes that humanity cannot avoid developing it. He probably says that because a company developing this technology is part of the WEF. His solution to make sure that the technology is not used to turn humans into mind control slaves? Government regulation.
In short, the WEF states that this technology should be under the control of the global elite. Does that comfort you?
---
WHO and WHAT is behind it all ? : >
---
The bottom line is for the people to regain their original, moral principles, which have intentionally been watered out over the past generations by our press, TV, and other media owned by the Illuminati/Bilderberger Group, corrupting our morals by making misbehavior acceptable to our society. Only in this way shall we conquer this oncoming wave of evil.
Commentary:
Administrator
All articles contained in Human-Synthesis are freely available and collected from the Internet. The interpretation of the contents is left to the readers and do not necessarily represent the views of the Administrator. Disclaimer: The contents of this article are of sole responsibility of the author(s). Human-Synthesis will not be responsible for any inaccurate or incorrect statement in this article. Human-Synthesis grants permission to cross-post original Human-Synthesis articles on community internet sites as long as the text & title are not modified.
The source and the author's copyright must be displayed. For publication of Human-Synthesis articles in print or other forms including commercial internet sites. Human-Synthesis contains copyrighted material the use of which has not always been specifically authorized by the copyright owner. We are making such material available to our readers under the provisions of "fair use" in an effort to advance a better understanding of political, economic and social issues. The material on this site is distributed without profit to those who have expressed a prior interest in receiving it for research and educational purposes. If you wish to use copyrighted material for purposes other than "fair use" you must request permission from the copyright owner.