Intervju med Mona Walter: "Islam er ren ondskap!"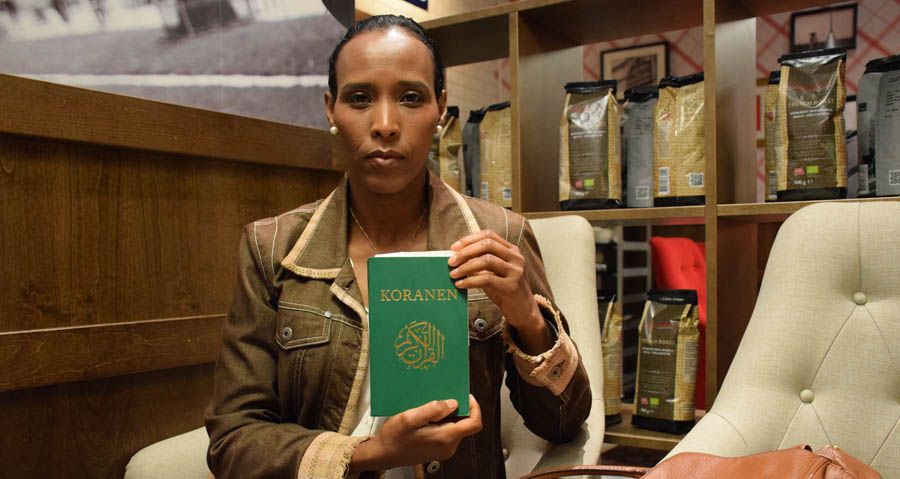 Vi møter Mona Walter på en kaffebar et sted i Sverige. For en stund har hun levd med beskyttede personopplysninger etter flere dødstrusler fra islamister. De eneste avisene som intervjuet Mona før New Times er Göteborg Post og Christian Day. Systemmedier er ikke interessert i hennes historie.

Les også:

Mistenkt Al Shabaab-doktrinen i Kenya

Muslimsk parti vil stå i parlamentsvalget i 2018

Kristne somalier lever under trusler i Sverige

Konverter i Afrika er truet av muslimer - fra Europa

IMG_0513Mona Walter snakker med lav stemme. Hennes blikk er intens, men vennlig. Litt inn i samtalen, bytter vi språk til engelsk. Derfor inneholder artikkelen noe vanskelig å oversette sitater på engelsk.
Vi diskuterer spredningen av islam i sverige, et verdslig, likeverdig samfunn. Mona sier at noen svenske forsteder styres av eldre muslimer. De oppfordrer alle til å leve av Koranen, Allahs lov. De forbyder deg å bli en del av svenske samfunnet. På grunn av religion er de isolert. På Mona er det ingen tvil:
Du kan ikke integrere muslimer i svenske samfunn. Ifølge Allah må man ikke kritisere Islam.
Hun får daglig trussel, selv dødeløp, på grunn av hennes kritikk av islam.
NYTT: Jeg har lest at du sa at Somalia var relativt "fri" da du vokste opp der på 1980-tallet?
Det stemmer. Det var et godt land til 1991-krigen.
NYTT: Hva skjedde?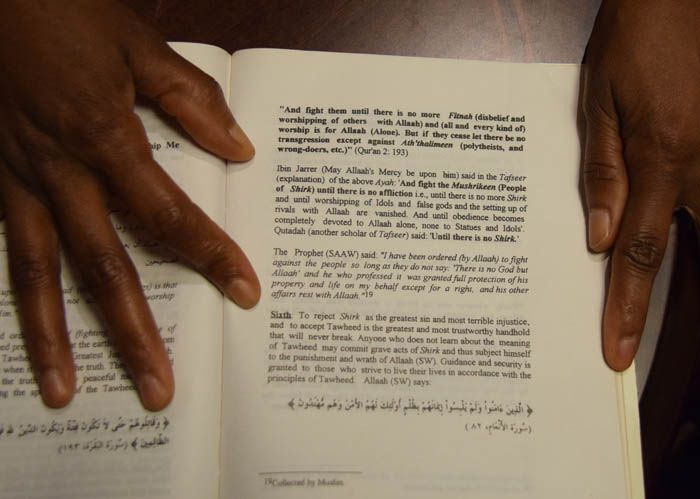 Mona viser boken som forklarer hvordan man skal tolke Koranen.

Krigen var ikke så mye om islam, men om klanfedre og krigsherrer. Somalia var allerede et muslimsk land, men i midten av 2000-tallet hadde konflikten en islamisk dimensjon. Tidligere kledde du mest på vestlige eller tradisjonelle somaliske klær, men i dag ser du nesten bare kvinner i det omfattende muslimske sløret.
Mona sier at det fortsatt var et sjokk for å bli kjent med muslimske samfunn i Sverige. Da hun kom hit, møtte hun en islam som er mye verre enn hva hun opplevde i Somalia for 20 år siden. I utgangspunktet syntes hun det var naturlig å gå til en muslimsk menighet for samfunnets skyld. Hun tror at det var da hun opplevde "det rette ansiktet til islam". Ingen av det skjedde i Somalia da hun bodde der.
Hun sier at imamene sa at de ikke skulle forstyrre kaffesamfunnet, det vil si de svenske, at de skulle føde så mange barn som de kunne, og oppmuntre så mange slektninger som mulig å flytte til Sverige. Det oppgitte målet var å islamisere Sverige. Ikke med våpen, men gjennom fødsel og innvandring. Du vil bli landets flertall. Og samme uttalte strategi er i alle vestlige land, sier hun.
Nesten for et år siden reagerte hun på integrasjonsminister Erik Ullenhag (FP), som hadde skrevet en debattartikkel i Svenska Dagbladet hvor han oppfordret til "samling mot islamofobi". Mona Walter mener at Ullenhag viser tegn på naivitet og uvitenhet om islam. En integrationsminister og en advokat bør kunne forvente mer, sier hun.
Ullenhag skrev blant annet: "Islam og muslimer blir sett på som en trussel. Rene myter sprer seg om hvordan muslimer planlegger å ta over Europa og skape en "Eurabia", blant annet ved å føde mange barn. " Det er ingen myte.
NYTT: Siad Barre var diktatoren i ditt land. Er det et vanlig navn i Somalia?
NYTT: Jeg spør fordi jeg har skrevet to artikler i New Times om en aldrende røver med det navnet. Vet du at unge somaliske menn er tungt overrepresentert i kriminalitet?
Nei, det visste jeg ikke.
Jeg skriver to ord i min notatbok og holder den opp for Mona, så hun kan lese. På papiret står det "sekulære muslimer".
NYTT: Hva sier du om dette?
NYTT: Jeg pleier å kalle dem "late som muslimer", er du enig?
Absolutt. De støtter muslimer som følger Koranen ved å holde seg stille.
Hun mener at islam ikke sammenfaller med ytringsfriheten, i hvert fall med hensyn til den muslimske troen. Som muslim er det forbudt å kritisere eller stille spørsmål om sin egen religion. På arabisk kalles det Fitna. Hun har ingenting mot muslimer, sier hun og hevder at det er mange fredelige og moderne muslimer. Problemet er at hun aldri har møtt sekulære muslimer som offentlig kritiserer sin egen religion. Dette er til tross for at mange moderne muslimer oppfatter islam som primitiv og utemokratisk i sin nåværende form.
NYTT: Jeg ser at du har et kryss rundt halsen din. Når konverterte du til kristendommen?
NYHET: Hvorfor valgte du kristendommen?
Jeg trenger en Gud med en kjærlighetsmelding.
NYTT: Har du mange kristne venner?
Ja. Og mange somaliere har omgjort.
NYHET: Du er ikke redd for å gå rundt med korset synlig? Du er kjent blant muslimer i Sverige. Kan de bli provosert?
Nei, jeg føler meg trygg med korset.
NYTT: Kan du fortelle forskjellen mellom shia og sunni muslimer?
Ingen av retningene er liberale. "De er like ille," sier Mona. Krigen mellom dem har pågått i 1400 år. Den islamske staten lever av den sanne tolkningen av Koranen. De er ikke ekstreme, de er som Mohammed.
Hun forklarer at det var realiseringen at Islam er en primitiv religion og helt umulig å kombinere med demokrati som til slutt fikk henne til å forlate religionen. Hun hadde begynt å studere de islamske skrifter, som ligger bak både Shia og Sunni, og kommer til denne konklusjonen.
Mona sier at boligminister Mehmet Kaplan (MP) har grunnlagt foreningen "Muslimer for fred og rettferdighet". Det er bare ett lite problem, Mona setter det slik:
Det er ingen fred og rettferdighet i Islam!
Mona vil at jeg skal skrive ned en passasje i Koranen. Det er kapittel 9, vers 73. Det står: "Kjemp alle ikke-troende og alle hyklere". Hyklere, ifølge Mona, henviser til sekulære muslimer.
Noen politikere beklager at islam er avbildet i "negativ sammenheng" og kaller det islamofobi. Det er sant at et negativt bilde av islam sprer seg, sier Mona, men da bør man spørre hvorfor det er slik.
Intervjuet er over. Mona får en kopi av New Times, uke 27. "Les Stefan Torssells debattartikkel om IS", oppfordrer jeg henne. Vi tar den på og Mona forsvinner ute av syne. Når jeg setter meg ned i bilen min for å gå hjem, tenker jeg på hvordan samfunnet ville være hvis flere kvinner i Sverige hadde motet og integriteten som Mona Walter har.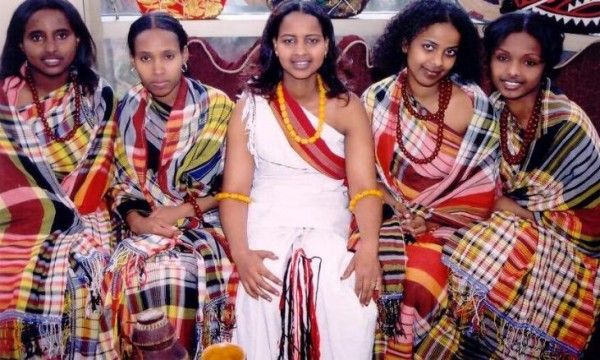 Ingen slør. Selv om de fleste i Somalia var muslimer, viser bildet på 1980-tallet et frie samfunn. I dag bærer nesten alle somaliske kvinner slør. Foto: Privat

Materialet er opphavsrettsbeskyttet. Du er autorisert til å sitere fritt fra artiklene forutsatt at kilden (www.nyatider.nu) er oppgitt. Bilder kan ikke gjenbrukes uten New Times-tillatelse.
STEFAN PETTERSSON
stefan.pettersson@alternamedia.se
---
WHO and WHAT is behind it all ? : >
---
The bottom line is for the people to regain their original, moral principles, which have intentionally been watered out over the past generations by our press, TV, and other media owned by the Illuminati/Bilderberger Group, corrupting our morals by making misbehavior acceptable to our society. Only in this way shall we conquer this oncoming wave of evil.
Commentary:
Administrator
All articles contained in Human-Synthesis are freely available and collected from the Internet. The interpretation of the contents is left to the readers and do not necessarily represent the views of the Administrator. Disclaimer: The contents of this article are of sole responsibility of the author(s). Human-Synthesis will not be responsible for any inaccurate or incorrect statement in this article. Human-Synthesis grants permission to cross-post original Human-Synthesis articles on community internet sites as long as the text & title are not modified.
The source and the author's copyright must be displayed. For publication of Human-Synthesis articles in print or other forms including commercial internet sites. Human-Synthesis contains copyrighted material the use of which has not always been specifically authorized by the copyright owner. We are making such material available to our readers under the provisions of "fair use" in an effort to advance a better understanding of political, economic and social issues. The material on this site is distributed without profit to those who have expressed a prior interest in receiving it for research and educational purposes. If you wish to use copyrighted material for purposes other than "fair use" you must request permission from the copyright owner.