Trump LIVE: 'GOOD for UK to LEAVE'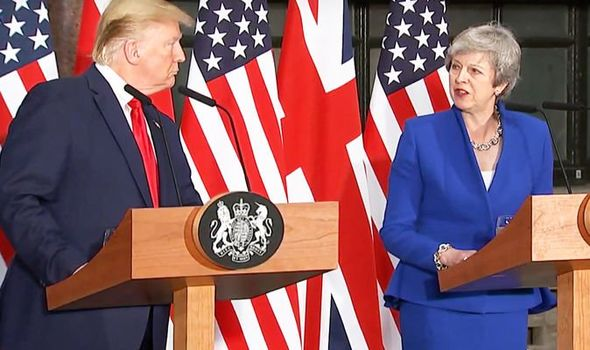 Trump says Brexit WILL happen 'UK wants its identity'
US PRESIDENT Donald Trump has urged Theresa May to reconsider her decision to stand down as Prime Minister as he talked up the possibility of a bumper trade deal between the US and the UK after Brexit, saying she should "stick around".
Is preparing to sit down with British business leaders and UK Prime Minister Theresa May at a power breakfast meeting - with a bumper post-Brexit trans-atlantic trade deal on the agenda.

By CIARAN MCGRATH PUBLISHED: 07:51, Tue, Jun 4, 2019 | UPDATED: 14:29,
Mr Trump told May and business leaders at the start of a roundtable meeting: "I think we'll have a very very substantial trade deal, it'll be a very fair deal, and I think it's something we both want to do. We're going to get it done." Mr Trump thanked May for doing a fantastic job and said he didn't know Mrs May's timings but that she should stick around. He said: "I don't know exactly what your timing is, but stick around. Let's do this deal."
Mr Trump and Mrs May were meeting British and American business leaders on the second day of Trump's state visit to Britain. They will later hold a press conference.
Mr Trump added: "We are your largest partner. I think there's a great opportunity to greatly enlarge that, especially now."
Chief executives from BAE Systems, Glaxosmithkline, National Grid, Barclays, Reckit Benckiser, JP Morgan, Lockheed Martin, Goldman Sachs and Bechtel and Splunk were all represented, alongside Mrs May, Chancellor Philip Hammnd Prince Andrew, the Duke of York, at the sit-down at St James's Palace.PROMOTED STORY
Mrs May, who is stepping down as Prime Minister on Friday, told Mr Trump the UK's trade relationship with the US "is a great partnership but one I believe we can make greater still"
She will suggested work on "keeping markets fair, free and open, and keeping our industries competitive, as well as calling for a "bilateral free trade agreement, with broader economic co-operation".
The meeting takes place against a backdrop of rising alarm on global markets at the prospect of an escalating trade war between the US and China, with the S&P 500 stock market index down more than 200 points in the last month.
Mr Trump is President expected to arrive by helicopter at Buckingham Palace at 9.20am, leaving ten minutes later. He is expected to arrive at St James's Palace for the 90-minute business meeting before leaving with First Lady Melania Trump at 11.10am.
He will then head for Number 10 for another meeting with Mrs May, including a working lunch, with a press conference scheduled for 1.45pm.
Protesters will be out in force on the second day of Donald Trump's state visit as he prepares to hold talks with Prime Minister Theresa May.
Donald Trump, Theresa May, Melania Trump and Philip May (Image: REUTERS)
2.10pm update: May and Trump speak at press conference
Theresa May and Donald Trump have started the press conference after talks between the pair.
Mrs May touches on links between the two countries and points out how NATO will soon be able to count on the UK's Queen Elizabeth aircraft carrier and F35 jets to tackle threats to the west.
Mr Trump said the Us and U "share many principles" and thanked the UK for helping to "defeat ISIS in Syria and Iraq".
He said: "It has been completely defeated."
Mr Trump warned nations in NATO: "They have no choice and must fulfill their obligations."
He said: "To address today's challenges all members must fulfil their obligations."
He added: "Among the pressing threats facing our nations is the development of nuclear weapons. The US and UK are determined to ensure Iran never develops nuclear weapons. I believe that will happen.
"The UK is the US's largest foreign investor and export market. as the uK makes preparation to leave the EU the US is committed to a phenomenal trade deal between the UK and US. There is tremendous potential."
Mr Trump said he Jeremy Corbyn asked to meet him but the US president rejected the opportunity.
May and Trump speaking opposite Number 10 today (Image: SKY NEWS LIVE)
Trump UK visit: Sadiq Khan gives Trump baby blimp permission to fly
Trump baby blimp BACK: Organisers achieve fundraising target
1.48pm update: Trump "leading world towards nuclear arms race", claims CND
Donald trump is "leading the world towards a nuclear arms race", the Campaign for Nuclear Disarmament (CND) has said, on the second day of his state visit.
Kate Hudson, CND general secretary, said: "Trump is a dangerous man who is leading the world towards a nuclear arms race in his attempt to dismantle all the treaties which have prevented the spread of nuclear weapons.
"He recently said he would 'end Iran' and the US withdrawal from the Iran nuclear deal now seems like declaration of war, with a fresh military build-up in the Middle East and the long-held ambition of regime change of his security adviser John Bolton.
"Cosying up with this dangerous president risks normalising the moral collapse of political representatives."
1.40pm "Don't treat refugees as enemies," Corbyn tells Trump
Mr Corbyn added: "Can we stop mistreating people who travel for a place of safety, escaped from oppression, from climate change or eonomic poverty to try and make their contribution to the world?
"Don't treat them as enemies, treat them as fellow human beings."
1.32pm update: Trump is spreading "hate"
Labour leader Jeremy Corbyn has accused US Preisdent Donald Trump of spreading hate as he addressed an anti-Trump rally in London.
Mr Corbun said Mr Trump had "created a sense of hate, adding: "I am not, absolutely not, refusing to meet anybody, I want to be abe to have that dialogue to bring about the better and more peaceful world that we all want to live in.
"But i am very disappointed that out mayor of London has been attacked in the way that he has.
"I am proud that our city has a Muslim Mayor.
"Racism divides. Exploitation of monitories divides."
1.05pm update: Green MP Lucas says Trump "is not worthy of our respect"
Addressing the anti-Trump rally on Whitehall, Green MP Caroline Lucas said of the US President: "This is a man who is not worthy of our respect, he is not worthy of the office of President and we say go home."
Ms Lucas added: "We stand in solidarity with all of those that recognise that our future is green or it is not at all."
She said Mr Trump is "best friends with Nigel Farage and Boris Johnson", prompting boos from the crowd.
Ms Lucas said the president is "no friend of Britain", adding: "We know that Britain is better than the Britain that has been pimping out the royal family for photo opportunities for Trump."
1.04pm update: Johnson turns down Trump meeting
Boris Johnson TURNED DOWN the chance to meet US President Donald Trump during his visit, ITV Political Editor Robert Peston has claimed.
The Conservative Party leadership contender had a 20 minute phone call with Mr Trump today but declined a face-to-face meeting due to a prior commitment, Mr Peston said.
Mr Trump praised Mr Johnson just before he arrived in Britain for this week's state visit, saying he thought the former London mayor and former British foreign secretary would do a "very good job" as the next prime minister.
Mr Johnson is due to attend an event with other leadership candidates later on Tuesday. The source described the phone call as friendly and productive.
12.50pm update: Trump protest: numbers down on last year
Thousands of people protested in central London on Tuesday against US President Donald Trump's pomp-laden state visit to Britain, but numbers were far down from the tens of thousands who gathered to oppose his visit last year.
Protesters waved placards at what organisers called a "Carnival of Resistance" in Trafalgar Square while Prime Minister Theresa May was in talks with Mr Trump a short distance away in Downing Street.
There was a festival atmosphere at the rally, which will be addressed later by Britain's opposition Labour Party leader Jeremy Corbyn.
Just 21 percent of people surveyed by YouGov recently had a "positive opinion" of him. Among women, that figure shrank to 14 percent.
12.45pm update: No handshake as Trump arrives at Number 10
Theresa May welcomed Donald Trump to Downing Street - but observers were quick to note there was no handshake between the two leaders.
The US President, who was involved in an awkward "fist bump" greeting with the Queen on Monday, avoided a repeat incident by not shaking the Prime Minister's hand outside Number 10.
The two leaders had already seen each other on Tuesday morning, spending time together with business leaders at St James' Palace.
Mrs May and husband Philip greeted the president and First Lady Melania Trump as they arrived in Downing Street.
Both Mrs May and her husband shook hands with the First Lady while Mr Trump shook hands with Mr May.
Donald Trump is shown the rare copy of the Declaration of Independence (Image: Sky)
12.12am update: Trump shown rare parchment copy of Declaration of Independence at Number 10
Donald Trump was shown a handwritten parchment copy of the US Declaration of Independence - one of only two known to exist - during a visit to British Prime Minister Theresa May's office on Tuesday.
Mr Trump, on a three-day state visit to London with his wife Melania, viewed the document with May and her husband Philip ahead of talks at her Downing Street residence.
The manuscript, known as the Sussex Declaration, is one of only two known handwritten parchment copies of America's formative text.
It had been stored for more than 60 years in a strong-room among miles of documents in the West Sussex Record Office in southern England, until its significance was revealed by two Harvard University researchers last year.
12.05am update: Larry the cat takes on The Beast
Sky News presenter Kay Burley was highly amused by the antics of Downing Street cat after he took a liking to Donald Trump's armoured car, The Beast.
She said: "Larry the cat is trying to get in the beast! That can only ever end badly.
"He is literally underneath the vehicle.
"He's a bit of a celebrity."
Larry the cat appears unfazed by the arrival of Donald Trump (Image: AFP)
11.55am update: Pro and anti-Trump protestors in verbal clashes in Parliament Square
Heated arguments broke out between pro and anti-Trump supporters at Parliament Square.
A small group of men and women, several wearing "Make America Great Again" hats, shouted "we love Trump" as they were confronted by another small group protesting the president's visit, some carrying EU flags.
The two groups were quickly swarmed by media as police officers watched on.
The EU supporters shouted "you can shove your Brexit up your a***".
11.50am update: Hammond stresses "common interest" during Trump meeting
Chancellor Philip Hammond told US President Donald Trump that their two countries had a shared interest in maintaining the stability of the world's trading systems, a source close to him said on Tuesday.
Hammond joined Trump, British Prime Minister Theresa May and American and British business leaders at a meeting on the second day of the president's state visit to Britain.
The source said: "His message at the business roundtable is that the UK and US economies are closely interlinked, and have a shared interest in maintaining the stability of the world's trading system."
11.32am update: Trump "a poster-boy for the far-right"
Mr Khan described Mr Trump as a "poster-boy for the far-right" around the world.
He said he was happy to meet with Mr Trump during his visit, but added: ""Surely we should be saying 'listen, you know, you do
realise you're a poster-boy for the far-right movement around the world.
I can't be silent when there is a rolling-back of women's reproductive rights in the US.
"I can't be silent when there is a rolling back of LGBT rights."
Not moving: Larry the cat settles down under The Beast (Image: @BillNeelyNBC)
11.30am update Khan compares Trump to "11-year-old"
Mayor of London Sadiq Khan has brushed aside Mr Trump's tweets yesterday, saying: 'I'm not 11 years old any more - that's the sort of behaviour I'd expect from my daughter.
Speaking to Sky News, Mr Khan added: "When Donald Trump was running for President, he said he wanted to ban Muslims from entering the USA but I will make an exception for Sadiq Khan, the mayor of London.
The point I am making, in a courteous manner, is there is nothing exceptional about me, don't make an exception for me, I think your ban is a bad idea."
11.20am Trump arrives at Number 10
President Trump and First Lady Melania have arrived at Number 10 for meetings with outgoing Prime Minister Donald Trump.
Mr Trump arrived in the massive Beast armoured car and was pictured with Mrs May and husband Philip before heading into Number 10.
He earlier urged Mrs May to "stick around" as PM.
US Ambassador Woody Johnson arrived shortly afterwards.
11.08am update: Queen gives Trump book by Churchill
Queen Elizabeth gifted Donald Trump a book by Winston Churchill on World War Two whilst Melania received a specially commissioned silver box with enamel lid during the visit by the President and First Lady of the United States to Britain.
The book written by the former prime minister Winston Churchill, who led Britain during the conflict, is crimson with gold-tooled decoration to the outer cover.
Trump will commemorate the 75th anniversary of the World War Two D-Day landings during his three-day stay and has already been treated to a display of British royal pageantry during a banquet on Monday.
The Trumps brought the Queen a Tiffany & Co silver and silk poppy brooch in a custom White House wood jewellery box whilst her husband Philip received a personalised Air Force One Jacket and first-edition signed autobiography by former US General James Doolittle.
Donald Trump outside Number 10 ahead of his next meeting with Theresa May (Image: PA)
Donald Trump and the First Lady posed for photos with the PM and her husband (Image: GETTY)
11.01am "Trump made this personal," says Thornberry
Shadow Foreign Secretary Emily Thornberry said President Trump was trying to use photo opportunities with the Queen to boost his re-election hopes.
She told Sky's Adam Boulton: "Only three President have had the honour of a state visit.
"Trump is the one who has made this personal, bringing all his family, expecting them all to have their photos taken with the Queen, using it as a backdrop to his re-election.
"This is not anti-Americanism - this is actually pro-Americanism. I am a great lover of America because of our values."
10.50am update: Trump set to meet Tory leadership contender Gove
Donald Trump will meet Tory leadership hopful and Environment Secretary Michael Gove, it has been confirmed.
Sky News reported Mr Trump would meet with Mr Gove, even though he has previously backed Boris Johnson as Prime Minister.
Mr Gove interviewed Mr Trump at Trump Tower while working as a journalist for The Times.
Sky said Gove's team had yet to receive formal confirmation of the meeting.
10.47am update: "I didn't want to embarrass Queen by rowing with Trump," says Thornberry
Foreign Secretary Emily Thornberry has said she specifically asked Buckingham Palace NOT to invite her to last night's state banquet - because she did not want to embarrass the Queen.
She told Sky: "I want to be able to talk to him properly.
"I am perfectly happy to talk to him but I suspect it will turn into a row. Who knows? But I wouldn't want to do that in front of the Queen."
"I wrote to the Palace and said please don't invite me because I don't want to embarrass anyone."
Donald Trump earlier told Mrs May to (Image: REUTERS)
Emily Thornberry said she had asked the Palace NOT to invite her (Image: Sky)
Ivanka Trump at St James Palace today for a business meeting (Image: PA)
10.40am update: "Stick around," Trump tells May
US President Donald Trump has urged Theresa May to reconsider her decision to stand down as Prime Minister as he talked up the possibility of a bumper trade deal between the US and the UK after Brexit, saying she should "stick around".
Mr Trump told Mrs May and business leaders at the start of a roundtable meeting: "I think we'll have a very very substantial trade deal, it'll be a very fair deal, and I think it's something we both want to do. We're going to get it done."
Mr Trump thanked May for doing a fantastic job and said he didn't know May's timings but that she should stick around.
He said: "I don't know exactly what your timing is, but stick around. Let's do this deal."
10.15am update: "Dead duck" May's talks with Trump a waste of time, says former ambassador
Former US ambassador Christopher Mayer has said Mrs May's talks with Mr Trump were a waste of time.
"Of course we have no alternative. You have to get close to the President and his staff. It does not matter how notorious or controversial he may be."
Nevertheless, he said there was little of substance which would be agreed during meetings with the Prime Minister, he stressed.
He explained: "It's a complete waste of time. She is not merely a lame duck, she is a dead duck and the same is said for her legislation."
Donald Trump heads for St James's Palace by limousine (Image: Sky)
10.05am update: "Put Trump Baby blimp in museum"
The director of the Museum of London wants to put the inflatable Trump Baby blimp on permanent display after the latest round of protests.
Sharon Ament told Newsweek she wanted the blimp to part of its "protest collection", along with a similar balloon was made in the likeness of London Mayor Sadiq Khan, after his office approved plans to fly the Trump Baby over the capital.
She said: "Both of these balloons are shining examples of political satire. And of course, satire is always about the big issues of the day.
"We have thousands of objects from all sorts of protests that have happened in London and this one is very interesting for us at this moment in time."
Donald Trump's cars and security team arriving at Downing Street (Image: REUTERS)
Donald Trumps welcome dinner at the Palace
Donald Trump shares a toast with the Queen last night at Buckingham Palace (Image: Reuters)
Trump protest: Crowds gather at Trafalgar Square ahead of a major rally (Image: PA)
The Trump Baby blimp takes to the air (Image: Reuters)
9.47am update: May to remind Trump of the value of international cooperation
Mrs May will also present Mr Trump with a copy of Winston Churchill's United Nations blueprint in a possible rebuke at his America First approach to international relations.
Mr Trump and Mrs May are due to meet today for talks - and she will hand him a framed copy of Sir Winston's Atlantic Charter agreed with Franklin D Roosevelt in August 1941.
The eight-point plan became the basis of multilateral institutions including the UN.
The document, featuring Mr Churchill's handwritten amendments, is likely a deliberate reminder of the importance of international cooperation.
9.41am update: May on collision course with Trump over Huawei
Theresa May is on a collision course with President Trump over Huawei on the second day of his state visit, with the outgoing Prime Minister ready to rebuff his demands to block the Chinese company from a role in Britain's 5G network.
Mr Trump has warned the UK against working with the telecoms giant, suggesting the US America could stop sharing intelligence with Britain if Huawei were given a contract, the Times reported.
Mrs May would make "no apologies" to make over her handling of China, a senior Whitehall official said, but would insisting Huawei's involvement in building the new networks posed no threat to shared intelligence.
She will also reject calls to take back Islamic State fighters captured in Syria and to abandon effort to salvage the Iran nuclear deal, which Mr Trump pulled the US out of last year.
Donald Trump talks with business leaders and Chancellor Philip Hammond at St James's Palace (Image: Sky)
9.34am update: "Where were protesters when Xi visited?" asks Trump supporter
Trump supporter Lewis Metcalfe, 28, from Richmond in North Yorkshire, said he took a day off work to travel to London and offer "a difference of opinion".
"I'm obviously going to be a minority today. I'm not here to troll, to cause a riot or cause disruption," said Mr Metcalfe, who was at Parliament Square wearing a "Make America Great Again" cap.
"I don't agree with all his policies. He's not the greatest president in the world but he does get things done.
"I think the protest is a little bit hypocritical because you get hundreds of thousands of people for Donald Trump today and yet we had miniscule, maybe hundreds of people, for Xi Jinping and Mohammed Bin Salman."
8.59am update: Blimp "has captured world's imagination", claims protest organiser
Speaking at Parliament Square, Shaista Aziz, from the Stop Trump coalition, said the demonstration was "very exciting" and the Trump blimp has "captured the world's imagination".
The group has raised £30,000 ahead of the blimp's flight, for charities they say help groups and minorities affected by Trump's policies.
Ms Aziz said: "It's very significant the fact that you can raise that much money in two weeks, there's a will to have this in the air. We know that this will definitely annoy Trump."
She said the president has conducted himself in a "disgraceful manner" since arriving in London and that "helps" the protesters' cause.
"It helps us shine a light on the very serious issues around this Trump presidency."
8.55am update: "Sexual predator Trump does not deserve state visit," says Thornberry
Shadow foreign secretary Emily Thornberry defended the Labour Party's position that President Donald Trump does not "deserve the honour" of a state visit.
She told BBC Radio 4's Today programme: "A state visit is an honour and we don't think this president deserves an honour.
"The truth is he has tried to close borders with Muslim-majority countries, he is caging small Mexican children, he has grabbed women and boasted about it.
"He is a sexual predator, he is a racist and it's right to say that - we need to think about when is it our country got so scared?"
8.40am update: Trump toilet model arrives in Trafalgar Square
A 16ft-tall model of US President Donald Trump has arrived in Trafalgar Square ahead of protests during which an inflatabable "Trump Baby" will be flown above the nearby Parliament Square
A cordon has been set up where the balloon will be inflated and it is expected to be in the air by 10am.
A team of organisers wearing red jumpsuits and hats marked "Trump Babysitters" are preparing the site as camera crews from national and international media outlets watch on.
The square is a stone's throw from the Houses of Parliament, where nearby roads are sealed off and police are standing guard in anticipation of large protests.
8.30am update: "Don't forget small businesses," Trump told
Small companies should not be ignored as Mr Trump meets industry captains at St James's Palace this morning, the Federation of Small Businesses (FSB) has urged.
Chairman Mike Cherry said: "As President Trump's state visit takes place, it's crucial that talks over our future trading relationship are seriously discussed.
"When President Trump meets with politicians and officials over the next couple of days, it's vital that the needs of small businesses which make up 99 percent of all firms in the country are fairly represented.
"As talks begin on our future trading relationship with the United States after Britain leaves the EU, it's vitally important that small firms are considered.
"The size of the market means that the US is seen as the most important single nation to be trading with. Around 50 percent of all exporting or importing small firms choose the country as their priority market."
The Trump toilet model arrives in Trafalgar Square ahead of the protests (Image: PA
8.15am update: Corbyn set to address anti-Trump rally
Jeremy Corbyn, who last night snubbed the state banquet in honour of Mr Trump at Buckingham Palace, will today address the Together Against Trump protest, billed as a "carnival of resistance" against the president's policies.
The giant, orange inflatable baby Trump blimp that first appeared during his 2018 visit is due to fly over Trafalgar Square during the late morning.
A 16ft talking robot of Mr Trump sitting on a gold toilet is also expected to make an appearance.
Massive security measures are in place for the US President's three-day trip, with restrictions place on areas where he will visit, preventing the public from getting too close.
---
WHO and WHAT is behind it all ? : >
---
The bottom line is for the people to regain their original, moral principles, which have intentionally been watered out over the past generations by our press, TV, and other media owned by the Illuminati/Bilderberger Group, corrupting our morals by making misbehavior acceptable to our society. Only in this way shall we conquer this oncoming wave of evil.
Commentary:
The advanced preparations of the Trump effigies and other protest materials clearly shows the footprints of who´s paying for it.  Soros perhaps?  Or other compatriots of the global elite?  Embarrassing that the London Mayor is involved. Not a behavior we´d expect from this position.  Rather cool relationship between PM May and President Trump it seems.
Administrator
All articles contained in Human-Synthesis are freely available and collected from the Internet. The interpretation of the contents is left to the readers and do not necessarily represent the views of the Administrator. Disclaimer: The contents of this article are of sole responsibility of the author(s). Human-Synthesis will not be responsible for any inaccurate or incorrect statement in this article. Human-Synthesis grants permission to cross-post original Human-Synthesis articles on community internet sites as long as the text & title are not modified.
The source and the author's copyright must be displayed. For publication of Human-Synthesis articles in print or other forms including commercial internet sites. Human-Synthesis contains copyrighted material the use of which has not always been specifically authorized by the copyright owner. We are making such material available to our readers under the provisions of "fair use" in an effort to advance a better understanding of political, economic and social issues. The material on this site is distributed without profit to those who have expressed a prior interest in receiving it for research and educational purposes. If you wish to use copyrighted material for purposes other than "fair use" you must request permission from the copyright owner.