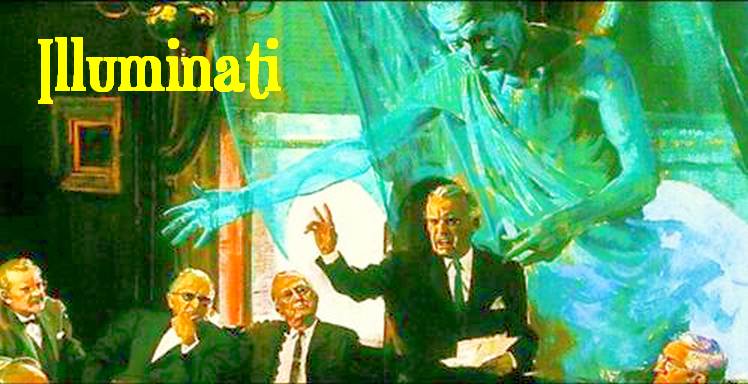 ARCHONS HEMMELIGE PAKT
21 juni 2018 Qdxiy  - @ John G Bego
"Vi vil holde deres levetid kort og deres sinn svake mens de later til å gjøre det motsatte. Vi vil bruke vår kunnskap om vitenskap og teknologi på subtile måter, slik at de aldri vil se hva som skjer. Vi vil bruke myke metaller, aldrende akseleratorer og beroligende midler i mat og vann, også i luften. De vil bli blanketed av giftstoffer overalt de svinger.
Myke metaller vil få dem til å miste sinnet. Vi vil love å finne en kur fra våre mange fronter, men vi vil mate dem mer gift. Giftene vil bli absorbert gjennom hud og munn, de vil ødelegge sine sinn og reproduktive systemer. Fra alt dette blir barna født døde, og vi vil skjule denne informasjonen.
Gifter vil bli gjemt i alt som omgir dem, i det de drikker, spiser, puster og sliter. Vi må være geniale i å dispensere forgiftene, for de kan se langt. Vi vil lære dem at giftene er gode, med morsomme bilder og musikalske toner. De de ser opp til, vil hjelpe. Vi vil anskaffe dem for å presse våre giftstoffer.
"De vil se at våre produkter blir brukt i film og vil bli vant til dem og vil aldri vite sin virkelige effekt. Når de fødes, vil vi injisere giftstoffer i deres barns blod og overbevise dem om at det er for deres hjelp. Vi vil begynne tidlig når deres sinn er ung, vi vil målrette sine barn med det barn som elsker de fleste, søte ting.
Når tennene deres forfaller, fyller vi dem med metaller som vil drepe deres sinn og stjele deres fremtid. Når deres evne til å lære har blitt påvirket, vil vi skape medisin som vil gjøre dem sykere og forårsake andre sykdommer som vi vil skape enda mer medisin. Vi vil gjøre dem fulle og svake foran oss av vår makt. De vil bli deprimerte, sakte og overvektige, og når de kommer til oss for hjelp, vil vi gi dem mer gift.
"Vi vil fokusere deres oppmerksomhet mot penger og materielle varer slik at de mange aldri forbinder med sitt indre selv. Vi vil distrahere dem med utroskap, ytre fornøyelser og spill, slik at de aldri kan være en med ensheten av det hele. Deres sinn vil tilhøre oss, og de vil gjøre som vi sier. Hvis de nekter, skal vi finne måter å implementere mind-changing teknologi i sine liv.
Vi vil bruke frykt som vårt våpen. Vi vil etablere sine regjeringer og etablere motsetninger innenfor. Vi vil eie begge sider. Vi vil alltid skjule vårt mål, men utføre vår plan. De skal utføre arbeidet for oss, og vi skal trives av deres arbeid.
"Våre familier vil aldri blande seg med deres. Vårt blod må være rent alltid, for det er veien. Vi vil få dem til å drepe hverandre når det passer oss. Vi vil holde dem skilt fra enhet ved dogma og religion. Vi vil kontrollere alle aspekter av deres liv og fortelle dem hva de skal tenke og hvordan. Vi vil veilede dem vennlig og forsiktig la dem tro at de leder seg.
Vi vil fremheve fiendskap mellom dem gjennom våre fraksjoner. Når et lys skal skinne blant dem, skal vi slukke det ved å latterliggjøre eller døden, det som passer oss best. Vi vil få dem til å rive hverandres hjerter fra hverandre og drepe sine egne barn. Vi vil oppnå dette ved å bruke hat som vår allierte, sinne som vår venn. Hadet vil blinde dem helt, og aldri skal de se at fra deres konflikter oppstår vi som deres hersker.
De vil være opptatt av å drepe hverandre. De vil bade i eget blod og drepe sine naboer så lenge vi ser det.
«Vi vil ha stor nytte av dette, for de vil ikke se oss, for de kan ikke se oss. Vi vil fortsette å trives fra deres kriger og deres dødsfall. Vi skal gjenta dette igjen og igjen til vårt ultimate mål er oppnådd. Vi vil fortsette å få dem til å leve i frykt og sinne, selv om bilder og lyder. Vi vil bruke alle verktøyene vi må oppnå dette. Verktøyene vil bli gitt av deres arbeidskraft. Vi vil få dem til å hate seg selv og deres naboer.
"Vi vil alltid gjemme den guddommelige sannheten fra dem, at vi er alle en. Dette må de aldri vite! De må aldri vite at fargen er en illusjon, de må alltid tro at de ikke er like. Drop-by-drop, drop-by-drop, vil vi fremme målet vårt. Vi vil overta deres land, ressurser og rikdom til å utøve total kontroll over dem. Vi vil bedra dem til å akseptere lover som vil stjele den lille friheten de vil ha. Vi vil etablere et pengesystem som vil fange dem for alltid, holde dem og deres barn i gjeld.
"Når de skal forby sammen, skal vi beskylde dem for forbrytelser og presentere en annen historie til verden, for vi skal eie alle media. Vi vil bruke vårt medie til å kontrollere informasjonsflyten og deres følelser til vår fordel. Når de skal reise opp mot oss, vil vi knuse dem som insekter, for de er mindre enn det. De vil være hjelpeløse til å gjøre noe for de vil ikke ha våpen.
"Vi vil rekruttere noen av deres egne for å utføre våre planer, vi vil love dem evig liv, men evig liv de aldri vil ha for de er ikke av oss. Rekrutterne vil bli kalt "initierte" og vil bli indoktrinert for å tro på falske riter av passasje til høyere riker. Medlemmer av disse gruppene vil tro at de er en med oss som aldri kjenner sannheten.
De må aldri lære denne sannheten fordi de vil vende mot oss. For deres arbeid blir de belønnet med jordiske ting og store titler, men de vil aldri bli utødelige og bli med oss, aldri vil de motta lyset og reise stjernene. De vil aldri nå de høyere rikene, for drap av deres egen slag vil forhindre passasje til opplysningsområdet. Dette vil de aldri vite.
Sannheten vil bli skjult i ansiktet, så nært vil de ikke kunne fokusere på det før det er for sent. Å ja, så stor vil illusjonen om frihet være, at de aldri vil vite at de er våre slaver. "
---
HVEM ER ARCHONS?
Archon (Gnosticism) An archon, in the Gnosticism of late antiquity, was any of several servants of the Demiurge, the "creator god" that stood between the human race and a transcendent God that could only be reached through gnosis.
Archon (Gnosticism) - Wikipedia
---
WHO and WHAT is behind it all ? : >
---
The bottom line is for the people to regain their original, moral principles, which have intentionally been watered out over the past generations by our press, TV, and other media owned by the Illuminati/Bilderberger Group, corrupting our morals by making misbehavior acceptable to our society. Only in this way shall we conquer this oncoming wave of evil.
Commentary:
You and I don´t believe in this shit, but THEY do, keeping them in fear of their lives and their posessions once they have made the pact.
Administrator
HUMAN SYNTHESIS
All articles contained in Human-Synthesis are freely available and collected from the Internet. The interpretation of the contents is left to the readers and do not necessarily represent the views of the Administrator. Disclaimer: The contents of this article are of sole responsibility of the author(s). Human-Synthesis will not be responsible for any inaccurate or incorrect statement in this article. Human-Synthesis grants permission to cross-post original Human-Synthesis articles on community internet sites as long as the text & title are not modified.
The source and the author's copyright must be displayed. For publication of Human-Synthesis articles in print or other forms including commercial internet sites. Human-Synthesis contains copyrighted material the use of which has not always been specifically authorized by the copyright owner. We are making such material available to our readers under the provisions of "fair use" in an effort to advance a better understanding of political, economic and social issues. The material on this site is distributed without profit to those who have expressed a prior interest in receiving it for research and educational purposes. If you wish to use copyrighted material for purposes other than "fair use" you must request permission from the copyright owner.
TILBAKE TIL HOVEDMENYEN - BACK TO THE MAIN MENU