Brussels DOOMED unless 'United States of Europe' stopped
EU CRISIS: Brussels DOOMED unless 'United States of Europe' stopped - Hungary warning.  HUNGARY'S hardline prime minister Viktor Orban wants May's EU elections to produce "strong leaders" who will strengthen nation states "so that Europe once again belongs to Europeans".

By SIMON OSBORNEPUBLISHED: 15:44, Fri, Mar 15, 2019 | UPDATED: 20:52,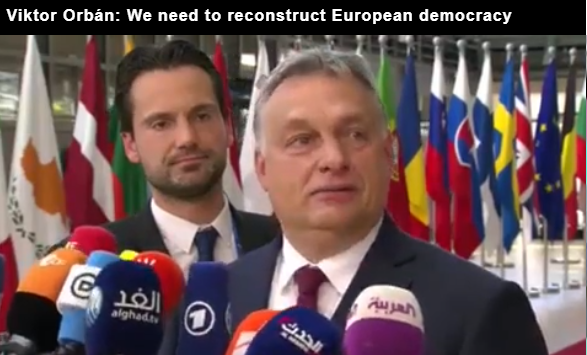 Mr Orban, a staunch nationalist with a strongly anti-immigrant platform, has been threatened with expulsion from the mainstream conservative EPP bloc in the European Union's parliament because of his outspoken views in the migrant crisis. But in a defiant speech in Budapest the prime minister reaffirmed his determination to prevent migrants making their way to Europe in search of a better life.
If we don't defend Christianity, we will lose Europe
Viktor Orban
He told a pro-government rally: "We want a strong Europe, strong nation states, and strong leaders at the helm of Europe, who don't bring trouble here but take the help there.
"We want a fresh start, so we can stop Europe's demise, the nightmares of a 'United States of Europe', so that Europe once again belongs to Europeans."
European People's Party leader Manfred Weber has demanded an immediate end to Mr Orban's anti-EU and anti-immigrant campaigning and an apology to fellow EPP members.
But talks this week made no progress and the EPP will vote next week on whether to expel Mr Orban's Fidesz party for failing to support its values of civil liberties and the rule of law.
Viktor Orban warned of the demise of Europe (Image: REUTERS)
The EPP features around 80 parties and, if it remains the biggest bloc in the European Parliament, will be able to name the next president of the executive European Commission. Booting out Fidesz could endanger its majority.
Mr Orban still supports Mr Weber as the EPP's candidate to lead the European Commission, the bloc's executive branch, after the elections.
Fidesz's success at home and in defying Brussels on immigration and governance has inspired many other nationalist and far-right movements across Europe.
Mr Orban told the rally: "If we don't defend Christianity, we will lose Europe, which will no longer belong to Europeans. In a European 'liberal empire', we will all lose our liberties."
Farage praises Viktor Orban for standing up to EU 'bullies.
Viktor Orban addressed a pro-government rally in Budapest (Image: REUTERS)
Some supporters fear Mr Orban could veer even further from the mainstream if Fidesz is ejected from the EPP but he still has the firm backing of the majority of Fidesz members.
Gabriella Lengyel, a 65-year-old pensioner who attended the Budapest rally, said: "We'll back anything he decides to do.
"He wants to stay in the EPP but represents the Europe we like, not this neo-liberal madness."
RELATED ARTICLES
---
WHO and WHAT is behind it all ? : >
---
The bottom line is for the people to regain their original, moral principles, which have intentionally been watered out over the past generations by our press, TV, and other media owned by the Illuminati/Bilderberger Group, corrupting our morals by making misbehavior acceptable to our society. Only in this way shall we conquer this oncoming wave of evil.
Commentary:
Victor Orban is a brave man and a visionary. EU in it´s present stated is NOT what the European people ever wanted. Instead they have been lured into something which has become a political/military state with a dystopian future as NWO.
I don´t think anyone is against a friendly and successful democratic cooperation between national, self-governing countries the way it was meant to be.
But why re-invent the wheel?  All we have to do is oust all the politicians  with global ideas which were infiltrated our governments by the global elite/Illuminati.
We then need a thorough edit and delete of all the proposed EU laws and agreements, retaining only the sound and mutually agreeable ones in order not to cause any disruption in existing supply lines and economic agreements.
If this REALLY were acheived, perhaps the UK would be able to cancel their ongoing Brexit?
Administrator
HUMAN SYNTHESIS
All articles contained in Human-Synthesis are freely available and collected from the Internet. The interpretation of the contents is left to the readers and do not necessarily represent the views of the Administrator.
Disclaimer: The contents of this article are of sole responsibility of the author(s). Human-Synthesis will not be responsible for any inaccurate or incorrect statement in this article. Human-Synthesis grants permission to cross-post original Human-Synthesis articles on community internet sites as long as the text & title are not modified. The source and the author's copyright must be displayed. For publication of Human-Synthesis articles in print or other forms including commercial internet sites.
Human-Synthesis contains copyrighted material the use of which has not always been specifically authorized by the copyright owner. We are making such material available to our readers under the provisions of "fair use" in an effort to advance a better understanding of political, economic and social issues. The material on this site is distributed without profit to those who have expressed a prior interest in receiving it for research and educational purposes. If you wish to use copyrighted material for purposes other than "fair use" you must request permission from the copyright owner.