Brexit: Nigel Farage launches new party ahead of EU elections - The Brexit Party
It's up to YOU! Nigel Farage's REQUEST to Express readers - 'We need EVERYONE to do this'
THIS is not a bad dream, I'm afraid. It is a pitiful reality. On 23 May, Britain will once again be asked to go to the polls to return 73 MEPs to the European Parliament in Brussels.
By NIGEL FARAGE, LEADER OF THE BREXIT PARTY - PUBLISHED: 00:01, Sun, Apr 14, 2019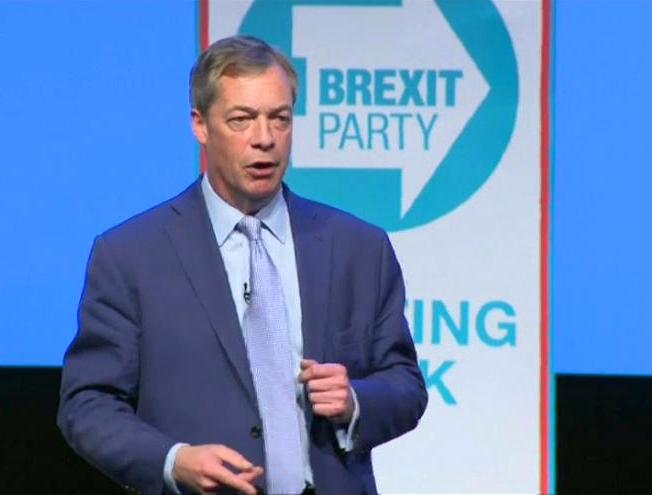 After 25 years of campaigning to get the UK out of the EU, I am the last person who wanted our country to be in this position. Frankly, I think it is an unforgivable state of affairs. But the refusal of the political class in Westminster to honour the referendum result of 2016 means that this unwanted election is upon us. We must make the best of it. Having said all of that, I wouldn't want anybody to think I am despondent. Far from it. And none of the 17.4 million men and women who voted for Brexit should be either.
Before us all is a brilliant opportunity to bring about a revolution in Britain's political system. To that end, I want to emphasise with every fibre of my being how important it is that as many people as possible turn out next month and vote for The Brexit Party.
RELATED ARTICLES
Nigel Farage: Brexit Party will fight back against betrayers
Rees-Mogg's sister is surprise candidate for Farage's Brexit Party
I know that many reading this will be sceptical, thinking their vote won't make a difference. But without the decent people of our nation doing their democratic duty three years ago, we would not have won the EU referendum.
On that occasion, we were extraordinarily successful, beating the Remain side by more 1.3 million votes. Remainers bang on about how close that result was, but I disagree. We won by a number that is equivalent to the population of Birmingham. By any standards that is a substantial margin of victory.
The will of most British people is crystal clear.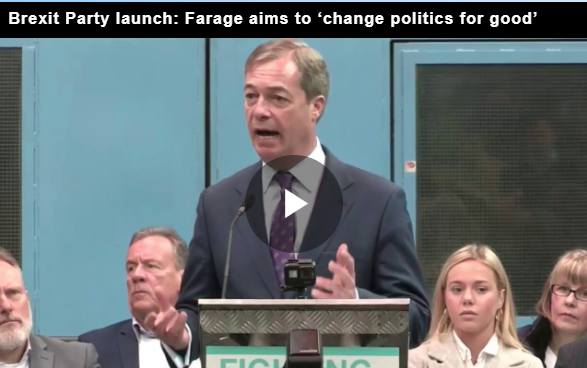 After June 2016, the overwhelming majority of MPs agreed to enact Brexit. But then Theresa May's shambles of a general election in 2017, in which she was left with a minority government, changed things.
Remainer MPs, who make up 75 per cent of the House of Commons, started to backtrack. As time has gone on, this arrogant elite has stuck two fingers up at their own manifestos, lied to the electorate, and done everything possible to thwart the result.
They are now stone deaf to the promises which they made previously. Many are so out of touch it is as though they simply don't care anymore. They have concocted and confected all sorts of bogus arguments to try to kill Brexit.
Nigel Farage, Leader of the Brexit Party (Image: GETTY)
Nigel Farage at the launch of his new party (Image: Matthew Lewis/Getty Images)
The sheer scale of their betrayal of the country is difficult to grasp.
In light of this, the best option open to Brexiteers is to punish both of the Establishment parties and back The Brexit Party. That is why I would urge anybody tempted to stay at home on 23 May not to do so. Please do not behave as though we have been defeated.
Instead, remember that the 2016 result was just the first triumph. We must now finish the job and change politics in Britain for good.
The Conservatives and Labour have been as bad as each other when it comes to choking off Brexit. In their own ways, both have connived to let down the upstanding citizens of Britain who voted to Leave in 2016.
But Remainers should be deeply alarmed by the behaviour of our MPs in recent months as well. They, too, should vote for The Brexit Party. Even if they didn't like the referendum result in 2016, they shouldn't be comfortable about the way democracy has been turned on its head.
The British political swamp needs cleaning up:
Indeed, this goes way beyond old-fashioned party politics. A clear message must be sent on 23 May that people are not prepared to go on with this shattered order any longer. I believe the European election can be the vehicle for driving the fundamental change that is required in our politics. It is just the start of the revolution for which Britain is crying out.
For the good of our country, we have to bring back trust and honour into politics. On Friday, The Brexit Party introduced a group of candidates who will be standing in next month's election. They come from all walks of life.
RELATED ARTICLES
Top Eurocrat LASHES OUT at UK for new Brexit delay - 'Things to do'
Morgan warned 'significant proportion' will go to Farage in elections
Annunziata Rees-Mogg, sister of the Tory MP Jacob (Image: OLI SCARFF/Getty Images)
They include Annunziata Rees-Mogg, sister of the Tory MP Jacob, and a seasoned political campaigner in her own right who has quit the Conservatives to join us.
Another candidate is Ben Habib, the founder and CEO of an award-winning business as well as June Mummery, who has spent years fighting for the rights of British fishermen.
A fourth candidate is Dr Alka Sehgal Cuthbert, an academic. These are people who believe in Britain and who want to use their talents to ensure the country is the best it can possibly be. More candidates of the same calibre will soon be announced.
The Brexit Party is going to put competence back into British politics.
No decent person would ever invite anybody associated with violence, thuggery or criminality into their house. By the same token, no self-respecting voter should ever consider supporting a party with links to any of these appalling traits either. That is why you can count on The Brexit Party to field a wide range of candidates who are committed to openness, honesty, integrity, and promoting the public good.
After three terrible years in which the people of the UK have been deliberately misled by a group of conceited politicians who are hell bent on pleasing themselves, we all deserve so much better. Britain needs The Brexit Party, and The Brexit Party needs you.
RELATED ARTICLES
---
WHO and WHAT is behind it all ? : >
---
The bottom line is for the people to regain their original, moral principles, which have intentionally been watered out over the past generations by our press, TV, and other media owned by the Illuminati/Bilderberger Group, corrupting our morals by making misbehavior acceptable to our society. Only in this way shall we conquer this oncoming wave of evil.
Commentary:
Barnier seems to panick today 29 April as Farage´s new Brexit Party is gaining momentum and would have a great impact on the forthcoming EU election in a few weeks time when the UK will be the new EU leader for the next 3 years. He demands a quick agreement within the end of next week to avoid UK participation in the election.
Administrator
HUMAN SYNTHESIS
All articles contained in Human-Synthesis are freely available and collected from the Internet. The interpretation of the contents is left to the readers and do not necessarily represent the views of the Administrator.
Disclaimer: The contents of this article are of sole responsibility of the author(s). Human-Synthesis will not be responsible for any inaccurate or incorrect statement in this article. Human-Synthesis grants permission to cross-post original Human-Synthesis articles on community internet sites as long as the text & title are not modified. The source and the author's copyright must be displayed. For publication of Human-Synthesis articles in print or other forms including commercial internet sites.
Human-Synthesis contains copyrighted material the use of which has not always been specifically authorized by the copyright owner. We are making such material available to our readers under the provisions of "fair use" in an effort to advance a better understanding of political, economic and social issues. The material on this site is distributed without profit to those who have expressed a prior interest in receiving it for research and educational purposes. If you wish to use copyrighted material for purposes other than "fair use" you must request permission from the copyright owner.