LANDSMORDEREN BRUNDTLAND AVSLØRTE SEG SELV
‎Anders Brunstad‎ - FB 12 april 2019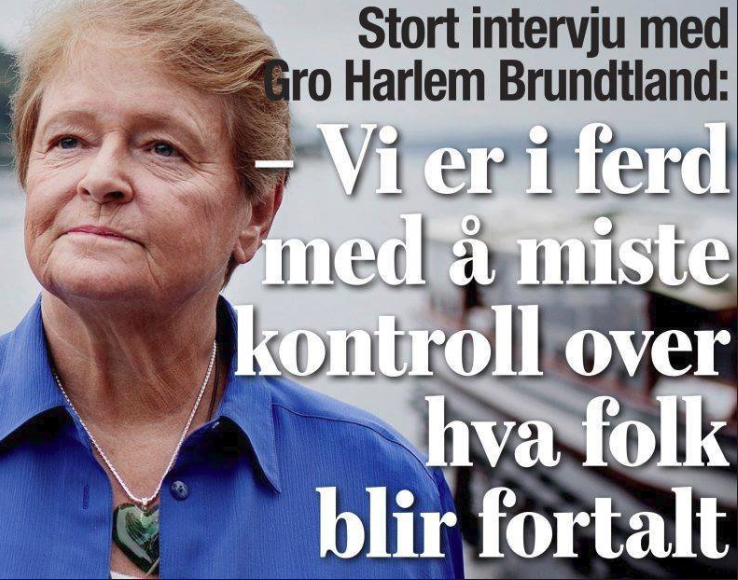 Dette utsagnet til Gro H B forteller det meste om Arbeiderpartistatens sammensmelting med Main Stream Medias propaganda maskineri.
Med NRK, TV2, Dagbladet, VG og Aftenposten i sin harde hånd. Ensretting som både Goebbels og Stalin hadde fått respekt for.
Samt tilsvarende i EU og USA. Ja, egentlig Deep State og Globalistenes enorme apparat. Som nye medier og Assanges Wikileaks avslører. Han har angrepet "dyrets kjerne": det korrupte samspillet mellom Globalister og Media, ukritisk og i det minste halv totalitært.
De avslører femtekolonisser, eller trojanske hester, som er svikere, islam apostler, som slipper inn jihadiske islamske krigere, i dekke av å være kulturmmarxister og globalister.
Som durer frem med sin Agenda 2030, med et totalitært FN og EU, og lydhøre bikkjer som Erna Solberg, Jonas Gahr Støre, Angela Merkel, Donald Tusk, Druncker og Macron, med en "hellish Soros" og Rotschilds, som med enorm korrumpering, kollaborasjon, koordinert med FNs marxister og en totalitær EU kommisjonen, som mer og mer minner om er Politbyrå, med DDR røya Merkel som vår tids Fuhrer, som en ny Hitler fra selveste Berlin.
Motkreftene tar form fra grasrota, knytta til en verdikonservativ høyreside med ganske sterke kristne grupperinger i fleire land med på laget.
Med et relativt lite antall hyperaktive ADHere, i fronten i de nevnte frie mediene, hvor særlig Helge Lurås med Resett har fått på seg den gule eller kanskje heller blå ledertrøya, samt en liten gruppe av "geriljakrigere", som meg selv, som forsøker å stikke hull på de største løgnballongene i vår tid:
1. Den falske og svært ressursødende C02 kampanjen, som Gro HB i et tospann med selveste Michail Gorbatsjov lanserte i 1987-1988, på "initiativ" fra (Gorbi) dekt under FNs totalitære røykteppe med utnevnelsen av Gro til å lede FNs og verdens største løgnkampanje noen gang, som startet med "our common future" rapporten i 1990, hvor C02 ble plukket ut som årsaken til global oppvarming og en forestående dommedag, med Støre som Gros kofferbærer, men aldri like fengende og tafatt. Slik begynte Norge å sette avgifter på C02 allereie i 1990. Og Moskva kunne selge dyre C02 kvoter. Til Vesten. Men Kina ga f..n.  Slik blei russiske metallbaroner steinrike, ved å ta over markeder, hvor vestlige aktører blei ulønnsomme pga C02 avgifter. Og kull og stålindustrien i Vesten legges ned for ende.

Kilde: Gorbys Green Cross international
2. Masseinnvandring fra Islamske kulturer til Europa under Multikulti doktrinen, har blitt ei hengemyr og tikkende islamsk bombe. Motstanden til økt innvandring fra islamske kukturer er nå sterkt økende, særlig i tidligere Østblokk, Italia og Østerrike. Kristne, ofte koblet til katolske og verdikonservative samfunn med tradisjonelle konservative verdier.
Med enorme økonomiske konsekvenser ved at ca 40 mill Muhammedanere er på trygd i Europa. Hvor Sharia og parallellsamfunn skyter fart, og betongkolosser blir plassert over alt i storbyene for å redusere risikoen for jihadiske islamsk inspirerte angrep. Som vi har sett mange av. Meir enn nok. Nå går det over til en slags intifada, med vold, knivstikking, hvor de utfordre statens voldsmonopol, inntil det oppstår islamske enklaver, hvor Sharia gjelder. Og ikke norske lover og demokratiets spilleregler. Slik vi ser utviklinga i Sverige og Frankrike.
3. EU som politisk prosjekt mot folkets vilje. Koblet til en svært farlig Agenda 2030. Hvor Globalistene, trinn for trinn bedrar sine nasjonale velgere, avvikler nasjonstater og nasjonale demokrati. Og setter inn er slags sovjetisk totalitært byråkrati ledet av en uvalgt EU kommisjon, som en slags kopi av Politbyrået. Som med ACER og Schengen, og nesten helt avviklet nasjonale forsvar.
MEN:
Agenda 2030 smalt litt i stykker med valget av Trump. Gudskje lov.
Men nå slår det altså sprekker det meir og meir, fordi folk kommuniserer på FB, Twitter, gjennom private smal media som Rights.no, Resett.no, Document.no. Messanger. Etc etc.
Til slutt; tenk på forhistorien av det som Gro her har sagt. Hvor lange har de da hatt kontrollen?
Er det heilt tilbake til 1933, når NrK monopolet blei etablert?
Eller var der enda tidligere, i 1923?
Når Norges kommunister og Mot Dagister begynte å ta styringa, slik som Edvard Bull faktisk proklamerte allereie i 1923.
Er det heile fortsatt egentlig en Moskva styrt prosess, som Gro, ble med på fra møtet med Gorbatsjov i 1986? Eller hvordan og hvem har styringen på den svært skremmende Agenda 2030?
Er ikke Globalister egentlig en videreføring av Soslialist Internasjonalen? Dvs reinspikka marxister for "Global omfordeling". Og samtidig en rasering av jobber, kapital og velferd i Vesten som fører oss tilbake til Edvard Bull, Moskva hvor FN er en slags ny "overbygging": hvorfra New World Goverment skal komme. Med et forstående totalitær, udemokratisk «Sovjetisk Verdensherredømme», hvor totalitære islamske Sharia regimer inngår sånn hist og pist?
Kan det være slik Globalisteliten har tenkt det ut?
Rakner det nå, i EU, med årets kommende valg?
Med Italia, Polen, Ungarn, Slovakia, Østerrike, med på Trumps nasjonale og verdikonservative og kristne plattform?
Det er i alle fulle fall ting på gang.
Og Gro har nok heilt rett:  Nå begynner Globalistene å misse kontrollen.
---
---
WHO and WHAT is behind it all ? : >
---
The bottom line is for the people to regain their original, moral principles, which have intentionally been watered out over the past generations by our press, TV, and other media owned by the Illuminati/Bilderberger Group, corrupting our morals by making misbehavior acceptable to our society. Only in this way shall we conquer this oncoming wave of evil.
Commentary:
Administrator
HUMAN SYNTHESIS
All articles contained in Human-Synthesis are freely available and collected from the Internet. The interpretation of the contents is left to the readers and do not necessarily represent the views of the Administrator.
Disclaimer: The contents of this article are of sole responsibility of the author(s). Human-Synthesis will not be responsible for any inaccurate or incorrect statement in this article. Human-Synthesis grants permission to cross-post original Human-Synthesis articles on community internet sites as long as the text & title are not modified. The source and the author's copyright must be displayed. For publication of Human-Synthesis articles in print or other forms including commercial internet sites.
Human-Synthesis contains copyrighted material the use of which has not always been specifically authorized by the copyright owner. We are making such material available to our readers under the provisions of "fair use" in an effort to advance a better understanding of political, economic and social issues. The material on this site is distributed without profit to those who have expressed a prior interest in receiving it for research and educational purposes. If you wish to use copyrighted material for purposes other than "fair use" you must request permission from the copyright owner.