END OF THE WORLD: Stephen Hawking warns AI could destroy humanity/amp
HUMAN SYNTHESIS
END OF THE WORLD: Stephen Hawking warns AI could destroy humanity
COSMOLOGIST Stephen Hawking has warned China the rise of powerful artificial intelligence (AI) could be "either the best or the worst thing ever to happen to humanity".
By Simon Osborne
PUBLISHED: 14:33, Thu, Apr 27, 2017 | UPDATED: 14:43, Thu, Apr 27, 2017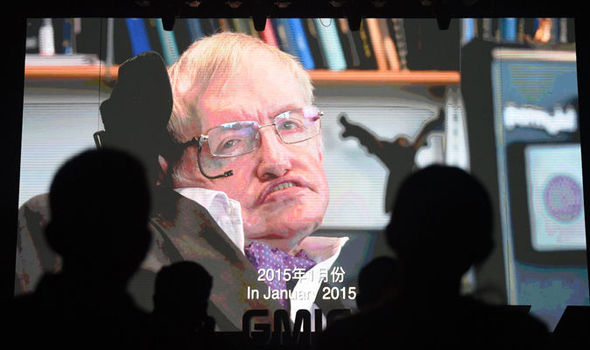 Stephen HawkingGETTY
Professor Stephen Hawking delivers a video speech to a Chinese tech conference
China's universities and technology companies are pouring resources into robotics and AI in a race against Western rivals to dominate the field.
Professor Hawking said: "We should do all we can to ensure that AI's future development benefits us and our environment."
The world-renowned British physicist made a video appearance in China to deliver the opening speech at the 2017 Global Mobile Internet Conference Beijing, a major annual event attended by thousands of people working in the country's booming tech industry.
**_A different view from the nerds_**
AI could put lawyers and doctors OUT of a job in FIVE YEARS' time
AI is scary 'because it learns from HUMAN behavior', LBC host blasts
Mother 'scared to death' after San Bernardino school shooting
Humans, who are limited by slow biological evolution, couldn't compete and could be superseded by AI
Professor Stephen Hawking
Prof Hawking acknowledged that AI brings positive benefits to humans but he also posed the question: "Will AI ultimately help the human race, or is it conceivable that it could destroy it?"
He said: "I believe there is no real difference between what can be achieved by a biological brain and what can be achieved by a computer.
"AI will be able to redesign itself at an ever increasing rate.
"Humans, who are limited by slow biological evolution, couldn't compete and could be superseded by AI."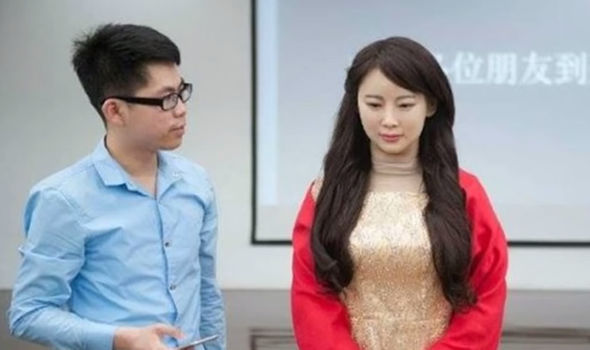 Jai Jai - YOUTUBE
An advanced humanoid report developed by Chinese AI experts
His speech comes amid intensified competition among Chinese companies. They have been investing heavily in developing AI technology and hiring talent from Silicon Valley in a bid to get ahead in the global race.
AI is now routinely used in a wide range of applications from facial recognition software and cyber-security to more futuristic technologies like self-driving vehicles.
Baidu, which operates China's dominant internet search engine, has 1,300 staff in its AI division and is gearing up to commercialize autonomous driving cars by 2020.
Will 2017 be the year of Artificial Intelligence?
Alibaba Group, owner of the South China Morning Post, has an AI programme that helps identify counterfeit products sold on the world's largest online shopping platforms.
Prof Hawking, a prominent critic of unchecked advances in AI, warned research must be done to avoid potential pitfalls while reaping the benefit of the new technology.
Related articles
AI will be smarter than HUMANS by 2029 before we MERGE with machine
Lovelorn engineer 'marries' robot bride he designed and created
AI FEARS: New laws DEMANDED over concerns of robots taking human jobs
Britons wary that AI will rise up and KILL us
ROBOT DOMINATION: AI on brink of becoming MORE INTELLIGENT than humans
---
WHO and WHAT is behind it all ? : >
---
Commentary:
Administrator
HUMAN SYNTHESIS