Explosive Increase in Cardiac Symptoms After Second Injection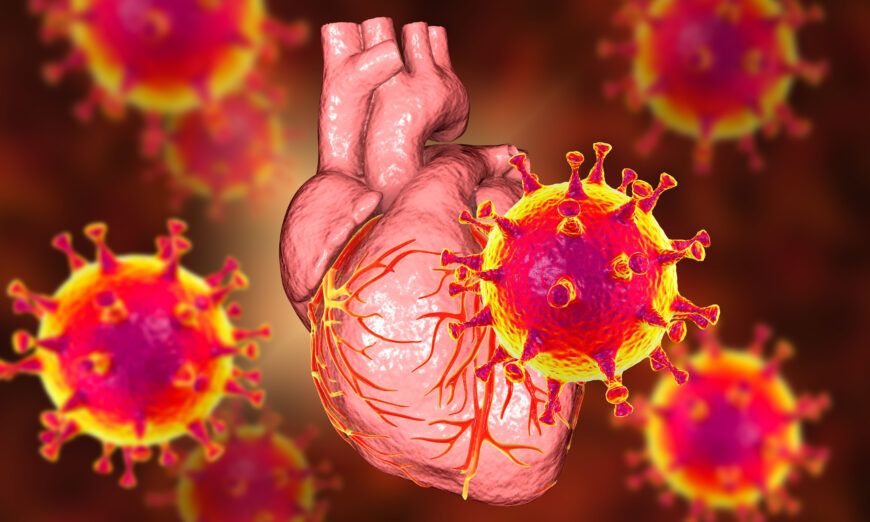 By Dr. Peter A. McCullough and John Leake  - Jan 11, 2023
Adolescent COVID-19 vaccination results in cardiotoxicity and ECG changes prompting concern
I have said on national TV throughout the COVID-19 vaccine campaign that no young person should receive a shot because the risks far outweigh the benefits. Chiu et al published a report where both cardiac symptoms and ECG changes were recorded after the first and second injections. The results are alarming. After the second injection of mRNA, 17.1% of students reported cardiovascular symptoms.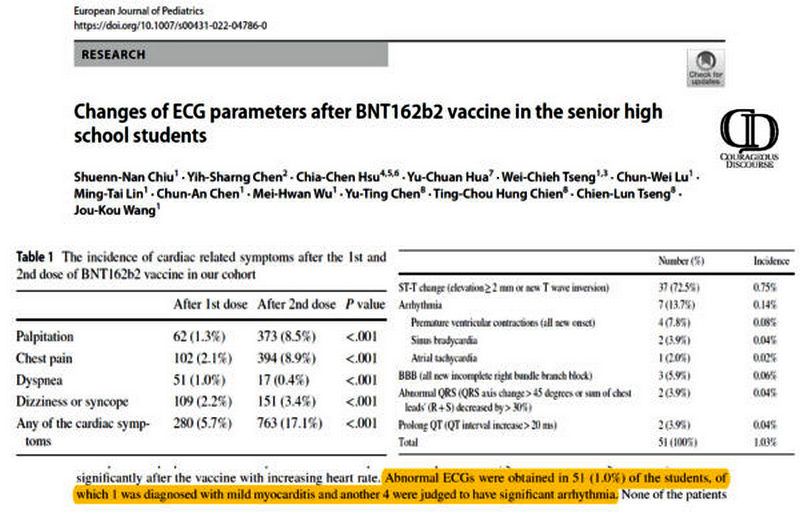 Chiu SN, Chen YS, Hsu CC, Hua YC, Tseng WC, Lu CW, Lin MT, Chen CA, Wu MH, Chen YT, Chien TH, Tseng CL, Wang JK. Changes of ECG parameters after BNT162b2 vaccine in the senior high school students. Eur J Pediatr. 2023 Jan 5:1–8. DOI: 10.1007/s00431-022-04786-0. Epub ahead of print. PMID: 36602621; PMCID: PMC9813456.
The difficulty for parents is to sort out symptoms indicative of the FDA-acknowledged side effects of myopericarditis and pulmonary embolism. Because of the very high rate of symptomatic side effects, even ECG screening will not be enough. Fortunately, there were no serious adverse events in this study.
However, when a cardiotoxic vaccine is administered to millions of adolescents, there are hundreds of thousands of symptomatic cases and the interpretation by parents and healthcare providers is quickly becoming a nightmare. Of great concern, are cases where the symptoms are interpreted as benign yet the child is suffering significant heart damage and later on is set up for sudden cardiac death during sleep or athletic events.
In summary, the best way to protect both children and parents from this unnecessary nightmare is to decline COVID-19 vaccination and thereby eliminate the risk of iatrogenic heart disease.
Views expressed in this article are the opinions of the author and do not necessarily reflect the views of The Epoch Times. Epoch Health welcomes professional discussion and friendly debate. To submit an opinion piece, please follow these guidelines and submit through our form here.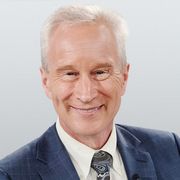 Dr. McCullough is a practicing internist, cardiologist, and epidemiologist managing the cardiovascular complications of both the viral infection and the injuries developing after the COVID-19 vaccine in Dallas TX, USA. He has dozens of peer-reviewed publications on the infection, multiple US and State Senate testimonies, and has commented extensively on the medical response to the COVID-19 crisis in TheHill, America Out Loud, NewsMax, and on FOX NEWS Channel.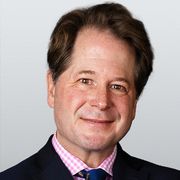 John Leake studied history and philosophy with Roger Scruton at Boston University. He then went to Vienna, Austria on a graduate school scholarship and ended up living in the city for over a decade, working as a freelance writer and translator. He is a true crime writer with a lifelong interest in medical history and forensic medicine.
---