Putin braced for Kremlin mutiny 'ultra-nationalists' make leader 'increasingly insecure'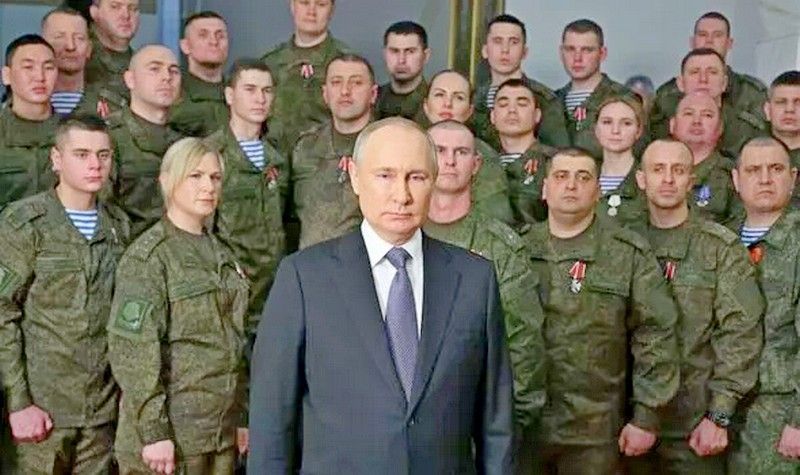 Vladimir Putin could be on the brink of a palace coup as "ultranationalists" grow increasingly hostile to the Kremlin's policies in Ukraine.
By DailyExpress - TIM MCNULTY - Thu, Jan 12, 2023
Britain's former defense chief has suggested that Russia's Vladimir Putin could be toppled in a Kremlin coup led by disaffected hardliners. Kay Burley asked Lord Dannatt on Thursday: "How secure is Putin? What do you think about his position?"
The retired senior British Army officer told the Sky News host: I think he's increasingly insecure. I think he's insecure from a variety of threats.
"One is the ultra-nationalists and ultra-hardliners in the Kremlin who don't disagree with the war but disagree with the way that he's been running it.
"And then I think there are others who actually are increasingly beginning to realize that this whole special military operation or war now by any other name, is doing no good for Russia's reputation, no good for Russia's economy, and therefore there are other groups that could be putting pressure on him.
"I've said it before, and I'll say it again, I think the group of Russian leaders who are probably the most disaffected at the present moment are the Russian military leaders, headed by [General Valery Gerasimov.]
Putin forced to change over war vehicles after the Ukraine attack
Lord Dannatt discusses the coup threat facing Vladimir Putin (Image: Sky News)
"If he could find a plan and the moral courage to see it through. I could see a palace coup or Kremlin coup, being led by Gerasimov because the army is absolutely fed up with the interference of Putin has been exercising personally.
"They're desperately upset if you like, by the way, that corruption in their procurement system has produced their weapons that are manifestly inferior to Western weapons.
"So I think we need to watch Gerasimov quite carefully. He could be the one for the Julius Caesar moment to stick in the knife.
Asked if Putin is aware of the threat posed by Gerasimov, Lord Dannatt added: "I'm quite sure he's aware of it. He's probably trying to hold Gerasimov in quite close, but also putting the stakes on Gerasimov if you fail, well, then you're out."
Vladimir Putin claims that Ukraine 'attacked Crimea bridge'
On Wednesday, Russia's Defense Ministry said that General Valery Gerasimov, the chief of the General Staff of the Russian armed forces, was named the new commander of the unified group of forces in Ukraine.
The previous commander, General Sergei Surovikin, was demoted to become Gerasimov's deputy along with two other generals.
The reshuffle, which was formally ordered by Defense Minister Sergei Shoigu, clearly came on Russian President Vladimir Putin's approval, signaling that he still has trust in his top military leaders who have faced broad criticism for the troops' performance in the conflict.
It also suggests recognition of flaws in carrying out what Putin called "the special military operation" in Ukraine.
Vladimir Putin: Profile of Russia's leader (Image: Express)
While announcing Gerasimov's appointment, the Defense Ministry said it was aimed at improving coordination between various forces fighting in Ukraine.
"Raising the level of leadership of the special military operation is linked to the expansion of the scale of the tasks being fulfilled as part of it and the need to organize closer interaction between branches of the military and to increase the quality of supplies and the efficiency of directing groups of forces," the Defense Ministry said in a statement.
Surovikin was credited with strengthening coordination and reinforcing control over Russian forces in Ukraine after his appointment in October. His demotion to the No. 2 role signaled that while Putin wasn't quite happy with his performance, he still trusts the general's expertise.
Soon after Surovikin was appointed in October, Russian troops pulled back from the southern city of Kherson under the brunt of a Ukrainian counteroffensive.
RELATED ARTICLES
---