Lviv & Kyiv Plunged Into Darkness After 'Massive' Missile Attack; Ukrainian S-300 Lands In Belarus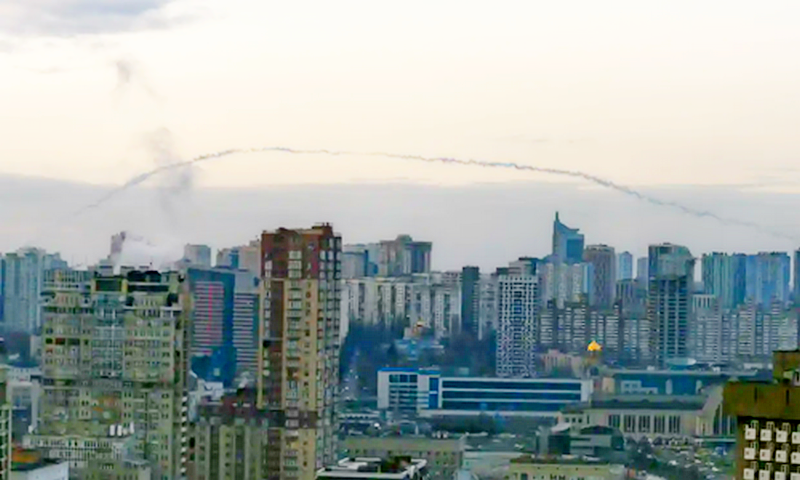 BY ZeroHedge - TYLER DURDEN - THURSDAY, DEC 29, 2022
Ukraine has been hit with a "massive" attack of over 120 missiles across the country Thursday, its military and presidency's office said. "December 29. Massive missiles attack... The enemy is attacking Ukraine from various directions with air and sea-based cruise missiles from strategic aircraft and ships," Ukraine's air force said in a public statement.
It marks the largest barrage of missiles since there was weekend talk from both sides of mutual 'openness' in getting to the negotiating table. Ukrainian leadership floated the proposal of UN-brokered talks by the end of February, but its insistence on Russian officials facing a war crimes tribunal first was seen in Moscow as not serious and a non-starter.
Regardless, at this point, Thursday's fresh aerial attack effectively slams the door shut on the possibility of talks. According to a blistering statement from Zelensky aide Mykhaylo Podolyak, the missiles were launched:
...by the "evil Russian world" to destroy critical infrastructure & kill civilians en masse. We're waiting for further proposals from "peacekeepers" about "peaceful settlement", "security guarantees for Russian Federation" & undesirability of provocations.
Thus with the obvious sarcasm, Zelensky's office has clearly signaled talks at this point are all but an impossibility from its point of view.
The Ukrainian military said missiles reached as far West as Lviv, parts of which were left without electricity Thursday morning. "Ninety percent of the city is without electricity," Lviv's mayor said in a social media post. "We are waiting for more information from energy experts. Trams and trolleybuses are not running in the city."
The capital of Kyiv also saw limited strikes and is still facing rolling blackouts and even bouts of water shortages. The military said two residences were hit by falling missile debris after an intercept while an industrial area was damaged, as well as a playground. Kharkiv in the east was rocked by major explosions, along with a number of other towns and cities, including the port city of Odesa.
As for Kyiv, its mayor Vitaliy Klitschko has estimated 40% of homes are now without power, writing on Telegram: "40 percent of the capital's consumers are without electricity after the missile attack. In connection with the necessary safety measures used by power workers during an air alert. Power engineers are currently working on restoring the power supply."
Ukraine's military claimed to have shot down dozens of inbound Russian missiles, with Ukraine's top general, Valery Zaluzhny, confirming of the large-scale attack: "This morning, the aggressor launched air and sea-based cruise missiles, anti-aircraft guided missiles to the S-300 ADMS at energy infrastructure facilities of our country."
Ukraine's intercept efforts may have also resulted in a missile entering neighboring Belarus, with Belarusian state-run BelTA news agency reporting finding a Ukrainian S-300 missile after falling on its soil.
Belarusian President Alexander Lukashenko "was immediately informed," according to reports. The Belarusian defense ministry says it's investigating whether its air defense systems had shot down the rocket, or else "the missile flew into Belarus' territory similarly to a recent incident in Poland."
Meanwhile, concerning the possibility of peace talks, Russian Foreign Minister Sergei Lavrov the day prior to the fresh Thursday missile attack said "We are in no hurry" and pledged that Moscow's military objectives in Ukraine will be achieved through "patience" and "perseverance". It's expected that there are more major Russian missile attacks against Ukrainian energy infrastructure on the horizon, already as the national grid is in crisis mode amid freezing temperatures.
---