PATRIOTS BEWARE !!!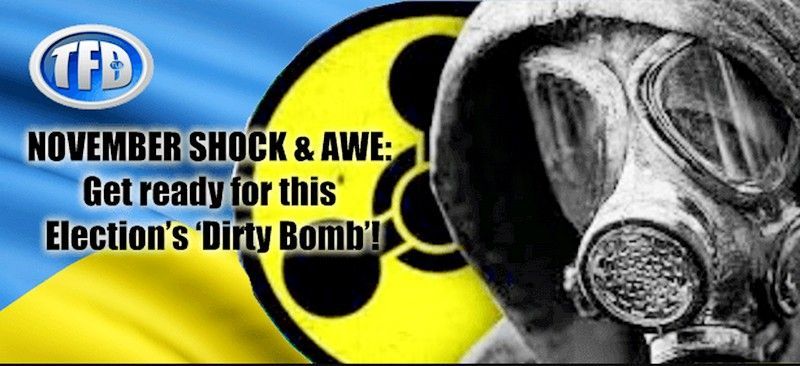 PATRIOTS BEWARE !!!
Posted on October 31, 2022, by State of the Nation
There's only one way the Democrats can stop the massive RED WAVE now rolling across the entire nation.
"Given the inexorable and enormous RED WAVE
rolling across the USA, expect the Democrats
to carry out a "November Shock & Awe" to rapidly change the momentum."
— Veteran Political Analyst & Former Democratic Operative
Truly, the extremely desperate and reckless communist-controlled Democrat Party has nothing else in their arsenal to stop this rapidly accelerating RED WAVE except to swiftly execute a Gladio-style terrorist attack, or a "wag the dog" shooting match with Russia, or a stealthily triggered stock market crash, or the launch of an EMP weapon stateside, or a combination of any of these black ops/psyops.
We all know that the Democrat Party Crime Syndicate will attempt to
pull off whatever is necessary to prevent their losing either the House
or the Senate. For their Khazarian-controlled globalist masters know
that a defeat in both chambers will immediately terminate the planned
implementation of the final stages of their nefarious New World Order
agenda and civilization-changing Great Reset.
Of course, in light of the free-fall collapse of their COVID CON, there
is also the distinct possibility that these Khazarian terrorists will do
the unthinkable—start a nuclear war in Ukraine now that Russia is
determined to execute a full-blown regime change in Kyiv.

UKRAINE WAR WILL NOT END UNTIL RUSSIA WRAPS UP
REGIME CHANGE IN KIEV
However, such a provocative nuclear terrorist operation would likely
be a detonated dirty bomb that would then be blown up much more
in the press by the CIA's Mockingbird Media (Khazarian-controlled).
For it is the fearmongering psyop that could then be utilized by the
recklessly brazen Biden administration to turn the home stretch of
the midterm election cycle is total upside down and inside out.  
Just as the Democrats used the overwhelming confusion, conflict and
chaos generated by the Khazarian-created Covid Plandemic to steal
the 2020 POTUS election, they will use November to manufacture
as much chaos and pandemonium, madness, and mayhem required
to steal every election in sight on November 8th.
BOTTOM LINE:
THEY. WILL. DO. ANYTHING. TO. WIN.
State of the Nation - October 31, 2022
SOTN Editor's Note: It is still possible that the DNC will push the button on one last game-changing October Surprise — today — on Halloween.  After all, if the Khazarian Cabal will order such a heinous crime against humanity as the South Korean stampede during this year's Halloween celebration in Seoul, really, what won't they do? See: 154 DEAD, 133 INJURED, 4,024 MISSING: Here's why the Khazarian Cabal ordered the stampede terrorist operation against South Korea!
---