Trump Warns Something Worse Than Recession Is Coming.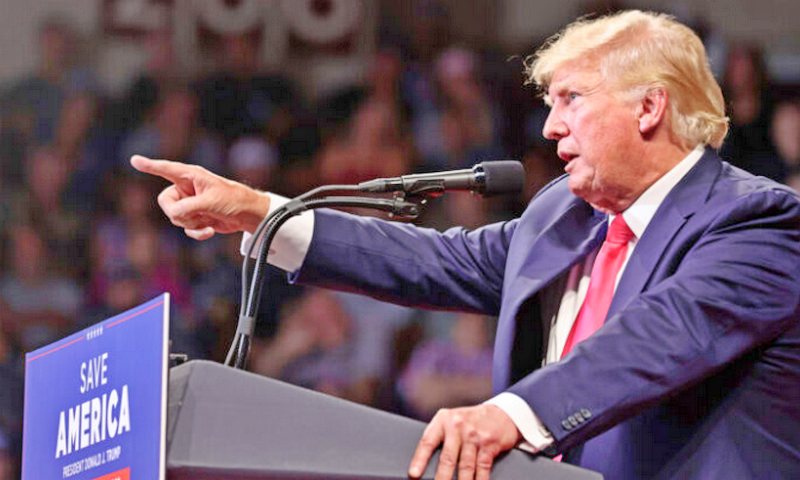 The Epoch Times - By Tom Ozimek July 29, 2022 Updated: July 29,
RECESSION
Trump Warns Something Worse Than Recession Is Coming.
Former President Donald Trump has warned that America's economy is on track for a bigger disaster than a recession, with his remarks coming shortly before government statistics showed GDP printing negative for the second consecutive quarter, which is a rule-of-thumb definition for a recession.
"Where we're going now could be a very bad place," Trump said at a rally in Arizona last week. "We got to get this act in order, we have to get this country going, or we're going to have a serious problem."
The former president singled out the collapse in Americans' real wages, a historically depressed labor force participation rate, and the Democrat push for the Green New Deal that he said would crush economic growth.
"Not recession. Recession's a nice word. We're going to have a much bigger problem than a recession. We'll have a depression," the former president said.
Trump's remarks came several days before the Bureau of Economic Analysis (BEA) released data showing that real U.S. GDP fell by an annualized 0.9 percent in the second quarter after contracting 1.6 percent in the first quarter.
Two consecutive quarters of negative GDP growth are a common rule-of-thumb definition for a recession, although recessions in the United States are officially declared by a committee of economists at the National Bureau of Economic Research (NBER) using a broader definition than the two-quarter rule.
Vance Ginn, Chief Economist at the Texas Public Policy Foundation, told The Epoch Times' sister media NTD in an interview that, while officially it's NBER that calls recessions, the two-quarter rule is "usually how it's done by a rule of thumb."
"I think this is definitely recession that we're in now from these bad policies," Ginn added, blaming a series of "progressive policies" coming out of the White House and the Democrat-controlled House.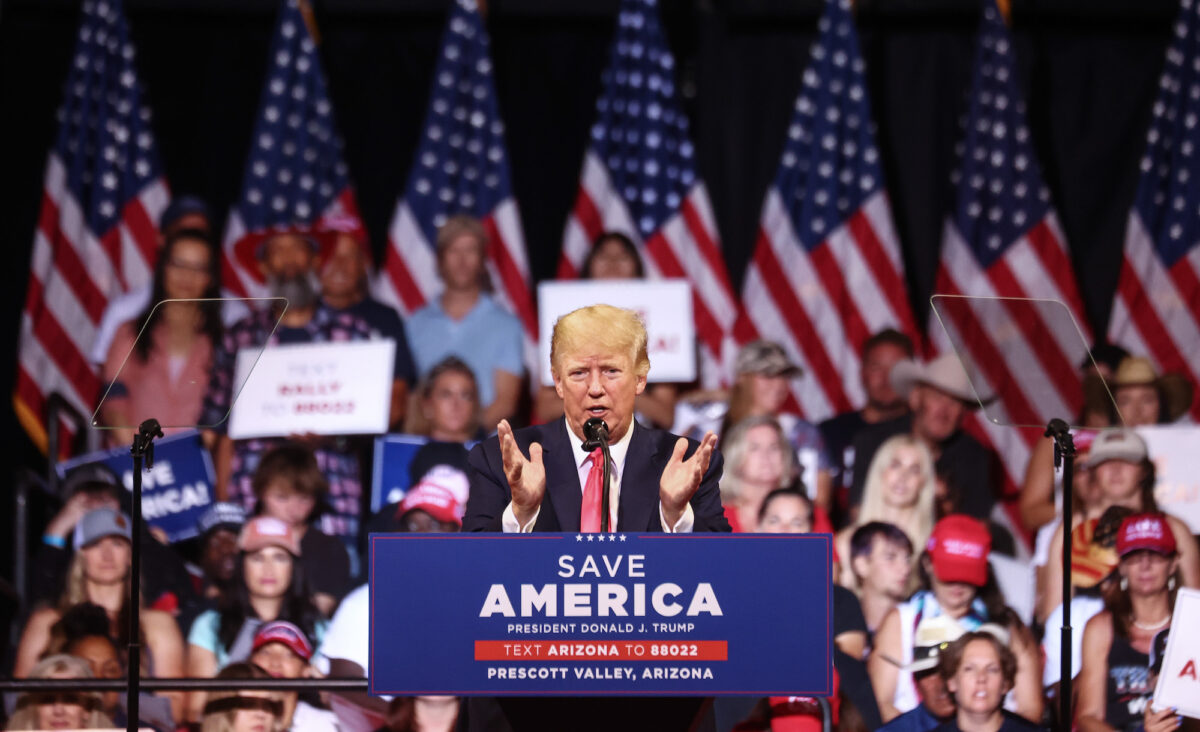 Stagflationary Winds Blowing
In his remarks, Trump also took aim at President Joe Biden's handling of the economy, blaming him for soaring inflation.
"Biden created the worst inflation in 47 years. We're at 9.1 percent, but the actual number is much, much higher than that," Trump said.
While the former president didn't provide his own estimate for the true rate of inflation, an alternative CPI inflation gauge developed by economist John Williams, calculated according to the same methodology used by the U.S. government in the 1980s, puts the figure at 17.3 percent, a 75-year high.
Trump also said that persistently high inflation combined with an economic slowdown has put the country "on the verge of a devastating" spell of stagflation, which is a combination of accelerating prices and slowing economic growth.
Inflation is "going higher and higher all the time," Trump said, adding that it's "costing families nearly $6,000 a year, bigger than any tax increase ever proposed other than the tax increase that they want to propose right now."
In Trump's first full month in office in February 2017, the headline Consumer Price Index (CPI) inflation gauge came in at 2.8 percent in annual terms. While the CPI measure fluctuated during his tenure, the highest it ever reached was 2.9 percent in July 2018, while in his final month in office, January 2021, inflation clocked in at 1.4 percent.
Under Biden, inflation has climbed steadily, soaring 9.1 percent year-over-year in June 2022, a figure not seen in more than 40 years.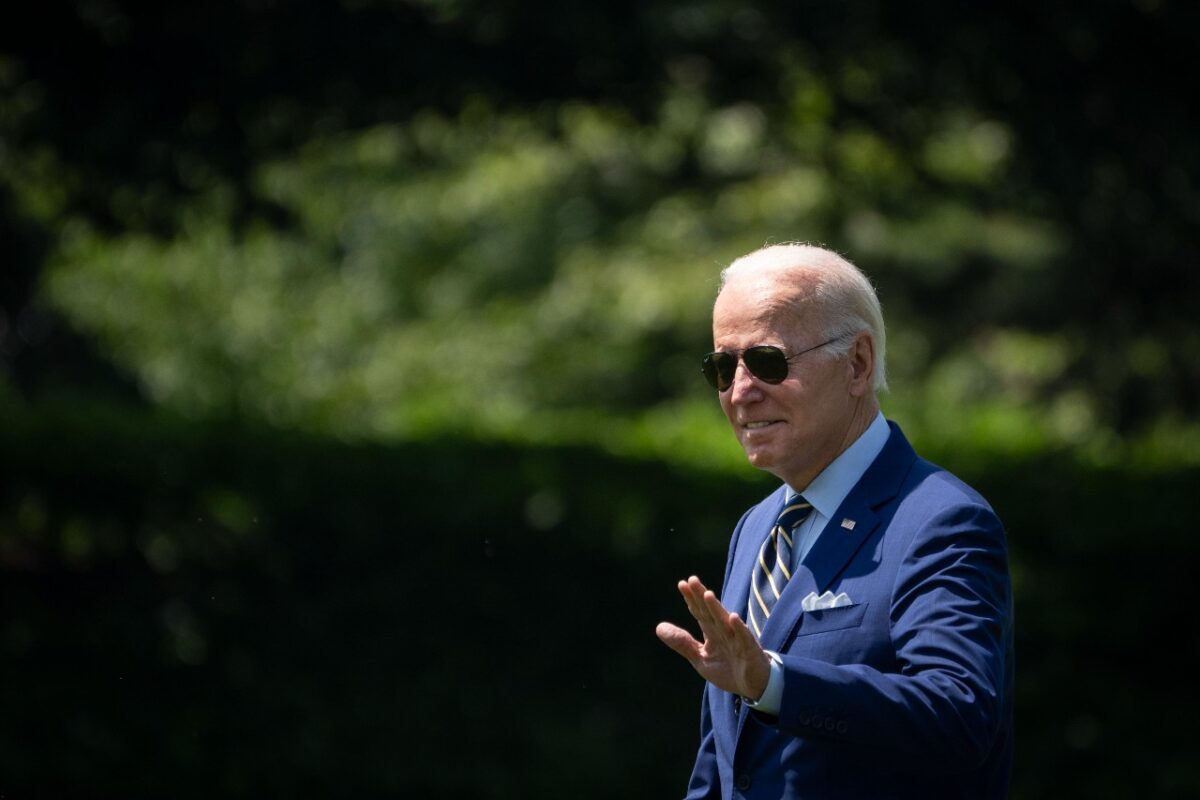 'War on American Energy'
Soaring energy prices have been one of the key contributing factors to inflation, accounting for around half of the headline inflation figure, according to the Bureau of Labor Statistics.
In his criticism of Biden's policies, Trump singled out what he called "Biden's war on American energy" and blamed it for pushing up gasoline prices.
Since taking office, Biden has taken a number of executive actions targeting the oil industry, including rescinding the Keystone XL pipeline permit, halting new oil and gas drilling leases on federal lands and waters, and ending fossil fuel subsidies by some agencies.
The price of gasoline is around double what it was when Biden took office, with the president blaming various factors, including a lack of refining capacity, the war in Ukraine, and corporate greed.
In a bid to lower prices at the pump, Biden ordered the release of oil reserves from the national strategic reserve, called on U.S. refineries to boost output, and pushed OPEC to pump cruder.
In his speech, Trump said this amounted to "begging" other countries to pump more oil instead of trying to ramp up domestic production.
"We have more liquid gold under our feet than any other country in the world. We are a nation that is consumed by the radical left's Green New Deal, yet everyone knows that the Green New Deal will lead to our destruction."
"Just two years ago, we were energy-independent. We were even energy-dominant. The United States is now a beggar for energy."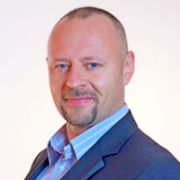 Tom Ozimek has a broad background in journalism, deposit insurance, marketing and communications, and adult education. The best writing advice he's ever heard is from Roy Peter Clark: 'Hit your target' and 'leave the best for last.'
---
Editors Commentary:
*Follow the WEF trail to Switzerland to discover the Khazarian Mafia hiding behind Klaus Schwab and his cohorts. The US and its people have nothing to do with the disasters caused to the ordinary people of the Earth.
The Khazarians have once again constructed an intricate web, whose aim is to destroy the world's economy by setting people up against each other, blocking each other's supply chains, leaving just death and ruins.
What everybody must be aware of is that this is not a war to prevent Putin from occupying Ukraine, but an attempt by the evil Khazarian Jews/WEF/NATO to control yet another country in their growing New World Order. They are simply using Ukraine as a battlefield. Their plan is to destroy totally the world's economy and turn the population into slaves.
Like the Freemasons, they have also life-threatening rules in their membership, one being REVENGE, 10 times harder than was ever perpetrated on them.
Russia in particular, in the past, has expelled the Khazars several times. I have all of 7 detailed articles in book format on the Khazarian Jews if anybody is interested in further information.
Putin, and earlier also Trump, are the ONLY Presidents who have enough guts to see what they are attempting to do to the world population and have sufficient courage to do something about it.
HUMAN SYNTHESIS
---
COPYRIGHTS
Copy & Paste the link above for Yandex translation to Norwegian.
WHO and WHAT is behind it all? : >
The bottom line is for the people to regain their original, moral principles, which have intentionally been watered out over the past generations by our press, TV, and other media owned by the Illuminati/Bilderberger Group, corrupting our morals by making misbehavior acceptable to our society. Only in this way shall we conquer this oncoming wave of evil.
All articles contained in Human-Synthesis are freely available and collected from the Internet. The interpretation of the contents is left to the readers and does not necessarily represent the views of the Administrator. Disclaimer: The contents of this article are the sole responsibility of the author(s). Human-Synthesis will not be responsible for any inaccurate or incorrect statement in this article. Human-Synthesis grants permission to cross-post original Human-Synthesis articles on community internet sites as long as the text & title are not modified.
HUMAN SYNTHESIS