Rand Paul: "There's Going To Come A Day Of Reckoning"; People Will "Rise Up"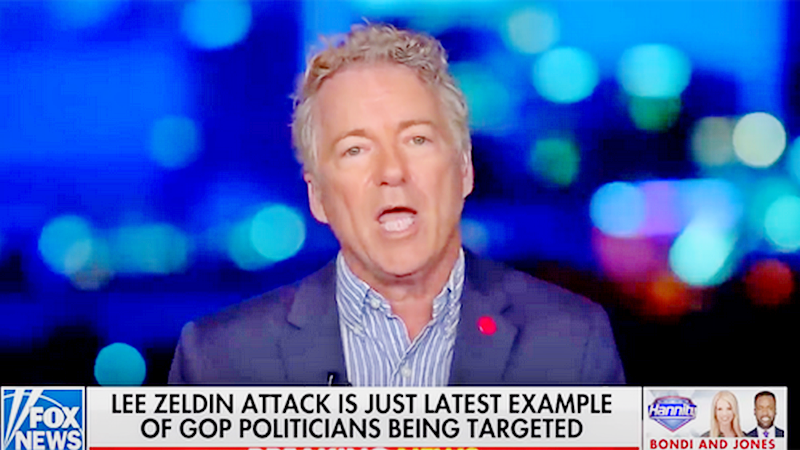 ZeroHedge - BY TYLER DURDEN - MONDAY, JUL 25, 2022 - 02:10
Authored by Steve Watson via Summit News,
Senator Rand Paul vowed this past weekend that a "day of reckoning" is coming for Democrats because Americans are sick and tired of spiraling crime and violence dominating their cities.
"The left wing is egging this on," Paul urged, adding "and if we want to end this we have to start locking people up."
Paul compared the media coverage of the attack on Zeldin to how the media covered Paul being violently attacked a few years ago, noting that the Louisville Courier report said: "violence against me was justified."
Paul went on to decry the rise of crime and violence, noting "There's going to come a day of reckoning where the people who live in New York City – crime disproportionately affects those in poor neighborhoods and those who are minorities. One day they're going to rise up and say, 'We've had enough. The Democrats are not protecting our children.'"
Paul continued, "Kids are dying at the bus stop. Kids are dying on the subway. The Democrats don't care about your kids. And it continues to happen decade after decade."
"There's going to be a day that people are going to wake up and say, 'We've had enough. We're going to vote for law and order.' And Lee Zeldin is the law and order candidate," Paul asserted.

"So I think there is a chance that people will say, 'I don't care, Black, White, whatever. I'm not associated with any party. I want a stop to the crime and we have to put people in jail.' I think that's coming," Paul added.
Watch:
*  *  *
---
Editors Commentary:
*Follow the WEF trail to Switzerland to discover the Khazarian Mafia hiding behind Klaus Schwab and his cohorts. The US and its people have nothing to do with the disasters caused to the ordinary people of the Earth.
The Khazarians have once again constructed an intricate web, whose aim is to destroy the world's economy by setting people up against each other, blocking each other's supply chains, leaving just death and ruins.
What everybody must be aware of is that this is not a war to prevent Putin from occupying Ukraine, but an attempt by the evil Khazarian Jews/WEF/NATO to control yet another country in their growing New World Order. They are simply using Ukraine as a battlefield. Their plan is to destroy totally the world's economy and turn the population into slaves.
Like the Freemasons, they have also life-threatening rules in their membership, one being REVENGE, 10 times harder than was ever perpetrated on them.
Russia in particular, in the past, has expelled the Khazars several times. I have all of 7 detailed articles in book format on the Khazarian Jews if anybody is interested in further information.
Putin, and earlier also Trump, are the ONLY Presidents who have enough guts to see what they are attempting to do to the world population and have sufficient courage to do something about it.
HUMAN SYNTHESIS
---
COPYRIGHTS
Copy & Paste the link above for Yandex translation to Norwegian.
WHO and WHAT is behind it all? : >
The bottom line is for the people to regain their original, moral principles, which have intentionally been watered out over the past generations by our press, TV, and other media owned by the Illuminati/Bilderberger Group, corrupting our morals by making misbehavior acceptable to our society. Only in this way shall we conquer this oncoming wave of evil.
All articles contained in Human-Synthesis are freely available and collected from the Internet. The interpretation of the contents is left to the readers and does not necessarily represent the views of the Administrator. Disclaimer: The contents of this article are the sole responsibility of the author(s). Human-Synthesis will not be responsible for any inaccurate or incorrect statement in this article. Human-Synthesis grants permission to cross-post original Human-Synthesis articles on community internet sites as long as the text & title are not modified.
HUMAN SYNTHESIS