Thousands evacuated as heat causes wildfires in Europe and North Africa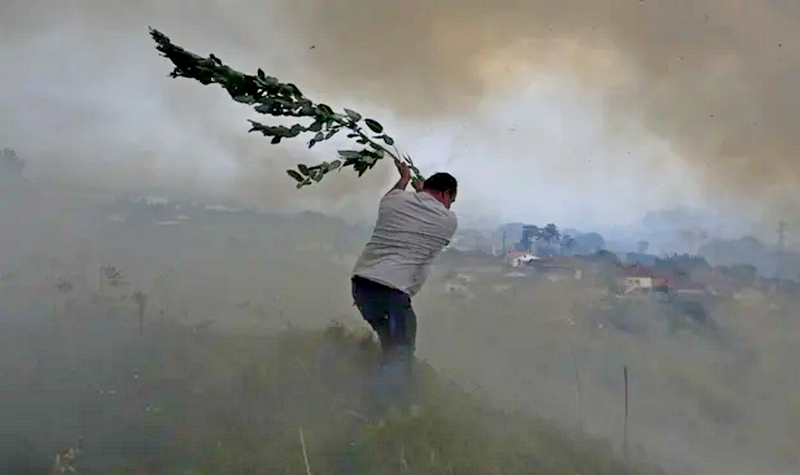 The Guardian - Sam Jones in Madrid, Beatriz Ramalho da Silva and Vincent Ni - Fri 15 Jul 2022 15.38 BST
Portugal declares a 'state of contingency' as France, Spain, and Morocco also battle fires, while record heat hits China
Thousands of people in Portugal, Spain, France, and Morocco have been evacuated from their homes as firefighters tackle wildfires caused by this week's heatwave, which has brought extreme temperatures of more than 45C (113F) to parts of Europe and North Africa.
One person has died and at least 135 people have suffered mainly minor injuries since wildfires began in Portugal last week. A "state of contingency" has been in effect since Sunday, and about 800 people have been evacuated from their homes, according to the country's Civil Protection Authority.
By Thursday, Portugal had registered 28 active fires, with more than 2,000 firefighters on the ground.
Portugal's Institute for Sea and Atmosphere (IPMA) said 13 regions had reached unprecedented temperatures on Wednesday, with a temperature of 46.3C recorded in the central town of Lousã.
"This is not a very normal situation, and it is serious in all aspects," the IPMA meteorologist Patrícia Gomes told the Portuguese press.
Pedro Pimpão, the mayor of Pombal, a city in central Portugal, said the situation was "incredibly grave", adding: "We've had houses burning down, people being injured - both firefighters and civilians – and one of our residents has ended up with 50% burns."
He said many villages in the area were completely isolated, meaning residents had to fight to save their homes until firefighters arrived.
The fire, which was of unprecedented proportions for the region, has since been controlled but the area is still on maximum alert.
The continuing wildfires come five years after the devastating blaze in the central municipality of Pedrógão Grande, which killed 66 people and left hundreds injured, and ravaged 30,000 hectares of forest.
During a visit to injured firefighters in Lisbon on Thursday, Portugal's president, Marcelo Rebelo de Sousa, insisted that there had been significant improvements in fire prevention in recent years.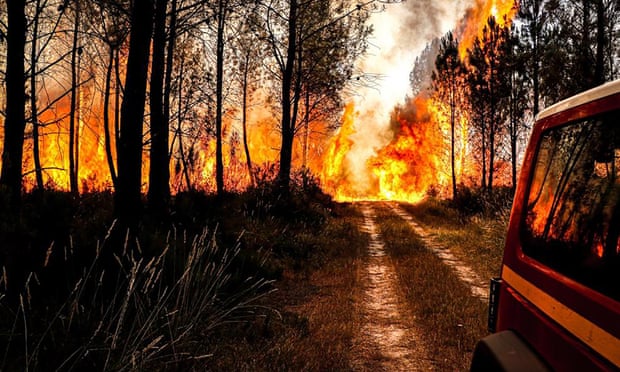 Hundreds more people were evacuated from their homes in southwest France as wildfires raged out of control on Friday.
Since Tuesday, more than 1,000 firefighters, supported by nine water-bomber aircraft, have been battling two blazes fanned by scorching heat, tinder-box conditions and strong winds.
Authorities in the Gironde department, where the fires are still raging, described the situation as "adverse".
One of the two Gironde fires was around the town of Landiras, south of Bordeaux, where 4,200 hectares have been burned, roads have been closed, and almost 1,000 residents have been evacuated.
The other blaze, which has already burnt 3,100 hectares, was along the Atlantic Coast close to the "Dune du Pilat" – the tallest sand dune in Europe – in the Arcachon Bay area, above which heavy clouds of dark smoke were seen rising into the sky.
About 6,000 people were evacuated from surrounding campsites on Wednesday and another 4,000 people early on Thursday.
Temperature records have been equaled or broken across many parts of Spain, with the mercury hitting 44.1C in the north-western city of Ourense for the first time on Thursday. Temperatures in parts of Extremadura, where firefighters are battling a wildfire that has consumed more than 4,000 hectares of land, reached 45C on Thursday.
By Friday, another fire had broken out in Extremadura's Monfragüe national park, which is famous for its biodiversity and birdlife.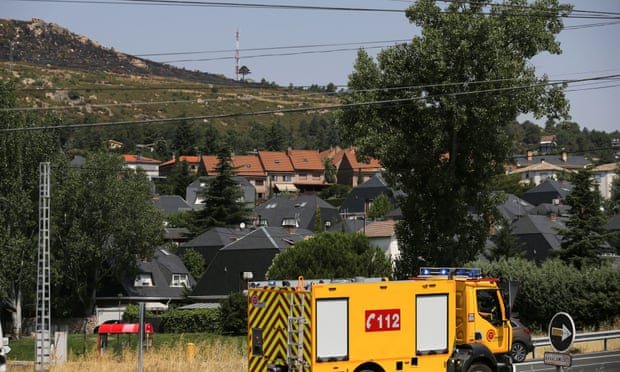 Cayetano Torres, a spokesperson for the Spanish meteorological office, Aemet, said that while the heatwave – Spain's second of the summer so far – was expected to end on Monday, it may not be the last of the year.
He pointed out there had been two heatwaves in 2021, three in 2020 and 2019, one in 2018, five in 2017, and four in 2016.
"We can't draw a convincing conclusion, but a climatological analysis of temperature trends show that high summer temperatures are starting earlier and are becoming more intense," said Torres. "There's also a slight tendency towards longer-lasting heatwaves."
He also said that rising temperatures caused by global warming were already causing changes in the weather and altering the geography of parts of Spain.
"We know that something's changing: the temperature charts show that each year is hotter than the previous one," he said. "That's a clear trend and it's producing desertification. You can say that Almería is an extension of the Sahara desert, and that's advancing along the south-east."
Moroccan firefighters, soldiers, police officers, and civil defense workers have been battling at least four fires that are ripping through forests in the north of the country.
At least 1,000 hectares of forest have been burned since Wednesday night in Larache and Ouezzane, according to initial reports.
The country, which is struggling under intense droughts, has in recent days been hit by soaring temperatures approaching 45C.
Extreme heat has also engulfed much of China this week, affecting more than 900 million people. The impacts of the high temperatures have made national headlines, with authorities warning senior citizens of the danger of such conditions.
On Thursday, Shanghai, the country's most populous city, issued its highest alert for the third time this summer, as high temperatures repeatedly broke records. On Thursday afternoon, temperatures soared to 40.6C but fell short of Wednesday's 40.9C, which matched a previous record in 2017. However, a rainstorm on Friday brought relief to Shanghai residents.
By Thursday, the city had already issued three red alerts in a short span of five days. Meteorologists said these warnings were a relatively rare occurrence, with just 17 issued since record-keeping began in 1873.
Reuters, the Associated Press, and Agence France-Presse contributed to this report.
---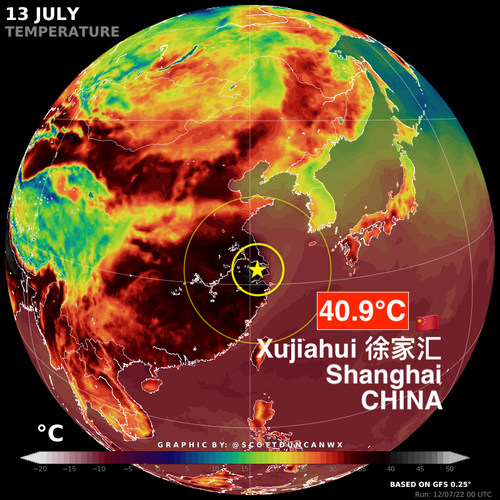 Nearly 1 Billion Chinese Roast In Scorching Heatwave

ZeroHedge - BY TYLER DURDEN -FRIDAY, JUL 15, 2022 - 03:45 AM
A massive heatwave has covered large swaths of China, including Shanghai, Southwest China's Sichuan Province, East China's Jiangsu, and Zhejiang provinces, affecting nearly one billion people.
At least 76 national weather stations recorded high temperatures that exceeded 108 degrees Fahrenheit on Wednesday, according to the National Climate Center. The highest temperature recorded was 111.5 degrees Fahrenheit in Lingshou, in North China's Hebei Province.
"The prolonged heatwaves have threatened crops and people's lives and pushed China's power usage to record-breaking levels. Despite the challenges, key industries in China have not experienced power cuts and the Chinese government has been taking measures, including drawing up off-peak power use plans and helping farmers install more cooling machines," the state-owned mouthpiece Global Times.
However, South China Morning Post reports some factories in the Zhejiang Province have been asked to restrict power usage during peak demand hours to keep the power grid stable.
A zero-tolerance approach to COVID-19 in Chinese cities hammered the world's second-largest economy. And now, a dangerous heatwave has the potential to cause even more economic distress.
Prof Faith Chan of the University of Nottingham in the eastern Chinese city of Ningbo explained to The Guardian the extreme weather is no surprise and said, "the reason behind this year's heatwave is the two anticyclones, including the Western Pacific subtropical high from the sea and the one formed on the Persian Plateau which has moved to the Qinghai-Tibet Plateau."
Besides China, extreme weather, such as heatwaves and droughts, is present in the US, Europe, and India.
Some temporary relief could arrive in China's eastern and southern coastal regions by this weekend into early next week, Chen Tao, chief weather forecaster for the China Meteorological Administration, wrote on WeChat.
Is the world on fire?
Coal-fired power accounts for roughly 60% of China's total electricity generation (2021 figures). We wonder if their grid is more reliable than the shaky grids of California and Texas that rely on an abundance of unreliable green technologies.
---
Editors Commentary:
HUMAN SYNTHESIS
---
COPYRIGHTS
Copy & Paste the link above for Yandex translation to Norwegian.
WHO and WHAT is behind it all? : >
The bottom line is for the people to regain their original, moral principles, which have intentionally been watered out over the past generations by our press, TV, and other media owned by the Illuminati/Bilderberger Group, corrupting our morals by making misbehavior acceptable to our society. Only in this way shall we conquer this oncoming wave of evil.
All articles contained in Human-Synthesis are freely available and collected from the Internet. The interpretation of the contents is left to the readers and does not necessarily represent the views of the Administrator. Disclaimer: The contents of this article are the sole responsibility of the author(s). Human-Synthesis will not be responsible for any inaccurate or incorrect statement in this article. Human-Synthesis grants permission to cross-post original Human-Synthesis articles on community internet sites as long as the text & title are not modified.
HUMAN SYNTHESIS