England braces for 40C temperatures as experts warn thousands could die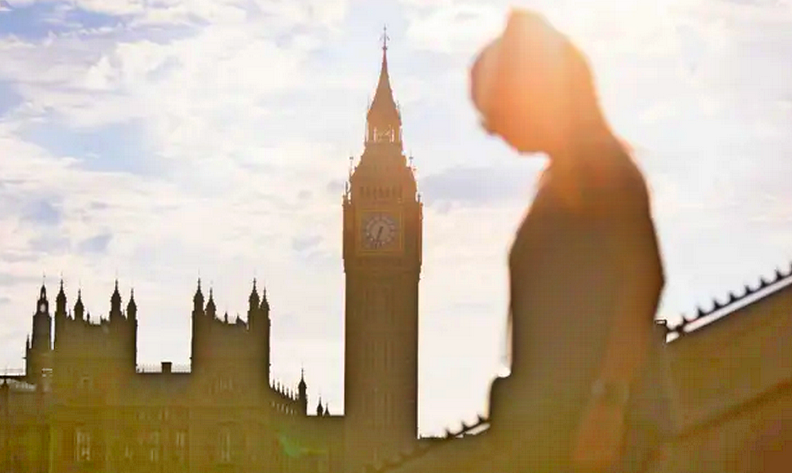 The Guardian - Robert Booth, Peter Walker, and Gwyn Topham - Fri 15 Jul 2022 20.38 BST
Level 4 heat alert announced for next week means 'illness and death may occur among the fit and healthy
Thousands of people could die in the coming heatwave, experts have warned, as the government triggered the first-ever national emergency heat red alert with a record 40C (104F) temperature forecast for southeast England on Tuesday.
Health officials fear people living alone on upper floors of buildings are among those who could perish, as people did in Paris in 2003. Last year two lesser heat episodes caused about 1,600 excess deaths, according to official figures.
The level 4 heat alert announced for Monday and Tuesday by the UK Health Security Agency (UKHSA) means "illness and death may occur among the fit and healthy, and not just in high-risk groups".
The Met Office described the forecast heat that is coming from France and Spain as "absolutely unprecedented" and urged people to treat it like a storm warning and consider changing plans.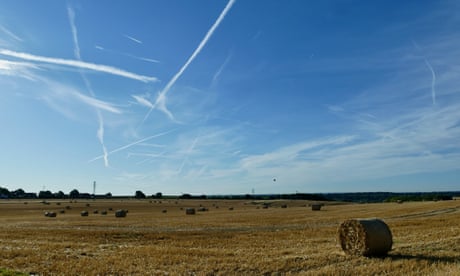 Operations are being cancelled in parts of the NHS, some schools are closing early or shutting altogether and Network Rail advised people not to use trains that will be slowed down amid fears of buckled rails.
Record night-time temperatures of more than 25C (77F) in London and parts of the northwest are also forecast, placing a greater strain on people's bodies for longer, a key factor in increasing mortality.
"We could see 1,500 to 2,000 deaths just from this one period of heat," said Bob Ward, the policy director at the Grantham Research Institute on Climate Change and the Environment.
Prof Kevin McConway, emeritus professor of applied statistics at the Open University, said: "I think that assuming the weather forecasts are roughly correct, it's very likely that there will be hundreds or thousands of excess deaths from the heat in the next few days … It's possible that, because there have been so many warnings about the coming high temperatures, people and businesses will be taking more precautions than usually happen in a heatwave, which could lower the numbers of excess deaths. I hope that happens, but I fear there will still be excess death on quite a scale."
Public health officials are urging people to stay indoors with curtains closed and to avoid caffeine and alcohol and physical exertion in the hottest parts of the day.
"Here in the UK we're used to treating a hot spell as a chance to go and play in the sun," said Penny Endersby, the Met Office chief executive. "This is not that sort of weather."
The UKHSA said to "look out for those who may struggle to keep themselves cool and hydrated – older people, those with underlying conditions and those who live alone are particularly at risk".
Climate scientists said temperatures of 40C had been predicted for the UK in climate change modelling and warned the heatwave would increase pressure on the next prime minister to improve the UK's resilience and come up with a better plan to cut greenhouse gas emissions. While temperatures are expected to fall later next week, in August a "heat dome" could develop over the Mediterranean that could also lead to very high temperatures being pushed north into the UK, forecasters said.
The government's Cobra emergency committee met on Thursday to discuss the heatwave and officials are to meet again over the weekend.
"There is a range of contingency planning in place," said a Downing Street spokesperson. This included speed restrictions on rail services, measures to ensure the safety of people who might have to queue in cars in roads or at ports, and more emergency hospital staff on duty.
The announcement of a national heat emergency triggers "a multi‑sector response at national and regional levels", according to the government's heatwave plan for England.
Concerns cited include risks to people in hospital; melting roads causing congestion and leaving people stranded in cars; railways buckling; and extreme heat on the London underground, as well as water shortages, smog, wildfires and risks to farm animals and pets.
The Department for Digital, Culture, Media and Sport is also engaging with groups organising major events, such as the women's Euro 2022 football tournament.
But Labour alleged the government was "asleep at the wheel" and called for clear guidance for employers on safe indoor working temperatures, flexible working and more frequent breaks.
The Met Office issued a parallel red "extreme heat warning" covering parts of central, northern, eastern and south-eastern England. The agency also extended amber warnings to cover Cornwall, West Wales and parts of southern Scotland.
"Exceptional, perhaps record-breaking temperatures are likely early next week, quite widely across the red warning area on Monday, and focused a little more east and north on Tuesday," said the chief Met Office meteorologist, Paul Gundersen. "Currently there is a 50% chance we could see temperatures top 40C and 80% we will see a new maximum temperature reached."
Network Rail has advised people to avoid rail travel across England and Wales on Monday and Tuesday and blanket speed restrictions across England and Wales are expected from 12-8 pm on both days. London to York could take four hours instead of two, with trains forced to slow to below 60mph for safety.
The RAC is expecting more than 1,000 extra daily breakdowns with the risk of car engines overheating or running out of fuel or coolants exacerbated by possible queues to reach beaches or the countryside.
Relatives of care home residents have raised fears the heat could cause deaths, with many elderly people already in distress, "dripping with sweat".
The problem of soaring temperatures is being exacerbated by many care homes being in Covid lockdown, which limits visitors and means residents are asked to stay in their rooms, which are often not air-conditioned.
Predictions of 40C were within the range of predictions in climate change models, said Prof Richard Betts, who leads on climate impacts at the University of Exeter and the Met Office Hadley Centre.
"Climate change is making all heat events hotter," he said. "The wind patterns would have happened anyway, but it is happening against the background of hotter conditions because of climate change."
Asked if it could be a one-off, he said: "We are already seeing more frequent, longer and hotter heatwaves. We can confidently attribute this to human-caused climate change. We can expect this to keep happening until we reduce global greenhouse gas emission to net zero."Topics
---
UK Met Office Issues First Ever 'Red Warning' For Extreme Heat

ZeroHedge - BY TYLER DURDEN - SATURDAY, JUL 16, 2022 - 09:10
Authored by Alexander Zhang via The Epoch Times,
The UK's Met Office has issued its first ever red warning for extreme heat, as it warned of a "potentially very serious situation" in parts of England that could pose a risk to life.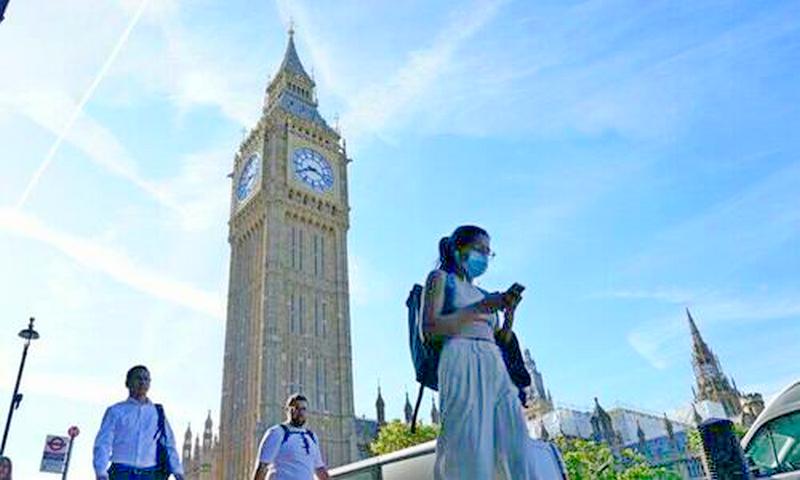 During the ongoing heatwave that is set to peak on Tuesday, the Met Office said, there is an 80 percent chance of the mercury topping the UK's record temperature of 38.7C (101.7F) set in Cambridge in 2019, and there is a 50 percent chance of temperatures reaching 40C somewhere in the UK.
The red warning, the first of its kind ever issued, covers an area from London up to Manchester and then up to the Vale of York, said Met Office spokesman Grahame Madge, adding: "This is potentially a very serious situation."
Penny Endersby, Met Office chief executive, said in a sombre video shared online:
"The extreme heat that we're forecasting right now is absolutely unprecedented."
"Stay out of the sun, keep your home cool, think about adjusting your plans for the warning period," she said.
'National Emergency'
The UK Health Security Agency has increased its heat health warning from level three to level four, which indicates the situation amounts to a "national emergency."
Level four is reached "when a heatwave is so severe and/or prolonged that its effects extend outside the health and social care system… At this level, illness and death may occur among the fit and healthy, and not just in high-risk groups," it said.
England's chief medical officer, Professor Sir Chris Whitty, asked people on Twitter to look out for each other.
He said: "Please remember the signs of heat exhaustion and heatstroke especially for older and medically vulnerable people. Early intervention to cool people down and rehydrate them can be lifesaving."
A Number 10 spokesman said railway speed restrictions may be needed on "some parts of the network next week to manage the hot weather and to avoid any potential damage."
Network Rail has warned people to travel only if absolutely necessary amid the high temperatures forecast on Monday and Tuesday.
Meanwhile, motorists have been advised to try to make their journeys outside of the hottest periods of the day, particularly if they have older cars.
Tim Doran, from the RNLI Water Safety Team said the service was anticipating a "busy weekend" for its lifeboat crews and lifeguards.
"If you are planning on going to the beach, we would encourage you to visit a lifeguarded beach and swim between the red and yellow flags," he said.
---
Editors Commentary:
HUMAN SYNTHESIS
---
COPYRIGHTS
Copy & Paste the link above for Yandex translation to Norwegian.
WHO and WHAT is behind it all? : >
The bottom line is for the people to regain their original, moral principles, which have intentionally been watered out over the past generations by our press, TV, and other media owned by the Illuminati/Bilderberger Group, corrupting our morals by making misbehavior acceptable to our society. Only in this way shall we conquer this oncoming wave of evil.
All articles contained in Human-Synthesis are freely available and collected from the Internet. The interpretation of the contents is left to the readers and does not necessarily represent the views of the Administrator. Disclaimer: The contents of this article are the sole responsibility of the author(s). Human-Synthesis will not be responsible for any inaccurate or incorrect statement in this article. Human-Synthesis grants permission to cross-post original Human-Synthesis articles on community internet sites as long as the text & title are not modified.
HUMAN SYNTHESIS