Ukraine is Europe's most corrupt country. Where everybody must be lubricated and bribed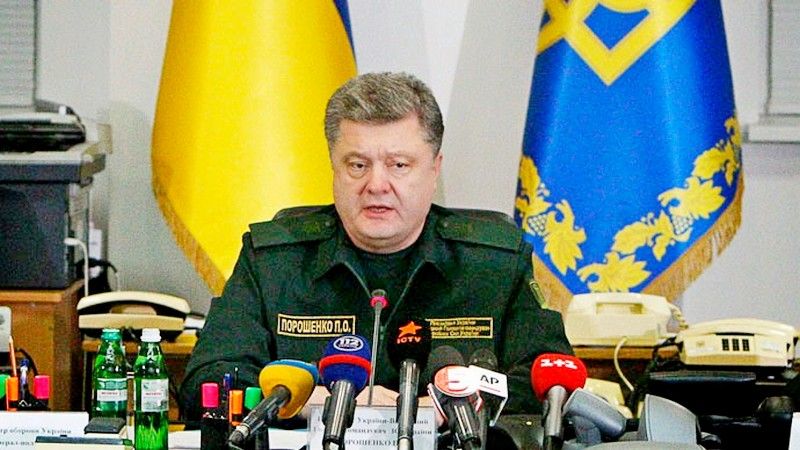 Per Anders Johansen -Aftenposten's Moscow correspondent - June 4, 2016
Kyiv (Aftenposten): Ukrainians live with corruption from cradle to grave, and 50 oligarchs control 80 percent of the country's economy.  Everything is going in the wrong direction, say three out of four Ukrainians.
Corruption, growing economic disparities, and lack of results from President Petro Poroshenko increase fears of new crises in Ukraine.  - Now we have at least a stable crisis, says pensioner Tatjana from Kyiv.
At an expensive cafe in Kyiv, one of the most powerful politicians in President Petro Poroshenko's party is ruling one of Europe's largest countries over a cup of coffee.
On the tables around sit powerful people: a minister, a chief judge, a sugar-rich businessman, and a top bureaucrat.  It's time for another horse trade in Kyiv.
A Ukrainian journalist from Radio Svoboda uses a hidden camera and films the politician's hidden games.  The recording is stopped by agents from the Ukrainian security service SBU, and the journalists are accused of espionage.
Most Ukrainians know that they still live in Europe's most corrupt country.  The economic crisis, higher prices, and lower wages are increasing the rage against those in power in Kyiv.
Both judges, businessmen, and bureaucrats lined up to meet with one of the most powerful politicians in President Petro Poroshenko's party.  The photos from restaurant Ink in Kyiv were taken with a hidden camera from Radio Freedom and are the latest in several scandals that weaken politicians who won power after the Maidan revolution.  Photo: Radio Svoboda, screenshot
A hunted corruption hunter
Corruption hunter Daria Kaleniuk and her colleagues in a non-governmental anti-corruption center have been under investigation by President Petro Poroshenko's prosecutors since March.
I was surprised that they go so directly and are so stupid, she says.
Daria Kaleniuk and her anti-corruption center have been exposing corruption in Ukraine for five years.  Still, it's her Poroshenko's police prosecutors are chasing.  Photo: Johansen, Per Anders
The police have taken all bank statements, emails, accounts, and documents and tried to discredit them through unfounded accusations in the media.
Everyone expected them to end the investigation against the previous regime.  Instead, they are investigating us and other reform-friendly groups, says Kaleniuk.
Here's another story about what widespread corruption can lead to: Russia's dad boys thought they could get away with it all.  Finally, the Moscow police brought in the special forces.
Life is worse than before the Maidan
Life is much worse than two years ago, says the new mother Maria from the city of Komsomolskoye in Ukraine.  She and her husband Sergei dare not say their last name.
When the child was born, we had to pay extra for absolutely everything.  And everything is much more expensive, says Maria to Aftenposten.
We have to pay more for absolutely everything, says the new mother Maria from Komsomolskaya.  Having children in Ukraine means that you must be prepared to pay bribes to both doctors and teachers if you need help.
From birth to death, Ukrainians must be prepared to pay bribes:
to the doctor's office to get the best doctor.
to the nursery so as not to be last in line.
to school to get good grades.
to the cemetery, service to get a burial ground.
With an average salary of 1,600 kroner a month, many public employees are completely dependent on bribes.  At least 50 percent of Ukraine's economy is black, according to several independent international surveys.
Moreover, Ukrainians know that this is a small change compared to what politicians, bureaucrats, and businessmen run away with.
Putin is worried that Russia, too, could be hit by a revolution.  Therefore, he is deliberately changing the history of the country.
The Ukrainians themselves say that they bribe so often.
An opinion poll conducted by the International Republican Institute (IRI) shows that 87 percent of Ukrainians perceive that corruption is a "significant" problem in their hometown.
84 percent say that moreover, the city they live in is governed by nepotism.
76 percent of those surveyed believe that Ukraine is developing in the wrong direction.
27 percent admit that they or a friend have given gifts or paid bribes to local officials.  In addition, a large proportion refuses to answer the question.
17,600 Ukrainians in 22 cities are taking part in the survey, which is the largest and most thorough in Ukraine.
They have risked their lives at the front, lost friends in the war.  When they return home, they see that the oligarchs are still in power and corruption is rampant.  Furious extremist nationalists from the Azov Battalion demonstrate against President Petro Poroshenko.  A nightmare scenario for Ukraine is that radical groups will take up arms if politicians do not deliver better results.  
The Gulliver shopping center in Kyiv is one of many symbols of corruption in Ukraine.  After a bank went bankrupt last week, Ukrainian taxpayers will probably have to pay more than NOK 200 million.  
Shopping with the oligarchs
In the center of Kyiv, the shopping center Arena abounds with luxury goods, suit-clad guards, and stiff-necked customers.
No pictures here, says a morse guard in a dark suit.
Customers want discretion.  Outside are the newest and most expensive Mercedes, BMW, Ferrari, and Porsche.
During a shopping spree, wealthy Ukrainian politicians, businessmen, their wives, children, and mistresses spend more money than a regular Ukrainian earns in a year.
The 50 richest oligarchs and businessmen control 80 percent.
In Transparency International's corruption index, Ukraine ranks 130th, lowest in Europe and behind countries such as Russia, Gambia, Pakistan, and Sierra Leone.
Ukraine is now waiting for new billion transfers from the International Monetary Fund, the EU, and the US to avoid a crisis.
Nationalists and right-wing extremists demonstrate against Poroshenko outside the National Assembly in Kyiv.  The radical party and right-wing extremist Svoboda are growing in opinion polls as dissatisfaction with Poroshenko increases.
I was a naive idiot
Corruption permeates absolutely everything, wrote MP Egor Firsov on Facebook earlier this winter.
He criticized President Petro Poroshenko's closest advisers on corruption.  Then he lost his job as an elected representative thanks to one of many special legal rules that ensure the oligarch's political power in parliament.
I was a naive idiot because I thought the system could be changed, wrote Firsov.
The IRI's corruption survey shows that most Ukrainians have very little confidence in Poroshenko and his new Prime Minister Volodymyr Groysman.
Moreover, the Ukrainians see little reason to do anything even with the problems they themselves face in everyday life.
Nine out of ten say that they have never attended either parent meetings, welfare or housing meetings, hearings, or other local events to improve conditions locally.
This battle for the cemetery turned into a bloody massacre that frightens Putin.
The judiciary is a monster
Many Ukrainians believe there is more corruption now than before.
It is completely wrong, says corruption hunter Daria Kaleniuk.
One of our most important victories is that Ukraine is now an open country.  This leads to much more corruption being revealed than before, not least in the media.
In addition, the new state anti-corruption agency has come to work after several delays.  The agency will soon present its first corruption cases.
The biggest problem, however, is that Ukraine's thoroughly corrupt judiciary with 18,000 prosecutors continues as before.  Reform-minded leaders who came in after the revolution have been fired or withdrawn in protest.
We inherited them from Soviet times.  The prosecution system is like a monster.  They think they are gods and do what they want, says Kaleniuk.
Materially, things are worse, prices are rising and pensions are lower.  But the most important thing is to end the war, says pensioner Olga from Kyiv.
The war on Russian-backed rebels is costing
Materially, things are worse, prices are rising and pensions are lower.  The money does not last, says pensioner Olga from Kyiv to Aftenposten.
She and her husband enjoy the warmth of a bench in the center.
Last weekend started the summer holidays in Ukraine.  Most believe this gives Poroshenko and his new prime minister a welcome break this autumn.
Then, however, many fear new riots, riots, and political crises as a result of the smoldering rage against corruption and the economic crisis.
The most important thing is that the war ends and that there is peace.  That's the only thing that really matters, says Olga.
Right-wing extremists march in Kyiv in protest against Poroshenko and the politicians who rule Ukraine.  Growing dissatisfaction with Poroshenko has led to the growth of radical and nationalist parties.  The Opposition Bloc - the party of the overthrown President Yanukovych - is doing the same.  
That's why Daria is scared
The radical and nationalist parties still have limited support for the polls.  At the same time, the war has led to Ukraine being flooded with weapons, ammunition, and military equipment.
The independent, radical, and far-right battalions make no secret of the fact that they are prepared for a new uprising.
Soldiers return from the war in the east and see that corruption continues.  They wonder what they fought for, why their friends died.  They know how to use weapons, says Dari Kaleniuk to Aftenposten.
A new uprising will not be peaceful.  I really do not hope that happens.  Then the current regime and Poroshenko must understand the risks of continuing as they do now.
Every week, Aftenposten's Verden makes a podcast.  In this issue, we discuss the phenomenon "The Strong Man" and ask: Can Trump become the new Putin?  
Aftenposten - Published: October 18, 2016
He is the leader of a political system close to a real version of the "House of Cards"
Aftenposten - Published: - December 11, 2017
It is boiling again in the streets of Ukraine's capital.  Underneath is an enormous dissatisfaction with one's own government.
Aftenposten - Published: February 2, 2019
He plays the president in TV success.  Now he wants to govern the country properly.
Aftenposten - Published: April 21, 2019
Before, they laughed at him.  Now he has become the country's most powerful person.
Aftenposten - Published: March 5, 2017
First, the trains stopped.  Then the mobile network disappeared.  Now, these guys can split Europe's second-largest country in two.
Aftenposten - Published: February 17, 2019
She exposed corruption and hung out with officials on social media.  They took gruesome revenge.
---
Editor-in-Chief and CEO: Trine Eilertsen
News editor: Tone Tveøy Strøm-Gundersen
Political editor: Kjetil B. Alstadheim
Feature Editor: Lillian Vambheim
Cultural editor: Cecilie Asker
Debate editor: Erik Tornes
Development editor: Eirik Hammersmark Winsnes
All content is copyrighted.  © Aftenposten.  ACAP protected.  Aftenposten works according to the Vær Varsom poster's rules for good press practice.  Aftenposten is not responsible for content on external websites to which it is linked.
---
Editors note>
This is an old visit and a survey from 2016 by Per Anders Johansen - Aftenposten's Moscow correspondent. Things have evidently not changed much in 2022.
---
COPYRIGHTS
Copy & Paste the link above for Yandex translation to Norwegian.
WHO and WHAT is behind it all ? : >
The bottom line is for the people to regain their original, moral principles, which have intentionally been watered out over the past generations by our press, TV, and other media owned by the Illuminati/Bilderberger Group, corrupting our morals by making misbehavior acceptable to our society. Only in this way shall we conquer this oncoming wave of evil.
Commentary:
Administrator
HUMAN SYNTHESIS
All articles contained in Human-Synthesis are freely available and collected from the Internet. The interpretation of the contents is left to the readers and do not necessarily represent the views of the Administrator. Disclaimer: The contents of this article are of sole responsibility of the author(s). Human-Synthesis will not be responsible for any inaccurate or incorrect statement in this article. Human-Synthesis grants permission to cross-post original Human-Synthesis articles on community internet sites as long as the text & title are not modified