THE NEW FACEBOOK RULES FOR 2021. DEADLINE 17 DEC 2021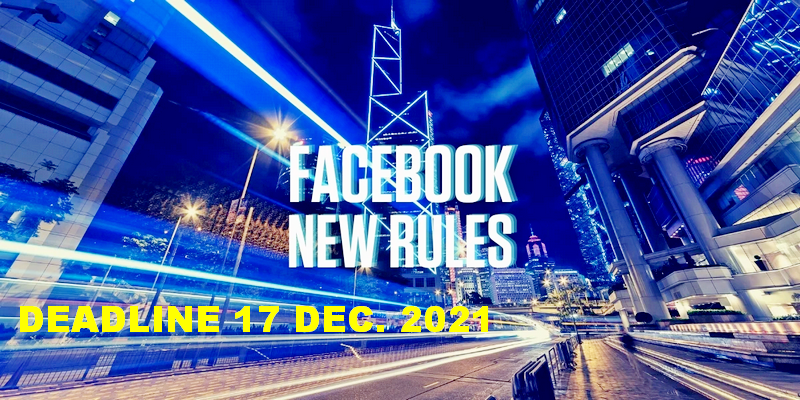 POSTED OCT 15, 2020 By That Agency - MICHELLE STERNBAUER
With more than 2.7 billion monthly active users worldwide, Facebook has cleared the way for itself as the leading social platform. Therefore, the vast majority of brands cannot afford to neglect the new Facebook rules for 2021 as part of their social media marketing strategies.
And, as Facebook changes, users and creators everywhere are wise to pause what they are doing and tune in to the ways their experiences and workflows are bound to shift.
SETTING THE STAGE FOR 2021
In 2020, various roll outs affected both the user and the creator. If you have not yet adjusted to those Facebook updates (or you are scratching your head unsure of what updates we're talking about), then take a few minutes to get ahead of the curve and use the new Facebook rules for 2021 to your benefit.
FACEBOOK'S REDESIGN
The redesign of Facebook was loved by many, and not-so-loved by many more. Regardless, it's here to stay. The primary change to note is that the design places more emphasis on Groups and Events – the "two biggest reasons people visit Facebook every day." As you plan your Facebook strategy, it is paramount to recognize the ways that the platform has once again shifted how your content will be consumed by users.
FACEBOOK'S "COLLAB"
We are not able to say whether society needs another TikTok-like app, but we are here to tell you that one is in the works. Collab, Facebook's own version of Tik-Tok, is currently in beta. While their invite-only beta is first and foremost focusing on collaborative music making. While this steers in a totally different direction than that of TikTok's focus, the concept of content creation is very similar, if not the same. Keep an eye out for how this new app may affect your industry.
< 20% TEXT IN IMAGE RULE FOR FACEBOOK ADS
Facebook once penalized ads with higher amounts of image text in auctions and delivery. As of September 7, 2020, they began removing all prior sources indicating that enforcement and replaced them indicating they will no longer penalize ads. Hooray!
HASHTAG USAGE ON FACEBOOK
While most creators will steer clear from adding hashtags to Facebook posts, the platform is implementing recommended tag listings within the post composer. In September of 2020, the test had only expanded to a specific audience, as not all users see the new listings. It could be a good way to broaden your conversation. Statistically, they do seem to be taking flight, but implementing them may or may not be worth the added effort.
IMAGERY OWNERSHIP ON FACEBOOK AND INSTAGRAM
According to the social media behemoth itself, about 3 billion people use Facebook's platforms, including Facebook, Messenger, Instagram, and WhatsApp. In other words, where Facebook goes, its other platforms like Insta and WhatsApp are sure to follow.
Facebook announced in late 2020 that "certain partners" can claim ownership over their images, and then moderate their usage across Facebook's platforms. As it stands, this implementation could affect re-posted content on Facebook and Instagram in various ways. The current options that an image owner has when it identifies unauthorized usage are:
Let the image stay up
Issue a take down
Or use a territorial block, making it invisible in copywritten countries

FACEBOOK BUSINESS SUITE
The launch of yet another platform to create and schedule content has been provided to us. Per Facebook, Business Suite enables users to:
Save time - Post to Facebook and Instagram at the same time and manage posts in one place to stay connected to both communities.
Stay up to date - Get all your Facebook and Instagram messages, notifications, and alerts in one place so you can stay up to date and respond to all your customers more easily.
Realize business results - See what is working with Facebook and Instagram insights and learn what your customers are looking for.
To be fair, there are many functionalities within this app that will prove to be beneficial to creators. While the message management tool is the same as Pages Managers, there is also a user-friendly analytics integration, making it easier to get an in-depth look at post performance.
As this tool is rolled out, keep in mind that Facebook intends to make Business Suite "the main interface for businesses of all sizes who use Facebook, Messenger, Instagram, and WhatsApp."
A LOOK BACK
If you recall, 2019 was the year of the Facebook Stories feature. Other than COVID-19 and the presidential election, what stands out about 2020 when it comes to Facebook?
LEAD GENERATION IN MESSENGER
You can create ads that click through to Messenger, opening up a conversation between your brand and a prospect. They will see a set of questions with either pre-filled answer options or free form text. You can integrate this feature with your CRM and then continue interacting with qualified leads through the Pages Inbox, Pages Manager App, or a third party live chat provider. If people do not complete questions, a friendly prompt will be sent.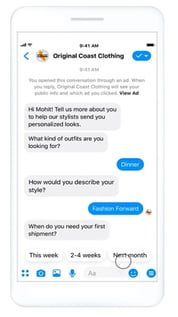 A test case for you: RIFT TAX, a UK financial services firm, wanted to grow its Armed Forces member base. Using Lead Generation In Messenger, they boosted qualified leads by a very healthy 42%. They were able to follow up in minutes and had an 18% higher lead resolve rate compared to phone calls.
Consumers already love AI chat bots when they want quick, easy answers or resolutions to routine problems. Facebook's lead gen feature also enables instantaneous service.
24-HOUR STANDARD MESSAGING WINDOW
Facebook's Messenger Platform policies are intended to "help people and businesses connect effectively… to achieve meaningful outcomes." Consumers expect a quick response, and businesses who accommodate realize better outcomes. So… they have a "24 +1 Rule." Basically, when a user opts in to messaging, the brand can send as many promotional or non-promotional messages as they want in the first 24 hours. After that, you may send one promotional update and as many non-promotional updates as you want.
This rule has been phased out as of January 5, 2020. Brands are not able to send messages outside the 24-hour window; they can, however, use Message Tags (which allow you to send "important and personally relevant 1:1 updates") and Sponsored Messages (highly targeted messages that are clearly labeled "Sponsored") These can both be done outside the 24-hour window and facilitate in reengaging leads.
The takeaway from Facebook, though, is to respond to your messages quickly!
SIMPLIFIED MESSAGE TAGS
We mentioned that the 24 +1 Rule has changed. Adding to this point, Facebook has simplified its message tags. You are able to send 1:1 messages outside of the 24-hour window for four specific reasons:
Post-purchase updates
Event reminders
Account updates
Human agent
The takeaway from Facebook, though, is to respond to your messages quickly! (Sound familiar?)
SUBSCRIPTION MESSAGING BECOMES NEWS MESSAGING
Facebook - We are updating this feature as we found some businesses were using the subscription messaging beta in ways that weren't in line with our policy…
Us - This is why we can't have anything nice…
Subscription messaging was intended to allow business pages to send non-promotional content on a recurring basis. Facebook's policy mandated, among other requirements, that brands not send advertisements, promotional content, solicitations, etc., use data they obtain for any purpose other than supporting the message, or ask for payment information.
Because of too-frequent violations of the policy, only news organizations who successfully register their Pages through the Facebook News Page Index can apply to use Subscription Messaging (now referred to as News Messaging).
DISCOVER TAB PHASE OUT
Many Facebook changes are intended to simplify the experience. To this end, Facebook eliminated the Discover tab from Messenger. This feature was intended to help people browse for nearby places and businesses to message. Instead, Facebook is working on "better ways to help businesses connect" across apps and ads that lead to Messenger.
CALIBRA BECOMES NOVI
This was one of the more major Facebook updates of 2020. Calibra was rename and rebranded as Novi. Like Calibra, Novi is intended to be the digital wallet that will help people send and hold Libra digital currencies.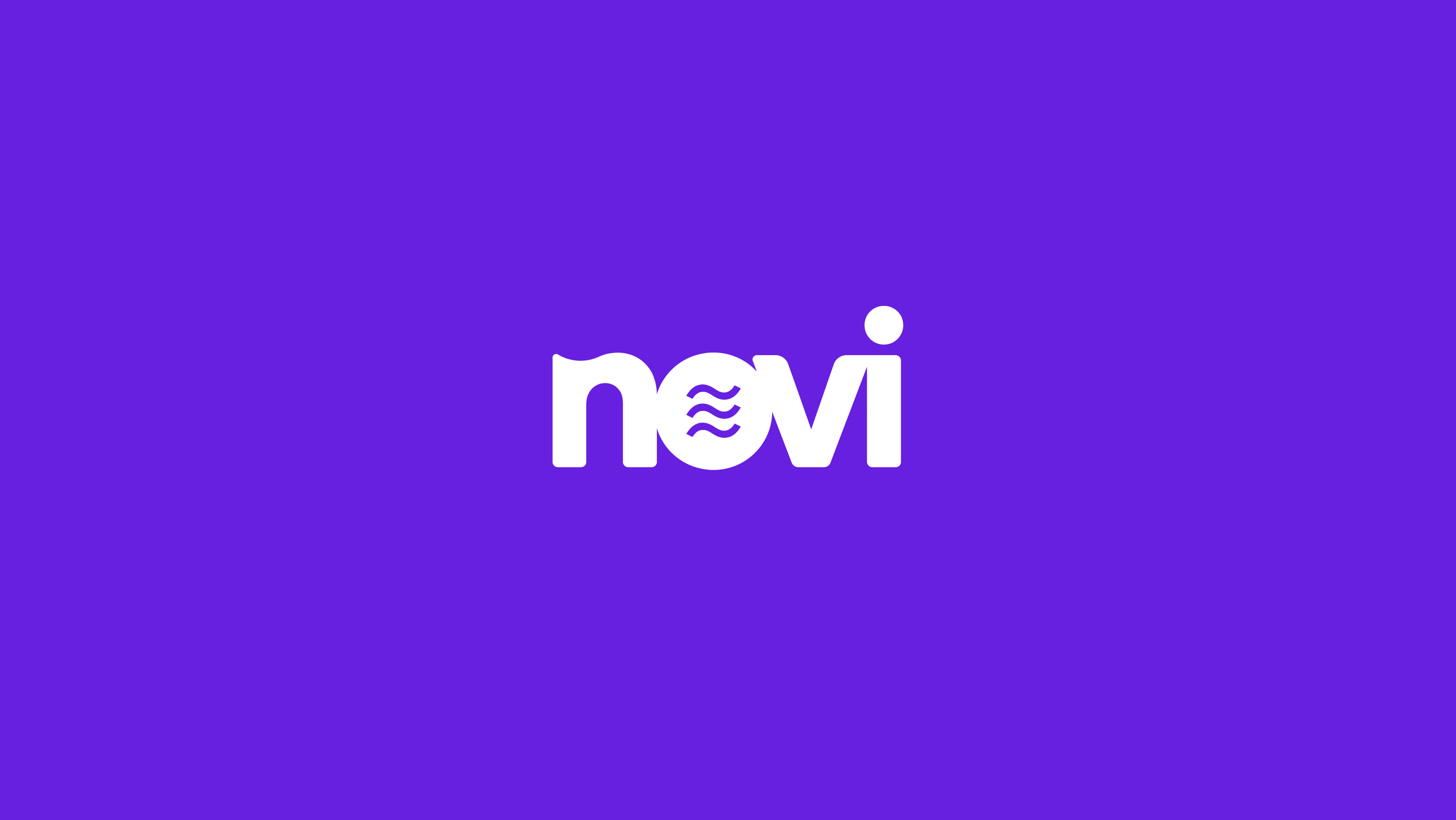 The goal is to help people around the world access affordable financial services. Worldwide, 1.7 billion are unbanked. That's 31% of the global population. It costs a lot to be unbanked or underbanked. A postal service inspector general report
found that the underserved spend approximately 10% of their income just to use their
money.
On the business side of the equation, Novi and Libra may help open up global e-commerce opportunities and more streamlined buying and selling.
We don't expect this will impact most brands - but it is a trend worth continuing to keep an eye on.
NEW NAVIGATION AND MANAGEMENT TOOLS IN BUSINESS MANAGER
Easier, faster, more convenient. This is often the theme of the latest Facebook changes. To this end, the social network introduced new design and navigation for Business Manager, making it easier to manage assets and permissions across Facebook platforms (e.g., Instagram, WhatsApp). There is also a shortcut tool that provides suggestions based on past activity, as well as a shortcut that takes you right into Ads Manager to quickly create ads.
SIMPLIFIED FEED FORMATS
Facebook updated Page posts and ads on mobile, shortening the visible primary text from seven lines to three. To see more, people have to click. Another change: the maximum media height for videos and photos went from an aspect ratio 2:3 to 4:5.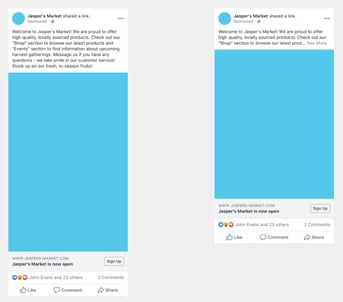 REFINED TARGETING OPTIONS
"Spray and pray" marketing is ineffective - and expensive. Facebook has offered more refined targeting options to help you zero in on your audience, allowing you to narrow in on not only demographics, but also interests and behaviors.
(Note: Facebook has been taking action against discriminatory ad targeting in certain business categories, specifically housing, employment, and credit. Some businesses were using ad tools to unfairly limit audiences. You must specify whether you fall under any of these categories.)
NEW INSIGHTS AND ELEARNING COURSES
This continues to be a terrific resource for brands: you can learn about topics such as developing modern marketing mix models and measuring campaign performance. You can access dozens of Blueprint eLearning courses, all free and online. You can also see key consumer insights that can help guide your marketing initiatives.
WHAT'S NEXT?
Bonus Insight: The average U.S. adult spends 38 minutes per day on Facebook.
Why is this important? 38 minutes is a substantial part of our days - especially with busy schedules - so you cannot afford to ignore this platform!
Don't worry! THAT Agency is here to guide you through the new Facebook rules for 2021 and beyond - as well as to help you navigate new territory (if / when it is relevant and holds potential for your brand).
---
COPYRIGHTS
Copy & Paste the link above for Yandex translation to Norwegian.
WHO and WHAT is behind it all ? : >
The bottom line is for the people to regain their original, moral principles, which have intentionally been watered out over the past generations by our press, TV, and other media owned by the Illuminati/Bilderberger Group, corrupting our morals by making misbehavior acceptable to our society. Only in this way shall we conquer this oncoming wave of evil.
Commentary:
Administrator
HUMAN SYNTHESIS
All articles contained in Human-Synthesis are freely available and collected from the Internet. The interpretation of the contents is left to the readers and do not necessarily represent the views of the Administrator. Disclaimer: The contents of this article are of sole responsibility of the author(s). Human-Synthesis will not be responsible for any inaccurate or incorrect statement in this article. Human-Synthesis grants permission to cross-post original Human-Synthesis articles on community internet sites as long as the text & title are not modified