NORGE, DEN NYE BANAN REPUBLIKKEN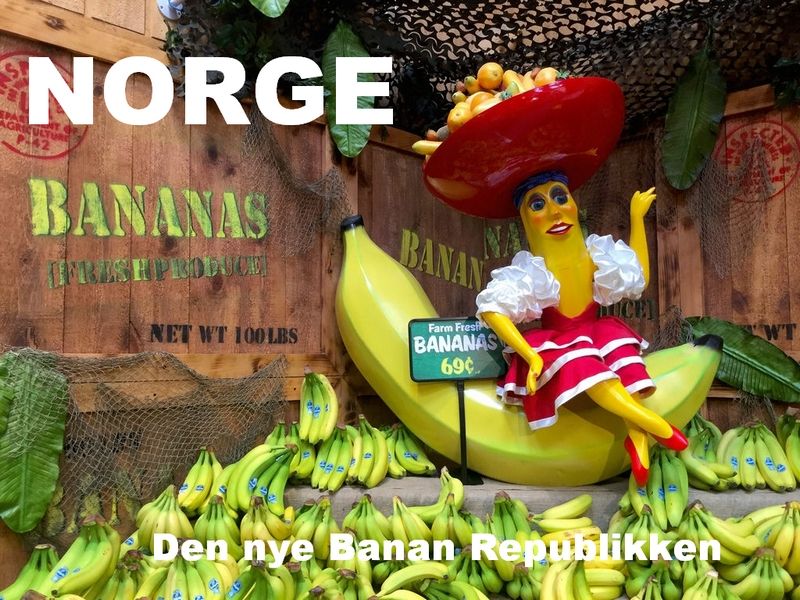 FACEBOOK - Per Motrøen - 06 DESEMBER 2021
Hurra for Norge og våre Politikere som har omgjort Norge til en Bananrepublikk, i alle fall en Vasallstat. Dere er en skam for våre forfedrenes frihetskjempere og for Norges Grunnlov.
Dere Politikerne er så opptatt av å innynde dere hos Eliten at dere bokstavelig talt lar deres eget folk fryse i hjel og dere raserer landet på en måte som historien aldri har sett, ikke en gang da de Tyske Nazistene inntok Norge med raske bidrag fra Norske medløpere. Og det er faktisk Tyskerne igjen, og igjen med Norske medløpere. Nå stenger de løpende sine egne kraftverk mens de tar kraften fra iskalde Nordkalotten og flytter den sørover, til varmere breddegrader. Og ikke bare det. Det er de Norske strømkundene som betaler for hele herligheten.
Slå den. Det er da kun mulig i Bakvendtland. Eller hva.Ta fra disse medløperne internettilkoblinger og dataspill og gi dem reiserestriksjoner, de har ingen ting ute i den store verden å gjøre der de glemmer sitt eget folk. De skulle rett og slett hatt en salig ørefik før de gikk ut av døra om morgenen, for de vil garantert gjøre noe galt som ikke gagner Det Norske Folk. Der de viser sin storhet mens de gliser fra øre til øre straks de ser en rød løper eller et fotoapparat, eller lar seg avbilde med type «storheter» og andre kjeltringer.
Egne borgere med problemer møter de med et glis og fagre lovnader, mens de egentlig ikke bryr seg. De har bygd sin egen maktstruktur, om det er i lukkede fora i Bildenbergergruppen eller i WEF med Claus Schwab. Han som mener vanlige mennesker kun er «unyttige brødspisere». Men det er vel å snu det litt på hodet… det er da for Fanden meg Politikerne som er «de unyttige brødspiserne». Eller hva ?
Om det er horebukken Jeffrey Epstein, drapsmaskinene Hillary Clinton og Barac Obama, eller for den del Adolf Hitlers etterfølgere Ursula von der Leyen og  Angela Merkel. Og ikke å forglemme Bill Gates og Claus Schwab med WEF og Bildenbergerne samt noen korrupte Statsledere verden rundt. DER HAR DE FOR FANDEN INGEN TING Å GJØRE. Annet enn for å søke Visum når Folket kommer etter dem. De skal være Norske Politikere FOR NORGE. Ikke en gjeng med siklende Globalister for storkapitalen, og da medtatt Kongehuset Norge.Til og med selveste Stortinget har «våre» politikere klart å gjøre om til et rent forbrytersyndikat. Det burde klargjøres for et forbrytergalleri utenfor Stortingspresidentens kontor hvor de kan ære.
Av sine egne. Hierarkiet i dette galleriet har jeg mine egne tanker om, tenker det blir en slags Maslows behovspyramide. Og jeg vet hvem som skal trone på toppen. Det var hun som satte det hele i gang. Det blir hun sikkert stolt av.For øvrig synes ikke Norge som en Rettsstat lenger med 13 dommer i EMF, NAV-skandale osv. Norge er omgjort til en Vasall-Stat under fremmede Makter, uvisst hvilken makt.Fredrik Solvang i NRK Debatten synes flott han, men er egentlig ikke annet enn NRK's alibi og «Brød & Sirkus» hvor halve Norge roper HURRA.
---
COPYRIGHTS
Copy & Paste the link above for Yandex translation to Norwegian.
WHO and WHAT is behind it all ? : >
The bottom line is for the people to regain their original, moral principles, which have intentionally been watered out over the past generations by our press, TV, and other media owned by the Illuminati/Bilderberger Group, corrupting our morals by making misbehavior acceptable to our society. Only in this way shall we conquer this oncoming wave of evil.
Commentary:
Administrator
HUMAN SYNTHESIS
All articles contained in Human-Synthesis are freely available and collected from the Internet. The interpretation of the contents is left to the readers and do not necessarily represent the views of the Administrator. Disclaimer: The contents of this article are of sole responsibility of the author(s). Human-Synthesis will not be responsible for any inaccurate or incorrect statement in this article. Human-Synthesis grants permission to cross-post original Human-Synthesis articles on community internet sites as long as the text & title are not modified