Schumer Announces Stopgap to Fund Government Through December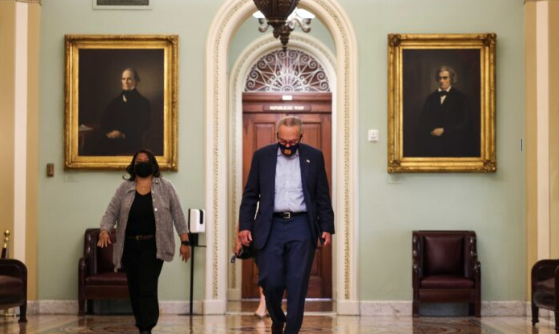 Senate Majority Leader Charles Schumer (D-N.Y.) arrives at the U.S. Capitol in Washington on Sept. 29, 2021. - (Kevin Dietsch/Getty Images)


The Epoch Times - By Joseph Lord - September 29, 2021
On the Senate floor Wednesday morning, Majority Leader Chuck Schumer (D­.N.Y.) announced that Democrats are crafting a stopgap bill to fund the government through December to avert a shutdown on Friday.
Schumer said that the bill will extend government funding to Dec. 3, and will
provide "long­sought" emergency relief to areas affected by Hurricane Ida as well as emergency funding for the ongoing Afghan special immigrant crisis. On Monday, Senate Republicans successfully filibustered a bill with the same
measures by blocking debate on the continuing resolution.
With these ongoing crises, Schumer said: "the last thing the American people
need is a government shutdown. This proposal will prevent one from
happening." Democrats have also emphasized that the nation's first-ever default could arise from a failure to raise the debt ceiling. Treasury Secretary Janet Yellen has warned that the results of such a default would be "catastrophic." House
Speaker Nancy Pelosi (D­Calif.) warned Tuesday that this default could destroy
the value of the dollar and wipe out "trillions in family wealth" for middle
Americans.

Schumer claimed that the crisis was caused by "Republican stupidity." Democrats "are working to prevent such an outcome," Schumer said. Republicans Predict Measure Will Fail Republicans have argued that the crisis is of Democrats' own making. In a petition drafted by Sen. Ron Johnson (R­Wis.) in early August, 46 Republican senators refused to approve a debt limit increase. They explained that
Democrats were on an "unprecedented deficit spending spree," and argued that
approving a debt limit increase would enable future Democratic spending.

The petition boasted several big­name signatories: Sens. Ted Cruz (R­Texas),
Rand Paul (R­Ky.), Lindsey Graham (R­S.C.), and Mitt Romney (R­Utah), as
well as Minority Leader Mitch McConnell (R­Ky.). Still, many Democratic leaders, including Schumer and President Joe Biden, assumed that these Republicans were bluffing. Monday's vote demonstrated that practically every Republican, even those who did not sign the petition, opposed a debt limit increase.
At a Tuesday press conference, Pelosi also argued that the broad majority of
spending came from debts incurred under President Donald Trump.
"This is not about future spending, this is to pay the bills that were incurred," she said, adding, "Only 3 percent of this is about Joe Biden's presidency." Schumer said of the vote, "Republicans unanimously voted in favor of default." Sen. Ted Cruz (R­Texas) asks questions during a Senate Judiciary Subcommittee on Competition Policy, Antitrust, and Consumer Rights, at the U.S. Capitol in Washington on Sept. 21, 2021. (Ken Cedeno/AFP via Getty Images) In the petition, Republicans warned that the United States should not be allowed to default, but demanded that Democrats raise the debt ceiling on their own through reconciliation, the process being used to pass Democrats' $3.5
trillion budget.
In early September, Pelosi rejected the move; Tuesday, Schumer, restated that opposition. "Going through reconciliation is risky to the country and is a non­starter," the senator said, adding that using reconciliation to raise the debt limit is "very, very risky," and said, "We're not pursuing that." Speaking to reporters Tuesday, Cruz predicted that such a stopgap bill would be proposed and would fail.
He accused Schumer of "trying to hide from responsibility for the trillions in debt that Democrats are irresponsibly trying to load onto the backs of our children and grandchildren." The majority leader, he said, was "trying to find an outcome where 10 Republicans vote with him so he can blame those Republicans for Democrats' irresponsible debt. It's a game. It won't work. Schumer knows it won't work."

While McConnell suggested that Republicans may be open to such a resolution
on Monday, Cruz said that this new move will fail as well. "When this fails, I fully expect Schumer is gonna surrender," Cruz commented, "and he's gonna do what he could have done weeks or months ago, which is [to raise] the debt ceiling using Democratic votes." He added, "Accordingly, Democrats will bear responsibility for the trillions in debt that they're saddling on the country." "He knows the outcome," Cruz added. "If he wants to play games, he is the majority leader by the slimmest of margins, but he is the majority leader. If he wants to play games on the Senate floor, that's, unfortunately, his prerogative."

"The Democrats can deal with us all by themselves because they have the
House, the White House, and the Senate. So this is their responsibility," said
Sen. Rick Scott (R­Fla.) earlier in the month. McConnell criticized Democrats' "reckless" legislation, which he said was crafted "on a partisan basis" and insisted that Republicans would not vote to raise the debt ceiling. For Democrats' stopgap measure to pass, at least 10 Republicans will need to join with the majority party. But so far, none have announced a plan to do so. The broad majority of Republicans continue to insist that Democrats raise the debt limit alone through reconciliation, even as the party remains hesitant to do so.

Joseph Lord is a Congressional reporter for The Epoch Times who focuses on the
Democrats. He got his Bachelor of Arts in Philosophy from Clemson University and was a scholar in the Lyceum Program.
---
COPYRIGHTS
Copy & Paste the link above for Yandex translation to Norwegian.
WHO and WHAT is behind it all ? : >
The bottom line is for the people to regain their original, moral principles, which have intentionally been watered out over the past generations by our press, TV, and other media owned by the Illuminati/Bilderberger Group, corrupting our morals by making misbehavior acceptable to our society. Only in this way shall we conquer this oncoming wave of evil.
Commentary:
Administrator
HUMAN SYNTHESIS
All articles contained in Human-Synthesis are freely available and collected from the Internet. The interpretation of the contents is left to the readers and do not necessarily represent the views of the Administrator. Disclaimer: The contents of this article are of sole responsibility of the author(s). Human-Synthesis will not be responsible for any inaccurate or incorrect statement in this article. Human-Synthesis grants permission to cross-post original Human-Synthesis articles on community internet sites as long as the text & title are not modified