Mysterious Ailments Are Said to Be More Widespread Among U.S. Personnel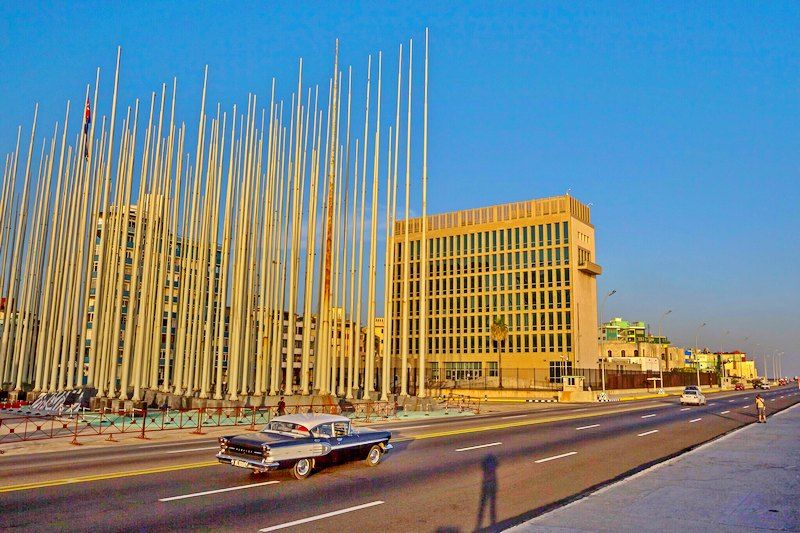 NY Times - By Julian E. Barnes, Edward Wong, Eric Schmitt- May 12, 2021
WASHINGTON — Mysterious episodes that caused brain injuries in spies, diplomats, soldiers and other U.S. personnel overseas starting five years ago now number more than 130 people, far more than previously known, according to current and former officials.
The Biden administration has begun more aggressively investigating episodes that left spies, diplomats, soldiers and others with brain injuries.
The number of cases within the C.I.A., the State Department, the Defense Department and elsewhere spurred broad concern in the Biden administration. The initial publicly confirmed cases were concentrated in China and Cuba and numbered about 60, not including a group of injured C.I.A. officers whose total is not public.
The new total adds cases from Europe and elsewhere in Asia and reflects efforts by the administration to more thoroughly review other incidents amid concern over a spate of them in recent months.
Since December, at least three C.I.A. officers have reported serious health effects from episodes overseas. One occurred within the past two weeks, and all have required the officers to undergo outpatient treatment at Walter Reed National Military Medical Center or other facilities.
And in one case in 2019 that has not previously been reported, a military officer serving overseas pulled his vehicle into an intersection, then was overcome by nausea and headaches, according to four current and former officials briefed on the events. His 2-year-old son, sitting in the back seat, began crying. After the officer pulled away from the intersection, his nausea stopped, and the child stopped crying.
Both received medical attention from the government, though it is not clear whether they suffered long-term debilitating effects. Officials suspect the officer may have been targeted. The episode upset officials in both the Trump and Biden administrations, prompting them to investigate further.
The Biden administration has not determined who or what is responsible for the episodes or whether they constitute attacks. Though some Pentagon officials believe Russia's military intelligence agency, the G.R.U., is most likely behind the case of the 2-year-old, and evidence has emerged that points to Russia in other cases, the intelligence agencies have not concluded on any cause or whether a foreign power is involved.
"As of now, we have no definitive information about the cause of these incidents, and it is premature and irresponsible to speculate," said Amanda J. Schoch, the spokeswoman for the Office of the Director of National Intelligence.
Moscow has repeatedly denied any involvement.
While no military personnel have been injured in combat zones, several were hurt in Europe and Asia, according to former officials.
Some suffered long-term brain injuries including debilitating headaches. The episodes, according to the National Security Council, involve personnel experiencing "sensory phenomena," such as sound, pressure or heat, along with or followed by physical symptoms, such as sudden-onset vertigo, nausea, and head or neck pain.
This article is based on interviews with 20 current and former officials across multiple government agencies who have worked on the issue or have been briefed on the episodes, many of which remain classified.
The Biden administration is trying to strike a careful balance between showing officials that they are taking the issue seriously and trying to keep panic from spreading, either inside the government or among the public. The National Security Council has begun an intelligence review, aimed at discovering whether additional unreported incidents fit the pattern, a spokeswoman said.
"We are bringing the U.S. government's resources to bear to get to the bottom of this," said Emily J. Horne, a spokeswoman for the council.
The C.I.A. has formed a new targeting cell to try to gather information about the episodes, how they occurred and who is responsible. The cell aims to operate with a similar rigor and intensity to the group expanded by the agency sometime after the Sept. 11 attacks to hunt Osama bin Laden. The White House has also worked to standardize reporting of incidents and improve medical treatment for victims.
In a report released in December, the National Academy of Sciences said a microwave weapon probably caused the injuries. Some officials believe a microwave or directed-energy device is the most likely cause.
The severity of the brain injuries has ranged widely. But some victims have chronic, potentially irreversible symptoms and pain, suggesting potentially permanent brain injury. Physicians at Walter Reed have warned government officials that some victims are at risk for suicide.
The United States has investigated episodes both in the country and overseas, but the vast majority have been overseas, according to the National Security Council, and some reported domestically are likely to be aftershocks caused by earlier incidents overseas, according to current and former officials.
But at least two episodes involving White House staff members, one in 2020 that affected a National Security Council official near the Ellipse south of the White House and another in 2019 involving a woman walking her dog in Northern Virginia, have no known connection to an earlier overseas event. While many officials expressed skepticism that Russia or another power would conduct an attack in the United States, agencies are investigating.
Congress has demanded more from the C.I.A. In a closed-door meeting of the Senate Intelligence Committee last month, senators accused the C.I.A. of doing too little to investigate the mysterious episodes and until recently showing skepticism about them, according to people briefed on the meeting.
During the Trump administration, some in the agency said there was little intelligence showing a foreign power was responsible and argued that it made little sense analytically for Russia or another foreign intelligence service to make unprovoked attacks on Americans. Others doubted the cause of the brain injuries.
The new C.I.A. director, William J. Burns, has tried to move aggressively to improve the agency's response, current and former officials said. Mr. Burns has met with victims, visited doctors who have treated injured agency officers and briefed lawmakers.
He has also assigned his deputy, David Cohen, to oversee the investigation and the health care response. Mr. Cohen will meet monthly with victims and will lead regular briefings for Congress. The agency has also doubled the number of medical personnel conducting treatment and managing cases of injured officers.
In addition, the chief medical officer, who had been criticized by some former officers as too skeptical of the incidents and dismissive of some symptoms, announced his retirement. He was replaced with another doctor seen inside the C.I.A. as more focused on patient care.
The C.I.A. has also cut the average wait time for injured officers at Walter Reed. It was up to eight weeks at the end of last year and is now less than two.
Displayed in Walter Reed is a painting by a C.I.A. officer injured in one of the overseas episodes. The painting is a black canvas, with a red splatter. C.I.A. personnel being treated at Walter Reed have called it "The Gunshot."
"It signified his feeling that we all wished we had been shot, a visible injury, so that our colleagues would more readily believe us," said Marc Polymeropoulos, a former C.I.A. officer who was hurt in Moscow in 2017.
The mystery first drew attention when diplomats and C.I.A. officers working in Havana in 2016 were sickened and reported feeling vertigo, nausea and headaches. Similar episodes began occurring the next year in Guangzhou, China. And last October, The New York Times reported that as early as 2017, another cohort of C.I.A. officers traveling in a variety of countries, including Russia, had said they were the likely victims of attacks and reported similar symptoms.
Lawmakers and the Trump administration's National Security Council grew increasingly frustrated last year with State Department's and the C.I.A.'s handling of the incidents.
Robert C. O'Brien, President Donald J. Trump's last national security adviser, and Matthew Pottinger, his deputy, had already begun working in early 2020 to redouble efforts by their aides to understand the mysterious episodes and to get the Pentagon more involved.
But their staff members ran into frustration getting the C.I.A., the State Department and other agencies to share details about injured personnel, in part because of federal protections on health data. White House officials thought the investigation, in which the C.I.A. had been the lead agency, had run into a dead end.
The frustration culminated in a tense conversation Mr. Pottinger had with Vaughn Bishop, then the deputy C.I.A. director, and other officials in November. Mr. Pottinger urged the intelligence community to do more to cooperate with the Pentagon and other agencies. The next month, the National Security Council convened a deputy-level meeting across agencies to again push for further action and a broader investigation.
Mr. Pottinger declined to comment.
The Biden administration has tried to further improve coordination, including directing agencies to each name a coordinator to work on both identifying the cause of the episodes and improving health care for the injured personnel. Even some Democrats who have been briefed on the incidents called on the administration to be more aggressive.
"I don't believe that we as a government, in general, have acted quickly enough," said Representative Ruben Gallego, an Arizona Democrat and former Marine who heads the House Armed Services Subcommittee on Intelligence and Special Operations. "We really need to fully understand where this is coming from, what the targeting methods are.
Julian E. Barnes is a national security reporter based in Washington, covering the intelligence agencies. Before joining The Times in 2018, he wrote about security matters for The Wall Street Journal. @julianbarnes • Facebook
Edward Wong is a diplomatic and international correspondent who has reported for The Times for more than 20 years, 13 from Iraq and China. He received a Livingston Award and was on a team of Pulitzer Prize finalists for Iraq War coverage. He has been a Nieman Fellow at Harvard and a Ferris Professor of Journalism at Princeton. @ewong
Eric Schmitt is a senior writer who has traveled the world covering terrorism and national security. He was also the Pentagon correspondent. A member of the Times staff since 1983, he has shared three Pulitzer Prizes.
---
COPYRIGHTS
Copy & Paste the link above for Yandex translation to Norwegian.
WHO and WHAT is behind it all ? : >
The bottom line is for the people to regain their original, moral principles, which have intentionally been watered out over the past generations by our press, TV, and other media owned by the Illuminati/Bilderberger Group, corrupting our morals by making misbehaviour acceptable to our society. Only in this way shall we conquer this oncoming wave of evil.
Commentary:
Administrator
HUMAN SYNTHESIS
All articles contained in Human-Synthesis are freely available and collected from the Internet. The interpretation of the contents is left to the readers and do not necessarily represent the views of the Administrator. Disclaimer: The contents of this article are of sole responsibility of the author(s). Human-Synthesis will not be responsible for any inaccurate or incorrect statement in this article. Human-Synthesis grants permission to cross-post original Human-Synthesis articles on community internet sites as long as the text & title are not modified.