MAIL TIL KRIPOS 11.4.2021. Fra Howard Widding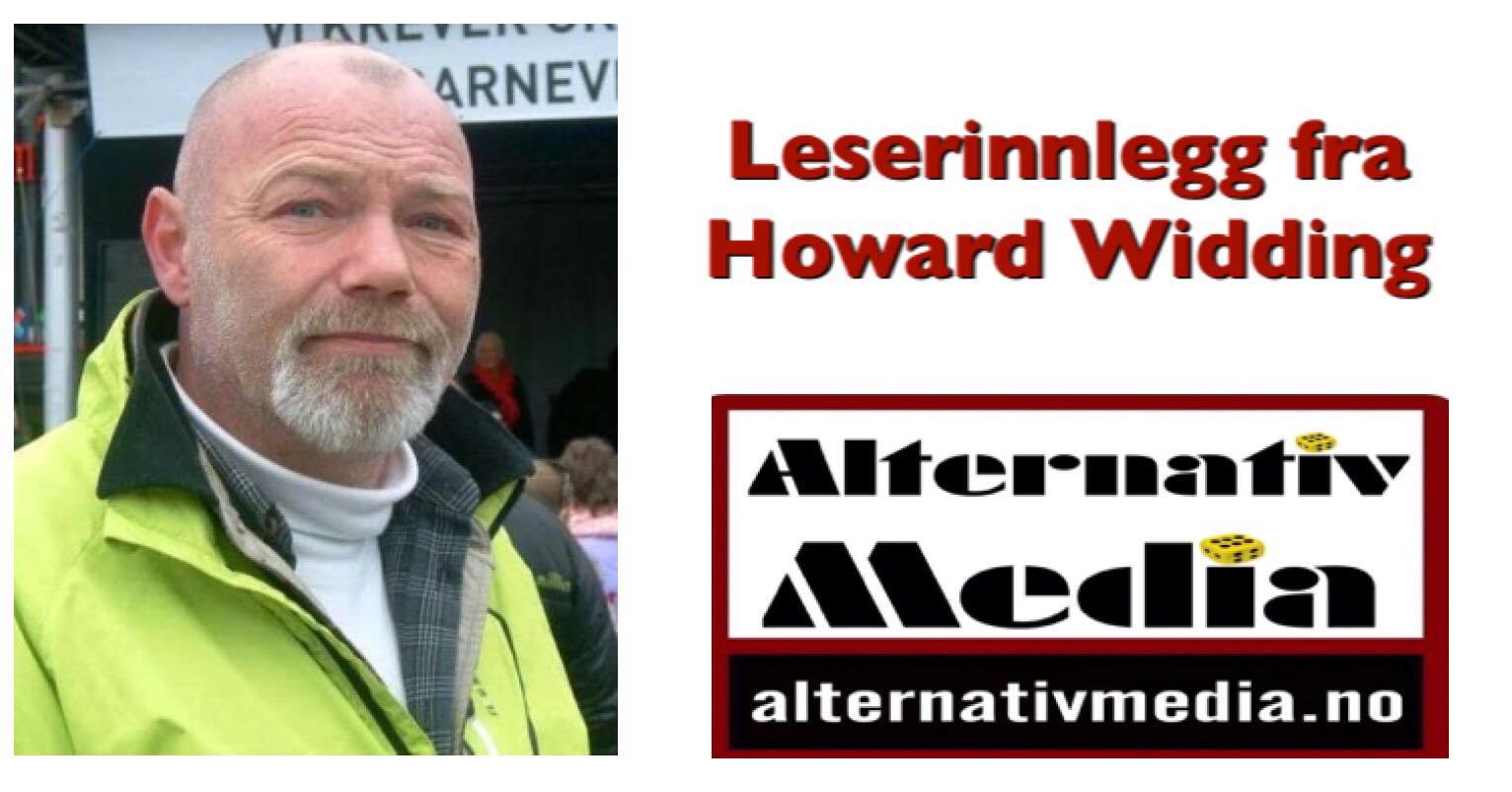 Fra Howard Widding.- KOPI AV MAIL TIL KRIPOS i dag 11.4.2021.
De siste tall fra Legemiddelverket gir bilde av ett varslet blodbad og lemlestelser vi aldri har sett før." En av de største medisinske forskningsskandalene i moderne tid, sier Jan Helge Solbakk, professor i medisinsk etikk. To nye rapporter knuser troverdigheten til norske helsemyndigheter og WHO. Tvilsomme faglige vurderinger av WHO-eksperter betalt av farmasøytisk industri og skyhøy fortjeneste på vaksine er noe av det som avsløres i rapportene.
Ifølge Solbakk uttalte BMJs sjefsredaktør da at det som nå er avdekket, kan få så alvorlige konsekvenser for WHO at ledelsen må gå for at troverdigheten til institusjonen igjen kan bygges opp.- Jeg mener at når BMJs sjefsredaktør uttaler dette, bør man i Norge kunne spørre om noen av de som stod i spissen for å gjennomføre disse hårreisende tiltakene i Norge, også bør stilles ansvarlige."
JEG HAR KLIPPET BORT ORDET SVINEINFLUENSA FRA TEKSTEN, altså er det en artikkel fra forrige gang, men nå gjentar den samme banden det hele på nytt, bare mye mye verre.
Her er kilden til teksten jeg fjernet ordet Svineinfluensa fra,
Både Legemiddelverkets Madsen og Bent Høie LØY på NRK i 2009 da Madsen fortalte at Pandemix va en "modellvaksine", altså de samme konserveringsmidler og Adjuvans som all annen influensa vaksine i mange 10 år, bare med det nye viruset. OPPTAK FRA NRK i 2009 på youtube. Dette var IKKE SANT, både konserveringsmidlet og adjuvansen var aldri prøvd på mennesker før, altså var et en 100% ny og uprøvd vaksine han hevdet var trygg og noe helt annet.
Den gangen ble 10 drep og 800 skadet for livet, det har Madsen eller de andre aldri stått til rette for, og det døde flere pr 100.000 innbyggere i Norge der 45% var vaksinert sammenlignet mot Polen der INGEN var vaksinert. Vaksinen virket ikke engang, noe vi OGSÅ er vitne til denne gang.TV2 omtaler det forhold.
Denne gangen er målet 5 mill vaksinerte der alle skal ha 2 doser. altså 10 mill doser. Nå etter bare vel 1 million doser eller ca 10% er tallet for drepte av vaksinen hele 139 eller 14 ganger det vi så i 2009, og antall skadede er 509, men kun ca 53% av meldingene er behandlet, så det riktige tall antas å være 946 ALVORLIG skadede For alle under 60 år beregnes risikoen for alvorlig sykdom eller død av vaksinene til å være 2.67 ganger større enn for Covid, og de som er eldre ser ikke ut til å tåle den i det hele tatt, og de som tar den og overlever får vist Covid uansett, så se straks å få stoppet dette blodbadet det ikke finnes grunnlag for.
Covid har lavere dødelighet for Nordmenn enn Influensa, og covid kan forebygges (Norske myndigheter nekter å orientere om, samt anbefale  D, C og sink som kan beskytte 77% eller mer, viser noen rapporter, og i behandling kan dødeligheten reduseres opp til 25 x ved bruk av vitamin D. (C og D vitaminene er Nobel prisvinnere på 60 taller av nettopp denne grunn at de kan behandle lungeskader og vintersykdommer som influensa og lungebetennelser.5 oktober 2020 gjengir
British Medical Journal at over 40 forskningsrapporter anbefaler D vitamin både forebyggende og til behandling av Covid.
Så sendt som 14 januar NEKTER folkehelseinstituttet å gi anbefalinger om D vitamin tilskudd, på tross av at tall fra Italia, Japan og Spania viser at de som blir alvorlig syke og dør, har det til felles at de har alvorlige de vitamin mangler.
Rapporter som, bekrefter at D-vitamin mangler er hoved problemet, og nettopp derfor er innvandrere med mørk hud mer utsatt enn andre i Nord Europa om vinteren, dette er ikke rakett forskning i det hele tatt, men Norske myndigheter har bruk 6.6 millioner til å informere på utallige språk men ikke ETT ORD om at de burde ta D-Vitaminer?
Er dette helsefolk eller pengesløsere som står bak når man kan svi av 6.6 millioner uten å fortelle om det man skulle fortalt?
Med den samlede viten man nå har, SKAL vaksineringen stoppes straks, de som medvirker deltar i en forbrytelse mot menneskeheten, og INGEN har gitt sitt informerte samtykke, da faktisk risiko IKKE opplyses med det vi vet. Myndighetene selv oppgir grunnlaget som gjør at folk vil ta vaksinen, men når de ser at argumentene IKKE KAN INNFRIES, og folket ikke informeres, men TROR de får friheten tilbake, er det IKKE gitt informert samtykke. (se avtale lovens §30 og §31)
Jeg kommer med en større sak om noen dager, men enn så lenge holder dette, og ettersom vaksineringen og derav skadene utøves daglig, skal Kripos handle STRAKS.
Link til kildetallene for døde og skadede av vaksinen
Innholdet her publisere også på sosiale medier, det samme gjør Kripos svar på henvendelsen.
Min Avverningsplikt etter straffeloven er herved oppfylt, og Kripos plikter nå å gripe inn ovenfor Vaksine praksisen som dreper og skader utallige.
---
COPYRIGHTS
Copy & Paste lenken øverst for Yandex oversettelse til Norsk.
WHO and WHAT is behind it all ? : >
The bottom line is for the people to regain their original, moral principles, which have intentionally been watered out over the past generations by our press, TV, and other media owned by the Illuminati/Bilderberger Group, corrupting our morals by making misbehaviour acceptable to our society. Only in this way shall we conquer this oncoming wave of evil.
Commentary:
Administrator
HUMAN SYNTHESIS
All articles contained in Human-Synthesis are freely available and collected from the Internet. The interpretation of the contents is left to the readers and do not necessarily represent the views of the Administrator. Disclaimer: The contents of this article are of sole responsibility of the author(s). Human-Synthesis will not be responsible for any inaccurate or incorrect statement in this article. Human-Synthesis grants permission to cross-post original Human-Synthesis articles on community internet sites as long as the text & title are not modified.