DISTURBING NEWS FROM FORMER AIRFORCE HERO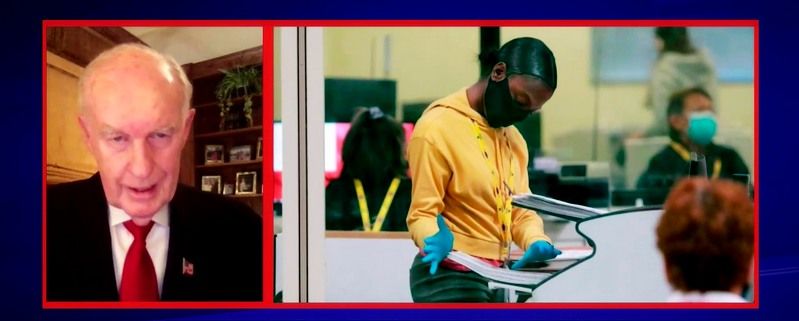 Published by BoonedogNewz - Published March 22, 2021
A very disturbing interview with General McInerney regarding the intentional Chinese attack via Corona-19  in agreement with Illuminati/the global elite.
McInerney was born March 15, 1937, in Havre de Grace, Maryland, and graduated from Garden City (N.Y.) High School in 1955. He earned a BS degree from the United States Military Academy in 1959 and a master's degree in international relations from George Washington University in 1972. McInerney graduated from the Armed Forces Staff College in 1970 and from the National War College in 1973.[2]
Beginning in January 2002, McInerney was a military analyst on Fox News until May 2018.
McInerney was a staunch advocate for the Iraq War.[3] In 2002, he said a military campaign against Iraq, would be "shorter" than the 42 days it took to complete the Persian Gulf War in 1991, and further, "It is going to be absolutely awesome, and that's why this war, if we do it properly, will go very quick, and we'll have less civilian casualties than we did last time."[4]
In 2004, he claimed without evidence that with the aid of a Russian Special Forces team with GRU, Saddam had transported weapons of mass destruction (WMDs) to Syria and the Bekaa Valley in Lebanon for safekeeping.[5] Although McInerney said they had been moved to three places in Syria and one in Lebanon, the final report of the Iraq Survey Group, by Charles A. Duelfer, special adviser on Iraqi weapons to the C.I.A., concluded that any stockpiles had been destroyed long before the war and that transfers to Syria were "unlikely."[6]
In 2006, McInerney advocated for regime change via military action against Iran and North Korea.[7]
McInerney has been a member of the Boards of Directors of military contractors, including Alloy Surfaces Company, Kilgore Flares Co, Nortel Government Solutions Inc. Pan American International Academy (Flight Simulators), Agusta Westland NA, and Crescent Partnerships.[8]
In 2008, it was revealed that McInerney received email communications from the Pentagon with talking points that he should use to defend the Bush administration in his TV appearances and columns.[9][10]
In 2010, McInerney provided his support against the court martial of fellow birther Terrence Lakin, who refused to deploy to Afghanistan due to his suspicion of President Barack Obama's birthplace.[11]
On September 6, 2016, McInerney was 1 of 88 retired military leaders who endorsed the Republican presidential nominee, Donald Trump.[12]
On September 15, 2020, McInerney was 1 of 235 retired military leaders who endorsed President Trump's re-election for president.[13]
McInerney Views
McInerney has called President Obama a treasonous leader who is "aiding and abetting the enemy."[14] McInerney also has said there were "widespread and legitimate concerns that the President [Obama] is constitutionally ineligible to hold office."[15]
In 2010, McInerney called for strip-searching all Muslim men between the ages of 18 and 28 at airports.[16][17]
In 2015, as a Fox News contributor and a member of the Iran Policy Committee, McInerney was noted for suggesting on Fox News that terrorists could have flown the disappeared Malaysia Airlines 370 to Pakistan.[18]
During a Fox Business News appearance on May 10, 2018, McInerney asserted to the show's host Charles Payne, that torture had "worked on" John McCain (when he was a POW in North Vietnam) and "That's why they call him 'Songbird John',"[19][20][21][22] referencing an unverified claim made against McCain during the Republican primary in South Carolina in 2000.[21][22][23] After the show, Payne apologized on Twitter to Senator McCain and his family for what McInerney had said which he himself did not hear or challenge because he was being told at the same time by the control room to "wrap the segment".[22][24] Afterward, Fox News announced that McInerney would never appear on Fox News or Fox Business again.[25]
After the 2020 elections, McInerney pushed claims about fraud in the election.[26] On November 28, 2020, McInerney claimed that "US special forces command seized a server farm in Frankfurt, Germany", which was run by the Central Intelligence Agency (CIA);[27][28] the server farm in Frankfurt was at a CIA facility. Both the U.S. Army and U.S. Army Special Operations Command denied that such an attack occurred.[29] He later called on President Trump "to declare a national emergency, use the Insurrection Act, declare martial law, suspend habeas corpus, set up military tribunals, and suspend the electoral college [vote for president and vice-president] on December 14 and the presidential inauguration on January 20". He claimed that the election was being stolen from Trump and treasonous parties should be arrested and charged and a "full investigation" must be done by President Trump.[30][31]
---
General McInerney Disturbing Intel 3-22-21 Boonedog Newz Published March 22, 2021
LT. GEN. T.  MCINERNEY SPEAKS AT THE CAPITOL • Jan 9, 2021
---
TRUMP - VICTORIOUS - 5 min. - DaveWaterbury - Published March 25, 2021
Excellent video put out by the Trump team, which explains what we are about to see unfold. . (without giving up too much info ) . Not everyone will understand everything in this film at first , , , but in time, almost everyone will. . God Bless America.
---
COPYRIGHTS
Copy & Paste lenken øverst for Yandex oversettelse til Norsk.
WHO and WHAT is behind it all ? : >
The bottom line is for the people to regain their original, moral principles, which have intentionally been watered out over the past generations by our press, TV, and other media owned by the Illuminati/Bilderberger Group, corrupting our morals by making misbehaviour acceptable to our society. Only in this way shall we conquer this oncoming wave of evil.
Commentary:
If the global elite/Illuminati is ruling the World they would not allow the enormous expansion of the Chinese economy.  They are no doubt supporting and hiding behind China, using them to conquer the World. The recent change of government in the US is acting like a Trojan Horse, infiltrading business and politics in the USA.  Lenin and Trotsky were well funded by the US government when they returned to Russia from a stay in New York, together with a group of American, special trained soldiers to start the Revolution.
Administrator
HUMAN SYNTHESIS
All articles contained in Human-Synthesis are freely available and collected from the Internet. The interpretation of the contents is left to the readers and do not necessarily represent the views of the Administrator. Disclaimer: The contents of this article are of sole responsibility of the author(s). Human-Synthesis will not be responsible for any inaccurate or incorrect statement in this article. Human-Synthesis grants permission to cross-post original Human-Synthesis articles on community internet sites as long as the text & title are not modified.