THE LARGEST NURNBERG TRIAL OF ALL TIME IS ON ITS WAY!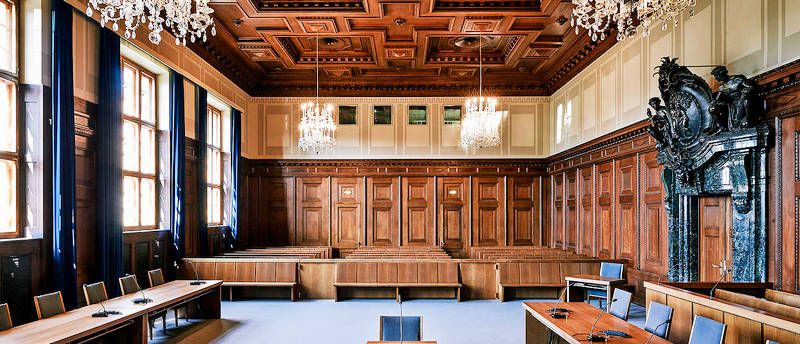 Below is an excerpt from the announcement from the lawyers: (NB: translated from German) 17/02/2021 By Jean-Michel Grau
Right now, for the second time since the war, a tribunal in Nuremberg is preparing, with a class action lawsuit filed by thousands of lawyers around the world behind the US-German lawyer Reiner Fuellmich, who is prosecuting those responsible for Covid-19. scandal, manipulated by the Davos Forum. (World Economic Forum)
In this connection, it is worth remembering that Reiner Fuellmich is the lawyer who succeeded in judging the car giant: Volkswagen, where they manipulated the catalysts. And it is the same lawyer who succeeded in condemning Deutsche Bank as a criminal enterprise.
Reiner Fuellmich | Full Length Interview in Berlin | Planet Lockdown • Dec 26, 2020
Dr Reiner Fuellmich is a German American lawyer with experience going after large companies like Deutsche Bank. He is a member of the German Corona Investigative Committee. He discusses the current situation and his efforts to bring justice to the situation.
This interview was done as apart from the full length documentary. We are releasing the full interview for the betterment of public understanding of the situation.
According to Reiner Fuellmich, the fraud committed by these German companies is small, compared to the damage that the Covid-19 crisis has caused and continues to cause. This Covid-19 crisis should be renamed the "COVID-19 SCANDAL", and all those responsible should be prosecuted for civilian injuries due to manipulations and falsified test protocols. Therefore, now an international network of business lawyers will invoke the greatest tort case of all time, the Covid-19 scandal, which has become the greatest crime against humanity, ever committed.
A Covid-19 Commission of Inquiry has been set up on the initiative of a group of German lawyers, with a view to instituting an international class action lawsuit using Anglo-Saxon law. Here is the summarized translation of Dr. Fuellmich's latest communication of 15/02/2021: "The hearing of around 100 internationally renowned researchers, doctors, economists and lawyers, which has been conducted by the Berlin Commission of Inquiry into the Covid-19 case since 10.07.2020, has proved with great probability and certainty that the Covid-19 scandal was at no time a health problem.
As we commemorate the 75th anniversary of the Nuremberg trials, at which selected Nazi leaders were placed in the dock, we must ask some disturbing questions TODAY about those who are not so far tried for their complicity in the world's worst genocide ever, Covid-19 .
As we commemorate the 75th anniversary of the Nuremberg trials, at which selected Nazi leaders were placed in the dock, we must ask some disturbing questions TODAY about those who are not so far tried for their complicity in the world's worst genocide ever, Covid-19.
Rather, it was about freezing the illegitimate power (illegitimate because it was obtained by criminal means) to the corrupt "Davos clique" by transferring the wealth of the people to the members of the Davos clique, and destroying, among other things, small, medium and especially large companies. Platforms like Amazon, Google, Uber, etc. can thus adjust market share and wealth. Status of the Covid-19 Committee's investigation: 1. Covid-19 as a diversionary tactic from corporate and political "elites" to shift market share and wealth from small and medium-sized enterprises to global platforms such as Amazon, Google, Uber, etc. b. Contribution from the audiovisual fee to the reconstruction of a new media landscape that offers truly independent information c. Making regional agricultural structures secure d.
To create a safe regional currency, to prevent a new currency coming "from above", which should be assigned in case of good behavior. e. Psychological considerations of the situation: how did it come about? Lawsuit over cancellation of vaccination approval, filed against the European Commission, New York court on the status of PCR tests, German studies, Canadian studies, Australian studies, Austrian studies, trials at the International Court of Justice and the European Court of Human Rights. "We have seen what has been confirmed, time and time again: the degree of danger posed by the virus is about the same as seasonal flu, whether it is a new virus (wholly or partly produced) or whether we are just dealing with a flu, renamed to the "Covid-19 pandemic".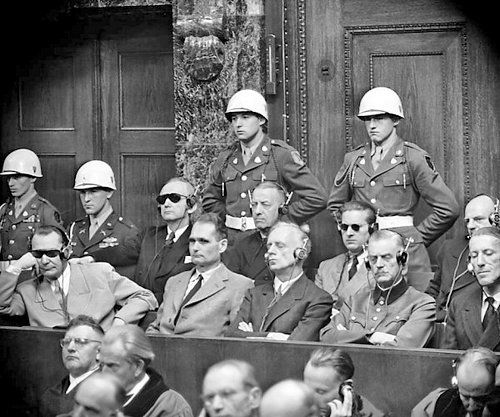 1946 photo taken during the Nuremberg trial. From L-to-R, first row, in the dock: Hermann Goering, Rudolf Hess, Joachim Von Ribbentrop, Wilhelm Keitel, Ernst Kaltenbrunner. Second row: Karl Doenitz, Erich Raeder, Baldur Von Schirach, Fritz Sauckel. (Stringer / AFP / Getty Images)
Meanwhile, Drosten's PCR tests can NOT tell us anything about infectious infections. To make matters worse, health and economic damage, caused by anti-covid measures, have been so devastating that we have to talk about a level of destruction that is historically unique. "The fact that health has never been a problem is particularly clear, except that injections of genetically experimental drugs disguised as" vaccinations "are now causing serious damage, including fatal consequences, on a mass scale. these experimental gene injections both gradually and extremely rapidly.To throw the population into panic, dangerous and harmful lockdown measures (even according to the WHO) mandatory unnecessary and dangerous mask use and social distancing, unnecessary and counterproductive, were introduced.

The population was thus, in fright, thus made "ready" for the injections. completely independent international court, following the model of the Nuremberg trials.
An example of such a claim and a moving excerpt from a speech by the English physician Dr. Vernon Coleman, can be found here:
---
COPYRIGHTS
Copy & Paste lenken øverst for Yandex oversettelse til Norsk.
WHO and WHAT is behind it all ? : >
The bottom line is for the people to regain their original, moral principles, which have intentionally been watered out over the past generations by our press, TV, and other media owned by the Illuminati/Bilderberger Group, corrupting our morals by making misbehaviour acceptable to our society. Only in this way shall we conquer this oncoming wave of evil.
Commentary:
Administrator
HUMAN SYNTHESIS
All articles contained in Human-Synthesis are freely available and collected from the Internet. The interpretation of the contents is left to the readers and do not necessarily represent the views of the Administrator. Disclaimer: The contents of this article are of sole responsibility of the author(s). Human-Synthesis will not be responsible for any inaccurate or incorrect statement in this article. Human-Synthesis grants permission to cross-post original Human-Synthesis articles on community internet sites as long as the text & title are not modified.
The source and the author's copyright must be displayed. For publication of Human-Synthesis articles in print or other forms including commercial internet sites. Human-Synthesis contains copyrighted material the use of which has not always been specifically authorized by the copyright owner. We are making such material available to our readers under the provisions of "fair use" in an effort to advance a better understanding of political, economic and social issues. The material on this site is distributed without profit to those who have expressed a prior interest in receiving it for research and educational purposes. If you wish to use copyrighted material for purposes other than "fair use" you must request permission from the copyright owner.