TIDENES STØRSTE NüRNBERG RETTSSAK ER PÅ VEI!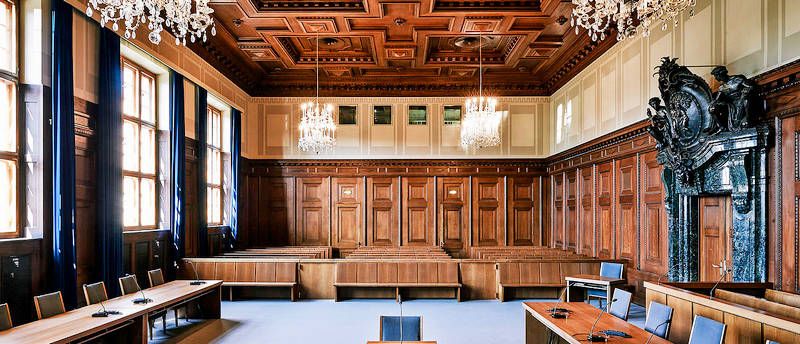 Nedenfor følger utsnitt av kunngjøring fra advokatene: (NB: oversatt fra tysk) 17/02/2021 Av Jean-Michel Grau
Akkurat nå er det for andre gang, siden krigen, en tribunal i Nürnberg som er under forberedelse, med gruppesøksmål under regi av tusenvis av advokater over hele verden som står bak den amerikansk-tyske advokaten Reiner Fuellmich, som straffeforfølger de ansvarlige for Covid-19-skandalen, manipulert frem av Davos Forum. (World Economic Forum) I denne forbindelse er det verdt å huske at Reiner Fuellmich er advokaten som lyktes i å dømme bilgiganten: Volkswagen, der de manipulerte katalysatorene. Og det er den samme advokaten som lyktes i å fordømme Deutsche Bank som et kriminelt foretak.
---
Reiner Fuellmich | Full Length Interview in Berlin | Planet Lockdown •Dec 26, 2020
Dr Reiner Fuellmich is a German American lawyer with experience going after large companies like Deutsche Bank. He is a member of the German Corona Investigative Committee. He discusses the current situation and his efforts to bring justice to the situation.
This interview was done as apart of the full length documentary. We are releasing the full interview for the betterment of public understanding of the situation.
---
I følge Reiner Fuellmich er svindelene begått av disse tyske selskaper små, sammenlignet med skaden som Covid-19-krisen har forårsaket og fortsetter å forårsake. Denne Covid-19-krisen bør omdøpes til "COVID-19-SKANDALEN", og alle ansvarlige bør straffeforfølges for sivile skader på grunn av manipulasjoner og forfalskede testprotokoller. Derfor vil nå et internasjonalt nettverk av forretningsadvokater påberope seg den største skadevoldssaken gjennom tidene, Covid-19-svindelskandalen, har blitt til den største forbrytelsen mot menneskeheten, som noensinne har blitt begått.
En Covid-19-undersøkelseskommisjon er opprettet på initiativ av en gruppe tyske advokater, dette med sikte på å anlegge en internasjonal gruppesøksmål ved bruk av angelsaksisk lov. Her er den oppsummerte oversettelsen av den siste kommunikasjonen til Dr. Fuellmich av 15/02/2021: "Høringen av rundt 100 internasjonalt anerkjente forskere, leger, økonomer og advokater, som har blitt gjennomført av Berlin-undersøkelseskommisjonen om Covid-19-saken siden 10.07.2020, har vist seg med stor sannsynlighet og sikkerhet at Covid-19-skandalen var på ingen tid et helseproblem.
As we commemorate the 75th anniversary of the Nuremberg trials, at which selected Nazi leaders were placed in the dock, we must ask some disturbing questions TODAY about those who are not so far tried for their complicity in the world's worst genocide ever, Covid-19.
Snarere handlet det om å fryse den illegitime makten (illegitim fordi den ble oppnådd ved kriminelle metoder) til den korrupte "Davos-klikken" ved å overføre rikdommen til folket til medlemmene i Davos-klikken, og ødelegge blant annet små, mellomstore og spesielt store bedrifter. Plattformer som Amazon, Google, Uber, etc. kan dermed tilpasse markedsandelen og formuen. " Status for Covid-19 komiteens etterforskning: 1. Covid-19 som en avledningstaktikk fra bedrifts- og politiske "eliter" for å skifte markedsandel og formue fra små og mellomstore bedrifter til globale plattformer som Amazon, Google, Uber, etc. b. Bidrag fra den audiovisuelle avgiften til gjenoppbyggingen av et nytt medielandskap som tilbyr virkelig uavhengig informasjon c. Gjøre regionale landbruksstrukturer sikre d.
Å lage en sikker regional valuta, for å forhindre at en ny valuta kommer "ovenfra", som skal tildeles i tilfelle god oppførsel. e. Psykologiske betraktninger av situasjonen: hvordan ble den til? Søksmål om annullering av godkjenning av vaksinasjon, anlagt mot EU-kommisjonen, rettssak i New York om status for PCR-tester, tyske studier, kanadiske studier, australske studier, østerrikske studier, rettssaker ved Den internasjonale domstolen og EU-domstolen av menneskerettigheter. "Vi har sett hva som er bekreftet, gang på gang: Graden av faren som viruset utgjør, er omtrent den samme som sesonginfluensa, uavhengig av om det er et nytt virus (helt eller delvis produsert) eller om vi bare håndterer en influensa, omdøpt til "Covid-19 pandemi".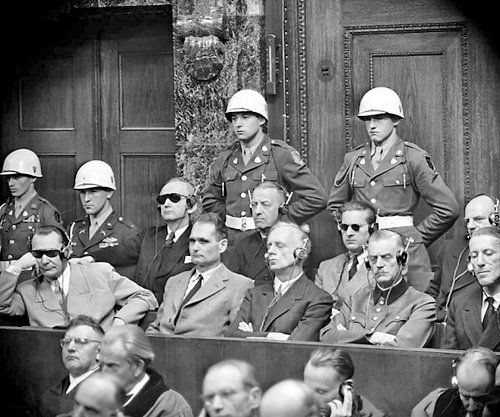 1946 photo taken during the Nuremberg trial. From L-to-R, first row, in the dock: Hermann Goering, Rudolf Hess, Joachim Von Ribbentrop, Wilhelm Keitel, Ernst Kaltenbrunner. Second row: Karl Doenitz, Erich Raeder, Baldur Von Schirach, Fritz Sauckel. (Stringer/AFP/Getty Images)
I mellomtiden kan Drostens PCR-tester IKKE fortelle oss noe om smittsomme infeksjoner. For å gjøre saken verre, har helse- og økonomisk skade, forårsaket av anti-covid tiltak, vært så ødeleggende, at vi må snakke om et ødeleggelsesnivå som er historisk unikt. » "Det faktum at helse aldri har vært et problem, er spesielt tydelig, bortsett fra at injeksjoner av genetisk eksperimentelle stoffer forkledd som" vaksinasjoner " nå forårsaker alvorlig skade, inkludert dødelige konsekvenser, i masseskala. Verdens befolkning har blitt brukt som prøve kaniner for disse eksperimentelle gen injeksjonene både gradvis og ekstremt raskt. For å kaste befolkningen ut i panikk, ble farlige og skadelige lockdown tiltak (selv i følge WHO) obligatorisk unødvendig og farlig maskebruk og sosial distansering, unødvendig og kontraproduktiv, introdusert.
Befolkningen ble på denne måten, med skremsel, dermed gjort "klar" for injeksjonene." I mellomtiden krever flere og flere mennesker, ikke bare advokater - og med rette - i tillegg - en umiddelbar slutt på disse morderiske tiltakene og en rettslig gjennomgang av en helt uavhengig internasjonal domstol, etter modellen av Nürnberg-rettssakene.
Et eksempel på et slikt krav og et rørende utdrag fra en tale av den engelske legen Dr. Vernon Coleman, finner du her:
---
COPYRIGHTS
Copy & Paste lenken øverst for Yandex oversettelse til Norsk.
WHO and WHAT is behind it all ? : >
The bottom line is for the people to regain their original, moral principles, which have intentionally been watered out over the past generations by our press, TV, and other media owned by the Illuminati/Bilderberger Group, corrupting our morals by making misbehaviour acceptable to our society. Only in this way shall we conquer this oncoming wave of evil.
Commentary:
Administrator
HUMAN SYNTHESIS
All articles contained in Human-Synthesis are freely available and collected from the Internet. The interpretation of the contents is left to the readers and do not necessarily represent the views of the Administrator. Disclaimer: The contents of this article are of sole responsibility of the author(s). Human-Synthesis will not be responsible for any inaccurate or incorrect statement in this article. Human-Synthesis grants permission to cross-post original Human-Synthesis articles on community internet sites as long as the text & title are not modified.
The source and the author's copyright must be displayed. For publication of Human-Synthesis articles in print or other forms including commercial internet sites. Human-Synthesis contains copyrighted material the use of which has not always been specifically authorized by the copyright owner. We are making such material available to our readers under the provisions of "fair use" in an effort to advance a better understanding of political, economic and social issues. The material on this site is distributed without profit to those who have expressed a prior interest in receiving it for research and educational purposes. If you wish to use copyrighted material for purposes other than "fair use" you must request permission from the copyright owner.