'He must go': House impeaches Trump for the unprecedented deadly Capitol attack.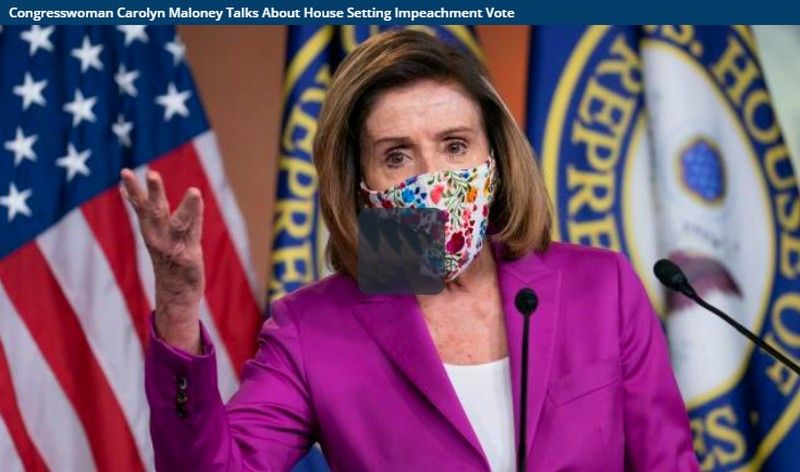 By MICHAEL MCAULIFF and CHRIS SOMMERFELDT - NEW YORK DAILY NEWS |JAN 13, 2021 AT 4:43 PM
Another year, another impeachment of President Trump.
A bipartisan majority of the House impeached Trump for an unprecedented second time on Wednesday, with a final vote of 232 to 197 and five members not voting. Members from both sides of the political aisle proclaimed that the Republican president must be immediately removed from office for waging "war on democracy" by encouraging a mob of far-right supporters to storm the U.S. Capitol in an attack that killed five people and left an indelible stain on his legacy.
Ten Republicans joined every Democrat in the chamber in voting for a single article of impeachment charging Trump with "incitement of insurrection" for telling thousands of supporters to march on the Capitol last Wednesday and "fight like hell" to stop the congressional certification of Joe Biden's election that was going on inside. Five people, including a police officer, died in the chaos and the halls of Congress were ransacked, as Trump's supporters vandalized the historic building in his name.
"The president saw the insurrectionists not as the foes of freedom that they are, but as means to a terrible goal — the goal of his personally clinging to power, the goal of thwarting the will of the people, the goal of ending in a fiery and bloody clash nearly two and half centuries of our democracy," House Speaker Nancy Pelosi (D-Calif.) said as she opened the impeachment debate. "With a plea to all of you, Democrats and Republicans: Is the president's war on democracy in keeping with the Constitution?"
She added: "He must go. He is a clear and present danger to the nation that we all love."
The vote — which landed just seven days before Trump's term expires — makes him the first American president to endure the humiliation of being impeached twice.
Trump was first impeached in 2019 for pressuring Ukraine to produce political dirt on Biden while using U.S. military aid as leverage in a shadowy scheme to influence the 2020 election that he ultimately lost.
The Republican-controlled Senate acquitted Trump in his first impeachment trial, but Democrats hope enough GOP members in the upper chamber will see things differently when they send over the charges this time.
However, there's little time to act before Biden takes office, and Senate Majority Leader Mitch McConnell (R-Ky.) told his Democratic counterpart, Minority Leader Chuck Schumer (D-N.Y.), in a phone call before the impeachment vote that he will not convene the chamber early for trial, a source familiar with the conversation told the Daily News.
That means Trump's trial won't start at the earliest until Jan. 19 — the day before Biden's inauguration.
Democrats, who will regain majority control of the Senate next week, are expected to push for putting Trump on trial even if it takes place after he's out office, as the occasion will allow them to separately vote to bar him from ever holding a government job again.
Among the ten Republicans who voted for Trump's impeachment was upstate New York Rep. John Katko, the ranking member of the House Homeland Security Committee, and Wyoming Rep. Liz Cheney, the No. 3 Republican in the House.
Few of the impeachment-backing Republicans were given time to speak during the debate, but in a soaring speech closing out the debate, House Majority Leader Steny Hoyer (D-Md.), Pelosi's top lieutenant, praised them for bucking the party line, calling them "courageous."
Hoyer also took withering aim at the Republicans who have continued to protect Trump despite his insurrection.
"His desire for autocracy and his glorification of violence have not been tempered but rationalized by those who sought to profit financially and politically from their proximity to power," Hoyer said. "There can be no mistaking any longer about the kind of man sitting in the Oval Office or his intentions and capabilities. The curtain has been pulled back."
The other 197 Republicans in the House voted against the article, though many of them — including House Minority Leader Kevin McCarthy (R-Calif.) — still condemned Trump's riot-inciting speech, dealing a blistering intraparty blow to the outgoing president.
"The president bears responsibility for Wednesday's attack. He should have immediately denounced the mob when he saw what was unfolding," McCarthy said, proposing instead that Trump be formally censured by Congress for fanning the flames of mob violence.
Reminders of the chaos Trump caused were still present on Capitol Hill during the impeachment.
The usually bustling halls of Congress gaped empty, save for thousands of fatigue-clad National Guard troops with assault rifles standing guard.
Steel barriers were being erected inside and outside the building, with Americans weary of more political violence in the final days of Trump's presidency.
Lost in the depressing crisis on Capitol Hill is the coronavirus crisis, which has killed more than 383,000 Americans on Trump's watch.
Trump, who has been holed up at the White House for days without access to Twitter due to a permanent ban, did not immediately react to his first-of-its-kind second impeachment.
As the debate got underway, Trump issued a statement on White House letterhead pleading with his supporters to not commit more violent acts amid reports that they are planning more assaults on government buildings.
"I urge that there must be NO violence, NO lawbreaking and NO vandalism of any kind. I call on ALL Americans to help ease tensions and calm tempers. Thank You," Trump said, contrasting a since-deleted Twitter video in which he professed "love" for the rioters in the middle of last Wednesday's attack.
Democrats did not buy Trump's belated calls for cooler heads.
Many of them drew thinly-veiled parallels between Trump and Adolf Hitler, accusing the impeached president of peddling "the big lie" by for months falsely insisting that Biden's election was facilitated by fraud.
"The constitutional crimes by an out of control president inspired by his hatred and the big lie that he told cannot be ignored," said New York Rep. Hakeem Jeffries, the No. 5 Democrat in the House. "Donald Trump is a living, breathing impeachment offense."
With Trump's tumultuous presidency on the brink of ending, Democrats also breathed a sigh of relief for what's to come.
"Joe Biden is the appropriate person at the right time," New York Rep. Gregory Meeks told The News outside the House chamber before the vote. "He has the stature to bring us back together with the people who love America, and to make sure that there's justice for those who don't."
---
NOW I AM HOPPING MAD - HOPE THE REST OF OUR PEOPLE ARE TOO!!
---
COPYRIGHTS
Copy & Paste lenken øverst for Yandex oversettelse til Norsk.
WHO and WHAT is behind it all ? : >
The bottom line is for the people to regain their original, moral principles, which have intentionally been watered out over the past generations by our press, TV, and other media owned by the Illuminati/Bilderberger Group, corrupting our morals by making misbehaviour acceptable to our society. Only in this way shall we conquer this oncoming wave of evil.
Commentary:
Administrator
HUMAN SYNTHESIS
All articles contained in Human-Synthesis are freely available and collected from the Internet. The interpretation of the contents is left to the readers and do not necessarily represent the views of the Administrator. Disclaimer: The contents of this article are of sole responsibility of the author(s). Human-Synthesis will not be responsible for any inaccurate or incorrect statement in this article. Human-Synthesis grants permission to cross-post original Human-Synthesis articles on community internet sites as long as the text & title are not modified.
The source and the author's copyright must be displayed. For publication of Human-Synthesis articles in print or other forms including commercial internet sites. Human-Synthesis contains copyrighted material the use of which has not always been specifically authorized by the copyright owner. We are making such material available to our readers under the provisions of "fair use" in an effort to advance a better understanding of political, economic and social issues. The material on this site is distributed without profit to those who have expressed a prior interest in receiving it for research and educational purposes. If you wish to use copyrighted material for purposes other than "fair use" you must request permission from the copyright owner.