A new Hidden Provision in the Government spending bill can upend the way we use the Internet
Nancy Pelosi Kenny Stancil and Common Dreams December 22, 2020  
Lawmakers in Congress are under fire from digital rights campaigners for embedding three controversial changes to online copyright and trademark laws into the must-pass $2.3 trillion legislative package—which includes a $1.4 trillion omnibus spending bill and a $900 billion Covid-19 relief bill—that could receive floor votes in the House and Senate as early as Monday evening.
The punitive provisions crammed into the enormous bill (pdf), warned Evan Greer of the digital rights group Fight for the Future, "threaten ordinary Internet users with up to $30,000 in fines for engaging in everyday activity such as downloading an image and re-uploading it... [or] sharing memes."
While the citizenry had almost no time to process the actual contents of the 5,593 page legislative text, Greer said Monday afternoon that the CASE Act, Felony Streaming Act, and Trademark Modernization Act "are in fact included in the must-pass omnibus spending bill."
As Mike Masnick explained in a piece at TechDirt on Monday:
The CASE Act will supercharge copyright trolling exactly at a time when we need to fix the law to have less trolling. And the felony streaming bill (which was only just revealed last week with no debate or discussion) includes provisions that are so confusing and vague no one is sure if it makes sites like Twitch into felons.
01:0701:34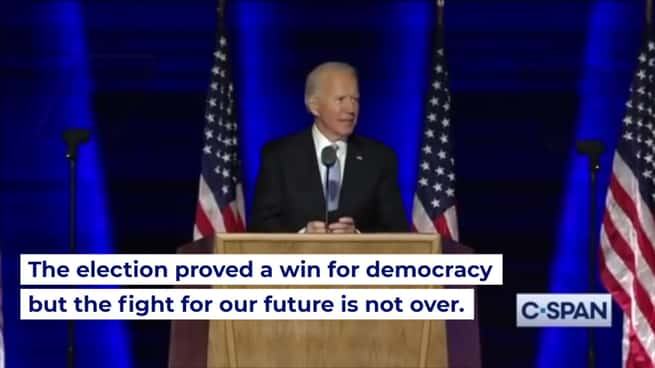 "The fact that these are getting added to the must-pass government funding bill is just bad government," Masnick added. "And congressional leadership should hear about this."
According to Fight for the Future, "More than 20,000 people had called on House and Senate leadership to remove these dangerous and unnecessary provisions from the must-pass bill," yet Congress chose to include them anyway.
"This is atrocious," Greer said in her statement. "We're facing a massive eviction crisis and millions are unemployed due to the pandemic, but congressional leaders could only muster $600 stimulus checks for Covid relief."
And yet, lawmakers "managed to cram in handouts for content companies like Disney?" Greer continued. "The CASE Act is a terribly written law that will threaten ordinary Internet users with huge fines for everyday online activity. It's absurd that lawmakers included these provisions in a must-pass spending bill."
Explaining why the inclusion of these provisions is dangerous, Masnick said "there's a reason [why] copyright is generally controversial." Even "small changes" threaten a "massive impact on... the public's ability to express themselves," he wrote.
As The Verge's Makena Kelly reported:
The CASE Act would create a quasi-judicial tribunal of "Copyright Claims Officers" who would work to resolve infringement claims. As outlined in the bill, copyright holders could be awarded up to $30,000 if they find their creative work being shared online.
Proponents of the CASE Act, like the Copyright Alliance, argue that the bill would make it easier for independent artists to bring about copyright claims without having to endure the lengthy and expensive federal courts process. Still, critics of the bill, like the Electronic Frontier Foundation and Fight for the Future, argue that the CASE Act could fine ordinary internet users for engaging in everyday online behavior like sharing memes.

Greer echoed Masnick, saying that "we've seen time and time again that changes to copyright law have profound implications for online freedom of expression and human rights."
"Frivolous copyright takedowns are already a huge problem for the next generation of artists and creators, streamers, gamers, and activists," Greer noted, advocating instead for what she called "a fair system that protects human rights and ensures artists are fairly compensated."
Considering how artists and musicians "are suffering immensely during the pandemic," Greer added, "Congress should be working quickly to provide immediate relief, not cramming controversial, poison-pill legislation into budget bills to appease special interests."
The way Congress jammed through these changes "is a total and complete travesty," said Masnick. "People should be mad about this and should hold the congressional leadership of both parties responsible."
Calling on "House and Senate leadership to remove the copyright provisions from the continuing resolution and move them through regular order so we can have transparent and open debate about the right balance," Greer said that "these types of decisions should never be made in closed-door negotiations between politicians and industry or rushed through as part of some must-pass spending package."
---
COPYRIGHTS
Copy & Paste lenken øverst for Yandex oversettelse til Norsk.
WHO and WHAT is behind it all ? : >
The bottom line is for the people to regain their original, moral principles, which have intentionally been watered out over the past generations by our press, TV, and other media owned by the Illuminati/Bilderberger Group, corrupting our morals by making misbehaviour acceptable to our society. Only in this way shall we conquer this oncoming wave of evil.
Commentary:
Administrator
HUMAN SYNTHESIS
All articles contained in Human-Synthesis are freely available and collected from the Internet. The interpretation of the contents is left to the readers and do not necessarily represent the views of the Administrator. Disclaimer: The contents of this article are of sole responsibility of the author(s). Human-Synthesis will not be responsible for any inaccurate or incorrect statement in this article. Human-Synthesis grants permission to cross-post original Human-Synthesis articles on community internet sites as long as the text & title are not modified.
The source and the author's copyright must be displayed. For publication of Human-Synthesis articles in print or other forms including commercial internet sites. Human-Synthesis contains copyrighted material the use of which has not always been specifically authorized by the copyright owner. We are making such material available to our readers under the provisions of "fair use" in an effort to advance a better understanding of political, economic and social issues. The material on this site is distributed without profit to those who have expressed a prior interest in receiving it for research and educational purposes. If you wish to use copyrighted material for purposes other than "fair use" you must request permission from the copyright owner.