JPMorgan creates new unit for blockchain projects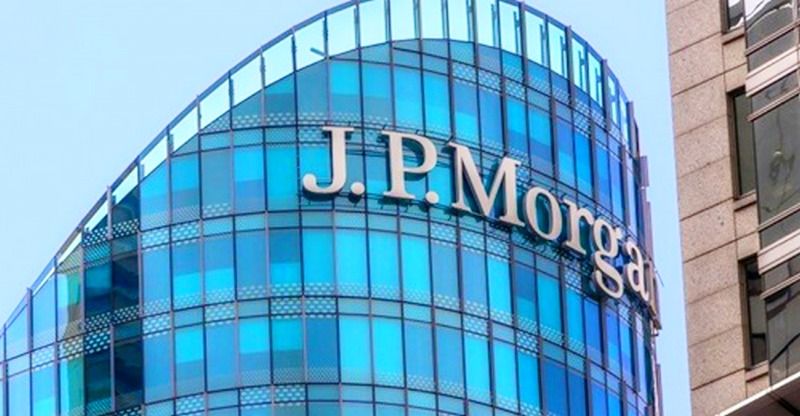 CNBC - PUBLISHED TUE, OCT 27 2020 Hugh Son@HUGH_SON
JPMorgan Chase says the technology is close to making money.
JPMorgan Chase said its digital currency, JPM Coin, is being used commercially for the first time this week by a large technology client to send payments around the world.
That development, along with other behind-the-scene moves, persuaded JPMorgan to create a new business to house its blockchain and digital currency efforts called Onyx, said Takis Georgakopoulos, the bank's global head of wholesale payments.
The unit has more than 100 dedicated staffers, he said.
After years of hype with little to show for it, blockchain technology is on the cusp of a breakthrough: making money in actual business applications.
At JPMorgan Chase, the firm's digital currency JPM Coin is being used commercially for the first time this week by a large technology client to send payments around the world, said Takis Georgakopoulos, the bank's global head of wholesale payments.
That development, along with other behind-the-scene moves, persuaded JPMorgan to create a new business to house its blockchain and digital currency efforts called Onyx, Georgakopoulos said last week in a phone interview. The unit has more than 100 dedicated staffers, he said.
"We are launching Onyx because we believe we are shifting to a period of commercialization of those technologies, moving from research and development to something that can become a real business," Georgakopoulos said.
Palihapitiya: Everyone should have 1% of their assets in bitcoin
Initially hyped as a technology that would upend entire industries from finance to manufacturing and agriculture, blockchain has attracted billions of dollars of investment, but little in the way of tangible results yet. Venture capital funding for blockchain start-ups dropped 35% to $2.79 billion last year, according to CB Insights.
JPMorgan's move could provide a boost to the broader blockchain and cryptocurrency industries, whose proponents believe that mainstream adoption is nearing. Digital currencies popped last week after PayPal announced that users could soon buy, hold and sell crypto directly from their accounts.
Takis Georgakopoulos.Source: JP Morgan
JPMorgan is focused on relieving pain points in the world of wholesale payments, specifically areas where the industry could save hundreds of millions of dollars with a better solution, said Georgakopoulos.
In cross-border payments, for instance, which relies on a complex global web of correspondent banks, payments sometimes get rejected for errors in account information or other problems. JPMorgan is one of the biggest players in this industry, moving more than $6 trillion a day across more than 100 countries.
If banks could confirm that payments have the proper account information and regulatory format before they are sent, they could prevent expensive rejections.
Essential to that effort is a network with more than 400 participating banks and corporations. The group, which had been called the Interbank Information Network since a 2017 JPMorgan pilot, is being rebranded as Liink and being launched with a pair of functions that validate payments before they are sent.
Banishing the check
Banks could charge a few cents to confirm data for each transaction, saving money on remediating mistakes and creating a model to earn money by participating in the network, according to Umar Farooq, the bank's newly named CEO of Onyx.
Another area is in processing paper checks, which relies on armies of people to handle mail at physical locations called lockboxes. That could be radically simplified with an exchange where the digital information associated with a check gets posted, skipping the mail altogether.
"We're talking about hundreds of millions of checks being sent," Georgakopoulos said. "Using a version of blockchain with the participants being the main issuers of checks and the main operators of lockboxes, it's possible we can save 75% of the total cost for the industry today, and make checks available in a matter of minutes as opposed to days."
That project is months from its commercial launch, said Farooq.
Umar Farooq, CEO of Onyx.Source: JP Morgan.
The company is also looking into creating new, separate payment rails for central banks that have expressed interest in starting their own currencies. "Look at China, you look at Singapore, they're looking for use cases for digital currencies," Georgakopoulos said. "If we are able to develop a model that works, we think the probability of adoption becomes very high."
The bank's JPM Coin is now live with a large international technology company that is using it for round-the-clock cross-border payments, said Georgakopoulos, who declined to name the client. Other clients are being on-boarded, he said.
The developments give JPMorgan executives confidence that blockchain is past a period of inflated expectations and will soon start to yield real solutions. That follows the path of the so-called Gartner hype cycle, which is a model for the adoption of new technologies.
"If you think about blockchain, we are either somewhere in the trough of disillusionment or just beyond that on the hype curve," Farooq said, referring to stages of the Gartner cycle. "That's why at JPMorgan we've been relatively quiet about it until we were ready to scale it and commercialize it."
---
Older article from 12 May 2020
JPMorgan Chase has reportedly started providing banking services to bitcoin businesses, with the first two clients being Coinbase and Gemini exchanges. JPMorgan also recently recommended having cryptocurrency in investment portfolios as its CEO, Jamie Dimon, changed his mind about bitcoin.
JPMorgan Chase's Bitcoin Clients
JPMorgan Chase & Co. has reportedly started to accept clients from the cryptocurrency industry. The Wall Street Journal reported on Tuesday that two prominent bitcoin exchanges, Coinbase Inc. and Gemini Trust Co., have become banking customers of JPMorgan Chase, citing people familiar with the matter.
The two bitcoin exchanges' accounts were approved in April and transactions are just starting to be processed, the publication added. JP Morgan Chase is mainly providing cash-management services to the exchanges. It is handling dollar-based transactions for their U.S.-based customers, including processing deposits and withdrawals, through the Automated Clearing House network, and wire transfers.
Many customers of Coinbase and Gemini link their bank accounts to their cryptocurrency accounts so a payments processor is required for handling cash transfers to and from those bank accounts. The services JP Morgan Chase offers do not include handling bitcoin or crypto transactions for the exchanges.
JPMorgan Warming up to Bitcoin
Large financial institutions are often reluctant to provide banking services to cryptocurrency businesses. Coinbase and Gemini had to go through a long vetting process to get JPMorgan Chase's approval, which likely took into account the fact that both are regulated bitcoin exchanges in the U.S. Gemini holds a trust charter from the New York State Department of Financial Services (DFS) while Coinbase is registered as a money services business with Financial Crimes Enforcement Network (FinCEN) and also holds a Bitlicense from the DFS. Both are licensed as money transmitters in multiple U.S. states.
JPMorgan Chase CEO Jamie Dimon used to call bitcoin "a fraud," predicting in September 2017 that the cryptocurrency would eventually blow up. "It's worse than tulip bulbs. It won't end well. Someone is going to get killed," Dimon was quoted by CNBC as saying. However, less than five months later, he told the news outlet: "I regret making" those bitcoin remarks.
Furthermore, JPMorgan has launched its own digital currency called the JPM Coin, which is "a digital coin designed to make instantaneous payments using blockchain technology," its website details. The JPMorgan research team also recently advised in a report that cryptocurrency should be in a portfolio.
What do you think about JPMorgan accepting bitcoin businesses as clients? Let us know in the comments section below.
---
OLDER NEWS
JPMorgan Chase CEO Jamie Dimon indikerede i et nyligt interview med Yahoo Finance, at han ikke havde talt med Facebook om udviklingen af ​​Libra.
"Men det er meget muligt, at nogen i virksomheden gjorde det," sagde Dimon.
"Blockchain er ægte," sagde han og citerede sin virksomheds forfald i rummet med JPM Coin blockchain. "Og jeg synes konkurrencen er ægte."
For Dimon bringer kryptokurver forstyrrelser i banksektoren, fordi de leverer lignende tjenester, som bankerne traditionelt leverede som pengeoverførsel, clearinghouseaktivitet og realtidsbetalinger – selvom han tilføjer: "Det er ikke en eksistentiel trussel."
"Vi skal have konkurrenter, hvad enten det er en cryptocurrency konkurrent eller en anden FinTech konkurrent. Vi skal have konkurrenter. "
"Jeg fortæller vores folk, gæt ikke, du ved, de er der, du ved, de kommer, du ved, at de vil spise vores frokost. Antag det. "
Om det er en bank eller en kryptotjeneste opstart, sagde Dimon, at der er alvorlige problemer med hensyn til fremtidens penge. Han mener, at nogle af disse er forårsaget af regeringen, specielt ved at afgøre, om de vil være underlagt bankregulativer, KYC, bankhemmelighedsloven eller regler for bekæmpelse af hvidvaskning af penge.
Sympatisk for kryptoindustriens ønske om at betjene deres kunder, sagde Dimon også, at han ville "kunne servicere deres kunder."
"Jeg ser altid på disse [blockchain] systemer som vi også gerne vil gøre noget af det selv."
---
COPYRIGHTS
Copy & Paste lenken øverst for Yandex oversettelse til Norsk.
WHO and WHAT is behind it all ? : >
VISIT THE PAPERTURN 20 OCT ARCHIVE
The bottom line is for the people to regain their original, moral principles, which have intentionally been watered out over the past generations by our press, TV, and other media owned by the Illuminati/Bilderberger Group, corrupting our morals by making misbehaviour acceptable to our society. Only in this way shall we conquer this oncoming wave of evil.
Commentary:
Administrator
HUMAN SYNTHESIS
All articles contained in Human-Synthesis are freely available and collected from the Internet. The interpretation of the contents is left to the readers and do not necessarily represent the views of the Administrator. Disclaimer: The contents of this article are of sole responsibility of the author(s). Human-Synthesis will not be responsible for any inaccurate or incorrect statement in this article. Human-Synthesis grants permission to cross-post original Human-Synthesis articles on community internet sites as long as the text & title are not modified.
The source and the author's copyright must be displayed. For publication of Human-Synthesis articles in print or other forms including commercial internet sites. Human-Synthesis contains copyrighted material the use of which has not always been specifically authorized by the copyright owner. We are making such material available to our readers under the provisions of "fair use" in an effort to advance a better understanding of political, economic and social issues. The material on this site is distributed without profit to those who have expressed a prior interest in receiving it for research and educational purposes. If you wish to use copyrighted material for purposes other than "fair use" you must request permission from the copyright owner.