DEBATTANALYSE: Trump renset klokken og Biden merket det ikke engang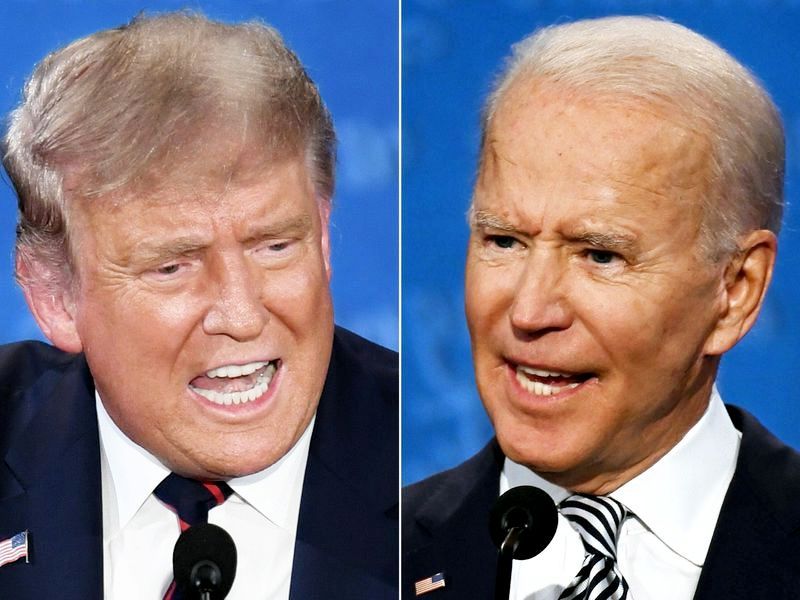 Skrevet 23. oktober 2020 av State of the Nation

Den siste debatten var ganske avslørende selv for de som så på den med partiske øyne og lyttet med partiske ører.

De to mest åpenbare oppfatningene var som følger:
(1) Joe Biden avslørte seg som en uforbederlig korrupt karriere-kriminell politiker som vil lyve om alt og alt, selv når alle ser på ham.

(2) Donald Trump forteller det som om det er så mye han kan slippe unna med, og på den måten alltid vil risikere å fornærme det politiske etablissementet og den radikale venstresiden.

Joe Biden
Helt fra begynnelsen av debatten kom Biden ut som dypt ondskapsfull og stygg. Jo eldre han blir, desto mer oppstår hans "indre politiker", spesielt når han er i defensiven, noe som er sjelden fordi han alltid er i kjelleren.
Ved å raskt projisere sin åpenbare respektløshet for POTUS som sto overfor ham, ga Biden tonen for debatten som kunne vært mye mer sivil. Byens konstante ad hominem-angrep, både subtile og grove, var alle designet for å utløse Trump som gjorde sitt beste for å holde seg urolig.
Som alltid visste Biden at hele det politiske systemet sto bak ham klar til å dekke over all gaffe (som han gjorde) eller alvorlige feil (som han også gjorde). Gitt at Kommisjonen for presidentdebatter beviselig har forvandlet seg til en uoffisiell arm av Demokratpartiet, tok Biden friheter som bare reflekterte hans middelånd.
Biden er spesielt flink til å presentere dette godartede avuncular image som dekker over den verste typen politico, en som er villig til å begå enhver forbrytelse og / eller delta i korrupsjon overhodet som han gjorde i åtte lange år som Obamas VP.
Joe gjorde også en god jobb med å avsløre Biden & Biden som den dynamiske krimduoen som han og Hunter virkelig er. Ved å bruke makt, prestisje og image fra den amerikanske regjeringen for å begå de forskjellige kriminelle angrepene kom under debatten på måter som de fleste velgere aldri har hørt før - takk, Joe! Se: Joe Biden ble avslørt som en hardcore, statsstøttet innflytelsesbutikk.
NØKKELPUNKT: Joe Biden gikk rett i hver felle den siste debatten satte for ham. Sannelig, Biden gikk inn på hver eneste gruve på debattfeltet. Ikke bare det, men på grunn av Bidens historie om direkte prevarication, perfidy og skruppelløsitet, støttet han seg inn i et hjørne. I går viste kandidat Biden det amerikanske folket hvordan det er å være klemt mellom den ordspråklige rocken og den harde plassen. Se: Biden satte seg akkurat der Trump ville ha ham
Donald Trump
Hvem som helst kunne se at president Trump startet debatten med den eksplisitte intensjonen om å opprettholde høflighet og holde stand. Imidlertid vil han aldri tillate at løgnene som kommer fra munningen til Biden, blir rettet. Mot dette gjorde han det han følte at han måtte for å svare på så mye Biden malarkey.
Kanskje den beste delen av Trumps opptreden var de to nøyaktige linjene han gjentok om og om igjen. For det første at Biden hadde 8 år som VPOTUS for å oppnå noe, og likevel fikk absolutt ingenting gjort bortsett fra å forvandle USA til en overordentlig delt Obamanation. For det andre har Biden hatt lederskap i den amerikanske regjeringen i 47 år og har ingenting - INGENTING - å vise for det.
Trump slapp også løs en annen zinger som såret Biden dypt. At den eneste grunnen til at Trump til og med stilte for POTUS var på grunn av den fullstendig mislykkede ledelsen av to Obama-Biden-administrasjoner. Faktisk forlot Trump en veldig behagelig privat eksistens for å rette statsskipet som hadde landet på vei mot et "Titanic isfjell øyeblikk".
Til Trumps store æren nevnte han knapt engang at han har vært offer for et nonstop Deep State-drevet, demokratdrevet, globalistisk-styrt statskupp. Det myke kuppet pågår med forrædere som Obama, Biden, Clinton, Brennan, Clapper og utallige andre Obama-epokere som driver interferens 24/7.
Selv om Trump i det vesentlige ble fratatt sin første periode på kontoret, klarte han likevel å oppnå mer enn Biden har gjort i løpet av livet. Selvfølgelig var Trump også veldig effektiv på å understreke Biden's styrke som en grundig korrupt karriere-politiker.
Trump førte spesielt frem den verdensomspennende innflytelse og graft knyttet til "Biden & Sons". Nå kjent som BIDENgate, burde denne raskt utviklende skandalen ha permanent diskvalifisert Joe Biden fra å ha noe kontor i den amerikanske føderale regjeringen. Se: USA-KODE: Joe Biden er permanent inhabil fra å inneha noe offentlig kontor i den amerikanske føderale regjeringen
Poenget: Trump beviste nok en gang at du rett og slett ikke kan diskutere med en Demokrat i 2o2o. De er ugjennomtrengelige for fornuft, for sunn fornuft og for etisk oppførsel som Joe Bidens liv har illustrert grafisk. Samlet lener Demokratene seg så tungt mot moralsk uro at de har blitt en ekstremt farlig trussel for det amerikanske samfunnet. Og Joe Biden er akkurat nå deres titulære hode.
State of the Nation
23. oktober 2020
---
COPYRIGHTS
WHO and WHAT is behind it all ? : >
VISIT THE PAPERTURN 20 OCT ARCHIVE
The bottom line is for the people to regain their original, moral principles, which have intentionally been watered out over the past generations by our press, TV, and other media owned by the Illuminati/Bilderberger Group, corrupting our morals by making misbehaviour acceptable to our society. Only in this way shall we conquer this oncoming wave of evil.
Commentary:
Administrator
HUMAN SYNTHESIS
All articles contained in Human-Synthesis are freely available and collected from the Internet. The interpretation of the contents is left to the readers and do not necessarily represent the views of the Administrator. Disclaimer: The contents of this article are of sole responsibility of the author(s). Human-Synthesis will not be responsible for any inaccurate or incorrect statement in this article. Human-Synthesis grants permission to cross-post original Human-Synthesis articles on community internet sites as long as the text & title are not modified.
The source and the author's copyright must be displayed. For publication of Human-Synthesis articles in print or other forms including commercial internet sites. Human-Synthesis contains copyrighted material the use of which has not always been specifically authorized by the copyright owner. We are making such material available to our readers under the provisions of "fair use" in an effort to advance a better understanding of political, economic and social issues. The material on this site is distributed without profit to those who have expressed a prior interest in receiving it for research and educational purposes. If you wish to use copyrighted material for purposes other than "fair use" you must request permission from the copyright owner.