THE GREAT BARRINGTON DECLARATION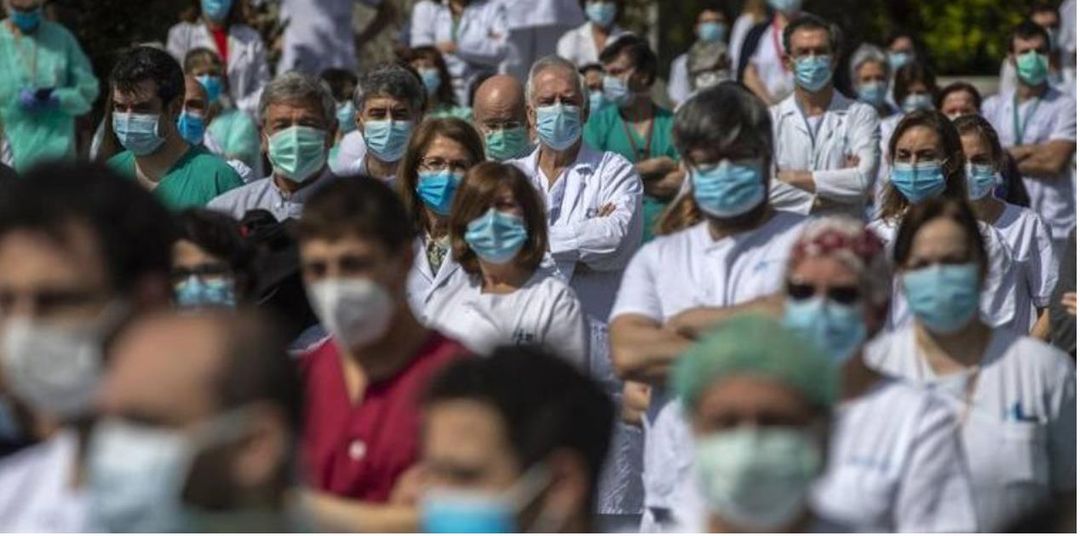 Signed by 3 US Universities  4. oktober 2020
ENDELIG REISER DEN TUNGE FAGEKSPERTISEN SEG MOT DET FEILSLÅTTE POLITISKE  VANVIDDET  - THE GREAT BARRINGTON DECLARATION
Opphev lockdown umiddelbart. La folk arbeide, gå på skole og leve sine liv. Beskytt de utsatte!
Dette er en erklæring fra 1379 medisinske eksperter og eksperter på folkehelse, samt 1524 helsearbeidere. Som epidemiologer og eksperter på smittsomme sykdommer og folkehelse har vi alvorlige bekymringer for skadelige fysiske og mentale helsevirkninger av den gjeldende COVID-19-politikken, og anbefaler en tilnærming vi kaller Fokusert beskyttelse. Vi kommer fra både venstre og høyre, og over hele verden, vi har viet karrieren vår til å beskytte mennesker. Gjeldende politikk for lockdown gir ødeleggende effekter på kort- og langsiktig folkehelse. Resultatene (for å nevne noen) inkluderer lavere vaksinasjonsevne for barn, forverring av kardiovaskulære sykdommer, færre kreftundersøkelser og forverret mental helse – noe som fører til større overdødelighet i årene som kommer, med arbeiderklassen og yngre medlemmer av samfunnet som vil bære den tyngste byrden.
Å holde elevene borte fra skolen er en alvorlig urettferdighet. Å holde disse tiltakene på plass til en vaksine er tilgjengelig, vil forårsake uopprettelig skade, og de underprivilegerte blir uforholdsmessig skadet. Heldigvis vokser vår forståelse av viruset. Vi vet at sårbarhet for død fra COVID-19 er mer enn tusen ganger høyere hos eldre og svake enn de unge. For barn er COVID-19 faktisk mindre farlig enn mange andre sjukdommer, inkludert influensa. Når immuniteten bygger seg opp i befolkningen, faller risikoen for smitte for alle – inkludert de utsatte. Vi vet at alle populasjoner til slutt vil oppnå flokkimmunitet – dvs. det punktet hvor frekvensen av nye infeksjoner er stabil – og at dette kan assisteres av (men ikke er avhengig av) en vaksine. Målet vårt bør derfor være å minimere dødelighet og sosial skade til vi når flokkimmunitet.
Den mest hensynsfulle tilnærmingen, som balanserer risikoen og fordelene ved å oppnå flokkimmunitet, er å la de som har minimal dødsrisiko leve sine liv normalt og bygge opp immunitet mot viruset gjennom naturlig infeksjon, samtidig som de bedre beskytter de som er i størst fare. Vi kaller dette Fokusert beskyttelse. Å vedta tiltak for å beskytte de utsatte bør være det sentrale målet for folkehelsemessige tiltak på COVID-19. Som et eksempel, bør sykehjem bruke ansatte med ervervet immunitet og utføre hyppig PCR-testing av annet personale og alle besøkende. Rotasjon av personalet bør minimeres. Pensjonister som bor hjemme, bør få dagligvarer og andre nødvendigheter levert hjem til seg. Når det er mulig, bør de møte familiemedlemmer utenfor i stedet for inne. En omfattende og detaljert liste over tiltak, inkludert tilnærminger til fler-generasjons-husholdninger, kan implementeres, og ligger godt innenfor folkehelsepersonellets omfang og evne.
De som ikke er sårbare, bør umiddelbart få lov til å gjenoppta livet som normalt. Enkle hygienetiltak, som håndvask og å være hjemme når man er syk, bør praktiseres av alle for å redusere terskelen for flokkimmunitet. Skoler og universiteter bør være åpne for personlig undervisning. Fritidsaktiviteter, som sport, bør gjenopptas. Unge voksne med lav risiko bør jobbe normalt, snarere enn hjemmefra. Restauranter og andre virksomheter bør åpne. Kunst, musikk, sport og andre kulturelle aktiviteter bør gjenopptas. Mennesker som er mer utsatt, kan delta hvis de ønsker det, mens samfunnet som helhet nyter beskyttelsen de sårbare blir gitt av de som har bygget opp flokkimmunitet.
4. oktober 2020 ble denne erklæringen forfattet og signert i Great Barrington, USA, av:
Dr. Martin Kulldorff, professor i medisin ved Harvard University, biostatistiker, og epidemiolog med ekspertise i å oppdage og overvåke smittsomme sykdomsutbrudd og vaksine sikkerhetsvurderinger.
Dr. Sunetra Gupta, professor ved Oxford University, en epidemiolog med ekspertise innen immunologi, vaksineutvikling og matematisk modellering av smittsomme sykdommer.
Dr. Jay Bhattacharya, professor ved Stanford University Medical School, en lege, epidemiolog, helseøkonom og folkehelsepolitisk ekspert med fokus på smittsomme sykdommer og sårbare befolkninger.
Erklæringen er undertegnet i første omgang av ytterligere 34 medisinske eksperter og har fått tilslutning av svært mange andre.
MEN, TA FORHÅNDSREGLER OG HOLD ØYNENE ÅPNE!
---
"We Have A Lot of Evidence That It's A Fake Story All Over The World" – German Doctors on COVID-19 Published 2 months ago on August 17, 2020By Arjun Walia
---
NOTE -  Coronavirus dødelighet er kun 2.9% per 6 okt.2020
(2 Ganger så mange døde av alkoholmisbruk, 3 ganger så mange av røking.)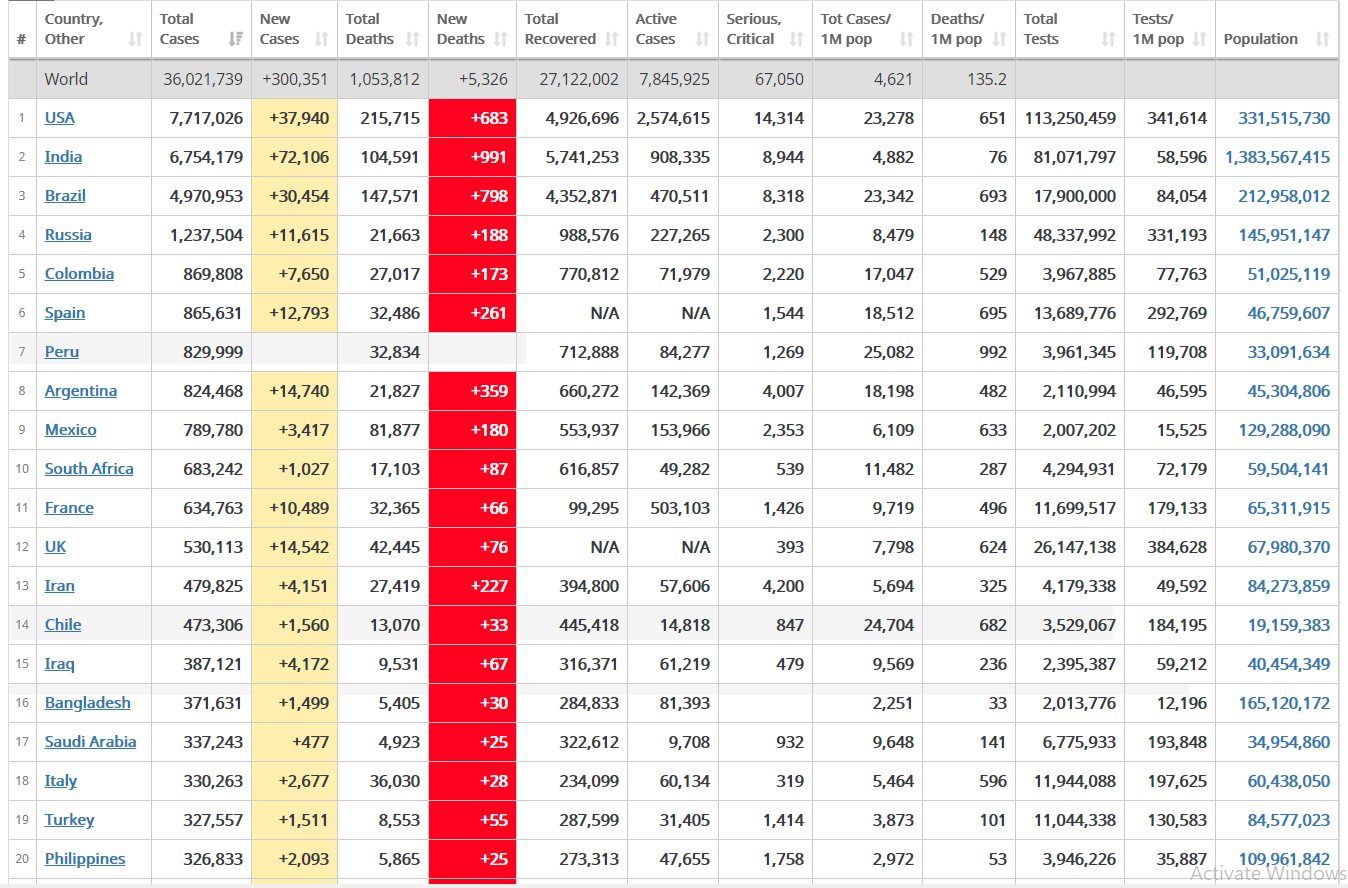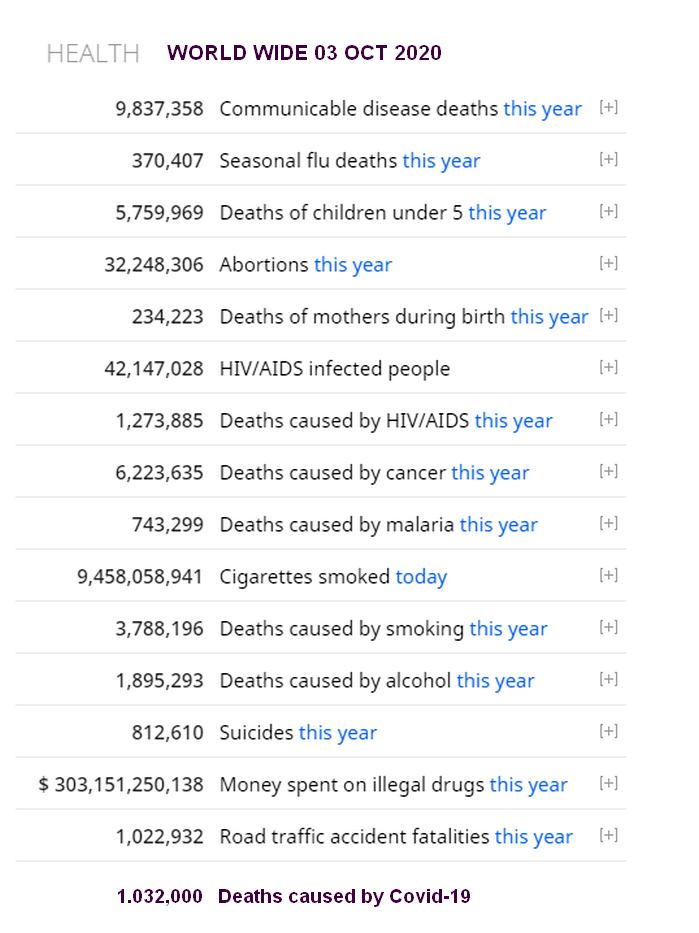 ---
COPYRIGHTS
WHO and WHAT is behind it all ? : >
The bottom line is for the people to regain their original, moral principles, which have intentionally been watered out over the past generations by our press, TV, and other media owned by the Illuminati/Bilderberger Group, corrupting our morals by making misbehaviour acceptable to our society. Only in this way shall we conquer this oncoming wave of evil.
Commentary:
Administrator
HUMAN SYNTHESIS
All articles contained in Human-Synthesis are freely available and collected from the Internet. The interpretation of the contents is left to the readers and do not necessarily represent the views of the Administrator. Disclaimer: The contents of this article are of sole responsibility of the author(s). Human-Synthesis will not be responsible for any inaccurate or incorrect statement in this article. Human-Synthesis grants permission to cross-post original Human-Synthesis articles on community internet sites as long as the text & title are not modified.
The source and the author's copyright must be displayed. For publication of Human-Synthesis articles in print or other forms including commercial internet sites. Human-Synthesis contains copyrighted material the use of which has not always been specifically authorized by the copyright owner. We are making such material available to our readers under the provisions of "fair use" in an effort to advance a better understanding of political, economic and social issues. The material on this site is distributed without profit to those who have expressed a prior interest in receiving it for research and educational purposes. If you wish to use copyrighted material for purposes other than "fair use" you must request permission from the copyright owner.